Storylines from one of the first big college tournaments of the fall as the Sirens cleaned up in the women's Classic City Classic 2015.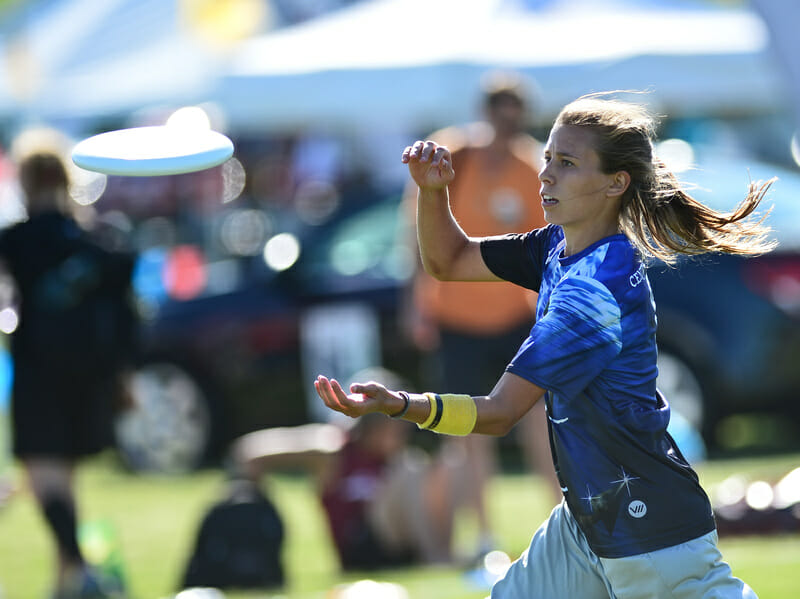 The first major women's tournament of the Fall is in the books, as Classic City Classic 2015 was held this past weekend in Athens, GA. It was a tournament with plenty of talent and teams in various stages of cohesion and roster makeup, making for plenty of interesting story lines. Here are a few of the biggest ones.
UCF Cruises To First Place Finish
As one of only two teams in the field to go to Nationals last year and the number one overall seed, UCF lived up to the billing by blitzing the field at CCC on its way to a tournament win. Winning their pool with a combined score of 52-7 — racking up two shut outs in the process — the Sirens were in a league of their own on Saturday and continued that form on Sunday, even as the competition stepped up a level.
The team's toughest game of the weekend came against Michigan Flywheel in the quarterfinals. With games to 15 on Sunday, UCF's 13-8 victory represented its only game in which it did not reach the maximum point total. Michigan's ability to challenge the Sirens' signature zone by attacking over the top kept them in the game, but was not enough. UCF then cruised to an easy 15-4 semifinal win against an otherwise impressive Georgia Tech team, setting up a matchup with the other 2015 Nationals qualifier, Ohio State, in the tournament final. Yet even the veteran-laden Ohio State squad was no match for UCF.
OSU always seems to find Central Florida when they venture south. The zone that the Sirens used to suffocate teams all weekend long was in peak form against Ohio State's throwers and the one seed saw break opportunity after break opportunity come their way as a result. Even with opponents wise to their game plan, Central Florida gave little quarter.
The tournament favorites were just as impressive with the disc in their possession.
Shayna Brock was the most dominant player in Athens, often receiving every other throw and routinely obliterating her defender from the primary handler position with an unmatched explosiveness in her cuts. Brock used her quickness to set up her excellent throws, often finding herself in power positions for big plays downfield.
Her target was often Alexa Wood, who was seemingly uncoverable, open on deeps cuts and unders all tournament long, no matter her matchup. Wood was matched in her offensive potency by first year Siren Gentry Maddox. An FSU graduate transfer, Maddox has already found a key role in the UCF offense as a monster near the goal line, constantly getting open for short throws into the end zone to finish off points.
Stephanie "Eli" Williams was a consistent threat with the disc in her hand and sophomore standout Janina Freystaetter was an invaluable asset to UCF on offense as a mid, routinely available for resets and able to make plays downfield as well. The quintet of stars were perfectly supported by a solid group of role players that fit into coach Joe Tilley's schemes, and in spite of fielding probably the smallest squad of anyone in the field, UCF was simply much better than every other team at Classic City Classic.
Ohio State Strong Again
The other 2015 Nationals team in the field at this year's CCC, Ohio State, too, played up to expectations. Fever was perhaps the most experienced team in the field and rode its veteran playmakers all the way to the final.
On Saturday, OSU topped a pool that would place three teams in the top six of the tournament, fending off impressive performances from Georgia Tech and Michigan and taking easy victories over Wake Forest (13-0) and Kennesaw State (13-3).
A 15-6 stomping over a solid Clemson team in quarters set up the best game of the tournament, a semifinal showdown with UNC. Both teams came into the game undefeated and UNC appeared to be headed to an easy win, starting the game with three straight breaks. But OSU's stars, led by  Stevie Miller, Sadie Jezierski, Alora Reiff, and Caitlin Duffner to name just a handful, clawed Fever back to on-serve at half time and were good enough down the stretch to top UNC 12-10 for the right to play in the final game.
Miller, an alumna of this summer's All Star Ultimate Tour, and sensational sophomore Jezierski, in particular, showed time and time again their strength as throwers, providing an assured presence and ability to guide outcomes with the disc in their hands when they and team played at their best.
It was surprising, then, to see their struggles against UCF in the final. Jezierski had a couple of gorgeous bladey flicks over the wings of the UCF zone that led to Ohio State scores and she was the only thrower all tournament long who showed an ability to beat the Sirens' zone with just one throw. But with Fever needing to play a near-perfect game to hang with its final foe, a few too many uncharacteristic execution errors from the team's biggest stars meant Fever was out of contention before they ever really got going.
Still, it was an impressive tournament for the five-time Nationals attendees. The UNC semifinal in particular, exhibited the team's ability to overcome in-game adversity against high level competition. With a deep and talented roster, Ohio State should have little trouble in getting to Nationals for the sixth consecutive season.
The Surprising Techs
In a tournament not overly replete with surprises, the two biggest had to be the performances of Georgia Tech and Virginia Tech. GT Wreck was one of the most impressive teams all weekend long and Virginia Tech, the 12 seed coming into the tournament, earned a surprise quarterfinals berth.
Georgia Tech began its tournament with an impressive 13-6 win over a solid Kennesaw State team, but was even more impressive in a second round loss. Wreck played the overall two seed Ohio State Fever to the wire, falling 11-10 but announcing itself as contenders in a tough Pool B. After a routine win over Wake Forest, Tech fully proved its quality with a dominating 13-6 win over Michigan to take second in the pool.
Not an overwhelmingly athletic team, Wreck played smart and savvy all weekend; its veterans played within themselves while also demonstrating an ability to make big plays when available. GT looks to be a team that will challenge to break into the top of the Southeast Region this season. Their performance looks even better when compared to Southern Appalachian Conference champion and in-state rival, Georgia.
Center handler Julia Ting was one of the more impressive players of the tournament as she paced the Wreck offense and took over games in stretches with her sharp nous and throws.
Taylor Hartman was an electric difference maker in her own right. Racking up blocks in key moments as a downfield defender,  she also showed an ability to produce highlight-reel excitement on offense when she made one of the best plays of the weekend. Running down a seemingly overthrown huck, Hartman made the catch with a massive layout for the game winning score against Michigan.
Wreck also infused its rookies into its lineups better than most teams and the team was rewarded with some impressive performances. First-year junior Dana Rose stood out in particular and could be one to keep an eye on this season as a dangerous deep threat for the Tech offense.
Virginia Tech may not have seen quite the same success as Wreck, but they did exceed expectations, breaking seed by four spots and starting off the weekend with an impressive win over hosts and three seed Georgia Dawgma.
With no coach of any kind, VT was led by an impressive group of veterans, including Brianna Knaggs, Kendra Sabol, Anna-Britta Pincus, and Sarah Mezzy, among others. Knaggs and Sabol each had stretches of receiving every other throw, while Pincus and Mezzy were rocks for the Burnettes as handlers on both O and D points.
Virginia Tech followed up its victory over Georgia with wins against Emory and Georgia Southern to clinch a quarterfinals spot. Although UNC proved to be too much for them in their final pool play game, the Burnettes were again impressive in pushing Georgia Tech in a tight quarters game.
Are UNC and Michigan Back, Again?
2014-15 was a down year for each of these powerhouse programs as both missed out on Nationals, with UNC now failing to qualify in each of the last three seasons. Both teams should have hopes of a return to the Series' final tournament, however, with both fielding a number of impressive veterans and putting together fairly impressive performances in the fall's first major tournament.
UNC actually had an easier time than its semifinals counterpart of Ohio State in pool play, winning Pool C by a combined score of 52-16 over its four Saturday opponents. In a quarterfinals matchup with undermanned in-state rival UNC-Wilmington, Pleiades' squad depth and poise were the difference in a 15-10 win to set up the Ohio State semifinal.
The stars for the Chapel Hill squad were veteran handlers Jenny Wei and Elisabeth Parker. Easily two of the best players in Athens, the two took over games for long stretches. When those two were clicking and deep threat Vany Nguyen was roasting defenders downfield, UNC looked like arguably the second best team in the field. Against Ohio State, though, the trio could not quite keep pace with Fever's equally talented stars. An emotionally and physically drained performance in the third place game saw the Pleiades fall to a fourth place finish that belied how well the team played for nearly the whole weekend.
Wei is a junior and Parker and Nguyen are just sophomores — none have played at the College Championships — and they'll lead the charge of the new generation of Pleiades players.
Things were a bit more up and down for Michigan. A resounding 13-0 win over Wake Forest started the team's Saturday and, after taking half against Ohio State in its second game of the tournament, Flywheel looked headed for a pool victory. UM could not keep the momentum going, however, and dropped the game to Fever 10-12. A rebound victory over Kennesaw was followed by the surprise trouncing at the hands of Georgia Tech in the final game of the pool.
The third place finish set up a quarter finals appearance with dominant UCF. Michigan, to its credit, played the tournament champions closer than anyone. Led by Great Lakes Player of the Year Hannah Henkin and elite handler Tracey Lo, Flywheel was the closest to solving UCF's zone, multiple times beautifully working the disc downfield only to turn it on the goal line. Those issues can be shored up with practice.
Finishing out their consolation games with a 13-2 win over Virginia Tech and a 10-14 loss to Clemson to place 6th, Michigan demonstrated flashes of brilliance and an ability to play with the best teams at the tournament for significant stretches. The aim for Flywheel now has to be to play at that level more consistently and they, along with North Carolina, should challenge to get back to the familiar territory of a top 20 finish this season.
Best of the Rest: All Atlantic Coast
UNC-Wilmington Seaweed came to CCC with a depleted squad. Missing about 10 players, five of which are veterans, Seaweed still played teams tough all weekend, finishing second in Pool A behind UCF and seventh overall for the tournament.
Quarterbacked by Klara Calderon-Guthe, Wilmington overcame a close loss to VCU and a 13-4 loss to UCF (the closest pool game UCF played) to finish second in Pool A ahead of Clemson and VCU.  The team's lack of players and experience led to being overrun by UNC in quarters, and a long tournament caught up with Seaweed in a rematch with Clemson in the 5th place bracket. But the experience the squad's rookies gained and the impressive performances in spite of the team's disadvantages this weekend give plenty of reasons for optimism for the season ahead.
The aforementioned Clemson team was solid for most of the tournament as well. Pool wins over Tulane and VCU put the Tiger Lillies into quarters; after a heavy loss to Ohio State, the team rebounded very well to get revenge against UNC-W for a loss in pool play and then finished off with a strong showing in the 5th place game, winning 14-10 over Michigan.
Georgia's Young Pups Growing Up
The hosts of the tournament got off of to a rough start, but with a rookie class of 13, a slow start to the season probably should have been expected. Dawgma lost a ton of talent and experience from a season ago, most notably Callahan nominee and Southeast All Region first teamer Hannah Leathers. While it will be impossible to replace the likes of Leathers and the rest of her graduating class, Georgia has to find a way to replace the points those players scored.
The young team did grow as the weekend went on, finishing 2-2 in pool play with the losses to Virginia Tech and UNC; they closed out the weekend with a win over Tulane in B bracket play. The team has high hopes for a number of its rookies after getting their first tournament under their belts and it will be interesting to see how the team continues to grow as the season continues.