It's time to stop letting the price of a gym membership stand in the way of your fitness goals.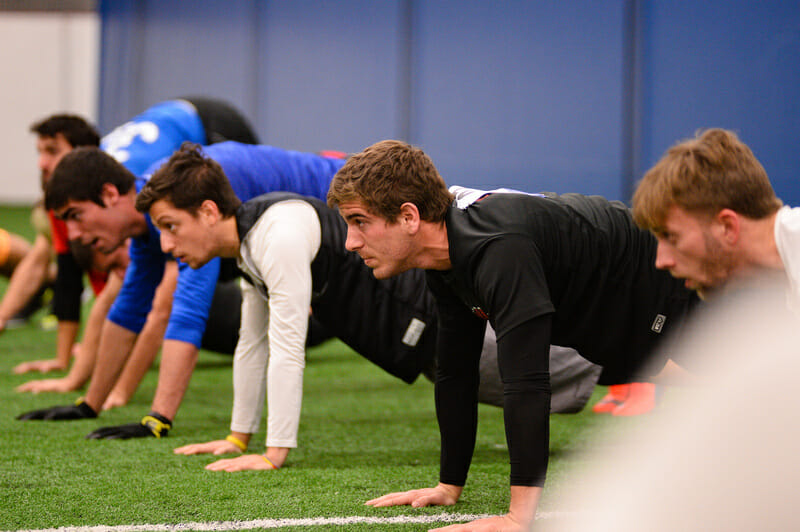 Gym memberships are expensive.
Ideally, we'd all have personal trainers, private gymnasiums, indoor turf fields, or at least access to a nice quality backyard. Unfortunately, ideal conditions aren't the standard in the ultimate world, especially if you're searching for consistency1. Some players simply don't have the time or the finances to make regular trips to the weight room.
Luckily, there is a great amount of ultimate-related training that can be done out on the field, especially conditioning work like shuttle sprinting, agility work through footwork/ladder/cone drills, or the technical work for throwing. However, sometimes — whether there is a blizzard outside, you are traveling to a strange location, or you are just motivationally-challenged to leave the apartment — you're looking for great exercise plans that can be completed in limited space.
For those times when you need to sweat but don't have the time or access to do it anywhere but at home, below are three fantastic workouts (at three different difficulty levels) that you can do in your living room to help improve your ultimate game.
Each of these workouts takes less than 30 minutes, can be completed in about the space of a small dorm room floor, and requires no equipment2. That said, adding even a small amount of training equipment to these workouts can make a big difference; check the end of the article for several training pieces that can add a greater depth to these workouts and your training in general.
WORKOUT #1:  Core Warrior Pyramid
Time Required: About 20 – 25 minutes
Difficulty Level: Beginner
Most of the time, working with weights is the best possible avenue to improving muscle strength and the explosive movements needed in ultimate.
One area of your body that can still be worked very effectively using only your body weight is your core: your abs, your lower back, your obliques… basically the major muscle groups outside your arms and legs that are incorporated into almost every move you make.
Your core drives your fitness, but not as the prime mover of your force or strength; instead your core acts as the stabilizer that allows you to efficiently transfer your force around and across your body. This is important in all sports, as your core-strength helps prevent injuries and support the fitness of your other strength areas3.
In ultimate, your core is especially useful as we incorporate our body systems dynamically in everything from pivoting to throw a huge huck, leaping for the big sky, and cutting and laying out for the disc.
This is a pyramid workout for time. You are going to complete a series of exercises in several stages — with a shrinking number of reps in each stage — in as little time as possible. The ten exercises you'll be doing in the series are:
Push-ups: With ams shoulder-width apart, back straight, and your neck packed, lower you chest to the ground and then back up for full range of motion. Mix in diamond push-ups or different arm widths for greater ease or difficulty.
Leg Raises or V-Sits: On your back, straight leg lift to 90 degrees. Really try to keep your legs straight and lift your butt and back off the ground.
Russian Twists: In a v-sit, legs off the ground extended, twist to tap both sides of the floor. Tap both sides for one rep. The greater the twist, the better for you.
Elbow to Side Crunches or Regular Side Crunches: Good twist for the oblique; really try to hit the other side of the knee on your crunch.
Elbow to Side Crunches: Repeat the above exercise, except on the other side.
Elbow to Knee Forward Crunches: This is your standard crunch with your legs raised in the air; elbows should aim to hit the knees.
Dips: Use a chair, your couch, or a table, and really try to get low while keeping your legs and back straight. Keep your elbows in.
Bicycles: Again, hit the opposite knee with your elbow as you twist for the best results. Form is key on this one as going fast can sometimes make you miss a good workout.
Straight-Leg Sit-Up: Reach as far as you can when you sit up and try to get past 90 degrees.
Bridges or Supermans: Vary the exercise based on your flexibility and comfort.
At the first level of the workout, you'll do 15 reps of each of these exercises consecutively, with as little time in between exercises as you can. Then, without pausing, repeat the exercises in a second round doing 12 reps of each. Continue as such through rounds of 9 reps, 7 reps, 5 reps, 3 reps, and 1 rep to complete the pyramid.
A few notes:
Write out or keep the list of exercises on your computer handy so that you can keep the time between exercises minimal and keep pushing yourself. Try to take as few breaks as possible while trying to getting through this workout. Remember that the reps go down as you go along so it should be easier.
While you are trying to complete the workout as quickly as you can, you also want to make sure you maintain proper form as much as possible. In other words, there is no point in doing 15 bad push-ups; if you are going to take breaks, do so when your form breaks down. It's a delicate balance, but you should be able to move through the circuit fast enough that you keep your heart rate up and you are sweating well.
Each exercise has a variation that can make it more difficult or easier; you can add weights or go for more complicated variations to make the workout a bit harder (see later in the article). Check out the hyperlinked videos or search for more tips online.
Core work should be incorporated into most training sessions, but this is a great workout to do on your day off from sprinting or the gym.
WORKOUT #2:  100/100/100/100
Time Required: About 10- 20 minutes
Difficulty Level: Intermediate
This is a slightly more advanced workout, designed to build muscle strength in four major areas of the body. There is one exercise for your arms, one for your upper legs, one for your calves, and one for your core.
In this workout, you will complete 25 reps of the four exercises listed below; do this rotation four times through for a total of 100 reps of each exercise.
Push-ups or Pull-Ups: As before, form is very important and it may break down before your 25th rep. Concentrate on completing perfect push-ups, otherwise your 100 reps are not doing as much as they could. For pull-ups, you will likely have to work up to 25 reps; start with 5 and increase as you get stronger.
Air Squats or Lunges: Air squats can be done quickly, but make sure you're keeping your chest up and getting your legs aligned straight (heels flat, knees straight); also get your butt below 90 degrees. Vary it by doing lunges (each leg is one rep) which are great for pivoting and stepping out for throws. Difficulty can be added through adding light weights, though these aren't designed to be fully lifting squats.
Calf Raises: These can be done anywhere, but are fairly easy on a flat surface. Add difficulty by exploding upward and lowering slowly, balancing on a ledge or step, or adding weight that you carry (preferably on shoulders).
Modified V-Ups: These are ab exercises more built around speed, allowing you to push yourself and keep your heart rate high. You can keep your hands planted as in the linked video, or raise your hands for difficulty.
While you should focus on form with each of these exercises, doing this workout for time can also incorporate good cardio training to the circuit. This is another good workout to do on an "off-day" from practice or weight-lifting; it gives you overall body help and strength.
WORKOUT #3:  Cross-fit AMRAP
Time Required: You determine (25 minutes recommended)
Difficulty Level: Advanced
AMRAP stands for "As many reps [or rounds] as possible." This workout allows you to pick the time limit — although 20-30 minutes is typically best, so that tiredness does not compromise form too much — and allows you to race the clock to see how many rounds of exercises you can get in.
Each round consists of a series of different body exercises. As this is an advanced workout, it works best with a few of the equipment additions described later in the article.
Rounds:
25 Jump Squats
150 Single Jump Rope Jumps (or Jump Wall Touches)
25 Burpees
25 Kettlebell Swings (or Jump Lunges)
25 Calf raises with Kettlebell Tricep Extension
25 Sit-Ups
Repeat this cycle as many times as possible until your time runs out.
Usually, 25 minutes equates to about three full rounds. It is totally OK to end halfway into a round; in other words, don't stop a round early because you think time will run out before your finish another full rotation.
This is a tough workout that should be done safely and only add weight or equipment if you feel comfortable.
***
While every exercise above can be done without any equipment, some small investments will allow your to take these workouts to another level. Here are seven small pieces of exercise equipment to purchase to add to your workout:
Kettlebell: A great investment, this versatile weight can be used in a lot of different exercises, whether for your arms, core, or lower body. Choose a weight appropriate for your strength level.
Dumbbell Set: For something a little less intimidating, even light dumbbells can add a new workout dimension.
Medicine Ball: A nice, versatile weight,  mostly used for core exercises like Russian Twists or V-Ups, but also good for doing things like Wall-Ball Pushes for your legs.
A Pull Up Bar: Obviously a really good arm work out, but can also be used for advanced core exercises.
Jump Rope: Great for speed and footwork; get an adjustable one or one that properly fits your height.
Exercise Bands: Good for stretching, warming-up, or assisting in movements
Ab Rollout Wheel: Can add to your core stretching.
It's time to stop letting the price of a gym membership stand in the way of your fitness goals. Even with limited time, space, and money, you can still get a good workout in to supplement your ultimate training, no matter what your current fitness level. So move that coffee table, push back that couch, give yourself about an arm's length in either direction, and then get to work.
---