The Northwest won the weekend.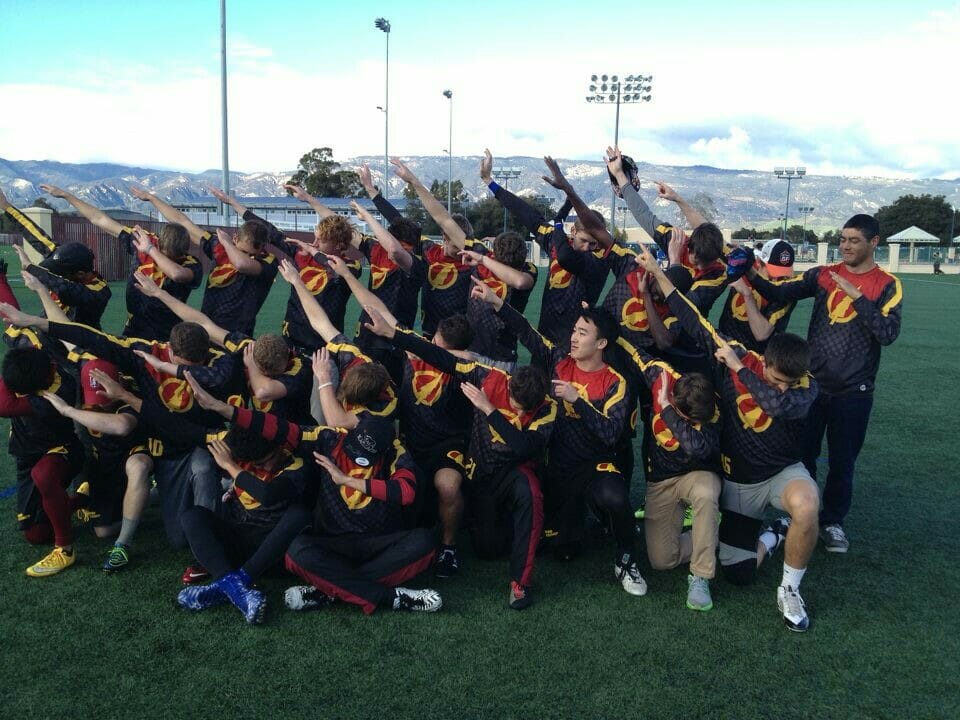 GOLETA, CA — Teams arrived on the University of California Santa Barbara's campus this past weekend ready for traditionally excellent conditions in which to knock off the rust of winter and holiday break. While some steady wind occasionally hampered pool play, nothing about day one could prepare teams (or the field site) for the coming slog through El Niño Sunday morning.
After canceled consolation rounds, delayed bracket play, an upheaval in field assignments, heavy rain, and intense winds, Stanford Bloodthirsty walked away the de facto champion on the weekend. The University of Washington Sundodgers, victims of an evening flight time that allowed no flexibility beyond the original schedule, took a no-contest forfeit in lieu of staying that resulted in their only 'loss' on the weekend. Those anticipating a formidable matchup between the two early-season front runners on the west coast were left wondering what might have been.
The hallmarks of early an early regular season tournament are most often thought of as dropped passes on in cuts, blown coverages in zone defense, less-than-ideal decision-making, and the other many nervous ticks that can make talented teams lose control. This weekend, however, the teams that pushed into the semifinals were those that were mentally prepared and knew themselves best. Neither heavy rain nor stout wind stopped Stanford, Washington, British Columbia, or Victoria.
Stanford Faces No Resistance
Stanford made the final on the back of its formidable defense, which allowed only 26 points on the weekend when all games were played to 13.1 The D-line was piloted by freshman standout Nick Hirning, a 6'4" menace to opposing offenses as both a mark and a thrower.
"He's 6'4", he can play deep in the zone, he can play mark in the zone or wing, and lock his man up in man-to-man defense. And then he's got really smooth mature throws. He plays really conservative, which is great. It really calms down the D-line [offense]," said Stanford head coach Ryan Thompson.
Hirning — a product of the Seattle youth scene — flashed two-way talent. Thompson noted that he contributed to the D-line's calm play after the turn that spurred his team to their many breaks on the weekend.
A veteran offense also gave Stanford its poise. The team appeared to rarely take risky shots unless they were called for, like numerous sailing hammers punted downwind, and look relatively unfazed by any competition, even in a windy semifinal against a surprising Victoria team, also undefeated to that point. Though the Vikes had comfortably overcome all previous victories, the game was more or less over when Bloodthirsty opened up with four straight breaks.
Playing the final against Washington, the only other team in attendance that showed a notable edge in confidence and an experienced big-game mindset over the rest of the field, would have been fitting. And yet, it's often the team that lets a 'should've' or 'could've' get into their minds that stumbles before it reaches greatness.
Stanford takes the field only once before the heavily-anticipated Stanford Invite. They'll compete at Kaimana Klassik 29, a tournament outside the realm of the regular college season, held in Oahu.
Washington Defeats All Challengers, But Lacks Polish
The Sundodgers arrived from Seattle ranked #6 in the Ultiworld Power Rankings, but slipped to #10 after the defense showed its youth and the offense couldn't always stay focused on the easy goal. There was no shortage, however, of highlight plays from star and U23 gold medalist Khalif El-Salaam. He came away from the weekend with his fair share of skying catches and blocks, and a handful of swagger-filled hucks and high release throws.
The team's demeanor and that of its star seemed at times to be in lockstep. When El-Salaam exploded for a block in the end zone, it could energize other critical contributors like Tomás Delgado, Steven Benaloh, and Chris Lu. All three were critical in moving the disc for Washington, while receiver Cooper Shumacher showed up in a big way during semis when he reeled in a bunch of El-Salaam's trust hucks downwind.
And yet, intensity still lacked at times during pool play, as if the team was still getting its bearings and figuring out its identity in 2016. And that's perfectly fine for an early season tournament. The team was forced to grit through an excellent game from a crafty and athletic Cal Poly SLO at the end of the day, a 13-11 win for the Sundodgers that may have solidified their confidence after a day of self-discovery.
"I also thought we benefitted from our sideline and camaraderie coming together well, though we still have a lot of progress left to make," Washington coach Alex Wells observed after the weekend. "This year's team has some star power, but we also have quite a bit of youth. We talked about approaching the weekend with a growth mentality."
Wells and his team appeared ready to change and adjust as the weekend progressed, and though some stiffness or nerves may have allowed competitors to stay perhap a little closer than expected, a commitment to smart throws and defensive schemes kept Washington in control of every game they played.
Where Stanford seemed nearly ready for the post-season in Santa Barbara, Washington looked much more a talented team that was busy looking inward this past weekend, letting the results of their own process-oriented play speak for themselves. Cal-Poly SLO gave them the biggest shock with a brave vertical attack that picked apart the Sundodgers' zone; still, no team managed to come within in two points of the Sundodgers.
They take the field next at the Presidents' Day Invite, as does regional rival Oregon Ego. Washington will look to establish itself truly as the frontrunner in the Northwest in San Diego.
Strong UBC, Victoria Performances Hint At Exciting Northwest
Two other Northwest teams stood out starkly amongst a mixed field of teams from the southwest and beyond: UBC and Victoria. Both showed veteran composure and focus throughout the weekend, albeit at different times and in different ways.
Victoria owned the first notable seeding upset on the weekend, quietly dispatching the hometown UCSB Black Tide, who took the field with the weight of a Nationals appearance in 2015 and an entire legacy of championships on their shoulders. The Vikes didn't just squeak by the disciplined Tide — they cruised to an uncontested victory at 13-7 in the first round of play.
No team offered Victoria resistance. They wrapped up the pool with a batch of comfortable wins along with a bye into quarters, where they calmly handled an emotional Cal Poly-SLO 13-6 in the middle of the driving rain. It took sunshine, serious wind, and a much more serious Stanford team to stop Victoria, but there's no denying how important a start this was for Victoria.
"I'd say this year our focus and determination is a little bit better than other years and so we're putting in the work after hours, after practice, and during practice as well. It comes down to a focus thing on top of chemistry and depth," said captain David Neilson as the weekend came to a close.
Neilson, his co-captain Malcolm Bryson, and their coach Luke Charlesworth were all pleased with the results and felt that nothing about their performance, the best in program history at Santa Barbara Invite, was a particular surprise. When asked about the motivation for the strong showing, the three answered nearly in unison, "Nationals."
Victoria was also robbed of a third place game during Sunday's final round, as their rivals from Vancouver, UBC, also departed quickly after semis to catch a flight home.
The Thunderbirds' weekend was perhaps the most of exciting of the four semifinalists. Their strong backfield, led by Peter Yu, may have shown the most throwing prowess and flare throughout the weekend, fearlessly attacking around continuations and the inside with flicks. But this top-end talent was marred at least twice on the weekend by huge mental lapses.
UBC may have given Stanford their best game of the weekend — at least for the first eight points. The Thunderbirds held an early break over Bloodthirsty, and were neck and neck at 4-4 in the contest late Saturday. Their D-line put immense pressure on the Stanford O-line to convert, but once the Stanford defense took the field, UBC crumbled. In spite of the strong first half effort, the game finished in a 12-5 loss for UBC.
The second lapse for UBC appeared the next morning, in a prequarters game with Kansas. A rash of turnovers and absence of focus put the Thunderbirds in a 7-3 hole at halftime, with the rain picking up and both teams soaked and a little surprised. UBC coach Marc Seraglia was probably just as surprised by what happened next as the few onlookers huddled under tents around the field. His team took the field with no major personnel changes or tweaks, and won the game 13-7.
Seraglia was wary of the point deficits his team had allowed in spite of their talent throughout the weekend, but overall was pleased with their performance as they hustled to pack and catch a flight. "It's moving with confidence, it's throwing with confidence, it's all these things that…these conditions affect and the ability to learn on the fly and to learn that our body language really matters because it affects how our team energy on the sidelines affects the team on the field. It was very good for us to play in these conditions because we don't see them. We see the rain, but we don't see this level of wind and rain," he said.
Quick Hits
UC Santa Barbara took two tough losses that kept their regular season debut subdued. The aforementioned loss to Victoria could have been written off as first-round nerves, but a 13-6 thumping by Washington in quarters confirmed that the Black Tide has a lot of work to do to get back to the top of the Southwest. They were missing at least a few veterans this weekend, but at this point they'll need strong wins outside the region in 2016 earn another bid, because they're in no shape to beat Stanford.
Cal Poly-SLO made the quarterfinals, riding a boisterous sideline, big blocks, and impressive vertical attacks. Joel Anton, a fourth-year handler for Slocore, was a standout talent for the team and seemed to have influence on many of the team's biggest moments throughout the weekend. Those moments included what could be a crucial victory 13-8 over Tulane in a rainy prequarters game. The New Orleans squad traveled far for a less than stellar weekend at a tournament where

they've made news before

, but could easily return to the Southeast as a regional contender in 2016. If Rex performs well elsewhere, it'll be a boon to Slocore's ranking and the Southwest.

The conditions, 60s and sunny with steady wind on Saturday followed by intense rains and then serious wind in late-day sunshine on Sunday, cut the normally pleasant weekend short for other teams that had traveled far looking for lots of competition.

Arizona State

picked up only one win in a nail-biting double-game point triumph over

Williams

.

Dartmouth

struggled before and after their solo win over a solid

UC Davis

team. And

Kansas

, looking for an edge outside their home region, which is owned by Colorado, Texas, and Texas A&M, saw the quarters ripped away from them when UBC came roaring back.
---
Stanford only played one game that didn't reach 13, a 12-5 victory on Saturday over UBC which was more interesting that the score suggests. ↩