A recap of the early college action.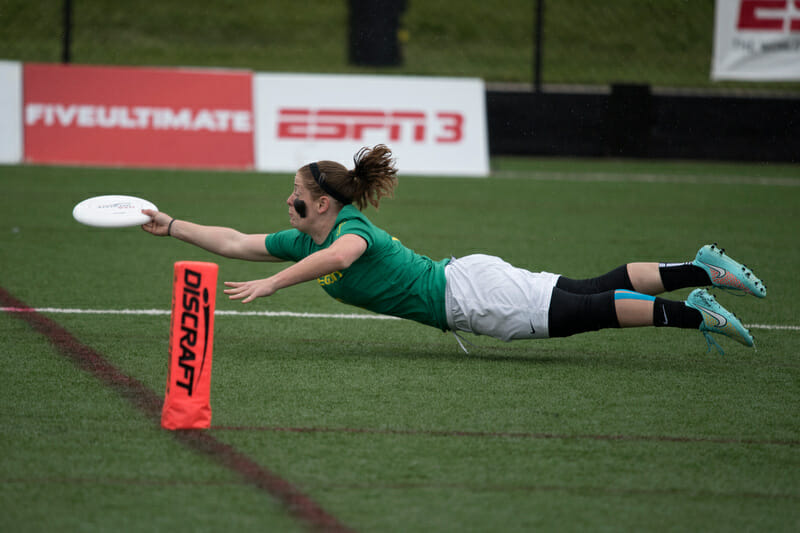 This year, we will begin a new feature on Ultiworld: a bite-sized weekly recap of the action across the College Division. This will serve as a supplement to our standard tournament reporting and will offer a high-level look at the latest happenings and the biggest stories of the week.
Let us know how we can make this more useful by commenting below or emailing [email protected].
Men's
Stanford, Washington Go Undefeated At Santa Barbara Invite; Northwest Teams Impress
Stanford, by forfeit, claimed the Santa Barbara Invite title after a wild weather weekend that saw sunny, calm weather on Saturday morning; strong wind on Saturday afternoon; heavy rain and wind on Sunday morning; and extremely windy conditions on Sunday afternoon.
#10 Washington — led by Khalif El-Salaam and good offensive chemistry — and #14 Stanford — led by strong defense, quality handling from Elliott Chartock, and rookie of the year candidate Nick Hirning — were clearly the cream of the crop and would have met in an excellent final had Washington not needed to leave for the airport.
The other two Northwest teams — #23 UBC and Victoria — were also quite impressive. Victoria looks to be a real contender in the Northwest, adding further intrigue to an already exciting region. They easily went undefeated on Saturday — including a win over UCSB — and blew away a talented Cal Poly SLO team in the quarters. They fell to Stanford in the semifinals.
UBC struggled a bit with consistency — after a strong start and 4-3 one break lead against Stanford, they melted down on offense and lost 12-5 — but looked great against all unranked teams.
A full tournament recap from Santa Barbara will be out tomorrow.
Florida Dominates T-Town Throwdown
As expected, #13 Florida handled the T-Town Throwdown competition with ease, including an impressive 15-8 win over #25 Auburn in the final. The southeast powerhouse, looking to bounce back after missing Nationals in 2015, got off to a great start as they prepare for elite competition at Warm Up in just over a week.
Very windy conditions favored the experienced Florida team. Auburn was also impressive as Ryan Landry made his 2015-2016 season debut and continued to look like one of the best players in the country. Auburn was very up and down, though, and will need greater consistency to beat top teams.
LSU and Georgia Tech also had strong weekends and will be worth keeping an eye on as the season progresses.
Elsewhere…
Colorado started their season, as usual, at New Year's Fest against mostly club teams. They left early on Sunday to avoid traveling through a major snowstorm that hammered Colorado this week.
Top seeded TCU smoked everyone they played at Big D in Little D in Texas.
Power Rankings
No major movement this week, though Stanford moved up five spots to #14 after looking particularly impressive at SBI. Washington dipped a bit, down to #10, as they look a bit green, especially relative to last year's team, and are still filling roles left open by a strong graduating class. El-Salaam and sophomore handler Steven Benaloh were quite impressive, though. It's a shame those two teams did not face off.
Auburn also climbed into the rankings at #25, largely because of the return of Ryan Landry and a finals appearance at T-Town Throwdown. UBC ticked up slightly thanks to a strong weekend in California. Michigan is pushed out of the top 25 by Auburn.
Looking Ahead
This Weekend: Queen City Tune Up (featuring #1 UMass, #2 UNC Wilmington, #5 UNC, #7 Harvard, and more)
Next Weekend: Florida Warm Up, Presidents' Day Invite
Women's
Whitman Upsets Top Ranked Oregon In Debut
The #1 Oregon powerhouse has been the favorite to win a second straight National Championship after returning the vast majority of their 2015 production. But that didn't stop them from dropping their first sanctioned game against a ranked opponent when they faced off with #4 Whitman in the Flat Tail Open Women's final. Whitman, another top ranked team, controlled the game, holding a lead all the way to a 14-12 win.
While Oregon was without Bethany Kaylor and has yet to get injured transfer Maggie Kennedy into action, Whitman's win has to build confidence and certainly impresses. Grains of salt may apply, but such a victory has to be taken into account and confirm Whitman's status as a semis contender.
UCLA Claims Windy Santa Barbara Invite Title
#7 UCLA went undefeated in the first notable West Coast tournament of the season, winning the Santa Barbara Invite over in-region rival, #6 Stanford, 9-8. The tournament was bogged down by rain and wind, which UCLA was able to effectively grind through. They held a dominant 49-14 aggregate score prior to the semifinals. In the final, their stars connected for the game winner, with Han Chen finding Kristen Pojunis. After some confusion about the hard cap, it was decided that goal was the game winner of an incredibly even contest.
Stanford, #23 UC-Davis, and UC San Diego all went home with just a single loss. Superfly, a national finalist last season, was just as dominant as UCLA through their run and looks like they'll be a top team all season long. The duo is clearly a league ahead of the rest of their Southwest brethren.
A full tournament recap of Santa Barbara Invite will be out tomorrow.
Elsewhere…
Delaware scored a nice win at Tar Heel Tune-Up, beating an impressive Clemson team in the final… Texas State took down D3 champ Rice, 9-5, at Antifreeze to win the tournament.
Power Rankings
Oregon falls behind Whitman to #3 with their loss, personnel be damned. It is the lowest Oregon has been ranked in Ultiworld's Power Rankings and marks just the third time they've been in any slot but the #1. Michigan moves up seven spots to #11 with a strong one-loss FWC. Notre Dame (#15) and Florida State (#20) enter the poll; reports are that Notre Dame is looking very strong – they can prove that at QCTU this weekend – while Florida State demonstrated they are still in the mix at FWC. UC San Diego enters the rankings at #22 following their T-3rd finish at SBI.
Ohio State falls eleven spots to #21 after an unimpressive FWC turn. But don't expect them to disappear, as they got off to a slow start last season. Victoria and Cal fall from the top 25 after unimpressive starts at Santa Barbara Invite; UVic's losses could prove damning for the Northwest's bid chances.
Looking Ahead
This Weekend: Queen City Tune Up (featuring #5 Dartmouth, #7 Central Florida, #8 Virginia, #13 Pittsburgh, and a whole lot more)
Next Weekend: Presidents' Day Invite