Stanford got UCLA back after Santa Barbara.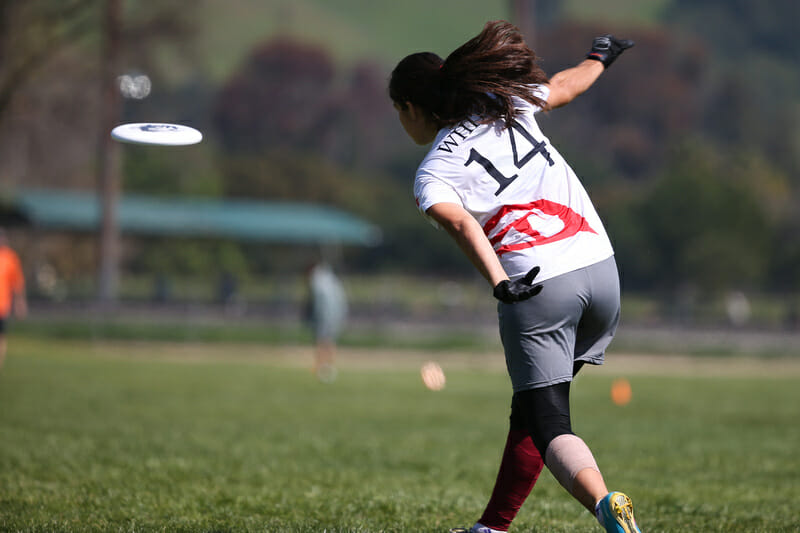 SAN DIEGO — A repeat of two greats. A battle in the Southwest. A final that only left us craving more.
This President's Day Invite women's final demonstrated just how dominant the Southwest region is on track to be this season. We got to see an incredible fight between a pair of heavyweight contenders in #6 Stanford Superfly and #4 UCLA BLU… again. The reigning Southwest champion, Stanford, got their revenge for a loss in their last matchup, defeating UCLA 14-11.
In their first meeting at the Santa Barbara Invite two weeks ago, UCLA outlasted Stanford 9-8 in a windy, rainy struggle on both sides. The Prez Day final was held on a sunny 79-degree day and the only water on their faces was the sweat dripping from their brows. On one side of the field was a "quality over quantity" Superfly team led by returners Caitlin Go, Veronica Cruz, Monisha White, Courtney Gegg, Anne Remple, and freshman stud Hallie Dunham. On the other, the dynamic duo of Han Chen and Kristen Pojunis, backed up by a varied cast of players such as Tiana Rangchi, Camille Wilson, Melissa Kan and Maria Kazantsev, made for a formidable counterpoint. This wasn't the first meeting between the two teams in the slightest.
Stanford had been waiting for UCLA to wrap up an incredible tense and challenging semifinal against #3 Oregon. The game seemed to take UCLA's tight rotation to the wall and it was easy to wonder if they'd have the legs to run with such a well-rounded Superfly team coming off a nice little break. BLU was ready to silence those doubts.
All weekend, UCLA threw different defensive looks at their opponents, sometimes switching their look up to three times in a half. Offenses struggled to figure out the BLU defensive schemes. In the first half of the final, UCLA relied on a cup-zone that had proven treacherous for so many other teams. With Han Chen lurking in the back waiting to attack the huck, the cup up front could take more risks than usual.
However, handlers can only swing it for so long. Which is exactly what Stanford handlers Dunham, White, and Rempel didn't do. They were creative and unpredictable with their throws, which kept the BLU zone on their heels. Hammers, scores up the gut, big swings through Dunham in the middle, rinse and repeat. Superfly's person defense stepped up in a big way as well, always setting an aggressive mark on Pojunis and someone there to challenge Chen's deep throws.
We know that Stanford has an impeccable offensive line, so the performance of the defense was key. On record, the Superfly defense racked up four breaks in the first half of the final, compared to UCLA's one. Stanford did their homework and looked at previous matchups with BLU, assigning towering athlete Courtney Gegg and young sophomore Shayla Harris to the extremely difficult task of guarding Chen and Pojunis.
"That was a focus. Making sure we got matchups on them [Pojunis and Chen]," Superfly coach Robin Knowler Davis said. "We made sure Courtney [Gegg] had one of them and Shayla Harris the other."
Tough defense contributed to Stanford jumping out to an 8-5 halftime lead.
The second half was where things got interesting. UCLA came out in a strong person defense and launched out of the halftime with a 4-2 run, closing the gap to 9-10. However, the wind started to play a role in the game. Chen and Pojunis's long throws weren't quite connecting just as the Stanford handlers had to save the hammers for another time. The two teams traded to 11-12, when Stanford held and then broke upwind to close out the victory, 11-14.
"It's a really friendly rivalry. We know each other really well because we see each other a lot," said Davis. "We had a really nice spirit circle at the end of the game where everyone felt just really happy to be there. They're just great opponents and super athletic."
The MVP of the Prez Day final was Superfly's Courtney Gegg. The 6'0" graduate student is not only the tallest girl on the field at any given time in most contests, but has excellent footwork and disc skills to complement her stature. She scored multiple times in the final, but also racked up assists. Several times, White, Rempel, and Dunham looked for her on the under out of their vertical stack rather than just using her as a deep threat.
Overall, it was a well-fought battle on both sides of the field. It was thoroughly entertaining, to say the least.
"We were stoked to be playing an in-region team in the final," said Pojunis. "They came out great. We were pumped coming off of Oregon; it was just an emotional rollercoaster."
This game is one of a thousand in this great Superfly-BLU rivalry. Their first finals meeting of the 2016 season came at the Santa Barbara Invite; two weeks later, they met again at the President's Day Invite. Is this the start of a new finals trend this season? Or will a Northwest team intercept?
Either way, the college women's division has a history of dominance that traces along the west coast. They say history repeats.