Who will be the victor of the year's top tournament and make themselves the title frontrunner? Hopefully, not the wind.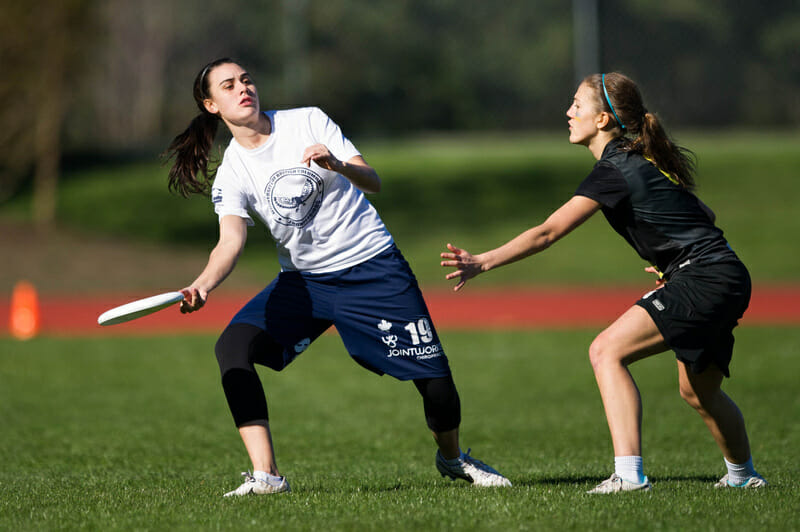 The six best women's teams in the nation are about to face-off in a weekend-long slug fest, one that, in pristine conditions, holds no clear favorite. When you introduce the weather forecast — two days of rain and 20+mph winds — one can only imagine the variability of the results and their implications.
A 12 team field is packed to the brim with contenders and challengers. All but one team – 2015 semifinalist Carleton – is ranked, making for perhaps the premier tournament of the season.
Tournament Profile
Date: March 5 – 6
Location: Fremont, CA
Weather: Highs between 60-65, rain, 15-20+ mph winds
Top 25 teams: 11
#1 British Columbia Finally Take the Field
The Thunderbirds started the season as Ultiworld's #2 ranked team with a deep roster of returning players and a 2015 Nationals semifinals appearance. After former #1 Oregon Fugue lost a few close games, UBC slid into the top spot, and has remained #1 for several weeks. What makes their weekend so interesting is that the Thunderbirds have yet to play a sanctioned game. The squad rolled to a 5-0 finish at Bellingham Invite in mid-January, beating regional opponents Oregon, Whitman Lady Sweets, Washington Element, Western Washington Chaos, and Victoria Vixens.
After putting up good showings consistently over the past year and beyond, a cadre of skilled returners with a few seasons worth of experience together give a lot of reason to believe UBC can return to the top of the podium. While Player of the Year candidate Mira Donaldson headlines with her mindbending throwing, playmaking cutter Victoria McCann, All Star Ultimate alumna Kate Scarth, and 2016 Rookie of the Year Ellen Au-Yeung give them more starpower. A skilled roster and a powerful elite thrower might make UBC one of the most prepared teams to handle the Invite's projected conditions. Plus the T-Birds usually pack a pretty solid zone set.
Of course these results don't hold the same weight that sanctioned tournaments. Each of the other top six teams – save Whitman – have real results and real experience this season. UBC often opens the season at this highly competitive affair, and last year's performance set the tone for a deep Nationals run. There is no better test for the Power Rankings leader than the field at the Stanford Invite, and when the last point is caught, we will have a much better idea and vision of what the 2016 Thunderbirds can really do.
The Beast in the East Comes West
The #6 Central Florida Sirens have been demolishing teams on their way to a perfect 14-0 start to the season, winning both FWC and QCTU. UCF has held eight opponents to under four goals a game while outscoring the field by 128 goals in those 14 games, winning by an average of 9.14 points in each game. They aren't just beating up on inadequate teams, either, defeating the likes of Minnesota Ninjas, Pittsburgh Danger, and Michigan Flywheel, all top eight teams in Ultiworld's current approximated USAU rankings; the Sirens lead the field by a mile.
Now the seemingly unchallenged tyrants head west to take on three 2015 Nationals semifinalists, including reigning national champions Oregon Fugue, as well three other 2016 tournament winners in UCLA, Whitman, and UC-Davis. In foreign territory and foreign weather, the Sirens have a chance to prove that their season thus far is no joke, and that the East Coast is for real.
RELATED: We Approximated The USAU College Rankings: See The Early Bid Picture
Three Western Winners
#3 Stanford Superfly, #4 UCLA BLU, and #2 Whitman Lady Sweets all have a tournament title under their belt in 2016, beating a top five team in the finals (Stanford over UCLA, UCLA over Stanford, and Whitman over Oregon). Whitman has played in only six sanctioned games this season, mostly against low-ranked Northwest teams, before beating Fugue in their final in a game that the Lady Sweets controlled from the start. Stanford and UCLA have just one loss each this season, coming against each other in back-to-back tournament finals. Superfly had the better victory in those two games, and only lost in that Santa Barbara Invite game in weather similar to this weekend's forecast: some rain and lots of wind.
Will the conditions give UCLA the slight advantage like it did at Santa Barbara? Han Chen, Kristen Pojunis, Maria Kazantsev, and Melissa Kan give BLU plenty of big throwers to work in the wind and Chen is a fearsome deep in their zone. Has Stanford found their groove after returning the favor against UCLA at President's Day? With one of the country's strongest handler corps, Superfly can attack zones with gusto and their receivers have great hands. Can Whitman challenge and defeat top-tier teams in multiple games in a full tournament? They've been a handler driven team the past few seasons, and Margo Heffron and Claire Revere provide the necessary firepower to beat the elite.
Second Chance for the South Central
It hasn't been long since #13 Texas and #16 Colorado traveled to California for Prez Day and put up less than thrilling results. The early stumbles have inspired doubters of some the preseason darlings. Texas may have made semifinals, but went 3-5, including getting crushed by Stanford and dropping a game to unranked Northeastern. Meanwhile, Kali put together a 3-4 record, mostly in close games, including losses to USC, UCSD, and Davis.
The region is now holding loosely onto a pair of bids, with the potential for things to go either way. Texas and Colorado each have excellent opportunities this weekend and should benefit from the conditions if they can keep games close. Each has some strong throwers and vets that shouldn't be scared of the storm, especially after dealing with the gusts of Prez Day.
#5 Oregon Playing Underdogs
It should be a novel weekend for Oregon, who enters the tournament in the middle of their pool. For most of the team, weened on semis and finals appearances and National Championships, this is uncharted territory. Could any doubts be creeping into the minds of the team, now without their famed coach Lou Burruss?
If you've seen them play, not likely. Jesse Shofner and Bethany Kaylor are still some of the division's premier talents, and the team has a litany of other key contributors. One of the most dangerous has been speedy Olivia Bartruff, a run-through-block-getting, goal-scoring, red-zone-isolation-running machine. But with the windy conditions, it is likely they'll be looking to Lily Weaver, Kaitlin Brunik, and Alex Ode to be effective on both sides of the disc. They'll be without Hayley Wahlroos, due to an injury suffered at President's Day, meaning what is asked of the remaining throwers will be more significant.
The Field At Large
It seems hard to overlook a top 10 team, but that may be happening with #10 Washington. Their starpower has diminished the past few seasons, but Nora Landri, Sarah Edwards, and Grace Noah are standouts in a deep rotation. Element was inconsistent in their President's Day debut, but flashed potential in thrashing #17 Western Washington and #23 Colorado College.
#14 Ohio State has become something of an east coast litmus test. They are 9-5 this season, but of those five losses, two were to #12 Michigan and two to #6 Central Florida. However, only two of their wins are against teams within the top 20. They have some huge difference makers with Sadie Jezierski and Stevie Miller, but are still developing the depth and skill to move from the middle of the pack.
The Stanford Open winner, #20 UC-Davis, had to battle through #21 Cal and #24 UC-San Diego just to get here. With wins over Western Washington and Colorado from President's Day, Davis has proven their mettle. What they haven't done is challenge the powers that be in the Southwest, faring poorly in matchups vs. Stanford and UCLA. Veronica Chan is a do-it-all force for Rogue and gives them a chance in most any games.
Have you pressed the panic button yet on Carleton? A 3-5 showing at QCTU was alarming, with none of their losses close and a 7-6 win over UNC as their crown jewel. But there was clearly potential on the field for a deep Carleton roster, which demonstrated a lot of the fundamentals expected of Syzygy. What they lacked was execution and someone to go toe to toe with the opposition's best player. Caroline Sheffield and Naomi Price-Lazarus may have that capability. Carleton got out to a rocky start last year at QCTU, but that didn't stop them from playing well at Northwest Challenge and eventually making semis at Nationals. Don't count them out.
What to Watch For
UBC vs Oregon (Sat. 9:40am) — A rematch of the 2015 Nationals semi-finals and of a mid-January game in Bellingham that saw Fugue and the Thunderbirds win, respectively. UBC has the chance to start their tournament and defense of their #1 Power Ranking with a win against regional powerhouse Oregon.
Whitman vs UCF (Sat. 9:40am) — What better way to see what Whitman is all about this season than a tournament opener against undefeated UCF Sirens? Both squads, while successful and undefeated so far, have much to prove against a higher level of competition, and it starts with each other.
Stanford vs. UCF (Sat. 4:20PM) — The best in the east meets the best in the west (so far). It's as simple and exciting as that. The battle of UCF'z zone vs. Stanford's handlers will be the crux of this game. [Watch Live!]
UCLA vs. Oregon (Sat. 4:20PM) — After putting together a game of the year quality show in the Prez Day semi, who doesn't want to see these two athletic and star-studded rosters collide again? The matchups here are dynamite, so we can only hope we get to watch some person defense.