The first day of one of the pillar tournaments of the season is in the books, and there were plenty of surprises!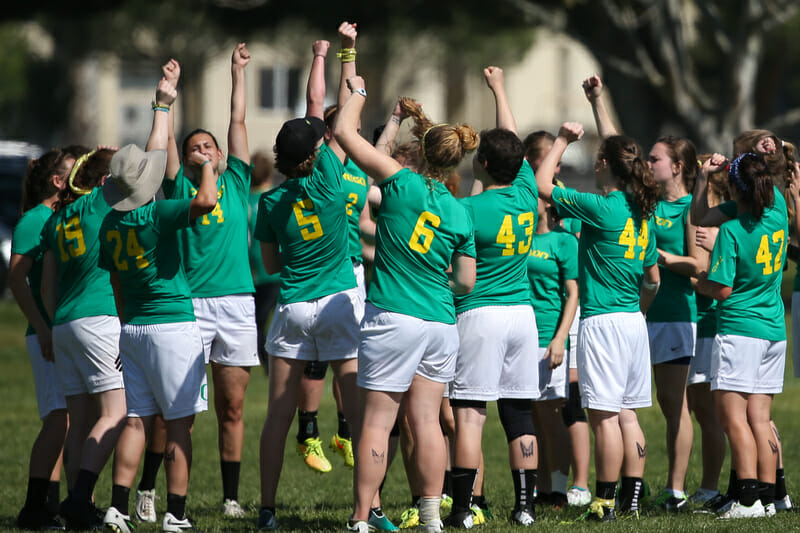 FREMONT — Saturday of Stanford Invite in the women's division had a little bit of everything. Many of the games played rarely reached 13. The wind was consistently casting across the field complexes and in constantly varying speeds. But day one is in the bag and the storylines poured in with the rain.
Pool A
Oregon Sneaks Into First Place
Oregon Fugue is the only women's team to achieve a perfect record on Saturday, but their play was far from the same.
The defending National Champions won their four games in a variety of fashions: their best efforts came in a double game point win to start the day against fellow pool winners UBC — the Thunderbirds' only loss on the day — and a come-from-behind win against Ohio State Fever in which Oregon scored five in a row to close the game seconds before the hard cap horn sounded. In their second game, Fugue built a solid lead against Texas Melee, before letting off the gas pedal and watching Texas score three straight points to bring the game within one point before time ran out, while they used a four point run to pull away from UCLA to finish their Saturday.
Outside of some curious results and stretches of poor play, when Fugue was playing in stride, running and gunning, and scoring, they looked better than any other team, and they did it without their primary O-line handler Hayley Wahlroos, who is out a few weeks with a lower body injury.
UBC Impresses In Season's First Games
The Thunderbirds proved a lot in their first sanctioned tournament of the season: after a tough first round loss on double game point to pool leaders Oregon, the team rebounded to dismantle the rest of their competition, winning their next three games with an average score of 13-3.
Most impressive among those wins was a runaway performance against UCLA in their second game of the day. British Columbia's defensive pressure put BLU's backfield in a vice and forced frequent turns with their trap cup. Even through some unsteady sections of offensive play, their defense helped them navigate those pitfalls. Ellen Au-Yeung and Janelle Siwa both performed well for the deep T-Birds team.
Shorthanded UCLA Playing Below Elite
Reaching their third consecutive tournament final looks to be a long-shot after UCLA BLU stumbled through pool play on Saturday. Round one brought a fierce Ohio State team that controlled the first two-thirds of the game, before UCLA started pushing out their top seven for the last several points to force and win a universe point. The team seemingly reached too far to secure the win, as round two saw a dominant win from UBC. UCLA then took over a weaker Carleton team before finishing the day against Fugue in a messy, windy, rainy game in which Oregon managed to overcome the elements for a couple upwind breaks that BLU just couldn't match.
UCLA has a number of skilled players, but not a deep rotation, and really felt the absences of Melissa Kan and Kathleen Lo (academic commitments) and Brianna Dirkse (injury). They put a lot of pressure on their remaining vets and their execution suffered against such stiff competition.
Texas and Ohio State Rattle the Cages, Come Up Short
Texas Melee played a quiet but solid day of ultimate, including a late game rally to nearly force a double game point against Oregon before the clock ran out. Texas ran into a Fever team minutes after they allowed the huge comeback win for Oregon and defeated them handily. Melee has a chance to take third in the pool in their early Sunday pool play game against UCLA.
Ohio State had a strange and almost great day: leading the majority of their games against the 4 and 5 seeds Oregon and UCLA. The team struggled to close out games, but did very well otherwise. Clearly their inability to finish strong is a detriment to their success, but there was a lot of great play from the Midwest team in their first trip west. That ability to go stride for stride for 9/10ths of the way with elite teams bodes well for their long term development.
Pool B
Surprising Superfly Saturday
The 2016 Prez Day champs, Stanford Superfly, had an unexpectedly weak day, finishing up with just one win. With losses to Colorado (8-9), Whitman (8-10), and Central Florida (5-6), it wasn't just the weather that got the better of Superfly. The wind took them away from the over the top attacks they use offensively and out of their comfort zone. Definitely unexpected from the home team coming off a big tourney win.
Kali Energy Sustained During Mixed Day
Colorado bounced back solidly from a disappointing performance at Prez Day. Kali handlers and their deep receivers' presence in the air were too much for teams today. Kali started the day 2-0 with statement wins over Stanford and UC-Davis, however, would finish the day with two losses to Washington and Central Florida. The Kali handlers were taking care of business in the wind; however, the real MVP of this team today is their sideline. Energy does not come in short supply, that's for sure. Through all these long, windy points today, sideline support came more and more into the picture; a spectator would be hard pressed to tell if Colorado was winning, losing, or locked in a battle just based on their volume.
Sirens Taking Their Show on the Road
The team that opponents were eager to play and fans were excited to see was east coast powerhouse Central Florida. The Sirens kicked off their first west coast tourney of the year at 3-1 and taking the number one seed in the pool. Even with a limited roster, the Sirens still proved themselves as a team to be reckoned with on either coast. Handler studs Janina Freystaetter and Steph "Eli" Williams are depended upon on nearly every point and usually come through.
Whitman Quietly Tops Pool
The Northwest powerhouse, Whitman Sweets, had a strong first-day showing going 3-1, with their one loss coming against Central Florida and their statement win against Stanford. Lead by smooth handlers Margo Heffron and Nina Finley, this offense maintained momentum through all three of their victories.
In The Final Round…
Whitman, UCF, and Washington all head into the final pool play round still eligible to make semifinals with 3-1 records. Whitman has a huge edge in score differential and Washington trails. It is likely Element will need to top Stanford and hope either Whitman loses to Colorado or UCF bricks their game against UC-Davis.