One of the college season's biggest weekends!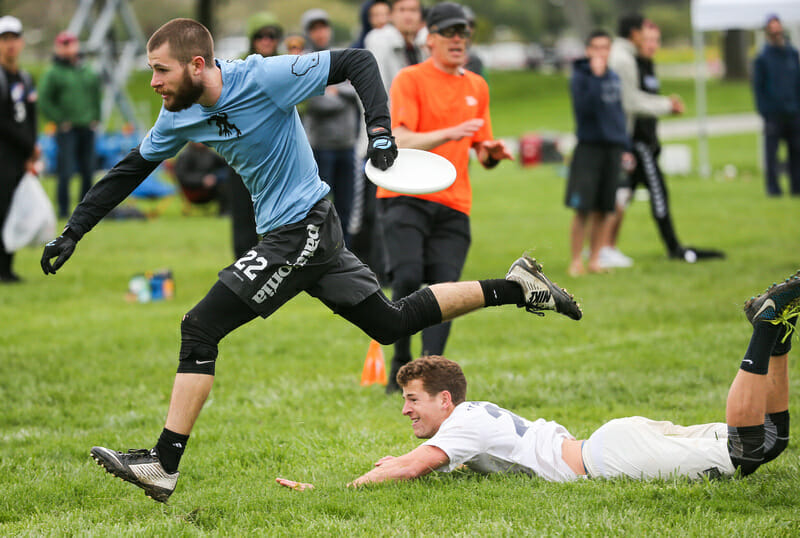 This year, we are hosting a new feature on Ultiworld: a bite-sized weekly recap of the action across the College Division. This will serve as a supplement to our standard tournament reporting and will offer a high-level look at the latest happenings and the biggest stories of the week.
Let us know how we can make this more useful by commenting below or emailing [email protected].
Men's
Wisconsin Takes Home Stanford Invite Crown
Wisconsin may have had a bit of a bumpy weekend in Tampa at Florida Warm Up back in February, but they erased doubts about their offense with a dominant performance at the Stanford Invite. Their 6-0 performance came along with an average margin of victory of an astonishing 5.7 goals; their closest game was a two point win over Pittsburgh, 15-13, in the tournament final.
Craig Cox returned to the offense and provided some additional throwing oomph while the defense continued its strong play. Aaron Speiss was a standout cutter on the weekend.
Despite the win, Wisconsin is certainly not the obvious favorite as we head towards the late season tournaments and the Series. UNC Wilmington (QCTU), Oregon (Prez Day), Stanford (Santa Barbara Invite), and Minnesota (Warm Up) have all won major tournaments, and others like Pitt, UMass, and Florida are right there.
Auburn Catches Fire To Win Tally Classic
Auburn, a team that looked disjointed just three weeks ago in Tampa, ripped off three extremely impressive wins on Sunday in Tallahassee to win the Tally Classic. They defeated UNC in quarters 12-11, Georgia Tech in semis 14-7, and #1 UNC Wilmington in the final 14-13.
Reigning Southeast Player of the Year Ryan Landry had a superb weekend and notched a pair of decisive handblocks on UNCW's Xavier Maxstadt to seal an Auburn victory.
Although Auburn had showed the ability to hang with top teams at Warm Up, they came away with a lot of red on their resume. They showed wild inconsistency, giving up strings of breaks before surging back with runs of their own. There are still questions about Auburn: they didn't get a single break against Georgia in their pool play game on Saturday at Tally and lost 13-10 before their Sunday magic.
Can Auburn find their way to another bid for the Southeast? It's not looking good for the region at the moment, with only Florida representing it in the top 20 of the projected USAU rankings.
Missouri Starts Season Strong
#17 Missouri took to the field for the first time this spring at the Midwest Throwdown and came away with a clean 7-0 record. Their closest game was a 15-11 win over Kansas in the semifinals.
They are expected to land within the bid-earning range of the first iteration of the USA Ultimate rankings this week. They will get their first real test of the spring season at Easterns in two weeks.
Elsewhere
…Georgetown defeated South Carolina 14-10 in the Terminus final…Utah will go down on paper as the winner of the Boise Big Sky Brawl, but BYU was the real champion, defeating Utah 12-6 on Saturday before dropping out of the tournament due to BYU's Sunday athletics rule…George Washington upset VCU 12-10 in the final of the Chesapeake Classic…Arizona got an easy win at Albuquerque's Kokopelli…Indiana was the undefeated round robin champion at DiscThrow Inferno…DIII-#14 Lewis & Clark beat Puget Sound 13-10 in the PLU BBQ final to defend their title…
Power Rankings
Check out our latest Power Rankings and stay tuned for a full 25-team breakdown tomorrow!
Looking Ahead
This Weekend: A quiet weekend on the calendar. Cornell is the top seed at the Atlantic City 6, Wisconsin-Milwaukee headlines Rip Tide, and Iowa gets the #1 seed at the Windy City Whammy.
Next Weekend: Easterns is the final major on the College Men's calendar, featuring eight of the country's top 10 teams and live video coverage from Ultiworld. Trouble In Vegas hosts #1 Wisconsin and many Regionals level teams. Southerns and Music City Tune Up are also on the docket.
Women's
Whitman Captures Stanford Invite, #1 Spot, But Title's Up For Grabs
When Whitman started the Stanford Invite with their first loss of the season, falling to UCF 8-10, it could have been cause for confusion. Who knew by the end that loss would be a huge asset in helping them win the tournament and becoming the top ranked team in the country? Their rematch with Central Florida was clearly informed by their earlier meeting and now Whitman's resume reads: 12-1 record, 6-1 against top 10 teams, and their only loss against #2 UCF, who they have a win over.
Whitman's depth is impressive, as they have a solid core at their top end, but a competitive group of role players that keeps contributions spread across the roster.
While Whitman's win positions them at the top, the competitive field below is filled with potential usurpers. The Lady Sweets weren't dominant, with close games against Stanford and Oregon. UBC and Central Florida also have to be considered in the mix, and teams like Texas, Washington, and a healthy UCLA are all capable of notching an upset. Centex and Northwest Challenge will bring more excitement, but Regionals and Nationals weekends are going to be thrilling.
Kansas Scores Meaningful Midwest Throwdown Win
It was a nice weekend in St. Louis for Kansas Betty, who head home with eight more wins and a metaphorical trophy for the case. After a rough start at QCTU, Betty nabbed their first marquee win of the season, defeating #18 Wisconsin in the final.
While they didn't face a lot of Nationals level competition, Kansas did assert themselves as the best team in the field. They looked hampered by injuries and in need of more time at QCTU and seem to have benefited from additional opportunities to develop. They'll attempt to win their second straight Centex and prove they are still a threat in the crowded South Central.
Notre Dame Wins Second Straight Tally Classic
Tally Classic XI had a lot of similarities to Tally Classic X: Notre Dame came to Tallahassee and left the unblemished champion and host Florida State suffered a surprisingly semifinal setback against an in-region upstart. #15 Notre Dame won some close ones over FSU and Georgia Tech, clearly the top three teams in the field, but eventually notched a hard fought 12-10 victory over Tech in the final. Georgia Tech, in a banner year for the team, upset #23 Florida State in semifinals, and gave Notre Dame all they could handle.
Elsewhere…
Vermont got off to an undefeated start at Delaware Classic, defeating UConn in the final and a good Maryland team in semis, a dark horse in the Northeast region…Akron avenged a Saturday loss to Cinci in the final 11-7 to win #ElNino…After a 1-3 Saturday, Montana won back to back double game point victories to win Boise Big Sky Brawl in dramatic fashion…Denver has now won every tourney they've attended, winning the 4 team tournament Kokopelli…Mississippi State had the last laugh against Alabama, who beat them in pool play, winning the Only Ten I See final 15-7…
Power Rankings
Check out our latest Power Rankings and stay tuned for a full 25-team breakdown tomorrow!
Looking Ahead
This weekend: A bit of a quiet weekend between the typical March majors, but Mash-Up is the marquee in a 4-tournament weekend, where #16 Notre Dame plays a back to back with some solid squads like Florida and Harvard.
Next weekend: Centex weekend is here! Bids will be won and lost in Texas, but plenty of other action is going on, at tournaments like Trouble in Vegas, Music City, Last Call, and College Southerns. There will be a lot to soak in and teams will really get a sense of how many bids they get to Regionals and Nationals.