The Hurricanes dominate both gender divisions, ensuring the hometown trophy doesn't leave Amherst.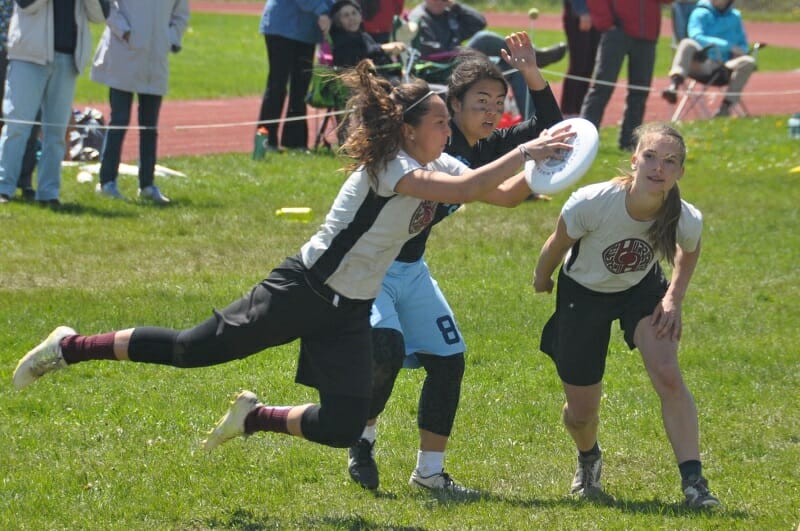 This post is brought to you by National Ultimate Training Camp. All opinions are those of the author. Thanks for supporting the brands that make Ultiworld possible! 
This article was written by guest author Josh Seamon.
Stepping onto the fields at the 25th Amherst Invitational — the oldest high school tournament in the country, in the city where ultimate was born — is a powerful experience. Even though Tiina is no longer coaching at Amherst, the House that Booth Built is as strong as it's ever been.
Amherst A Cut Above
After watching the two Amherst Varsity teams go 13-0 and outscore their opponents by a combined 196-42 on the weekend, I was reminded of a quote from a local Amherst paper from the late 90's: "Amherst doesn't rebuild. Amherst reloads." With thoroughly loaded rosters, each Varsity Amherst team ran into just a single half of true resistance during the entire tournament.
After cruising through Saturday's pool play with two shutouts, the Amherst girls ended up having to grind out a tough first half in their semifinal against an athletic and determined squad from Lower Merion. As was the case all weekend, Amherst's WJUC US National team member Josephine "Jo-Z" Coppinger ran the Hurricane's show, with just about every other pass running through her nimble hands. Lower Merion held a stifling zone for most of the game, but ran up against Coppinger's punishing field vision and brutally accurate throws. Amherst was also keyed by the consistent play of April Weintraub, Elende Connor, and Fernanda Brena. Lower Merion capitalized on several uncharacteristic Amherst drops — as well as the extremely athletic play of Bethany Eldridge — to keep the score close for the first half, but ended up falling 8-13.
For the Hurricane boys, their biggest test came from a pool play matchup with a resilient and flashy Northampton team coached by Callahan front-runner Jeff Babbitt. Primary handlers Amiel Hanley, Zach Dietz, and Zach Levitt buoyed the Blue Devils with quick disc movement, converting with high frequency Amherst's few turns to stay within three at the half against the Amherst machine. But Amherst's depth tipped the scales in the second half and the Hurricanes held Northampton to just a one more goal behind complete play from Luke Webb, Ryan Dinger, and Oliver Fay, along with shut-down deep defense from Noah Zobel.
With the sun fully out on Sunday afternoon and wind building for the first time all weekend, the Amherst teams mirrored each other in their final games, each going up 5-0 right out of the gate.
The girls endured some resistance from Lexington, who rebounded somewhat to bring the score to 4-9. Tess Johnson repeatedly broke Amherst with high-release backhands, Mira Anderberg opened up the middle of the field with key receptions, and Lenna Wolffe pushed the disc upfield in high wind trap situations. Lexington continued to rely on their zone in the second half, but Amherst repeatedly broke upwind with 30+ throw, patient possessions. The Hurricane's wrapped up the finals 15-5 to take their hometown title.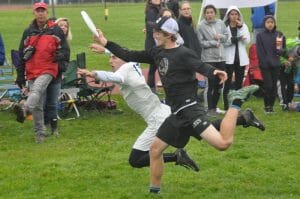 Following their hot finals start, the Amherst boys ended up closing out half 8-1 against Columbia, who managed to pull out a 10-7 semifinals win against Northampton. Columbia successfully converted a few short-field possessions, but had a challenging time moving the disc up the field against Amherst's intelligent front-field zone and back-field person defense. Amherst kept up their powerful short game, earning the majority of the goals on boring possessions supported by a chorus of calls for "Dribble! Dribble! Dribble!" from coach Joe Costello. The Hurricanes never let up and closed out the game 15-4 on a short upline goal from stand-out all-star Luke Webb.
Northampton coach Lee Feldscher summed up Amherst's weekend quite adeptly: "It's just like Amherst is playing another game."
Other Observations
Coach Chris Strahler is doing awesome things in Maine at Fryeburg. His girls team played well all weekend, putting up eight points against Amherst, the only goals allowed by the Hurricane's during Saturday's pool play, and finished fourth on the weekend.
Lincoln-Sudbury's Aaron Epstein is a player to track; he has excellent playing maturity, field sense, and sharp fundamentals.
In honor of the 25th anniversary of the Amherst Invitational, VC and Joe Costello presented Tiina Booth with a very limited edition commemorative disc. Tiina's auctioning off a small number of the discs to benefit AGE UP, GUM, the NUTC Scholarship Fund, UMass Men's Ultimate, the US Women's National Team, and Without Limits. The auctions are now online at ebay.
Jim Pistrang's Amherst Middle School team is a joy to watch. Seeing his middle school girls put together clean disc movement and make great defensive stops against high school competition is impressive to see.