A very strong top two seeds will battle for supremacy in Pool C.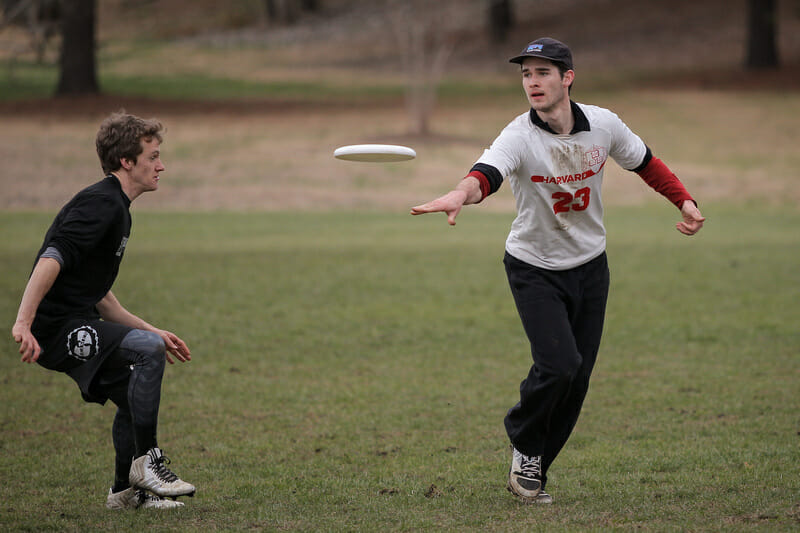 This article is presented by Spin Ultimate; all opinions are those of the author. Please support the brands that make Ultiworld possible and shop at Spin Ultimate!
Last year Pool C produced three out of the four semifinalists, a record in the modern era. While this year's edition may not yield the same historic output, there is plenty of intrigue and excitement around these teams and players to make it worth your while.
Pool C gives us some of the most talented players in the country, as well as teams with big question marks. Together, the two factors should lead to a wild and entertaining weekend in Raleigh. With Jack Williams, John Stubbs, and John Wodatch bringing the highlights, there should be no shortage of jaw dropping plays. In between the spectacle of some of the best aerial players in the country going at it, there is sure to be tremendous drama and a tantalizing Wisconsin-Wilmington matchup on Friday, making Pool C certainly one to watch.
UNC-Wilmington Seamen
Seeding: C1, Overall #3
Overall Record: 28-5
Against the Nationals field: 9-3
Against the pool: 1-0 vs Harvard, 1-0 vs Michigan
Key matchup: Wisconsin, 2:30 PM Friday
It has been an up-and-down regular season for the Seamen of UNC-Wilmington. Coming into the season, they were one of the three teams, along with Pittsburgh and UMass, that most people had circled as title contenders. But after knocking off UMass at QCTU in what may well have been the game of the season to reinforce that potential, the Seaman went into a bit of a midseason swoon. They dropped games to Tulane, Auburn, Stanford, and Minnesota that left the team with a few question marks heading into the Series.
The ship appears to be back on course, however, as the Seamen stormed through Conferences and Regionals, including a definitive 15-9 take down of their intra-state rivals UNC Darkside in the regional final. That victory earned Wilmington the top seed in Pool C, the first time in the program's recent run of success that they have been the top seed in a pool at Nationals.
Wilmington's up-and-down regular season is a departure from their route to Nationals last year, in which they rode a 29-game winning streak up to the brink of the Series, before getting dismantled by UNC at Regionals and crashing out of Nationals in pre-quarters after a series of erratic performances. While 2015 Wilmington peaked at Centex and Easterns, it appears 2016 Wilmington is hitting its stride at just the right time, and comes into Nationals on the upswing. We have seen this season and in seasons past just how dangerous Wilmington are when they get going and if the Seamen get their alchemy right this weekend, then the rest of Pool C will need to watch out.
One of the things Wilmington has going for them this year — and something that might explain some of their ups and downs — is that they have widened their bench and brought more players into the fold in important roles. While the big names are all still there — Jack Williams, Xavier Maxstadt, Charlie Lian, Erik Esposto, etc. — coach Greg Vassar and his staff have put more on the shoulders of role players this season, perhaps in an attempt to lighten the responsibilities of his studs after the weight of their roles came crashing down around them at Nationals last season.
Guys like Matt Mason and Kevin Mateer have stepped up in a big way this season, and Willie Stewart has been a revelation. A big addition to the handling core for the Seamen, Stewart has found success on both offensive and defensive lines. While he doesn't bring the same raw firepower as Maxstadt or Lian with the disc in his hands, his speed and smart cutting allow him to fit into Wilmington's run-and-gun approach to offense, and his ability to consistently break the mark has been a tremendous asset to the team all season.
Of course, while the role players may be able to lay down a foundation for Wilmington this weekend, if history is any indication, then the fortunes of UNCW will rest on their top players — Jack Williams and Xavier Maxstadt, in particular. Williams came into the year with some serious POTY buzz, and while he has by no means been a bust, he has fallen off the pace of Jeff Babbitt and Trent Dillon. We are still waiting for THE Jack Williams game this year, one that melds his unquestioned aerial prowess with his potent deep throws and his indefatigable motor to make him and his team completely unstoppable. We have seen flashes of that player so far this season, but perhaps the full model will be unveiled this weekend.
Even if Williams is able to realize all of his potential at Nationals and dominate as Wilmington's best player, the fate of UNCW will still likely come down to their literal "X" factor, Xavier Maxstadt. The refrain may begin to seem rote, but that's because it still holds true: if Maxstadt is on, UNCW can and likely will beat anyone1, but if he is off, then they probably can't win2. The range and confidence of his throws can elevate the team to another level, one where every cutter is open and defenses are faced with the choice of giving up good looks to Wilmington, or great looks.
His inconsistency has cost the team in big spots, and even his role on the team has suffered from inconsistency, as he has been shuttled back and forth from offense to defense over the course of the season, perhaps partially explaining why the team had trouble getting into a groove during the regular season.
At Easterns, a UNCW player claimed that the Seamen "Live by the Xavier, and die by the Xavier," and while the coaching staff has constructed a fully fleshed-out team to mitigate some of the variances in Maxstadt's play, ultimately, that platitude describes who Wilmington is at the moment. They rely on a set of players and a play style that could flame out and lead to ruin, or could ignite and lead to a title. It's a risk, but it's a risk that gives them a better shot at winning the title than many other teams.
Wisconsin Hodags
Seeding: C2, Overall #6
Overall Record: 30-5
Against the Nationals field: 6-2
Against the pool: 1-0 vs Harvard
Key matchup: UNC-Wilmington, 2:30 PM Friday
After announcing their presence among the elite with a tournament win at Stanford, Wisconsin spent the regular season in the limelight and are serious title contenders for the first time since 2012. The venerated program has been treading water for much of the past few seasons, but this could be the year they break back through to where they believe they belong by birthright — the semifinals and beyond.
Suffocating defense has always been a hallmark of Hodag ultimate, and this season is no different. The lower-seeded teams in the pool, and perhaps even Wilmington, could have trouble matching the physicality and hard-nosed mentality that Wisconsin's D-line brings to bear.
While the defense is classic Wisconsin, it is the offense coming out of Madison that is turning some heads this season. Utilizing the athleticism and intensity that makes their man-to-man defense so spectacular, Wisconsin has crafted an offense that simply runs all over their opponents. Blitzing down the field, the Hodag offense is often able to score on one or two throws when things are rolling.
The focus is on cutter continuation throws — particularly from Craig Cox — to punish defenses that try to stay with Wisconsin's strong athletes. Once Cox or another Wisconsin cutter gets an under, another Hodag cutter goes streaking deep looking for the immediate huck, which more often than not is going up. It certainly isn't the most complex offensive philosophy in the world, but with dominant athletes like Callahan nominee Aaron Speiss and Ross Barker running roughshod over opponents, it's a philosophy that often pays dividends.
The key question that Wisconsin will have to answer this weekend is not about their ability to move the rock vertically down field, but whether or not they can create enough horizontal movement to free up those deep shots. This was their big problem in 2015, and it is a problem they will have to solve if they want to make it back to the semifinals. The growth of Avery Johnson as a main handler on the offense has been key in this regard. After having the weight of the offense put on his shoulders in 2015, Johnson struggled at times last season, but has really shown his development in 2016, and has kept the Hodag offense humming all spring. If he and the rest of the Wisconsin handler core can keep resetting the disc and attacking the break space, the big Wisconsin cutters will eventually win their matchups and be wide open for score after score.
At Regionals, Wisconsin faltered, dropping two games to Carleton, including a 15-5 embarrassment in pool play. For a team that entered as the favorite, it was disappointing to come up short of the regional title, particularly at the hands of their bitter rivals. But peel back the context of the weekend, and the prognosis for Nationals looks good for the Hodags. North Central Regionals was played in nightmarish wind, rain, and mud that forced Wisconsin well out of their comfort zone, made their vertical attack much more difficult, and introduced random elements to the games. With the forecast looking pristine in Raleigh this weekend, Wisconsin's opponents will be at the full mercy of their deep-ball offense.
Furthermore, while Regionals is important, it's not the main event for this team, and we should expect them to be peaking at the right time. That is one of the biggest benefits of coming from such a longstanding and successful program; they have been there before and they know how to prepare. While some other teams may have difficulty navigating the weeks in between Regionals and Nationals, coach Hector Valdivia and his staff no doubt knew exactly how to get the most out of the preparation time before this weekend, and will have Wisconsin firing on all cylinders when they touch down in Raleigh.
Harvard Red Line
Seeding: C3, Overall #10
Overall Record: 23-7
Against the Nationals field: 5-7
Against the pool: 0-1 vs UNC-Wilmington, 0-1 vs Wisconsin, 1-0 vs Connecticut
Key matchup: Michigan, 2:30 PM Friday
Back to the big show after missing out in 2015, Harvard Red Line is headed to Nationals for the fourth time in six years. With big wins over Oregon, Carleton, and Georgia on the season, Red Line are likely dreaming beyond just their return to Nationals, but of making a real impact in the proceedings.
The last time Harvard made it to the quarterfinals at Nationals, they were led by a Stubbs brother, and Red Line will be hoping that history repeats itself this weekend. John Stubbs had some big shoes to fill coming into college, and electing to go to the same program where his big brother George won the Callahan only added to the pressure and expectations on the younger Stubbs. But after two seasons of promise and potential, John has broken out from his brother's shadow and proven himself to be a top ten player in the college game. If he can lead Harvard back to the quarterfinals, or even beyond, it will be a part of the legacy he is shaping for himself in Cambridge.
The other gigantic talent on Harvard is Mark Vandenberg. While his game is not as flashy as the highlight reel acrobatics that Stubbs brings to the table, Vandenberg's throwing ability and high ultimate IQ are essential to everything Harvard does. Similar to Williams and Maxstadt of Wilmington, while Stubbs may be the best player of Harvard, Vandenberg is probably their most important, as their vertical stack is almost entirely dependent on his ability to break the mark and get resets whenever the stall count gets above three or four. In Harvard's big wins this year, Vandenberg has been able to do both with aplomb, while in their losses he has stuttered. His play may be the best barometer for Harvard's success this weekend.
While Stubbs and Vandenberg may be enough to carry Harvard into the bracket, it is difficult to see them making it to quarterfinals or beyond without another player having a breakout tournament. However, it's unclear exactly who that player would be.
Ben Scharfstein has been solid all year as Vandenberg's battery mate in the offensive backfield, but his role doesn't seem to allow him to take over games, as he and the offense defer so heavily to Vandenberg. More likely, it would be a player on the D-line that lights it up and propels Red Line forward, allowing Stubbs and Vandenberg to save legs for offense. David Reshef has been an important figure for Harvard's defense this season, and if he can make some big plays this weekend, then the team's ceiling jumps up a notch.
The New England Regional final against UMass showed the good and bad for Harvard, and why it would be surprising if they were able to make it to the semifinals. Red Line played the top team in the country even for the first half, with good fundamentals and patience allowing them to make a million throws against Zoodisc's tough zone on a rainy day and earn some tough holds. But in the second half, those long points started to wear on Harvard, and when UMass turned up the heat with high intensity defense, Red Line crumbled. The first half showed the poise and discipline that got Harvard to Nationals, and the second laid bare the depth and athleticism issues that would make it a surprise if they manage to take down a top seed.
Michigan MagnUM
Seeding: C4, Overall #15
Overall Record: 21-7
Against the Nationals field: 0-5
Against the pool: 0-1 vs UNC-Wilmington
Key matchup: Harvard, 2:30 PM Friday
Another team returning to the fray at Nationals after an absence last season, Michigan took care of business at Regionals to reclaim the Great Lakes title. Their closest game was a 15-10 victory over Illinois in the semifinals, and they left no doubt that Magnum was the cream of the crop in the region this season.
However, beating Regionals level teams has not been a problem for Michigan this year, as they have generally beaten all of the teams they were "supposed to beat" on the season. But even in notching a tournament victory at Easterns Qualifier, Michigan has yet to beat a Nationals level team this season, going 0-5 against their fellow Nationals qualifiers.
Looking squarely at their resume, it would be easy to say that Michigan were the best team in a bad region, and that while they are consistent, they are consistently mediocre, which likely means that wins will be hard to come by at Nationals. However, the bright spot for Magnum is that, in fact, they have actually been fairly inconsistent in their play this season, despite what the results say.
In games against UNC, Pitt, Wilmington, and other top squads this year, there were moments of brilliance from Michigan, followed by stretches of dismal play. Particularly on the offensive side, it was not uncommon to see a sequence where on one point a lefty scoober to the break side led to a perfect around backhand and a quick give-and-go on the goal line for a score, and then on the next possession the handler set bogs down, a thrower tries to squeeze through a tough window, and the receiver bobbles it for a drop.
This inconsistency doomed Michigan against good teams, and they were punished harshly for their down moments. However, they demonstrated on those good points the capability to hang with, and even overcome, superior opposition. If they can string a whole game together playing like that, then it's certainly reasonable to think they could pull off an upset and force their way into pre-quarters, which would be a big achievement for this team.
If Michigan is able to bring it to a top team, Sam Greenwood will likely be a big reason why. Magnum's U23 star, he has been a commanding presence on the field all year, both with his play and his inimitable style. When Michigan almost upset Wilmington at QCTU, Greenwood was a whirling dervish, getting virtually every reset and creating open space with a wide array of throws against the fierce Wilmington defense. Greenwood doesn't have the same clout as some of the other big stars in this pool, but if he single-handedly takes down one of Pool C's top three teams, that could quickly change.
Connecticut Grind
Seeding: C5, Overall #19
Overall Record: 25-8
Against the Nationals field: 3-4
Against the pool: 0-1 vs Harvard
Key matchup: Harvard, 10:30 AM Friday
For a lot of teams, just making Nationals is a tremendous achievement, particularly when a program has a somewhat tortured history in games-to-go. After knocking on the door and ultimately falling short for years, UConn was finally able to put their demons to rest and beat Cornell at Regionals, earning the team their first trip to Nationals. Just that alone will be a huge boost to the program going forward.
But heading into this season, the goal for UConn was not just to make Nationals, but to do some damage when they got there. After an impressive fall and a solid showing at Florida Warm Up, they seemed to be on the verge of bringing some respectability back to the Metro East. And then Easterns happened.
By any metric, UConn's Saturday at Easterns was catastrophic. They failed to put up more than seven points on any opponent, and beyond that, failed the eye test. They looked a step behind and out of their depth all day. Grind was able to turn it around the following day, however, going 3-0 on Sunday and then continued that run of good form into the New England Open and the series, and that 3-0 has turned into a 19-0 winning streak. The question then becomes, was that one catastrophic Saturday an aberration, or did it reveal that this team, like so many Metro East champions before them, can't hang with the rest of the country?
It's hard to parse an answer, as there are lots of question marks and qualifiers to much of UConn's season. On the one hand, they beat three Nationals teams at Warm Up in Carleton, Auburn, and Florida State. On the other, that was in February, and each of those teams has drastically improved this season from where they were back at the beginning of the season. It seems that UConn is peaking heading into the series with that 19-0 streak, but it was also against the softest portion of their schedule. So is UConn just another Metro East also-ran, or can they give some of the other teams at the tournament a run for their money? We'll get to find out this weekend.
***
Predictions:
The teams fall into three clear groups, with Wilmington and Wisconsin battling for the top spot, Harvard comfortably holding onto third but not really challenging the top two teams, and Michigan and UConn in a fight for fourth.
Wisconsin beats Wilmington (live on Ultiworld) to take the pool, and UConn upsets Michigan, keeping Magnum's streak of losing to every Nationals team they play this year alive.
Pool C does not send three teams to semis this year, but Wisconsin and Wilmington make the quarterfinals, and Wisconsin makes the semis.
At some point in the UConn-UNCW game, John Wodatch and Jack Williams go up for a 50/50 jump ball and time stops.
---
See his second half against Pitt at Easterns ↩

See basically the rest of Easterns ↩