Decoding what the stats can tells us about how seeding relates to tournament finish.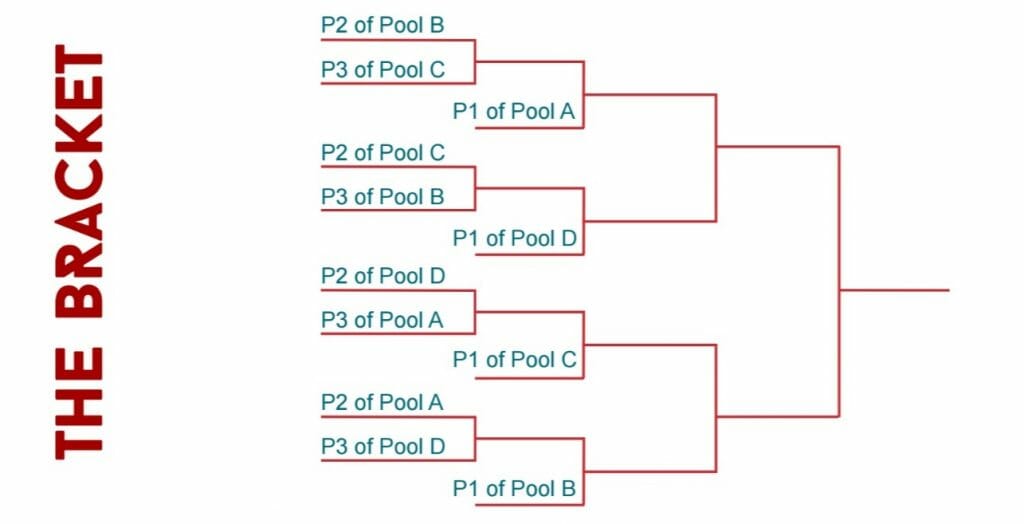 As you might remember, or perhaps recently were reminded, at last year's Nationals, Texas Melee — the Pool C fifth seed — notched a huge upset over UCLA BLU (Pool C's top seed) on Day 1. In and of itself, this was a significant result for the two teams, simply because of Texas' status as a big underdog. But, as the Ultiworld reporters wondered that night as they began their recaps, was it historic? Did anyone remember a five seed ever taking down a one seed at Nationals before?
Nobody could think of a way to verify the stat short of manually looking up each individual result, so the task was split up among the six writers to look over every Nationals pool since 2009 (the beginning of the 20-team format, and the introduction of 5-seeds) to comb for the verification1. It turned out, nobody had ever accomplished it before, so Ultiworld happily reported on Texas' landmark achievement.
As one of the reporters looking up the pool play results, I wondered to myself how often people spent looking up statistics like this on the different servers that house USAU's archived scores. Why wasn't there an easier way to see it?
We decided to do something about that this week. In a few short hours, we compiled a database of seeding, finishes, and records for pool play and overall performance at Nationals2. Though it currently does not contain individual game data (only aggregate records and finishes), it still offers the ability to draw some interesting insight from the data. Here are some facts uncovered through a bit of speculative querying:
A Few Highlights
A 20-team Nationals has been won by a pool 1-seed 11 out of 12 times, with Carleton CUT 2011 (a three-seed) as the lone exception3.

The average finish by overall seed in men's generally correlates with the seeding, except for the 15th overall seed — which finishes on average 7th.

A team in Pool C or D has never reached a women's final. In fact, 5 out of 6 women's champions have come from Pool A.

The only pool where the one-seed does

not

win the majority of the time is Pool C, where the wins by seed have been, in order, 5-5-1-1.

Oregon's men and women have combined to appear in 10 of 12 possible semifinal rounds, with the women a perfect 6 for 6 — the only team with more than four semis appearances.
Largest Seed Break
M: Oregon Ego 2015 (+13, seeded 15th, finished 2nd)
M: Stanford Bloodthirsty 2011 (+13, seeded 18, finished T5th)
W: Pennsylvania 2009 (+15, seeded 20, finished T5)
Largest Seed Drop
W: Virginia Hydra 2012 (-12, seeded 5th, finished T17)
M: Florida 2011 (-15, seeded 3rd, finished 18)
Facts About 5-Seeds
Zero 5-seeds have ever won their pool

Four 5-seeds have finished second in their pool — three of which were in Pool A:

Victoria Hydra 2015 (A)

Iowa State Woman Scorned 2011 (A)

UCSB Black Tide 2009 (A)

Luther LUFDA 2011 (C)

25% of 5-seeds make the bracket

The best a 5-seed has ever finished is tied for 5th:

Ohio State Fever 2012

Stanford Bloodthirsty 2011

Pennsylvania Venus 2009
Facts About 3 & 4 Seeds
39.5% of 4-seeds make the bracket

54.5% of 3-seeds make the bracket

Fifteen 3-seeds have made quarters, compared to eight 4-seeds

Three 3-seeds have made semis, compared to two 4-seeds

One 3-seed and one 4-seed have made finals, but both were consensus under-seeded due to upset Regionals losses

Carleton CUT 2011

Oregon Ego 2015 
Facts About 2 Seeds
85% of 2-seeds advance out of pool play

Only seven 2-seeds have missed the bracket

23% of 2-seeds have won their pool
Facts About 1 Seeds
62.5% of 1-seeds have won their pool, but only 41.7% with perfect 4-0 records

96% of 1-seeds make the bracket, with only two having ever missed — both were in pool C:

Florida Men 2011 (5th in Pool C)

UCLA BLU 2015 (4th in Pool C)

Only 8 out of 48 1-seeds have missed the quarters (83% success)
Tabular Data Breakdowns
Average Finish By Overall Seed:
| Overall Seed | Overall Finish | Overall Fin. (M) | Overall Fin. (W) | Best Finish | Best Fin. (M) | Best Fin (W) |
| --- | --- | --- | --- | --- | --- | --- |
| 1 | 2.1 | 3.0 | 1.2 | 1 | 1 | 1 |
| 2 | 3.4 | 4.8 | 2.0 | 1 | 1 | 1 |
| 3 | 6.3 | 6.2 | 6.3 | 1 | 1 | 3 |
| 4 | 4.8 | 4.8 | 4.7 | 1 | 1 | 3 |
| 5 | 6.2 | 5.0 | 7.3 | 3 | 3 | 3 |
| 6 | 5.3 | 5.5 | 5.0 | 2 | 2 | 3 |
| 7 | 7.0 | 7.0 | 7.0 | 3 | 3 | 5 |
| 8 | 9.3 | 8.7 | 9.8 | 2 | 3 | 2 |
| 9 | 7.7 | 6.7 | 8.7 | 1 | 1 | 5 |
| 10 | 11.3 | 12.8 | 9.7 | 3 | 3 | 3 |
| 11 | 12.1 | 10.5 | 13.7 | 5 | 5 | 5 |
| 12 | 11.6 | 10.8 | 12.3 | 5 | 5 | 9 |
| 13 | 11.9 | 13.5 | 10.3 | 5 | 5 | 5 |
| 14 | 12.5 | 13.7 | 11.3 | 9 | 9 | 9 |
| 15 | 11.1 | 7.5 | 14.7 | 2 | 2 | 5 |
| 16 | 13.8 | 14.7 | 13.0 | 3 | 9 | 3 |
| 17 | 13.3 | 14.5 | 12.2 | 5 | 12 | 5 |
| 18 | 14.0 | 13.7 | 14.3 | 5 | 5 | 9 |
| 19 | 13.3 | 13.2 | 13.3 | 9 | 9 | 9 |
| 20 | 14.5 | 15.0 | 14.0 | 5 | 13 | 5 |
Average Finish By Region:
| Region | Overall | Men | Women | # Finalists | # Finalists (M) | # Finalists (W) | # Semis | # Semis (M) | # Semis (W) |
| --- | --- | --- | --- | --- | --- | --- | --- | --- | --- |
| AC | 8.86 | 8.00 | 9.73 | 2 | 2 | 0 | 3 | 3 | 0 |
| GL | 11.76 | 13.67 | 9.63 | 1 | 0 | 1 | 2 | 0 | 2 |
| ME | 13.46 | 15.00 | 12.14 | 0 | 0 | 0 | 0 | 0 | 0 |
| NC | 7.22 | 6.95 | 7.56 | 5 | 4 | 1 | 10 | 7 | 3 |
| NE | 10.23 | 8.92 | 11.80 | 0 | 0 | 0 | 1 | 0 | 1 |
| NW | 7.41 | 8.18 | 7.04 | 7 | 1 | 6 | 14 | 4 | 10 |
| OV | 8.33 | 8.11 | 8.67 | 3 | 2 | 1 | 4 | 2 | 2 |
| SC | 10.00 | 8.44 | 11.92 | 2 | 2 | 0 | 4 | 4 | 0 |
| SE | 11.43 | 10.93 | 12.43 | 1 | 1 | 0 | 4 | 3 | 1 |
| SW | 10.71 | 12.58 | 9.53 | 3 | 0 | 3 | 6 | 1 | 5 |
Winning Seed by Pool
| Seed of Winner | Pool A | Pool B | Pool C | Pool D |
| --- | --- | --- | --- | --- |
| 1 | 9 | 9 | 5 | 7 |
| 2 | 1 | 3 | 5 | 2 |
| 3 | 0 | 0 | 1 | 2 |
| 4 | 2 | 0 | 1 | 1 |
| 5 | 0 | 0 | 0 | 0 |
---
All for a couple lines in Keith's recap! ↩

All data is based on 20-team Nationals tournaments, which began in 2009 — excluding the 2010 tournament, because its data was unavailable from the USAU Archive. ↩

That season, Carleton entered the Series as the #1 ranked team in the country, but were upset by Wisconsin and Iowa at Regionals and were forced to be seeded behind both at Nationals. ↩