Pool D closes with a bang.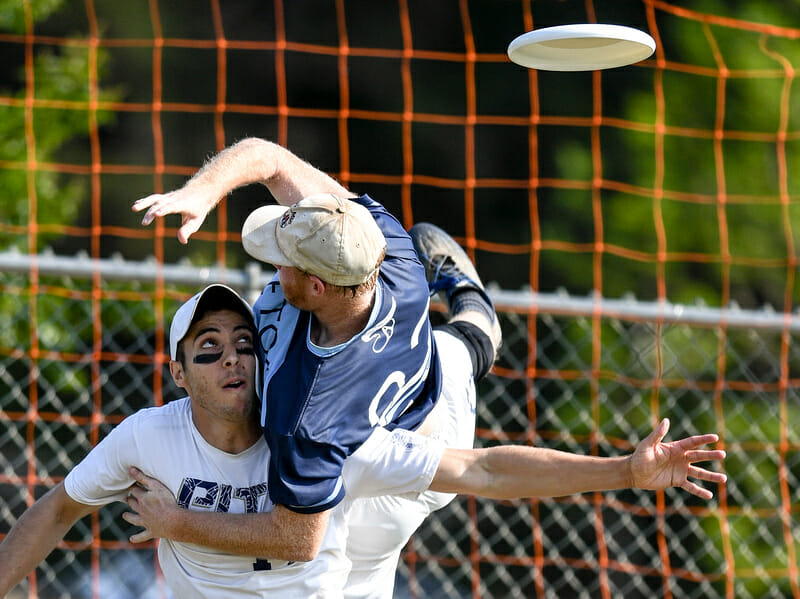 This article is presented by Spin Ultimate; all opinions are those of the author. Please support the brands that make Ultiworld possible and shop at Spin Ultimate!
Ultiworld is happy to provide all of our written and video coverage of the 2016 College Championships free of charge. However, if you are enjoying our work and want to contribute to our site, please consider making a donation to our completely optional tip jar.
Pool A
Massachusetts 14-13 Washington
The Washington Sundodgers matched Massachusetts Zoodisc step-for-step in a hot pool play game this afternoon that broke — just barely — in Zoo's favor, 14-13. Conor Kline led the winning effort with four goals, one assist — a much needed performance when the heat began to wear down on Jeff Babbitt (two goals, two assists).
Khalif El-Salaam led the charge once again for Washington, partnering up with his 6'3″ teammate Cooper Schumacher to challenge UMass in the deep space. With Dongyang Chen, Steven Benaloh, and Tomás Delgado churning their legs to keep the disc moving and pressure underneath, El-Salaam (three goals, four assists) and Schumacher went up against a deadly trio of Kline, Babbitt, and rookie phenom Tanner Johnson (three goals, three assists).
Zoodisc broke for 4-3 on a Babbitt goal to take a lead in a game that took off at a blistering pace and never slowed. The two teams traded until 7-6, when Washington geared up and went 2-0 to take half back on serve, with Benaloh (one goal, three assists) finding El-Salaam in the endzone.
Early in the second half, with Washington leading 9-8, Xiao Dong Liu scored to widen the lead to two and send at least a few minds on the UMass sidelines to the bracket to check and see how badly they needed the win. But role players stepped up for Zoo, getting blocks and converting for a late 3-0 run to take the lead to 12-10.
Washington continued to send out its top players setting themselves up for double game point, tied and pulling at 13-13. It was UMass captain Ben Sadok (two goals, one assist) who dove and tumbled into the final score, pushing UMass into a second-place finish in Pool A.
Fate was sealed for the Sundodgers the moment they lost. Though they now take the field against Cal Poly-SLO, a team they have beaten in all three meetings so far this season, Texas A&M's win over a resting Georgia team left Dozen sitting at 2-2, making it impossible for Washington to work their way into prequarters, even with a win.
If Slocore can even themselves to 2-2 with a win over Washington, they'll take the third spot in Pool A and the final berth to prequarters.
Texas A&M 15-2 Georgia
With a pool victory already secured, Georgia used their last game to get more reps for their role players, allowing their studs some extra rest heading into Sunday's quarterfinals. When asked about the reasoning behind that choice, injured Jojah star Parker Bray said, "We're straight chillin' — there's your quote."
Dozen didn't mind, as it gave them an opportunity to even their record at 2-2, keeping alive their hopes at a prequarter berth.
Pool B
Florida State 15-11 Case Western
Florida State came into round three trying to stay alive. Fortunately for them, Case Western had just come off a devastating double game point loss against UNC in which the Gobies' three stars had played a majority of points. Case are a strong team, but they didn't have the depth to keep up with a fresh FSU. The Gobies elected to run a zone in an attempt to save legs, but handlers Bobby Patterson and Peter Van Brussel had their way with it. Bobby Patterson threw five of the first eight goals on their way to an 8-4 halftime lead. The second half was more of the same, with Florida State holding that lead to a 15-11 victory as they look ahead to their critical matchup against Oregon Ego.
Pool D
Pittsburgh 15-10 Carleton
For out-of-region teams, Pitt vs. Carleton is — or at least used to be — about as good as college ultimate rivalries get.
"It's cooled off a bit in the last couple years," CUT coach Phil Bowen said of the rivalry. "They've had our number a couple times since a collapse in the 2012 semis… We try and think about faceless opponents, but we hate Pitt so we'll try and take it to them."
The 2012 semis collapse went down as one of the crazier college ultimate games of all time, when Pitt erased an 8-3 Carleton halftime lead en route to their program's first championship.
Now, for the fifth time since 2008, CUT and Pittsburgh would meet in what would become an elimination game.
Still riding high on a comeback win against Minnesota Friday evening and warmed up from drubbing Utah a round earlier, Pitt came out hot and started with a break on a Trent Dillon huck to rookie Mike Ing. Pitt would lead for the remainder of the game.
Pitt primarily forced backhand, funneling cuts and poaching force side handlers to get the disc trapped on the sideline. This took away some of the precision flick shots of Carleton and let Pitt marks play flatter to stop hucks. When screaming hucks did go up, CUT sophomore Henry Fisher made some spectacular catches, like at 10-7 when he went up between two Pitt defenders, and again at 12-9 with a must-have trailing edge bid. Fisher would finish with four goals.
Throughout pool play Carleton had shown off a deep bag of defensive tricks. Force middle, boxes, diamonds, 1-3-3 zone – none were able to slow Pittsburgh's O-line. On consecutive offensive possessions, at 3-2 and 5-3, Pitt scored in three throws or fewer. The formula was simple; clearing play, then huck.
Failing to convert on a multi-turnover O point, Carleton went into half after watching Sam VanDusen hit a streaking Jimmy Towle for a break and an 8-3 lead.
As the game went on and Pitt built a four point lead, Carleton kept the faith and created chances but Pitt knew better than to let up.
"It was a battle until 15," said Pitt captain Pat Earle, who is playing in his final Nationals. "I was glad when we put that final dagger in because I knew they were fully capable of coming back and making it a fight. "
Pitt defender Mike Ing bookended the game with the final goal after another hard D point. 15-10.
There were a lot of eyes on this game as fans from both teams packed rowdy sidelines – the way it ought to be when these two teams play.
Auburn 14-13 Minnesota
Auburn and Minnesota played a barnburner of a game that was close throughout. By the time the game was done, given the Pitt result, Auburn's result in the game would dictate whether they finished 1st in the pool or 4th; it turned into an elimination game1.
The game started out with Minnesota grabbing a one-break lead. Grey Duck tried to widen their advantage by throwing a 3-2-2 zone look, but to little success. Ryan Landry and Evan Boecking were calm in the face of the junk look, tossing incisive blades and field-opening hammers into the gaps.  However, Grey Duck's offense stayed steady, continuing to launch solid hucks to good receivers, but also balancing valuing possession through good decision-making.
For their part, Auburn changed up their man look twice by throwing a diamond zone of their own and were able to earn a break with it to close the gap at 5-5; they got an additional break with man. The Aetos' offense ran through Boecking and Landry, who broke the mark at will. Auburn's dedication to dump-swing movement and break side flow made them difficult to stop.
The teams traded to until 7-6, when Grey Duck stacked their D-line with the likes of Ben Jagt and Ryan Osgar, Soham Shah, Tony Poletto, and Tristan Van De Moortele looking to break for half. The point featured multiple turns, but eventually Grey Duck pushed the break in.
Auburn received and held out of half before immediately earning the break they needed to put the game back on serve. Grey Duck answered right back, holding and breaking again to re-establish their lead. Down 9-102, Auburn began to stack their lines. From then on, Garris Bugg, Evan Boecking, Blake Galloway, and Martin Newman played virtually every point, plus a few crossovers from Landry to the D-line. As Auburn's level of play rose, Minnesota's signature offensive poise seemed to deteriorate. Sure-handed players like Wyatt Mekler, Osgar, and Poletto committed a few uncharacteristic drops and dumpset turns, giving Auburn's stacked lines ample opportunity to cash in breaks.
The Auburn studs did not disappoint, with Boecking and Bugg in particular (plus Landry's ability to easily break the mark) willing the team to an offensive hold and three consecutive breaks, putting the score at 12-10. At this point, the soft cap went on making it a game to 14.
One Minnesota hold later, Grey Duck was able to force a turnover on a Tristan Van De Moortele layout D on a dump swing. Duck fast broke up toward the Aeto's endzone and were 25 yards out when Blake Trantina threw to a wide open Van De Moortele just outside the endzone. Things looked bad when Van De Moortele botched the initial catch, but the disc bounced off his hands, remained aloft, and carried just inside the goal line where Van De Moortele was able to secure the break to make it 12-12.
Much credit has been given to the big names from Auburn's late game lineup, but the lesser-known members of Auburn's universe-esque lines — Michael Volz, Samuel Murphree, and Eric Sjostrom — each made great plays to move the disc off the sideline and keep the offense moving. At 12-12, in a high-pressure situation, it was Michael Volz. He initiated out of the stack, threw a continue to Galloway, and raced into the endzone for the ensuing huck. He set up a 13-12 D-point: one point away from a pool win and the quarter finals of nationals, but two points away elimination and the end of a season.
Minnesota's offense held strong in the face of pressure, with Ryan Osgar pulling down a big sky to force universe. Auburn received, the ninth consecutive point for some of those on the line. In the face of elimination, Auburn stayed patient, never turned the disc over, and punched in the win to take the game and the pool.
Minnesota was obviously disappointed by the result, but will skill move into bracket as the third-place team from Pool D. Meanwhile, Auburn will make history for their program by appearing in the quarter finals for the first time. They're a hard team not to root for. They're spirited, they're skilled, they're athletic. They have a trombone player. They sang "I Can Go the Distance" as team in the huddle after the game.
I can't wait to see what they do next.
***
Pool D is in the books. Pitt advances to play Texas A&M and Carleton left themselves needing help – a Minnesota win over Auburn – that wouldn't happen. For CUT, making the bracket would have been an accomplishment but most of all this was a Nationals to return to normalcy. This team is back on the biggest stage with a roster full of impact underclassmen.
---
Auburn would either finish tied with Pitt for 1st and win the tie breaker, or tied with Carleton for 3rd and lose the tie breaker. ↩

With the Pitt-Carleton game on the next field looking mostly decided. ↩