Minnesota knocks off top-seeded Massachusetts, condemning the tournament favorites to a disappointing finish in Raleigh.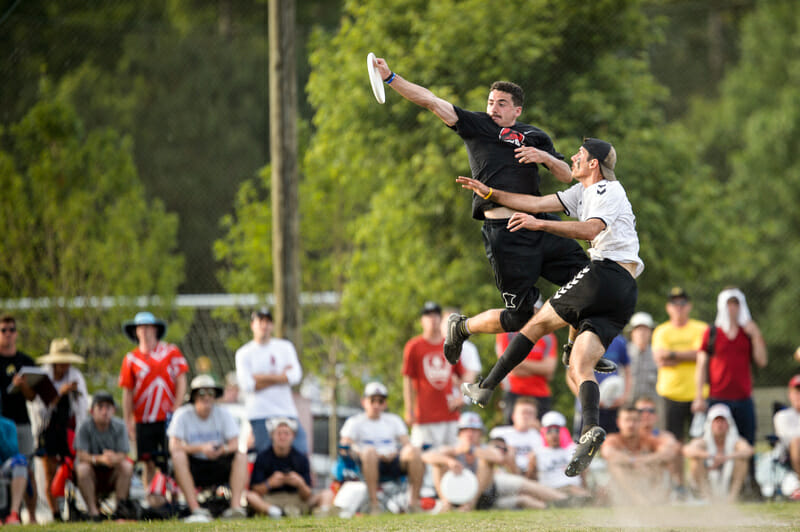 This article is presented by Spin Ultimate; all opinions are those of the author. Please support the brands that make Ultiworld possible and shop at Spin Ultimate!
Multiple dust clouds, kicked up by players sprinting across the mostly dirt fields in the back of the WRAL soccer complex, needed to settle after Sam Bumsted reeled in the shot from Ryan Osgar that sent Minnesota into the quarterfinals, 14-10 over Massachusetts.
The goal capped a game in which Grey Duck played their smoothest and most intense ultimate of the weekend. Other than an errant throw or two early, the UMass zone that stopped Minnesota in their tracks back at Easterns did little to frustrate them this afternoon.
"It was a good win, a gritty win," said Minnesota head coach Tallis Boyd when the teams broke from post-game huddles. "In this heat, everyone's tired. We felt like we had more legs than them and we just had to keep driving. We feel really good about it."
From Boyd's perspective, the prequarters matchup marked a new high point on the weekend for Grey Duck, who suffered very close losses to both Auburn and Pittsburgh in pool play to finish third in a wild Pool D. Even as the conditions truly took their toll across the tournament, Minnesota improved.
"For us all weekend and I don't think we've been able to execute yet until this game," Boyd said. "We had guys go down with injury, we had guys limping. When we execute, we think we're really hard to beat and that played out today."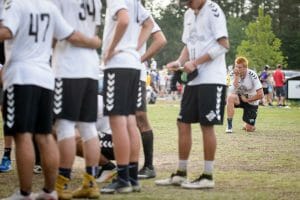 The loss felt markedly different for ZooDisc, who were understandably disappointed with their result as reality set in and their impressive 2016 run came to a close. Shortly after slapping hands in the postgame huddle, tears welled and streamed down the faces of ZooDisc players. Captain and Player of the Year short-lister Jeff Babbitt was hunched on all fours, face not visible to anyone. Parents and fans on the sidelines waited a few beats before crossing the field to join in consolation.
"I think we felt some of the pressure," said coach Russell Wallack after the huddle. "On defense, I was looking for a little more legs than we put into it. I think towards the end we started turning that on, a little bit. I've seen our guys lock down for a few points and when they do, it's impressive. But I think we waited a little too long to get to that point."
The game opened with both teams trading miniature runs. Top receivers Conor Kline, Tannor Johnson, and Babbitt all got on the board for a 3-1 lead, with Ben Jagt scoring the opening goal for Grey Duck. The Minnesotans answered with a three-point run, capitalizing on UMass mistakes to turn the game around in an instant for a 4-3 lead.
ZooDisc captain Ben Sadok sent a high, arching backhand into the end zone on the next point, looking again for a streaking Kline. In one of the most exciting plays of the game, Grey Duck defender Cole Wallin tailed Kline the whole way, and leapt into a superman-style bid to block Kline's would-be goal at shoulder height. He landed in a heap and immediately called for an injury. Before long, he was removed from the fields with a broken arm.
"It was a great D. He did not want to leave," Boyd said. Minnesota had this update later in evening from the hospital. Unfortunately, the point ended in a UMass hold with Johnson sending a standing backhand the entire length of the field for Sadok to tie the game at 4-4.
The teams traded to 7-6 after that point, when Grey Duck found another break to take half in a single, clean possession of a UMass drop that would have been a tying goal.
Two points hasn't stood as much of a deficit for UMass this season, a team that has been excellent on offense in 2016 and far superior on defense. And yet, something noticeable was off just as the first half was coming to a close.
"I think that we just didn't bring the energy we needed. I think that we had some in the first half. They broke a couple of times and heads were down," Babbitt said. "It was 6-5 and people looked like they had given up and that's something you can't do. It's a long game, we easily could have come back at that point and we just weren't pushing ourselves."
Babbitt provided no shortage of heroics in the final points, but Minnesota was prepared for the zone that had neutralized their movement earlier in the season. Osgar, along with teammates Tony Poletto and Wyatt Mekler, were extremely stingy and stayed patient in the face of the defense, while Bumsted and Ben Jagt took tough defensive assignments on Babbitt and Johnson and still scored goals. Jagt brought in a big hammer to push the lead to 10-7.
The lead stayed three points wide until 13-10, when Minnesota pulled and broke to send UMass packing.
While Grey Duck stretched and prepped for an evening of rest, ZooDisc broke into smaller groups and embraced, before taking a big team picture for parents. It was a disheartening finish for the Amherst team, the early anointed favorite who held or hovered near the overall number one seed this season. Asked if the weight of those expectations had factored into some of the weekend's slip ups, Babbitt was unable to say for sure.
"I have no idea. Maybe some guys read that. We have a team policy that we're not supposed to read anything before tournaments, but I know guys want to read that stuff — they eat that stuff up," he remarked.
"I'm sure some guys came in with expectations that everything was going to be easy," he continued. "Not that it couldn't have been. If we had played to our full potential, then it would have been easier. It's possible that it affected some people, but I don't know why. I didn't read anything."
Athletic Mamabird Ahead For Minnesota
While UMass gets the next two days off or the chance to head home early, Minnesota will prep for a quarterfinal match up with an undefeated Colorado Mamabird.
While Pools A and D saw plenty of upset action and swapping of seeds, Colorado barged through B with a 4-0 record. Their athleticism and discipline should prove an excellent matchup for Minnesota, who have made mincemeat of defenses by keeping the disc moving with great pace and kept in lockstep with the best that UMass could offer.
Grey Duck was able to contain somewhat the hucks from Sadok and Johnson this afternoon, so Mamabird's Pawal Janas and Wes Chow may have their work cut out for them after facing weaker deep defenders in their own pool. It will be exciting to keep an eye on the Colorado defenders, especially the lightning quick Mark Rauls — their fitness level has been very impressive so far this tournament and the extra rest may give them an edge in open space.
Regardless of result, Minnesota will join Georgia, Pittsburgh, and UNC Wilmington as the only teams to beat UMass this entire season.