Oregon will meet Stanford in today's semifinal.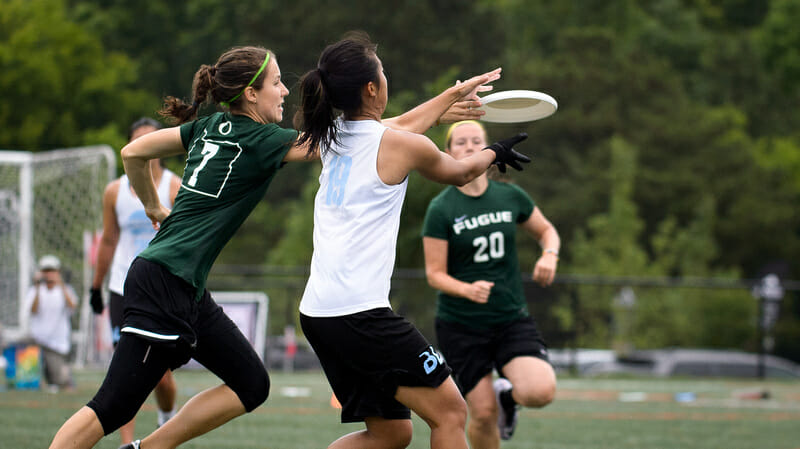 This article is presented by Spin Ultimate; all opinions are those of the author. Please support the brands that make Ultiworld possible and shop at Spin Ultimate!
The tournament's number one seed, Oregon Fugue, coming off a pre-quarter win again Wisconsin and an upset loss to Virginia in pool play, met Pool B champion UCLA Blu in a rainy quarterfinal match. The teams split the season series, with UCLA defeating Oregon 15-14 at Pres Day and Oregon exacting revenge 8-4 in a windy Centex game. Today, a big Oregon second half gave them an easy 15-8 win.
The game started off with a pair of trades to 2-2, but Oregon drew first blood with a break to take a 3-2 lead. UCLA got back immediately, though, evening the game at four. UCLA brought out their diamond zone look early in the game to try and generate turnovers, but did not see much success with it. Oregon's handler core, led by Hayley Wahlroos, look unfazed and quickly moved past the front wall to break down the defense.
Following an Oregon hold for 4-4, Fugue's defense got going. They had mixed up their looks early in the game between man and a clam set, and had little trouble generating turnovers. Despite some marathon points featuring an inordinate amount of drops from Fugue, Oregon was able to run off four straight breaks to take half 8-4. Beth Kaylor did a good job sticking with UCLA's Kristin Pojunis and Alex Ode led the way for the Oregon D-line offense.
As one might expect, Oregon's aggressive offense logged their fair share of turnovers but UCLA did not do well in valuing their possessions they were handed. Han Chen and Pojunis each threw some contested shots that they surely wish they could have back. Fugue did well to disrupt the UCLA offensive flow by sagging dump defenders into the lane and by simply applying pressure in man defense.
UCLA continued to battle in the second half, notching an occasional break but then giving it right back. The teams traded holds and breaks until Oregon held for 12-8. Fugue pulled to Blu looking to close out the game and started a run of three consecutive breaks to do just that.
Oregon will move on to play in the semifinals against arch rival Stanford, who also closed out their quarterfinal quickly in a 15-5 win over Colorado. Though Oregon has owned the recent the recent history with Stanford (defeating them in pool play at Nationals in 2013 and 2014, and four times in 2015 including the Nationals final), the teams always bring fire and intensity to their matchups.