Neither rain nor injuries slow Minnesota on their way to a comfortable quarterfinal victory.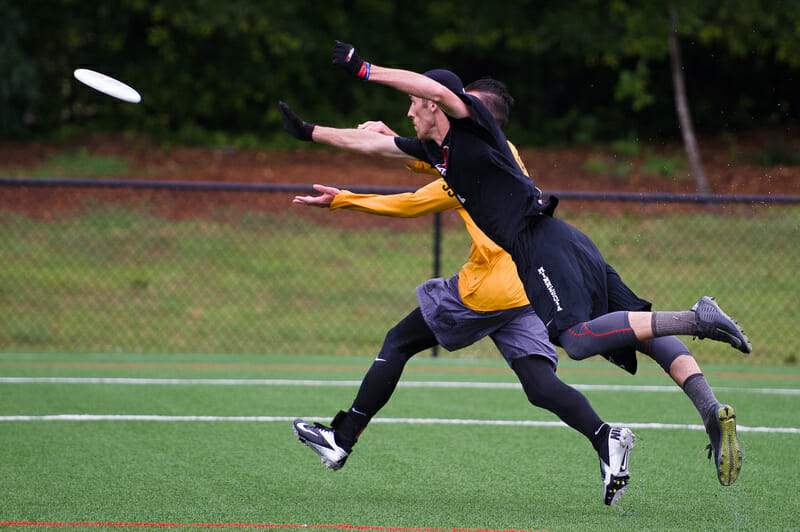 This article is presented by Spin Ultimate; all opinions are those of the author. Please support the brands that make Ultiworld possible and shop at Spin Ultimate!
Even in pouring rain, Minnesota's game-changing team speed proved waterproof as they push past previously unbeaten Colorado 15-11.
It's a truism in all sports: just make the bracket. While Minnesota had failed to hold on to the top position in Pool D and had to battle top-seeded Massachusetts in the play-in, Colorado clinched a berth straight into quarterfinals with a 4-0 start to their tournament. Mamabird's disciplined vertical stack had outperformed their seedings in Pool B but Minnesota would turn in a statement game effort and advance to their first semifinal in team history.
Grey Duck took down Massachusetts in an impressive and decisive victory yesterday afternoon. But it would cost them as two of their best defenders would suffer injuries. Cole Wallin, a shut down handler cover dislocated his elbow in the effort, and Sam Bumstead, a cutter defender who typically takes the other team's biggest downfield threat, was hobbled with a knee.
"It's tough when you lose two of your top defenders," Minnesota head coach Tallis Boyd said amidst pouring rain right before game time. "But we've been preaching to the guys all season that you've got to be ready in the moment. We've got a couple young guys with some legs and we're excited to let [them] loose."
Boyd meant what he said. Seniors Blake Trantina [three blocks] and Neil Petersen [one block] both saw increased minutes and played well in an outstanding Minneapolis defensive effort. The practiced flow and disc movement that propelled Mamabird to their unbeaten start was suddenly hard to come by.
"Their defense was really good. Probably the best we've seen," Mamabird head coach Mike Lun said after the loss. "We had trouble with our resets on the sideline. Just typically not something we had trouble with this weekend."
Steady precipitation gave each team their share of miscues and opportunities. Colorado got the first break of the game as Jeremy Harker found a bidding Erik Hotaling on a strike cut to lead 2-0. After some trading, Minnesota's D-line's offense really started to settle in as Tristan Van De Moortele and Soham Shah showed a willingness to walk the disc up the field when need be and simply take what Colorado would give them. Ben Jagt and Ryan Osgar also crossed over to D-line in the first half to capitalize on Mamabird turnovers. After a crossfield hammer from Osgar to Jagt, Minnesota went in to half up three breaks, 8-5.
Reset issues would continue to plague Colorado in the second half as Grey Duck created high stall situations with man-to-man defense. Lun made an adjustment and pulled D-line hucker Jesse Fisher over to offense in the second half, adding a deep threat and a pair of assists. While Mamabird did find a footing and return to form late on, by that time the damage was done.
Minnesota would control the game to the finish en route to a 15-11 win. Minneapolis stars Ryan Osgar [6 assists] and Ben Jagt [6 goals, 2 assists] hooked up four times for goals in the victory. On a few of them, Jagt was even with his man and just called for the disc deep, which Osgar happily delivered. On the final goal of the game, Osgar gave him a chance and Jagt did the rest.
While Colorado will be disappointed to come up short in this game, they certainly made the most of their weekend after coming in as the #11 seed. Then again, you don't carry the longest-standing streak of college Nationals appearances without knowing how to peak at the right time.
"I'm not big on tradition, but that is one piece of our tradition that I'm really proud of, the 19 years [of Colorado at Nationals]," Lun reflected after his second season coaching Mamabird. "This year was up and down for sure. We had a ton of injuries, but every team I've coached, it's just about peaking in May… That time between Regionals and Nationals is so huge for college teams, especially for us. I thought we got a lot better in that time."
As Colorado starts to look toward next season, Minnesota will have their gaze trained on a looming semifinal this evening. There's a very businesslike approach to Grey Duck right now. The sidelines are full of positive energy and they don't melt down when adversity – like missing two great defenders – rears its head. It doesn't appear like this inaugural semifinals appearance will rattle their confidence. If the mental element stays in tact, the offense will continue to outrun the opposition.
The remaining teams in the field be warned: Minnesota is playing loose and with confidence. That's the sweet spot you want this time of year.