A stifling defense and highly efficient offense leads Pittsburgh past Texas A&M.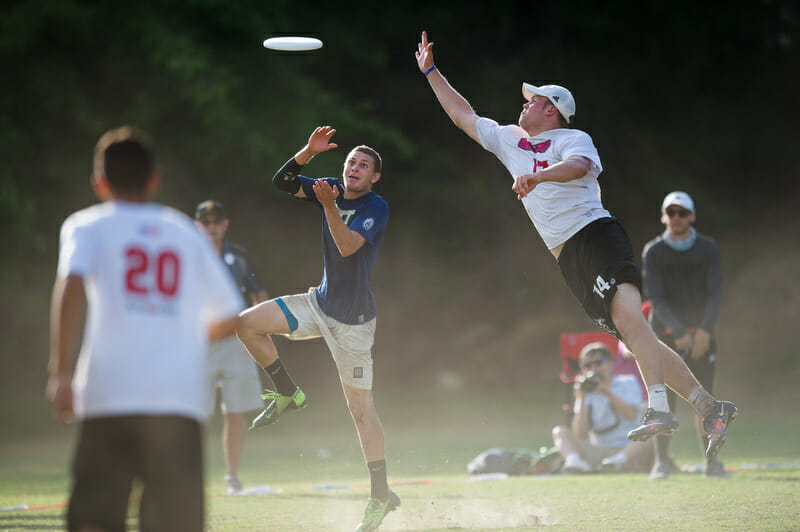 This article is presented by Spin Ultimate; all opinions are those of the author. Please support the brands that make Ultiworld possible and shop at Spin Ultimate!
This is the kind of matchup the people wanted to see. A system-based Nationals blueblood and a gunslingin' short bench of warriors.
Pittsburgh led the whole way and the game would never be in real doubt but there's a reason why Dozen is the most watchable team in college ultimate. The burning question for any A&M opponent is: how are they going to try to minimize the damage of Callahan finalist Dalton Smith? Pittsburgh was no stranger to how lethal Smith could be with the disc and prepared accordingly.
"We're just going to come at him with wave upon wave of great athletes," Pitt head coach Nick Kaczmarek said moments before the game. "Just wait and see."
It took all the king's men, but it was a strategy that worked well and played to Pitt's depth. A&M had already given tons of points to their top players like Smith and country-strong cutters Ben Lewis and Carter Hollo to advance in the elimination bracket.
There was a rotating cast of defenders assigned to Smith. Carl Morgenstern and rookie Mike Ing primarily took turns guarding A&M's ace, with Trent Dillon coming over from offense sporadically to take a shift. Since Dalton Smith played 23 of 24 points, he was constantly marked by fresh legs, then had the tall order of covering Dillon on defense.
Before long, Pitt broke to go up 3-1 and had other chances to build a bigger cushion but A&M showed some true grit. The following Dozen offensive try was perhaps the most dramatic hold of the tournament – a five turnover point that included an unsuccessful attempted huck from the back of the endzone while Pitt waited for Smith to walk it up, and a baited layout block by Smith who hurriedly picked up the disc and ripped a hammer to Connor Ughetta. That would be Smith's only hammer of the game as Pitt wisely chose to force backhand the whole game to limit overhead chances.
Just as they did in the final round of pool play against Carleton, Pittsburgh's O line hummed along at high efficiency. Pat Earles caught a goal and threw his third of the game to take it to half 8-4.
Dozen would get their only break of the game shortly after halftime to narrow Pitt's lead to 8-6 but Pittsburgh would prove too much as they continued play deep into their bench. One of Pitt's lesser known role players, graduating senior Kevin Tang, chalked up two goals, a layout block, and an assist, reminding people that it isn't just his team's household names that will be missed next season.
Coaches Jose Cespedes and Bobby Lewis made some solid adjustments in the second half. They were having trouble resetting in a no-dump vertical stack so they brought another handler back, which aided offensive flow. When Dalton Smith ran into some short field turnovers late in the game, they threw him in the stack as a cuter where he immediately caught a deep shot. Give Texas A&M credit. They went down swinging.
"Overall our team did great," said Ben Lewis, who made an insane grab on the first Dozen O point, after the game. "We started off with 31 guys at the beginning of the season and now we're here with 17. [We] had a real up-and-down season and playing a lot of rookies who are only three months into Frisbee."
Lewis isn't lying. You could see the wheels turning in the heads of some young Dozen defenders but you also saw raw athletic potential. This program is still very much growing and even had a C team for the first time ever this year. It will be interesting to see what the landscape of this team looks like post-Dalton Smith.
A Heavyweight Quarterfinal Matchup
So Pittsburgh advances… and plays the one team that has presented the most problems for them this season in Wisconsin. Their losses to the Hodags, at Stanford and Warm Up, have been by small margins but have been in meaningful games.
Pittsburgh's offense is firing on all cylinders right now and Wisconsin's defense is as stingy as ever. It's a shame this isn't the finals, but it would be robbery if we didn't get to see this matchup at all.