Colorado was no match for a rampant Stanford defense -- or the rain -- in a quarterfinal decided early.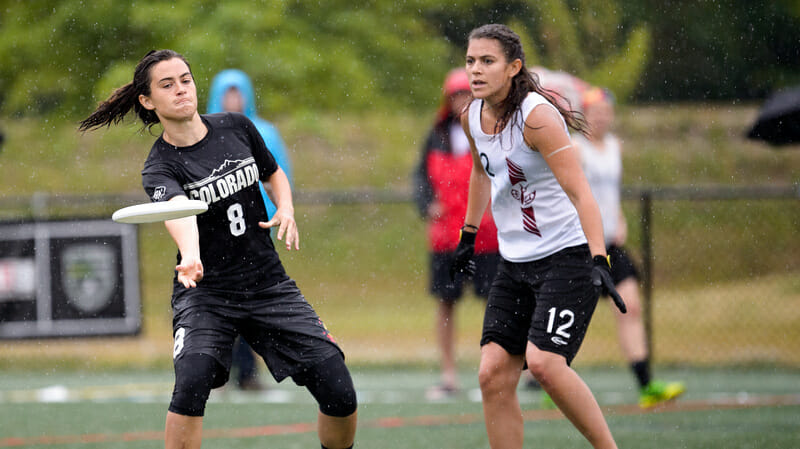 This article is presented by Spin Ultimate; all opinions are those of the author. Please support the brands that make Ultiworld possible and shop at Spin Ultimate!
Stanford Superfly met Colorado Kali in the quarterfinals for the second straight year, and the result was the same — a Stanford blowout. Superfly rolled to a 15-5 win on the strength of their man defense.
The game started in pouring rain, which both teams had been dealing with for the majority of their warmup. Stanford came out hot, breaking four straight times to start the game. Colorado's play suffered in the rain, as they experienced several misfired throws and drops that handed Superfly turnovers. On the turnover, Stanford showed great breakside movement, flowing up the field to cash in their break opportunities. Courtney Gegg threw or assisted three of the first four goals.
Colorado stopped the bleeding with some breakside flow of their own, but a quick Stanford hold preceded three more breaks for Superfly to take half 8-1. Stanford then held and broke again out of half to run the score to 10-1. Caitlin Go led the second run, scoring or assisting on four of the points. By that time, the rain had mostly calmed to a drizzle and Colorado finally held for 10-2. The game closed out with the teams trading holds and breaks for a 15-5 finish.
Superfly used the second half of the game to work in their full roster, again showing off the skills and depth their younger players bring to the team. Though the dominant runs of breaks subsided a bit, it is still telling that the the more open lines were able to hold their own against a Kali team that will tie for 5th at Nationals this year. The more even end of the game also reflected the skill of Kali team that had recovered after being knocked down to start the game. They flashed points of smooth offense that aggressively attacked the break side, and a defense that generated a fair amount of turnovers on Superfly. Kelsey Bennett had a solid game for Kali, helping the offense move up the field and breaking the mark to help start the breakside flow.