Second year players are developing into another superb Superfly class.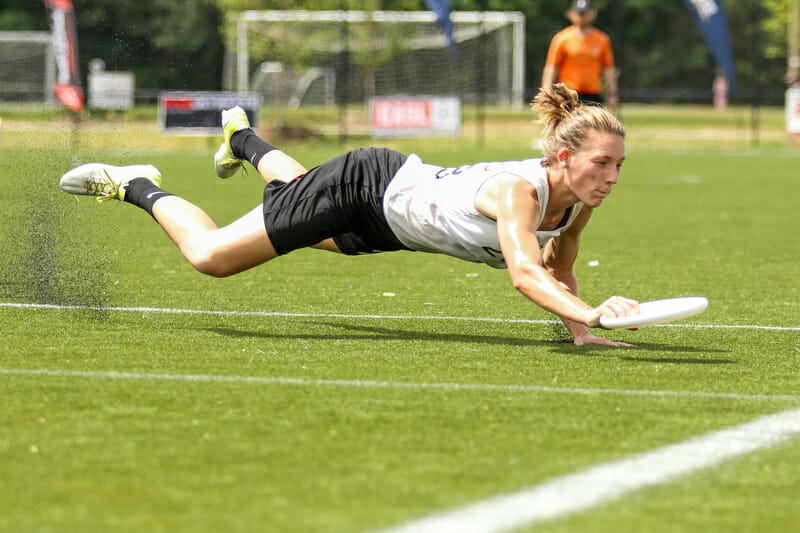 This article is presented by Spin Ultimate; all opinions are those of the author. Please support the brands that make Ultiworld possible and shop at Spin Ultimate!
When you think of Stanford and Oregon meeting at Nationals, as they have so many times over the years, recency takes over, and you think of their exceptional final in the winds of the 2015 College Championships. Your mind recalls the stars of that game: Michela Meister, Steph Lim, Monisha White, and Courtney Gegg going up against Bethany Kaylor, Jesse Shofner, Alex Ode, and Olivia Bartruff. All of those players are back for Oregon, but only half of them were back for Stanford. But Superfly won this time around.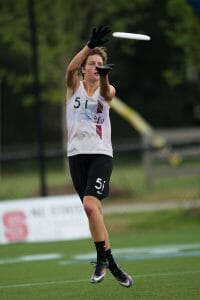 Stanford knew they had to stop Oregon's four seniors, along with Hayley Wahlroos and Ella Hanson, and they sent a group of unheralded, less experienced players to do it. Most notably, Jesse Shofner and Superfly sophomore Shayla Harris spent the entire game working against one another. Kaylor and Gegg, another second year, challenged each other, while Ode faced various matchups like Freya Chay and Michelle McGhee. Bartruff had to contend with Stanford rookie Anne Marie Gordon, who has played against solid international competition, but certainly not in the type of environment like Oregon in front of ESPN cameras. For the vast experience of Oregon's core, Stanford turned to their younger contingent to answer the call.
"A lot of these second years were first year players — and by first year players, I mean first year players, they didn't know how to throw forehands. And they were athletic enough last year," said Stanford coach Robin Davis after the semifinal victory. "Now they are as athletic as before, but now they know the game."
The effects of these matchups were particularly apparent when Oregon initiated offensive possessions. Fugue's pull offense has been deadly throughout the season, letting their powerful throwers target their dynamic playmakers in large swaths of open space. While the players would rotate around, Kaylor and Shofner were usually in isolation, with either Shofner or Bartruff setup as a continue option. Defenses have struggled all year to figure out how to take them away from that plan, often going to a space-based defenses that left bodies in the open lane. But Stanford's approach can simply be summed up as defend harder, stay tighter. Shofner and Kaylor were blanketed by Harris and Gegg, and even when they got the disc, it was for minimal gain and in places where they wouldn't able to threaten as much with their throws.
"At a lot of other tournaments, we've made up all these schemes to stop other teams' pull plays, and today, we did nothing," said Davis. "We matched everybody up. We've worked enough over the season on awareness and heads up D that people could have helped, but honestly we just played tight man."
With their primary looks taken away, Oregon had to choose to take difficult shots or work the disc. That allowed Stanford to draw Oregon into some longer points, filled with multiple possessions and played at a slower place. Stanford's offense was far from perfect, and was a big part of why the #1 seed was in the game from beginning to end. But the Superfly defense kept the game manageable and eventually wore down Oregon.
"We had the legs. We were grinding," said Stanford coach Steph Lim. "We ground them down on defense. We put pressure on them and they felt it. They had more games on them than we did and we wore them down."
Fugue still had big performances from some of their top players. Alex Ode was particularly effective, collecting five goals and adding an assist. Kaylor and Shofner, while challenged, were not neutralized, combining for ten of Oregon's assists. And Oregon also got a massive sophomore performance from Morgan Caldwell, an unheralded contributor who had multiple tremendous layout blocks and got free of the defense for three goals of her own. While Oregon played a good game and earned their chances, they simply couldn't quite match the Stanford defense.
"We could have been better, but we weren't." said an emotional Jesse Shofner, fifth year senior and Oregon captain, after the game. "It was all on us."
Stanford's less experienced players also played major roles on offense. Gegg led all players with an outstanding six goal, two assist line. Gordon wasn't far behind, tallying four goals, while Harris added a goal and three assists. Veteran leader Anne Rempel notched four assists and three blocks.
The victory sends Stanford to yet another final, their second straight. For them to go through the Oregon team that defeated them in the title game last year was a huge statement. In fact, Superfly had failed to fell the team from Eugene for more than three full seasons1. The meaning of the game doesn't really need to be stated.
But the way they did it was through development. For two years, Superfly's young players have been built up to withstand these pressures, to measure up to these tests, and to grow into fundamentally strong and capable contributors. They did more than they did last year, and without last year's tremendous and talented class of graduating players. And that speaks volumes.
---
Score reporter errors prevent us from confirming an actual number ↩