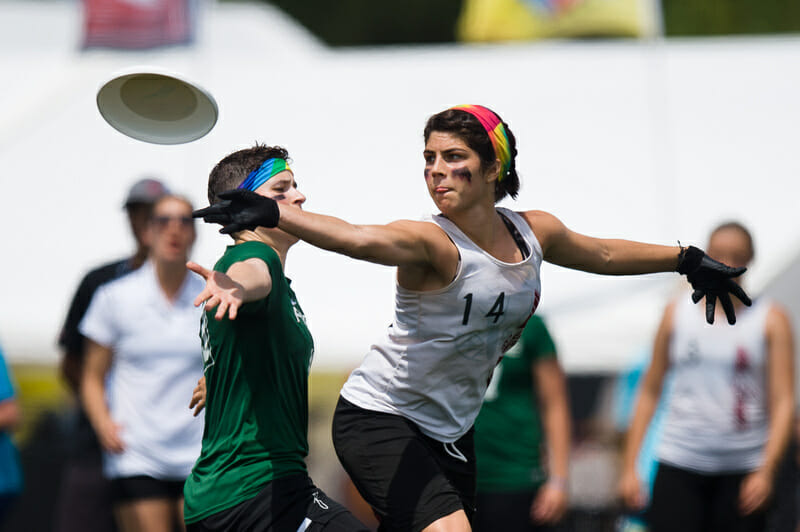 This article is presented by Spin Ultimate; all opinions are those of the author. Please support the brands that make Ultiworld possible and shop at Spin Ultimate!
The two most dominant teams in the women's division this weekend will square off in the championship game. Stanford and Whitman were the only undefeated teams after pool play completed on Saturday and they remain so heading into the final day of the tournament. In a weekend of upsets and shuffled pools, no teams have impressed as much as Superfly and the Sweets.
Stanford's weekend was almost boring: they won their pool, they crushed their quarterfinal, and they served up a cold dish of vengeance to Oregon. Stanford has played tight, recognizable lines featuring veteran stars like Monisha White and Anne Rempel with breakout stars like Courtney Gegg. They beat every team in pool play by a margin of three or more points.
Their closest game was their best, ending Oregon's season 15-13 through smart matchups and close defense. Stanford's lines are tight, but everyone does their job. Rempel and White push the disc forward until they find Shayla Harris or Courtney Gegg deep. Stanford had the least dramatic weekend of the tournament for a reason: they were playing the best ultimate.
Whitman and Stanford last went toe-to-toe at Northwest Challenge, and Stanford had Whitman's number from the start. Whitman's handler resets had been sloppy and inefficient between Finley, Heffron, and Lozano, and Stanford attacked. Their tight pressure on Whitman's handlers won them the game, 12-10.
"We've been emphasizing our man defense all tournament and all season," said Superfly coach Robin Davis. "We're ready to run with [Whitman] now. They have that big, wide open offense and a lot of really skilled players, too. We have proved we can run with people in isolation sets."
Stanford will try to thwart the Sweets' handlers again today, but Whitman is a different, better team now. Their handler resets have been unstoppable, and they're making cleaner choices than they were in March.
Leading into this game, Stanford lived up to their seed and their program's long legacy. Whitman, on the other hand, have forged completely new territory for the program. After topping a hyper-competitive Pool D, Whitman waltzed through a highly talented UBC in quarters and blasted Virginia in the semifinal round.
To this point, Whitman has ridden its bevy of experienced stars. Nina Finley, Ari Lozano, and Margo Heffron have all had great tournaments as throwers. Marlena Sloss, arguably the player of the tournament thus far, and Linnea Soo have been consistent monsters downfield, while Brenna Bailey and Claire Revere have been huge all over the field.
In addition to proving their superior talent and athleticism to any team they have played thus far, they have proven to have an ability to "win at an elite level," as Whitman coach Ben McGinn put it. He credits the team's run to quarterfinals last year for teaching the team how to win these big games. "It's about believing in yourself. [Last year] proved to us that we are an elite team when it matters most. It takes a little bit of experience to know how to execute as an elite team. This weekend we're putting it all together and executing as an elite team."
The recurring story for Whitman in the last two rounds has been starting strong and and burying their opponents before they ever get into the game. The team has put an emphasis on how they prepare mentally before games to maximize focus and take advantage of teams that may take a few points to get going.
The hot starts have allowed the Sweets to play aggressively throughout their games and prevent teams from getting back into it once down. Whitman will look to do the same in the championship against Stanford and they are attacking the game with the same mentality that they have the entire tournament.
"We have nothing to lose, we have everything to gain," said Sloss, after the team's semifinal win.
The team is certainly appreciative of the moment ahead, though. "We're just so excited as a team," Sloss continued. "Like I said earlier, the little things, we're just focusing on those…We're so focused right now, I think it's going to be amazing, yeah, I'm really excited."
Both teams should be excited about this matchup. All tournament long Stanford and Whitman have been the best teams in Raleigh and now they have the opportunity to cap great tournaments with a win against a truly elite team. Both teams are full of talented players that should provide entertaining matchups on the division's biggest stage.
Can Stanford's defense hamper Whitman's movement again? Will Whitman be able to contain the building force that is Courtney Gegg? Superfly and the Sweets know each other well, and they get to have one final dance on the big stage.