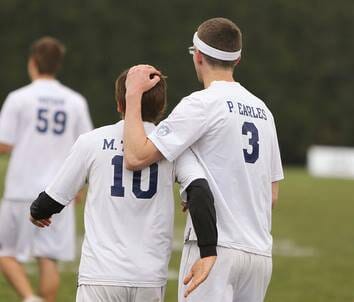 The 2016 graduating class of Pittsburgh En Sabar Nur entered and left the college game as one of the strongest single classes of players in history. You already know who they are and you know what they've done. A class that includes Trent Dillon, Max Thorne, Christian Pitts, and Pat Earles can only be described as stacked. Add in Kevin Tang, a player who got the nod for Pitt's double game point line during Sunday night's semifinal against Minnesota, and you have a crazy-strong year. Getting one player like Dillon, Thorne, or Earles could change the course of many programs. Getting two could take you to a National title (ahem, John Stubbs and Mark Vandenberg). Getting three? That has to be good enough to establish a dynasty of champions? Right? But perhaps not so.
From their freshmen year, when Pitt swept the Ohio Valley FOTY awards with Thorne and Dillon all the way to this year where Earles, Thorne, and Dillon will claim their third-straight 1st Team All-Region honors (fourth for Dillon and Thorne), the talent of the 2016 class was always there. They achieved on a national level as well, with Thorne and Earles earning 2015 All-America honors, and Dillon becoming the only college player to make the USA Men's National Team in 2016.
No doubt, people will say that because the class — particularly Dillon, Thorne, and Earles ("The Big 3") — never won a championship— or even reached a national final— without the help of Alex Thorne and Tyler Degirolamo that they failed. It wasn't as though they didn't have a supporting cast: for the last two years they played along side Marcus Ranii-Dropcho, and in 2016 they picked up Jack Slevin. And every year Pitt draws a big pool of high school ultimate talent into the fold.
To some degree, the narrative of a failure is fueled by the dominant regular seasons the group consistently put together. In 2014, they were the two seed at Nationals, reaching the final of the Stanford Invite and College Easterns. In 2015, they had a historically good regular season, claiming the title at Warm Up, Stanford Invite, and Easterns. This season, a different approach led to bumpy regular season results but everybody had to believe that with the talent they had and the lessons of 2014 and 2015, they were bound to achieve the success that had always, by their own admission, sought with fervor.1
Despite all this success, the title count stands at zero. They've done everything except win Nationals. They can rightfully be pegged as underachievers for this, but any making that accusation need to also acknowledge the excellence that led them to be such favorites in the first place.
Because it is indeed the mark of a culture of excellence that a run of quarters-semis-semis is considered underachieving. That said, there is no escaping the fact that that brilliant run is not what the graduating Pitt class expected of themselves. Given their talent, experience, and dedication, they surely expected greatness, but now will be forced to settle with just good.
The on-field legacy of Pitt's Big 3 will be accurately depicted as perennially falling short, but the side of their legacy that most people won't talk about will be what they accomplished off the field. Pitt rose to unprecedented heights with Alex Thorne and Degirolamo, but Pitt established a culture of excellence through the work of Pitts, Tang, Dillon, Max Thorne, and Earles. That is a legacy that will live on in Pitt teams to follow.
The standard of hard work and excellence that the leaders from 2016 instilled have established Pitt as one of the elite programs in the country. And, as much as people may scoff at the cliché, Pitt is clearly a team that fights for each other and buys in to the idea of brotherhood. After a heartbreaking loss to Minnesota, heads were held high. The team huddled and stretched together on the field and left the stadium with body language that was visibly positive.
The legacy of Pitt 2016 will undoubtedly be measured by the team's on-field results, but it would be remiss not to also remember the legacy that they left as leaders for their team.
---
The last image of the Pitt 2013 National Championship highlight video was a splash screen that read "Pitt 2014. Pursuant National Champions." If that's not singular focus, I don't know what is. ↩