Who comes away a big winner?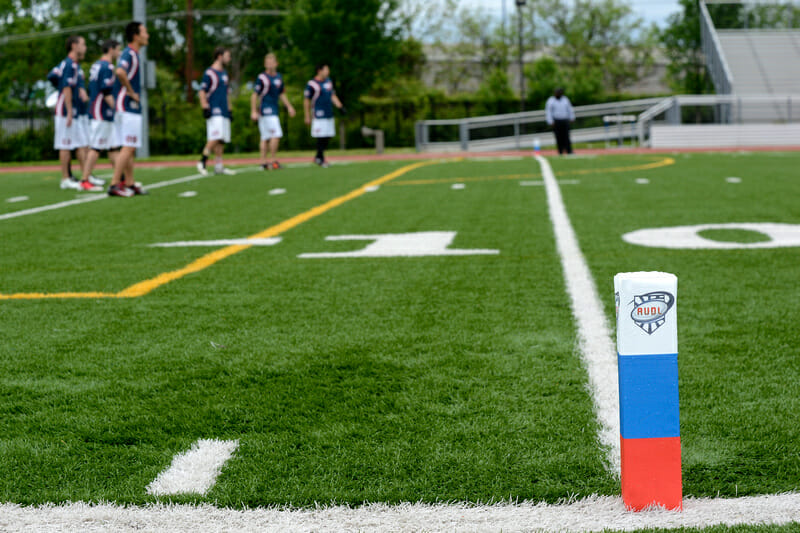 With the AUDL wrapping up its fifth season, the future of the league is becoming less a question of "if" and more a matter of "what." What will the league look like in another five years? What will change? What elements of other professional sports will it adopt? In celebration of this five year anniversary, we are taking a crack at one of those "whats." What would an AUDL draft look like?
In almost any sport, the draft is one of the best nights of the year. A wellspring of optimism: on draft night even the most destitute and hopeless teams can believe, for at least a night, that good times are just over the horizon.
Imagine a world in which a Philadelphia Phoenix fan re-ups their season tickets because they knew a franchise changing superstar was coming next year. Or a Montreal Royal diehard prays that a beast slips to them in the middle of the first round, giving them the piece they need to get over the top. Sounds pretty fun, right? We went ahead and took things a step further and played out how this hypothetical AUDL draft would go down.
Myself, along with Ultiworld's pro gurus from the AUDL Roundup, Nathan Jesson and Preston Thompson, staged a mock draft. Two rounds, fifty two picks, and only one allegation of collusion later, we ended up with some potentially axis-tilting developments to the league and tantalizing player combinations.
The ground rules of the draft:
Eligibility is limited to only seniors and fifth year college players who we have not confirmed are returning for another season of college. So while teams would absolutely covet John Stubbs or Khalif El-Salaam, because they are returning to play college for another season, they'll have to wait for the 2017 draft.
The draft pool includes players that are already playing on AUDL teams. It just makes it more entertaining this way, and more accurately depicts player value. While this may disrupt the space-time continuum, it's our hypothetical universe and we'll tear holes in the fabric of its reality as we please.
Trades are allowed.
And so, without further ado, the 2016 AUDL Draft.
Round One
Philadelphia Phoenix – TRADE
Patrick: The first annual hypothetical AUDL draft starts off with a bang, as Ottawa trades up to the first overall pick, giving up its first and second round picks in 2016 and its first round pick in 2017 to Philly.
Ottawa Outlaws (via Philadelphia) – Jeff Babbitt, University of Massachusetts
Preston: Was there ever any doubt? With John Stubbs out of the picture, Babbitt becomes the clear number one overall pick. Ottawa sets their sights on one big difference maker, and they trade up with Philadelphia to get their man. Derek Alexander has made a mark in Ottawa, but he needs help. Big throws need to go to a big man, and Babbitt is the biggest we can find. With Philadelphia hunting for depth, the Outlaws move up knowing that one big piece may move them into the playoff conversation. You can put him in almost any spot that isn't already filled by Alexander, with Babbitt working well in both downfield isolation and as a D-line leader. The UMass product's big game readiness makes giving up the second pick an afterthought.
Cincinnati Revolution – Dalton Smith, Texas A&M
Patrick: After a distressing season that saw Cincy plummet below perennial punching bag Detroit, Cincinnati needs two things from their top pick and new face of the franchise: Do it all talent, and experience being "the guy." This pick gives them both.
Smith is arguably the most versatile player on the board, having played all over the field at a high level for years. From gunslinger offensive handler on Texas A&M to athletic, throw your body around D-line cutter on Doublewide, he definitely has the range. And as far as being "the guy," Smith should feel at home on Cincinnati after he spent years throwing dudes open on an A&M team that was full of guys who had no business getting the disc. He'll have to do a lot of that on this threadbare Cincinnati team. Pulling the Revolution out of the basement in the Midwest is quite the challenge, but if anyone has the tools for the job, it's Smith.
San Diego Growlers – Pat Earles, Pittsburgh
Patrick: (collective gasp from the crowd)
Preston: Pat Earles is off the board a bit earlier than expected. But for San Diego, he is the puzzle piece that they so desperately need. On defense their athleticism is growing, and their backfield throwing is as solid as most of the Western division. But what happens when the disc leaves that initial pull play? Bring in Earles, who has honed a specialty of getting open downfield, then putting a bomb to the subsequent cut. He immediately adds a dynamic element to the San Diego offense, and everyone knows lefty flick hucks are just plain better.
The only concern over Earles is whether or not he'll mesh so far away from home, especially with most of the Growlers coming from relatively close by. Still, after watching him play, I'm sure Will Griffin and company won't mind an addition to their tight knit group.
Nashville Nightwatch – Trent Dillon, Pittsburgh
Nathan: Nashville is a team that runs hot and cold. This year they won in Atlanta and won a big game against Jacksonville last weekend, but they also lost by ten or more seven times. The Nightwatch have some nice players on their O-line like Tom Radcliffe, Blake Waldron, and Tyler Conger, but what they need is a field general on defense that can provide some leadership and consistency. What they need is Trent Dillon.
This team had a lot of players come and go during the season, and having a Team USA player set the tone for the 2017 is just what the doctor ordered. Dillon may be the ultimate role player in many ways, but there's no doubt he can help carry a team if needed. Having the 2016 Callahan winner fall to fourth is a gift for the Nightwatch.
Detroit Mechanix – Jack Williams, UNC Wilmington
Patrick: You know Charlotte is furious about this, missing out on homegrown North Carolina talent by one pick. Detroit needs goons that can hang with the physical teams at the top of the Midwest division, and Williams is an incredibly tough player, coming out of the Wilmington factory. He's not going to be intimidated physically by the Madison bruisers, and he is an electric player that should give Detroit's fans a never ending supply of highlights.
Charlotte Express – Mark Vandenberg, Harvard
Preston: Charlotte has honed in on a clear North Carolina style. They're going to pummel you on defense, and try and outjump you on offense. With outstanding athletes like Micah Hood and Jakeem Polk, Charlotte needs a keen offensive mind. As tempting as it is to look at some of the more exciting players like Bobby Ley, they have to take Mark Vandenberg. Getting on SportsCenter is nice, but Vandenberg gives you a clean and driven offense that you'll need to get into the playoff race. Boring throws win games. And with Vandenberg back handling, you can expect the O-line to score on first possessions more often than not.
Chicago Wildfire – Bobby Ley, Florida
Nathan: The Wildfire need someone that can throw big hucks to AJ Nelson. Bobby Ley would throw all sorts of them. Nelson is a forgotten superstar in Chicago, and is one of the best deep receivers in the game. Too often he was forced into the backfield for Chicago this year. Ley currently plays with Jacksonville, but despite playing with many of his club teammates the fit has felt awkward much of the time. He shouldn't have to be the possession oriented handler that supports Cole Sullivan's risk taking. Bobby Ley should be able to take more chances. He'd get that opportunity in Chicago.
San Jose Spiders – Max Thorne, Pittsburgh
Patrick: I can't believe Thorne made it this far, and I'm not going to think twice before pulling the trigger on a guy who is just a season removed from being the most dominant offensive force in the college division.
The third Pitt player taken in the top eight, Thorne slipped a bit after coming off a college season in which his teammate Trent Dillon won the headlines and the Callahan. We could look back on this as this as quite a steal, a la Adrian Peterson falling to seventh in 2006, as Thorne's complete offensive game and ludicrous athleticism make him the perfect cornerstone for a San Jose team that needs some firepower to build around. This move puts Thorne on a team that already has some good pieces around him, and keeps him in the black and yellow of his hometown, a real win-win.
Jacksonville Cannons – Xavier Maxstadt, UNC Wilmington
Preston: This is too perfect of a pick. If you watch five minutes of Jacksonville you know their style. On defense they're an army of bruisers and flying jerseys, and on offense their top few guys are going to beat you and never seem to tire of doing it. Maxstadt fits in perfectly to the Jacksonville offense with unrelenting creativity and a comfortable amount of risk taking. Throwing deep to Mischa Freystaetter and working side by side with Cole Sullivan seems like a perfect fit for the Wilmington grad.
Montreal Royal – John Wodatch, Connecticut
Nathan: Montreal is a team full of role players that is still searching for a star. They need somebody that can do a little bit of everything, while their local talent plays the supporting role. That's why the Royal brought in Kevin Quinlan this year, who ended up leading the team in assists and goals. John Wodatch is the next step. Wodatch is no stranger to the superstar role, having led Connecticut to Nationals and throwing nine assists in an upset win over UNCW once they got there. With Wodatch, the Montreal offense becomes less stagnant, and more options open up for Quinlan too. Now this goes from a team with nice depth that can pull off the occasional upset to a team that can contend for a playoff spot.
Vancouver Riptide – Sam Little, Georgia
Patrick: Ahhh, great Wodatch pick, snatched him right out of Vancouver's hands. Well, with plan A no longer an option, let's go with plan A1. Little may not possess quite as high of a ceiling as Wodatch, but he is a better fit for the Riptide and they will be really happy to enlist the southerner's services north of the border.
With all those young guns coming out of the Vancouver youth scene (Darren Wu, Gagan Chatha, etc.) the Riptide need someone from this draft with experience as a leader, someone who plays beyond their years. Little is a perfect fit, as he has the disposition and world weariness of a battle hardened 35 year old in the body of a spry, tenacious defender. Little can anchor Vancouver's defense, come over for O points when patience is needed, and should be a great locker room presence for the young team, immediately entering as a leader.
Philadelphia Phoenix – TRADE
Patrick: Philly is evidently desperate for any warm bodies they can get a hold of, and trade down again, this time sending Ottawa's pick to Pittsburgh in exchange for the Thunderbird's 2016 first and second round picks.
Pittsburgh Thunderbirds (via Philadelphia via Ottawa) – Ryan Osgar, Minnesota
Preston: Pittsburgh trades away their second round pick with their eye on Osgar. On an injured knee, Osgar threw two assists and caught two goals in a dominant Minnesota championship performance after a tremendous tournament. The do-it-all style of player fits in perfectly with the Thunderbirds, with his versatility making him a threat anywhere on the field. Pittsburgh is delighted to have yet another Callahan nominee join their already talented squad, with their eyes on taking down Madison.
Austin Sol – Kai Marshall, Oklahoma
Nathan: This pick may seem like it's out of left field. After all, Oklahoma has never even made it to college nationals, or been a team that has traveled to elite tournaments, so how good can their players be? Well, Kai Marshall has answered that this AUDL season. He led Dallas in goals scored this year with 45, while also throwing 15 assists. The Dallas offense somehow manages to be both efficient and highlight friendly is driven in part by role players like Marshall. Keep in mind that Austin went 7-3 against teams not named the Dallas Roughnecks this year and still missed the playoffs. For them to take the next step not only do the Sol need to get better, the Roughnecks need to get worse. This pick accomplishes both.
Atlanta Hustle – Justin Lim, Carleton
Patrick: One thing Atlanta has in spades is athleticism, so I'm taking Lim here to give them some polish. Lim has shown on Sockeye that he can play anywhere in an offense, and his combination of concise cutting and field opening break throws will be perfect for the Hustle.
New York Empire – Ryan Landry, Auburn
Preston: New York has all the defense they need and then some, but are often hurting for offense. Landry led Auburn to a surprise quarterfinals appearance at Nationals this year, proving himself as one of the nation's best pure handlers. Please hit us with your best "small town boy to the big city" comment in the forums.
Indianapolis AlleyCats – Travis Carpenter, Indiana Wesleyan
Nathan: Indianapolis breathes a sigh of relief that Carpenter is still on the board at 16. An AlleyCat lifer, this U23 and AUDL veteran has been with Indianapolis since the beginning, and is a big reason they have overachieved in a smaller market. He's a big part of the 'Cats identity and success, so Indy has to scoop him back up before anybody else has the chance.
Minnesota Wind Chill – Logan Pruess, UW Milwaukee
Patrick: With hometown hero Ryan Osgar off the board, the Wind Chill are scrambling a bit here. There are no obvious holes in the roster, so I'm going to go with the "best player available" motif. At pick 17, that's Logan Pruess. A U23 veteran and someone with significant pro and club experience, Pruess is another feather in Minnesota's cap after making their first playoff appearance this season.
Raleigh Flyers – Aaron Warshauer, University of North Carolina
Preston: North Carolina ultimate is almost a cult at this point. It's easy to pick up Warshauer, considering his existing relationship with coach Mike Denardis, and it doesn't hurt to be one of the best available players on the board. UNC relied heavily on their big man to open things up downfield, and he can help add another offensive weapon to an already potent Raleigh offense. Even better, it may move Justin Allen and Terrence Mitchell to the D-line where they may be better suited.
Los Angeles Aviators – Connor Holcombe, Florida State
Nathan: LA is ahead of schedule, in the playoffs this year with nine wins. They need the best players available to bring them from a team that's a nice surprise to see in the postseason to a team that can be counted on to get there every year. Connor Holcombe has been a huge player for Florida State the last few years, playing a big part in the team reaching the semifinals in 2015. He's used to big games, and with LA in contender mode, it's a great fit.
Seattle Cascades – Dongyang Chen, Washington
Patrick: Look, I'm not saying that Seattle only respects people who already play for Seattle, but I'm also not NOT saying that.
Philadelphia Phoenix (via Pittsburgh) – Pawel Janas, Colorado
Nathan: It's never easy to trade away the number one pick. For a rebuilding franchise like Philadelphia, going ahead and picking someone like Dalton Smith would have been the easy thing to do. But one player isn't going to solve Philadelphia's problems. Yes, both Cincinnati and Philadelphia went 0-14 this year, but Philadelphia only came within seven goals of their opponent once all season! The same can't be said of Cincinnati, who played in nine games decided by seven or less this year.
To transform Philadelphia into a team that's even on the fringe of the playoff race, they need depth first and foremost. Trading down twice to get more picks is the best way to do that. The Phoenix tried to trade down to get more picks again here, but Madison wasn't listening. So the Phoenix pick a player to lead them, someone that can help them build something. Pawel Janas fits the bill, being a key contributor to Colorado for years, and bringing experience having played with teams like Johnny Bravo and Machine. The great rebuild starts with him.
DC Breeze – Jay Froude, Missouri
Nathan: The Breeze are already championship contenders, and have plenty of playmakers on the roster. But you can never have enough defense. Froude has already proven himself a great defensive player on the AUDL field, and it doesn't hurt that DC is stealing him from another championship contender in Madison.
San Francisco Flamethrowers – Charlie Lian, UNC Wilmington
Patrick: The regular season West Coast champs are going to follow an NFL mantra here: Draft your strength. Lian fits perfectly into the "jacked bro" D-line that has won San Francisco game after game, and ensures them an intimidating defensive presence for years to come.
Toronto Rush – Chris Strub, Oregon
Preston: I'm frankly astounded that one of the best one-on-one defenders in the country fell all the way to 24. Strub is no stranger to success with Oregon, making him a perfect candidate to play alongside the worlds level talent of the Rush. Strub is the ace up the sleeve they'll hold until the playoffs, and really could be one of the pieces to put them back on top of the AUDL.
Dallas Roughnecks  – Dillon Larberg, Texas
Nathan: What do you get the girl that has everything? You make sure she doesn't lose any of her prized possessions. Larberg has done work on the Dallas D-Line and is a proven contributor to this team. No need to get fancy when drafting players for the championship favorite.
Madison Radicals – Elliot Chartock, Stanford
Patrick: Madison has just about everything, and at the end of the first round they can afford a luxury pick. Chartock gives them some creativity in the throwing department, and after being asked to do a little bit of everything for Stanford, he should be comfortable fitting in wherever Madison need him on their stacked roster.
ROUND 2
Philadelphia Phoenix – Sam Greenwood, Michigan
Nathan: Greenwood is a proven leader, and even with the high profile picks coming in, he has the fortitude to lead a rebuilding franchise. It's going to take time to turn the Phoenix around, but it's a task Greenwood is well suited for.
Cincinnati Revolution – Aaron Speiss, Wisconsin
Patrick: Wisconsin's Callahan nominee and a runner up for Offensive Player of the Year, the Hodag speedster should give Cincinnati's dismal offense some pop. At this point, the Revolution are building around Dalton Smith, and Speiss not only gives him a target, but also should stretch the field and open up soft spots for Smith to exploit.
San Diego Growlers – Christian Pitts, Pittsburgh
Preston: After being somewhat overshadowed by the rest of Pittsburgh's stars, Pitts gets a chance to break out on the West Coast. A weapon that first round pick Pat Earles already knows how to use, Pitts helps Earles take California by storm with his reliable downfield cutting and nose for the disc.
Nashville Nightwatch – Joel Clutton, Texas
Nathan: The Nightwatch need a player to pair with Tom Radcliffe that can do damage downfield, and Clutton would be a great fit for that in Nashville. This 6'5″ man among boys can come down with discs all over the field, giving the Nightwatch a lot more punch whether he ends up primarily playing offense or defense.
Detroit Mechanix– Bobby Patterson, Florida State
Patrick: GIVE THE PEOPLE WHAT THEY WANT. Namely, let Patterson rip bombs to Jack Williams. Detroit might not make the playoffs, but they'll be turning heads and drawing eyeballs with their two explosive draft picks.
Charlotte Express – JD Hastings, North Carolina
Preston: Charlotte was looking at Patterson, but with him gone they go with a lock down handler defender. Adding to the already stifling defense they're building.
Chicago Wildfire – Nico Lake, Georgetown
Nathan: Chicago, still fuming over the departures of Matzuka, Helton, and Liu, decides to do whatever they can to steal a player from the DC Breeze. Luckily Nico Lake is a skilled player and more than a pure spite pick, and should help the Wildfire fight their way back to respectability.
San Jose Spiders – Sterling Knoche, Wisconsin
Patrick: It's totally insane that Knoche fell this far. One of the best defenders in college last year, and the focal point of the D-line offense for the Hodags, Knoche gives the Spiders some teeth on their D-line. A workhorse, his physical frame and motor should hold up well in the grind of the AUDL game.
Jacksonville Cannons – Blake Galloway, Auburn
Preston: Instead of trying to change their formula, Jacksonville keeps it simple here and adds another athlete to their stable. Galloway will help the Cannons pile on breaks and highlights in equal measure, and ideally will help keep the team's thin offensive rotation off the field a bit longer.
Montreal Royal – Peter Yu, British Columbia
Nathan: With Wodatch and Quinlan on board, Montreal needs a reliable player that can get them the disc in the right spots. Even though he currently plays on the other side of the country, Yu should be a great fit in Montreal.
Vancouver Riptide – Dom Gibson, Virginia Commonwealth University
Patrick: A truly explosive playmaker, both downfield and with the disc in his hands. Compliments the Riptide's young core and increases their athletic advantage over their West Coast rivals.
Philadelphia Phoenix (via Ottawa) – Mark Rauls, Colorado
Nathan: Greenwood and Janas are going to need someone to throw to, and Rauls already has developed chemistry with Janas during their time on Mamabird. His speed should allow him to be a release valve, keeping possessions alive even against ferocious defenses like New York and Toronto.
Austin Sol – Joseph Marmerstein, Case Western University
Nathan: Marmerstein can calm down the Austin offense when needed and make the right decision with the disc. He'll be valuable, and is familiar with many of the South Central players on the Sol after spending four years at Wash U.
Atlanta Hustle – Connor Anderson, Minnesota
Patrick: Anderson brings defensive swagger down to the ATL, for a team that needs guys who won't be intimidated by the staggering offensive firepower in the South. A prototypical pit bull defender, Anderson will tirelessly dog his assignment all over the field and make life miserable for his mark.
New York Empire – Evan Boecking, Auburn
Preston: With Ryan Landry in New York already, this move makes sense. If the Empire so choose, these two could run the backfield just like they did at 2016 Nationals.
Indianapolis Alley Cats – Cody Kirkland, UCSD
Nathan: The AlleyCats need more throwers they can rely on in crunch time, and Cody Kirkland is definitely that. The Southwest Region Player of the Year is somehow still available at pick #42, and Indianapolis doesn't blink before taking Kirkland.
Minnesota Wind Chill – Tristan Van De Moortele, Minnesota
Patrick: This hometown favorite can be a do-it-all guy on the D-line for Minnesota. Quick enough to mark speedsters and crafty enough to play against players who have height on him, he showed at college Nationals that he's ready for prime time, and someone you want in your corner in big games.
Raleigh Flyers – Craig Cox, Wisconsin
Preston: With Cox and Warshauer, Raleigh has their deep game covered. It will be difficult to stop both of these big men on offense. Plus, Wisconsin and Raleigh seem to share several philosophies about defense and workload, making the Flyers a good fit for Cox at #44.
Los Angeles Aviators – Harper Garvey, Knox
Nathan: Who is Harper Garvey? What is Knox College? Is that a real place? These are fair questions if you're an ultimate fan unfamiliar with the four year Sub Zero veteran that played for a tiny DIII school in Illinois. But, rest assured, Garvey has plenty of talent and credentials to make a name for himself in the AUDL. LA has the athletes, what they need is another player that can put up the big throws to their high flying players. As his 41 assists at DIII Nationals show, Garvey is plenty capable of that.
Seattle Cascades – Hunter Levis, Utah
Patrick: If Seattle can't draft someone from Seattle, they'll compromise with someone from the Northwest. Levis carried Utah to Nationals this year, and is another horse in the stable for the deep bench of the Cascades.
Philadelphia Phoenix (via Pittsburgh) – Wesley Chow, Colorado
Nathan: With Janas, Rauls, and Chow, the Philadelphia Phoenix become every Mamabird fan's favorite AUDL team. That kind of chemistry paired with another college All-Star like Sam Greenwood will make the Phoenix watchable, and ensure they improve on a dismal 2016.
DC Breeze – Ross Barker, Wisconsin
Nathan: Barker was an important piece in the Hodag offense this year, and knows how to play in a system. Surrounded by all the talent in DC, he'll be able to make plays without making many mistakes.
San Francisco Flamethrowers – Jake McGoogan, NC State
Patrick: Is Jake McGoogan overrated? Probably. But he's too good to go undrafted, and the Flamethrowers can take a flyer on him at the end of the draft. A "so overrated he's underrated" situation.
Toronto Rush – Avery Johnson, Wisconsin
Preston: At this point in the draft, Toronto is looking for pedigree and big game experience. The Hodags relied heavily on Johnson this year to be the main facilitator on offense. His high level decision making and ultimate IQ make him a solid role player on an already stacked Rush team. He won't take anything away, and he may add some options on the O-line.
Dallas Roughnecks – Ben Lewis, Texas A&M
Nathan: The Roughnecks may have lost Dalton Smith to Cincinnati, but Ben Lewis is a nice consolation prize. He'll fit right in on Dallas.
Madison Radicals – Nicholas Prozorovsky , Illinois
Patrick: He led College Nationals in goals in 2015 on a mediocre Illinois team. Time to see what he can do in the big leagues.
PICK REVIEW
Ottawa Outlaws: Jeff Babbitt (#1), traded 2nd round pick & 2017 1st round pick to PHI
Cincinnati Revolution: Dalton Smith (#2), Aaron Speiss (#28)
San Diego Growlers: Pat Earles (#3), Christian Pitts (#29)
Nashville Nightwatch: Trent Dillon (#4), Joel Clutton (#30)
Detroit Mechanix: Jack Williams (#5), Bobby Patterson (#31)
Charlotte Express: Mark Vandenberg (#6), JD Hastings (#32)
Chicago Wildfire: Bobby Ley (#7), Nico Lake (#33)
San Jose Spiders: Max Thorne (#8), Sterling Knoche (#34)
Jacksonville Cannons: Xavier Maxstadt (#9), Blake Galloway (#35)
Montreal Royal: John Wodatch (#10), Peter Yu (#36)
Vancouver Riptide: Sam Little (#11), Dom Gibson (#37)
Pittsburgh Thunderbirds: Ryan Osgar (#12), traded 2nd round pick to PHI
Austin Sol: Kai Marshall (#13), Joe Marmerstein (#39)
Atlanta Hustle: Justin Lim (#14), Connor Anderson (#40)
New York Empire: Ryan Landry (#15), Evan Boecking (#41)
Indianapolis Alleycats: Travis Carpenter (#16), Cody Kirkland (#42)
Minnesota Wind Chill: Logan Pruess (#17), Tristan van de Moortele (#43)
Raleigh Flyers: Aaron Warshauer (#18), Craig Cox (#44)
Los Angeles Aviators: Connor Holcombe (#19), Harper Garvey (#45)
Seattle Cascades: Dongyang Chen (#20), Hunter Levis (#46)
Philadelphia Phoenix: Pawel Janas (#21), Sam Greenwood (#27), Mark Rauls (#38), Wes Chow (#47), 2017 1st Round Pick (OTT)
DC Breeze: Jay Froude (#22), Ross Barker (#48)
San Francisco FlameThrowers: Charlie Lian (#23), Jake McGoogan (#49)
Toronto Rush: Chris Strub (#24), Avery Johnson (#50)
Dallas Roughnecks: Dillon Larberg (#25), Ben Lewis (#51)
Madison Radicals: Elliot Chartock (#26), Nick Prozorovsky (#52)