No upsets yet; Ironside, PoNY, Revolver, Sockeye, Johnny Bravo, and Machine stay on top.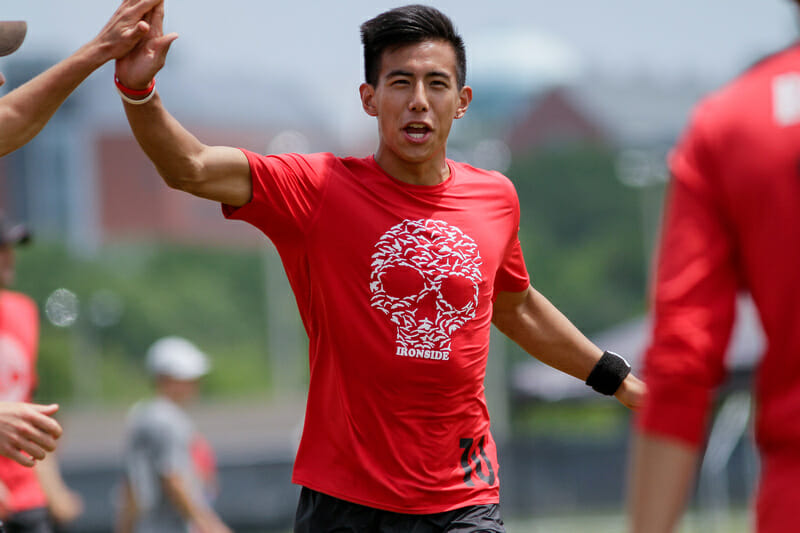 Ultiworld's coverage of the 2016 Club Championships is presented by Spin Ultimate; all opinions are those of the authors. Please support the brands that make Ultiworld possible and shop at Spin Ultimate!
Pool A:
Boston Ironside 13-7 Raleigh Ring of Fire
Boston Ironside (overall #1, seeded A1) quickly dealt with Ring of Fire (overall #13, seeded A4), beating them handily 13-7. Ironside recovered nicely from their struggles against Prairie Fire, jumping out to a quick 4-0 lead. Two goals from Christian Foster jumpstarted Boston, who took half 8-2 in about 30 minutes.
Jeff Graham was huge for Ironside, scoring four goals and one assist. Ring of Fire's huck-happy offense had no chance of success in the huge gusts for round two. For Ironside, their offense was massively improved. Eleven different players registered an assist for Boston in round two.
Ring of Fire will play Prairie Fire in an elimination game in round three. They'll have to figure out how to effectively move the disc in the wind if they want to hang tough.
New York PoNY 15-12 Kansas City Prairie Fire
After a strong start against Boston, Prairie Fire (overall #12, seeded A3) couldn't hang with PoNY (overall #8, seeded A2), losing 15-12. Prairie Fire and PoNY traded points until Prairie Fire managed the first break at 5-4. But what was more impactful was New York's ability to hold upwind after that break. They held, then immediately broke to get back on serve. A short pull gave PoNY a one-throw score for halftime, leading 8-7.
Prairie Fire had plenty of chances to break in the first half. But when they faced them, there was not nearly enough offensive firepower on the field. For PoNY, they switched their personnel early in the game. Their O-line ran D points, to be prepared for the upwind chances. Likewise, the defense was able to defend if they turned quickly after the pull.
With PoNY up 9-8, this personnel switch reaped its reward. They slowly moved the disc upwind for an important break and a 10-8 lead. On the ensuing point, Prairie Fire couldn't do the same in the strong gusts. Alberto Alarcon came up big with a sky in the end zone for an 11-9 lead. Alarcon had yet another dagger, when he hand-blocked the Prairie Fire offense on their own goal line, leading to an easy 12-9 goal. A beautiful Josh Alorro scoober capped off an impressive 15-12 win for PoNY.
Prairie Fire now faces elimination against Ring of Fire. They might want to consider the personnel changes that PoNY experimented with, especially against a Raleigh team that will give them plenty of chances to break.
Pool B:
San Francisco Revolver 15-8 Philadelphia Patrol
Revolver (overall #2, seeded B1) and Patrol (overall #11, seeded B3) showed no fear in the wind, working confidently to find their cutters and both managing holds against the gusts. The defending champs snagged a break early to open up a 4-2, which they built slowly into an 8-4 halftime advantage.
Patrol worked through different Revolver defenses, including a junky look on the backfield that featured Nathan White's large mark flat against the centering throw. During one upwind fight, David Brandolph resisted his flick and stepeed into a challenging crossfield, inside out backhand that sailed over the Revolver zone and found Jake Rainwater. But despite their confidence, Philadelphia couldn't slow down the San Francisco offense.
Play became sloppier and sloppier as the game pushed on, and neither team could manage one possession scores in the final few points. Players dove all over the field for second and third chance catches, often to no avail.
There were no particular breakout performances and playing time was well-balanced for San Francisco. Even with the conditions worsening, Revolver closed out the game confident, with a seven-point margin.
Seattle Sockeye 15-7 Austin Doublewide
Seattle Sockeye (overall #7, seeded B2) knocked off Austin Doublewide (overall #14, seeded B4) with ease, winning 15-7. With the midwestern gusts keeping playing conditions challenging, the two teams messed around with their lineups initially to feel each other out.
Nick Stuart stepped on for the opening point with the Sockeye D-line, taking on Doublewide big man Ethan Pollack. Brandon "Muffin" Malecek shifted over for D-line on the ensuing point to try and frustrate Seattle handler and captain Danny Karlinsky.
Seattle broke for a 3-2 lead when Donnie Clark flipped a backhand Justin Lim as he hopped into the end zone, unmarked on the break side. Sockeye never looked back. They hit turbo for a 7-0 run to take half, 8-2.
As gusts shortened upwind pulls to the point where they barely reached half field, Doublewide showed a cup with Pollack menancing on the mark. Sockeye, however, was unphased working both diligently in some points to attack the break side, and dialing up some brave upside down shots to beat the wall.
While Austin managed a few more holds, Seattle stayed in control the rest of the way and closed out the game by a wide margin.
Pool D:
Denver Johnny Bravo 15-10 Vancouver Furious George
Johnny Bravo (overall #4, seeded D1) rebounded well from their close call with H.I.P. to comfortably beat Vancouver (overall #16, seeded D4) and set up a showdown with Machine for the top spot in Pool D. A game that was never as close as the score indicated, Furious George struggled mightily in the wind and had no answer for the big throwers on Johnny Bravo.
Vancouver hung tough in the first half, able to punch in their downwind O points. With the score 4-4, Bravo loaded up a D-line with offensive players and a short field turn from Furious gave Bravo a window to get an easy upwinder. Jimmy Mickle found David Wheeler for the first break of the game and on the next point Ben Lohre connected with Henry Konker to expand Bravo's lead to two points. Furious never got closer than that, as their throwers could never quite adjust to the wind.
Even downwind O points were laborious for the Vancouver team, and several points developed into huckfests, with Vancouver punting downwind and Mickle slinging flicks into the wind with all the strength he could muster. One such marathon point ended the first half, with Denver's Australian import Tom Tulett picking out Stanley Peterson in the endzone to give Bravo the 8-5 lead.
The second half was more of the same, as each team seemed to be looking forward to their next game, not wanting to expend too much energy on what seemed like a foregone conclusion. Furious did manage to punch in a upwind/downwind break combo to tighten up the score a smidge at 12-9, but Bravo's defense came out for an O point and shut the door, scoring three of the next four points to put the game away.
Furious has shown grit, but just haven't looked up to the caliber of Machine and Johnny Bravo today. They'll meet H.I.P. in the last round of pool play to determine third place and a spot in the prequarters.
Bravo have a clear strategy; let Jimmy huck up wind, and it's been working in the first two contests. We'll see how it fairs against Machine in the last round of the day.
Chicago Machine 15-13 Houston H.I.P.
Machine (overall #5, seeded D2) held off a late surge from H.I.P. (overall #9, seeded D3) to maintain their perfect record on the day and clinch their spot in the bracket.
A balanced performance from the entirety of their deep roster set the tone for Machine, as they continued to show the offensive disciple in the wind that led them to a victory over Furious George this morning.
Against H.I.P., the Chicago offense was often able to score in just three or four throws, with Brett Matzuka, Bob Liu, and Pawel Janas capably moving the disc down the field and through the opposition. This proficiency made it all the more surprising when they stumbled late in the game and let H.I.P. back in.
A slow start from H.I.P.'s offense put them in an early hole. A misfire from Dalton Smith on the first point of the game gave Machine's offense the shot at an upwind break, and they cashed it in on an assist from Michael Schwenk to Neal Phelps. Chicago would turn around and collect the downwind break to take a 2-0 lead.
H.I.P. was showcasing the same tactics they did against Johnny Bravo this morning; the young guns from Houston were looking to shoot early and often. Downwind, the first look from Dalton Smith and Matt Bennett was a hammer or scoober to the break side off the back of the stack, and upwind Mitchell Bennett and Kevin Christian were ripping lefty backhand hucks early and often. This lead to some quick points and impressive statlines, (five goals and three assists for Smith, seven assists for Matt Bennett) but also several turnovers that Machine was able to capitalize on.
It looked like Chicago might be able to put the game to bed early in the second half when they scored the first three points out of half to jump out to an 11-6 lead. Houston was profligate with the disc and Machine looked like the more comfortable team in the wind as they have all day so far.
But in such strong wind, breaks are worth two, and H.I.P. was able to pull off the two-for-one twice in the second half off of drops from Chicago and a flat zone that forced Machine to work the disc out and around in the wind instead of the direct approach that had worked for them in the first half. Trailing 14-12 and needing to break upwind to keep the game alive, H.I.P. forced a bailout backhand from Bob Liu that Goose Helton couldn't corral, and two upwind flicks later, H.I.P. had scored.
It was deja vu for H.I.P., as they had essentially the same comeback against Bravo in round one.
Just like that game, H.I.P.'s comeback would fall short. Pulling downwind while trailing 14-13, Houston got a shot at a break after an ambitious Brett Matzuka hammer curved out of bounds. Dalton Smith picked up the disc on the sideline about 35 yards from the endzone and sent a blading forehand towards Dillion Larberg who was cutting up the sideline. It was a tight window of real estate to fit the throw into, too tight as it turned out, as the blading disc hit the grass just before a sliding Larberg could get a hand on it.
H.I.P. wouldn't get a second chance, as Machine worked methodically through their zone until Matzuka broke through the cup with a tight forehand to Goose Helton. The disc then worked its way around to veteran Ron Kublanza, who zipped a flick up the line to a waiting Jesse Buchsbaumb, secure the goal and the victory. It wasn't as pretty as they hoped, but Machine proved once again that their O-line can score upwind when they need to.
Machine now face Johnny Bravo in a battle for the pool and a bye into the quarterfinals tomorrow afternoon while H.I.P. will play in a win-or-go-home game against Furious George.