Ironside locks up Pool A and Ring of Fire qualifies for prequarters. Revolver, Sockeye, Truck Stop, Madison Club take care of business.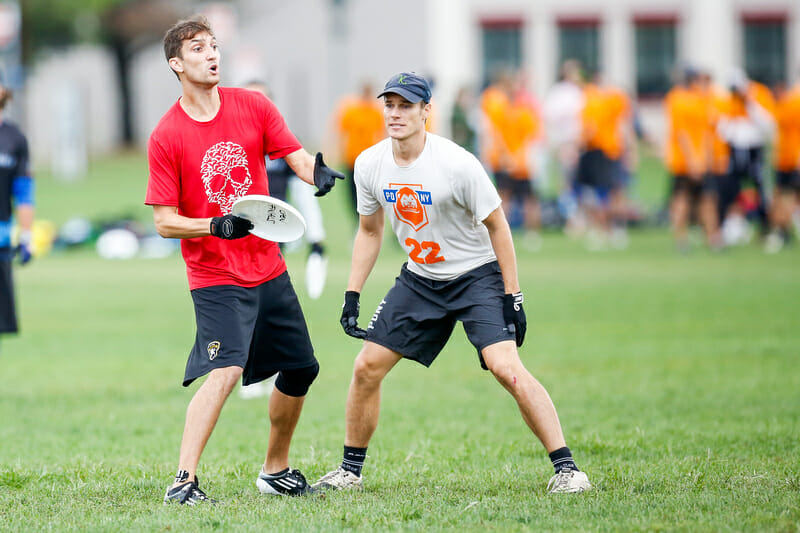 Ultiworld's coverage of the 2016 Club Championships is presented by Spin Ultimate; all opinions are those of the authors. Please support the brands that make Ultiworld possible and shop at Spin Ultimate!
Pool A:
Boston Ironside 13-10 New York PoNY
Ironside (overall #1, seeded A1) controlled their matchup with PoNY (overall #8, seeded A2) from wire to wire, beating PoNY 13-10 and locking up Pool A.
Ironside continued their run of good starts, breaking PoNY upwind to go up 1-0. The easy downwind break made it 2-0, a lead they wouldn't relinquish. Up 7-5, Ironside faced an opportunity to take half and extend their lead. Going upwind, a jump-ball to Will Neff was one of the better options available. A big Neff sky gave them the 8-5 halftime lead.
A last-ditch effort from PoNY led to an upwind break, bringing it to 12-10. What should have been the easier downwind break didn't phase Boston. They held upwind for the 13-10 win. Ironside wins Pool A, and will have a first-round bye tomorrow.
Kurt Gibson had a standout game for Ironside, scoring four assists. Jon Cox was most of PoNY's scoring, with three goals and one assist. PoNY has the second seed of Pool A locked in, and will play the winner of HIP and Furious George tomorrow morning.
Raleigh Ring of Fire 13-10 Kansas City Prairie Fire
Ring of Fire (overall #13, seeded A4) surged late against Prairie Fire (overall #12, seeded A3) to win 13-10, eliminating Kansas City from bracket play.
Both teams had the personnel to be able to handle the windy weather, but all of it was being used to secure offensive holds. In the rare occasions that there were legitimate break chances, taking a shot deep was usually the only result.
With the game on serve at six all, Ring of Fire had two chances to break upwind. Both bounced off of the receivers hands, setting the tone that Ring of Fire would fall just short in their quest for the upset. After the Prairie Fire hold, Matt Jackson burned his man upline for the Prairie Fire break and the 8-6 halftime lead.
In the second half, the Prairie Fire offense lost focus for just a moment and turfed an easy under. Ring of Fire capitalized on the short field to tie the game upwind. They followed that break with another, and then a Hunter Taylor around backhand capped off a 5-0 run for Ring of Fire.
Ring would hold their three point lead until the end, finishing off Prairie Fire 13-10. Abe Coffin did all he could to keep Prairie Fire alive, scoring three goals and three assists. Ring of Fire's Jonathan Nethercutt threw seven assists, including the game winner to Noah Saul.
Ring of Fire will play the loser of Machine and Johnny Bravo in the final round of the day.
Pool B:
San Francisco Revolver 15-2 Austin Doublewide
Revolver (overall #2, seeded B1) nearly leveled a shutout on Doublewide (overall #14, seeded B4), pushing first to an 8-0 lead at half.
Not long after, the lead was a menacing 13-0.
With a spot in the bracket up for grabs next round, one can't imagine there was much left to play for other than a little bit of pride. Doublewide worked in two late points to save some face, before heading into their most critical test of the day.
Sockeye and Revolver, both undefeated, will play in the final livestreamed game of the day to determine who receives a bye to the quarterfinals.
Seattle Sockeye 15-7 Philadelphia Patrol
Seattle Sockeye (overall #7, seeded B2) outplayed Philadelphia Patrol (overall #11, seeded B3) to a 15-7 result.
The teams sparred in the opening points, trading downwind holds before Seattle snagged a break of a Phil Murray toss to Joe Sefton to make it 2-1. Patrol, confident in the wind even if out-gunned by the two west coast powers, immediately put in an upwind hold and a downwind break to put the game back on serve at 3-2.
Like the shifting wind speed, the game itself swung back to Sockeye. Neither team played smoothly through the latter part of the first half, with plenty of tunrovers plaguing both sides, much more a result of the conditions than of either team's gameplan. Sockeye worked in another hold and a pair of breaks, pushing the lead to 5-3, and then an 8-5 lead at the half.
Patrol was been able to take advantage of some shifting Sockeye marks earlier in the game. With his mark lined up parallel to the sidelien in a backhand force, Nick Hiranet had plenty of room to send it long for his cutters. But as the game progressed, Sockeye shifted through some junk looks and a trap zone that heaped defensive pressure onto Patrol, which contributed to a larger Seattle lead.
Playing in these conditions and repeatedly going against such stiff wind in long, turnover-heavy points is a mental slog. Sockeye had the legs and the fortitude to stay after each opportunity they were afforded, and it handed over the eventual win as Patrol faded throughout the second half.
Patrol heads into a must-win game against the similarly 0-2 Doublewide in Round 4. They have worked in the wind successfully against Revolver and Sockeye, while Doublewide struggled mightily in both of their games so far.
Pool C:
Washington DC Truck Stop 12-6 Boston Dig
Playing on one of the few fields that is much more crosswind than upwind/downwind, Truck Stop (overall #3, seeded C1) made easy work of Dig (overall #15, seeded C4).
Truck Stop will now face their biggest test against Madison Club to determine the winner of the grouping.
Things aren't going Boston's way thus far but for a first-year team at their first Nationals there are more takeaways than just wins and losses.
"We're out here having fun," captain Mat Little said after an 0-2 start. "We're using this to help set our goals for next year, but we are not rolling over for any teams. We're trying our best to compete in every game."
Madison Club 10-8 Michigan High Five
High Five (overall #10, seeded C3) capitalized on some early mistakes by Madison's offense and jumped out to a 4-2 lead.
A three point rally would get Madison Club (overall #6, seeded C2) back on serve and a monster upwind sky by Bill Everhart over two Michigan defenders would put them in the driver's seat for the rest of the game.
The High Five D-line started poaching off of handlers and switching effectively down field to get back on serve before halftime, trailing 8-7.
Right out of half, an unlikely hero made scored what would be the game winning goal. 41 year-old Jadon Scullion laid out and stabbed a low, blading backhand, then popped up and delivered a crisp 20 yard backhand to Peter Graffy for the upwind break for 9-7 Club. Chalk one up for the masters guys still playing open.
"That was definitely the play of the game for us," said Madison head coach Tim DeByl. "That's what won the game for us, really."
Wind conditions made the following point would not be the most aesthetically pleasing – and after roughly 20 minutes of turnovers and two Mad Club timeouts, a short pass from Graffy to Thomas Coolidge completed the break and put the game on ice.
In flashes, High Five looks great then will suffer a short lapse. The challenge for them will be to put together a complete game against Boston's Dig in the final round of pool play. If they hold seed, they will play Sockeye or Revolver in the first round of the bracket.