Metro North wins Pool A; NOISE upsets Alloy and eliminates them from the bracket; Steamboat avenges their only regular season loss.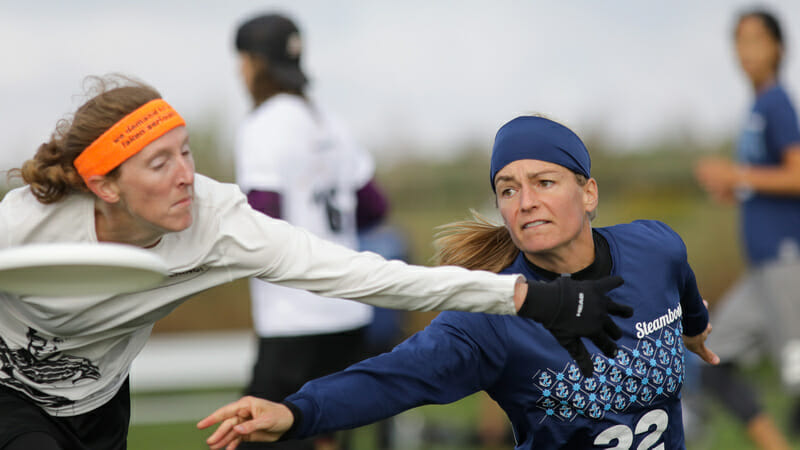 Ultiworld's coverage of the 2016 Club Championships is presented by Spin Ultimate; all opinions are those of the authors. Please support the brands that make Ultiworld possible and shop at Spin Ultimate!
Pool A:
Connecticut Metro North 12-9 Philadelphia AMP
In one of the most anticipated matchups in mixed division pool play, Metro North (overall #8, seeded A2) capitalized on the windy conditions, a known weakness for top seeded AMP (overall #1, seeded A1).
After a quick hold for Connecticut, Kendra Frederick got a block that led to Lucas Murphy finding Eugene Yum for a 2-0 lead. Another AMP turnover and Andrew Bosco hit Ben Ivers to make it 3-0. Philly would earn a break of their own before half time, but no more for the remainder of the game as Metro North cruised to a 12-9 win.
Metro played their typical offensive style, hucking to any open receiver or on any high stall counts, but captain Andrew Bosco credited their win to their ability to play small ball when the opportunity was there.
Frederick in particular was a key cog for them, getting lots of touches with only one turnover on the game.
John Korber was unstoppable deep and in the end zone, as he tallied four goals, including a second half break to provide a 10-7 cushion for Metro North.
AMP showed good patience moving the disc against a Metro North zone but struggled with drops seemingly any time the offense started to flow. Defensively, Philly's face-in-stomach cutter defense boded well for Metro North, who got around breaks or upline cuts from the front of the stack against unaware defenders. Connecticut was never really challenged to throw inside breaks off the open sideline, and took advantage by grinding out scores on the ground.
Metro North earns a bye to quarterfinals while AMP will play the winner of shame. vs G-Unit in prequarterfinals.
Washington DC Ambiguous Grey 14-10 San Francisco Blackbird
In a must-win game for the bottom two seeds in pool A, Ambiguous Grey (overall #12, seeded A3) used their depth to take advantage of the tired, top-heavy roster of Blackbird (overall #12, seeded A4).
Ambiguous Grey jumped out to a 7-3 lead and never really let Blackbird back in it, cruising to a 14-10 victory. AG will play the loser of Mixtape vs Mischief in prequarters.
Antoine Davis and Ella Juengst played strong roles for AG, shutting down their marks and getting open everywhere on offense. Davis finished with one goal, one assist, and three blocks; Juengst tallied two goals and one block.
Pool B:
Boston Slow White 15-6 Dallas Public Enemy
Boston (overall #2, seeded B1) jumped out to an 8-1 halftime lead in this game, capitalizing on a Public Enemy (overall #14, seeded B4) team that was likely tired from their battle against Alloy in the previous round.
With the win and Alloy losing to NOISE, Slow White clinches first in the pool and a bye to quarterfinals.
Madison NOISE 12-9 Pittsburgh Alloy
Alloy (overall #7, seeded B2) was reeling from their heartbreaker loss in the previous round and after giving up a break to go down 6-4 to NOISE (overall #11, seeded B3), they earned one back to bring it on serve before half.
The teams traded holds all the way to 9-9, when a marathon point that Pittsburgh won't soon forget took place. Alloy had multiple upwind red zone possessions but had unfortunate drops on more than one and was unable to convert the break as Josh Wilson found Sam Loveland for the NOISE hold.
Perhaps deflated from the squandered opportunities, Alloy then gave up an upwind break on a single turnover. Kevin Herrera found Justin Simanson to make it 11-9 Madison, and a downwind break ended the game 12-9.
NOISE plays Public Enemy next round for the 2/3 spots in the pool, but both have already earned spots in the championship bracket with their wins over Alloy. Pittsburgh came in as one of the big unknowns in the mixed division, but the tough wind seemed to limit their ability to utilize their strengths. If conditions calm down at all tomorrow, expect them to make a deep run in the Pro Flight bracket.
Pool C:
Minneapolis Drag'n Thrust 15-9 Minneapolis No Touching
In the Battle of the Twin Cities (except both teams being from the same twin), Drag'n Thrust (overall #3, seeded C1) took care of business against No Touching (overall #15, seeded C4).
No Touching hung around through the first half, but Drag'n Thrust took it into halftime up 8-6. In the second half, in typical Drag'n Thrust fashion, they turned on "it's time to win" mode and stormed to a 15-9 finish.
Cincinnati Steamboat 14-11 Denver Love Tractor
In a matchup between two teams who split two regular season matches, Steamboat (overall #6, seeded C2) exacted revenge on Steamboat (overall #10, seeded C3), the only team to hand them a loss in 2016.
After trading to 5-5 with Love Tractor, Steamboat rattled off three to take half 8-5. But Love Tractor kept it interesting, bringing the game to 9-9 and 10-10, until Steamboat shoveled more coal in the fire and finished them off 14-11.
Drag'n plays Steamboat for first place and a bye to quarters next round, while No Touching plays Love Tractor to see who will see the light of prequarters and who will end their Nationals journey before dinner on day one.