Close calls for Revolver and Truck Stop en route to winning Pool B and C, respectively. Johnny Bravo locked up Pool D. Doublewide, Dig, and Furious George finish the day with their first wins just in time to advance to prequarterfinals.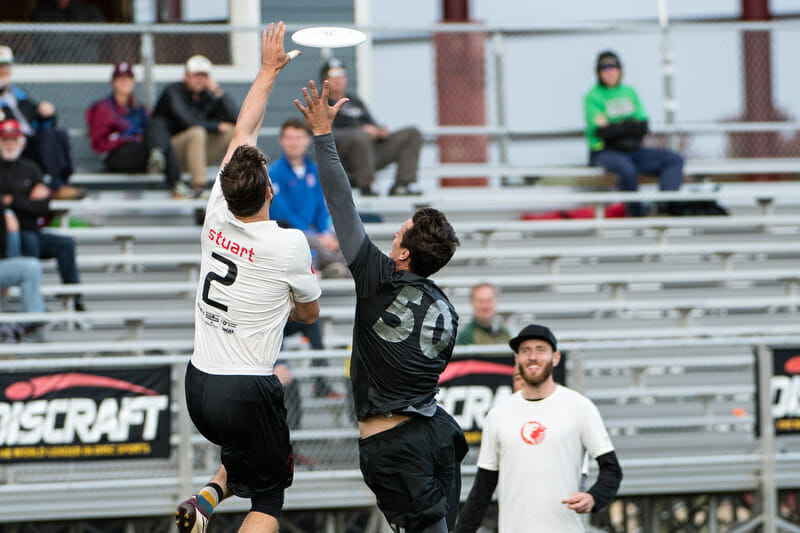 Ultiworld's coverage of the 2016 Club Championships is presented by Spin Ultimate; all opinions are those of the authors. Please support the brands that make Ultiworld possible and shop at Spin Ultimate!
Pool B:
San Francisco Revolver 16-15 Seattle Sockeye
The more protected showcase field featured the marquee matchup: Revolver (overall #2, seeded B1) versus Sockeye (overall #7, seeded B2). Both teams had dispatched the lower end of the pool without trouble.
Sockeye's opening salvo was heard both by Revolver, who faced a 6-3 deficit early, and the rest of the tournament as teams and fans snuck peaks at twitter and wondered what the implications would be if the defending champs fell early.
Revolver's miscues turned quickly into Sockeye breaks, alongside some acrobatics from Nick Stuart and Zane Rankin. While the 2015 champion struggled to improve on consistency, the runner up had the hot hand. A three point lead is big for any team at Club Championships, but in the rich history of these west coast rivals, the 8-5 lead that Sockeye held at half felt massive.
But, like so many teams that have opened up a lead against San Francisco, it faded. Revolver absorbed the punches, and slowly increased defensive pressure as the windy conditions of the day wound down.
Suddenly, the game was tied at 14-14, and headed to overtime. The mistakes were coming from Sockeye, including a costly goal line turnover as the teams battled to a point cap at 16.
Double-game point arrived for Revolver's offense, but they gave Sockeye a glimpse at the winning goal before earning the disc back and sealing the game. Their hot hand in the first half had cooled, and Revolver had turned their early mistakes into motivation.
Pool play hardly ever offers the best that Revolver's lines have to offer, but this year Sockeye may have turned on the intensity of the defending champ's defense early, waking a giant that hadn't planned on showing its face until quarters.
Austin Doublewide 15-13 Philadelphia Patrol
A Round 3 blowout ended up serving as a rest opportunity for Austin Doublewide (overall #14, B4) in the final round of play, where they fended off elimination with an upset win, 15-13 over Philadelphia Patrol (overall #11, seeded B3).
The first two rounds of play–in heavy, gusting winds–was troublesome for Doublewide, a team that often relies on big throwers to find tall cutters in deep space. While their height hadn't helped them in the earlier conditions against Revolver and Sockeye, they lined up their matchups with Patrol and put key players in a position to succeed early.
Dan Emmons found the end zone four times in the first half, using his 6'5" frame and speed to get both above and behind the Patrol defense. Brett Gramann proved to be a serious matchup problem for Patrol's central cog, David Brandolph, creating plenty of first half pressure and notching big block and then assisting on the goal that made it 8-4.
While Patrol had succeeded earlier in the day moving the disc both into and with the wind, they faltered as the day wound down and the wind speed slowed. The pool's three seed notched tough holds against stiff defenses from Revolver and Sockeye. They had confidently hucked into gusts and come down with the disc, but not so against Doublewide. Turnovers were converted into Austin breaks, and half finished at a discouraging 8-4.
In the second half, Patrol's Jimmy Zuraw slowed some hucking from Brandon "Muffin" Malecek, but other matchups didn't successfully slow down Chase Cunningham and Jeff Loksorn.
Going downwind on offense, Cunningham got a reset on the force sideline and sent a long backhand sailing down the open side rail to Loksorn who was well covered, but managed an incredible bidding grab to push the lead to 9-4.
Patrol sent in fresher defenders and the bids inched closed and closer to turns. At 10-6, when the game seemed out of reach, Philadelphia went on a 3-0 tear that forced a Doublewide timeout. Still, they couldn't convert the tying break, and the lead ballooned to 13-10.
Two more mini runs from Patrol closed it again to a one-point difference, but Doublewide pulled out an exciting upwind score for the 15-13 victory and a berth into prequarters.
Pool C:
Washington DC Truck Stop 12-11 Madison Club
This was everything you want in a 1v2 game to take the pool; high stakes and decided on double game point. Even playing from behind the whole game, the ability of Truck Stop (overall #3, seeded C1) to stay collected and upbeat the whole game helped them battle back to victory over Madison Club (overall #6, seeded C2).
"You go down a couple breaks, you go up a couple breaks, it's just about that next point," Truck Stop captain David Cranston said of his team's mental approach during the game. "It's about earning it. I thought we did a really great job of staying up… keeping the energy high."
Madison fought hard and controlled the game—even late—with some wild O-line holds. Club's O-line survived a six turnover point when Brian Hart hit Ross Barker with a backhand huck for 10-8. They gave up a break but put the pressure right back on DC when Dave Wiseman found himself the last man standing underneath an upwind huck, as two Truck defenders clunked into each other and fell to the ground at 11-10.
With the game capped at 12, all the pressure was squarely on Truck Stop. It was their turn for a clutch hold. Sensing a tiny window of opportunity Sean Keegan caught the disc in motion and delivered a backhand dagger around his out of position defender for Tom Doi to force double game point. It was probably the best throw of the game and Keegan wasn't shy about letting his teammates know, yelling "That's a big boy throw!" repeatedly.
After spending the last two seasons in in Colorado with Johnny Bravo, this is Keegan's first Nationals with Truck Stop since 2013.
"His energy is contagious. Having someone who can consistently break the mark and someone who can huck in this wind," Cranston said of his returning teammate. "We love having him back."
Next score wins. Madison just needs to hold.
After working the disc near half field, Kevin Brown sees a streaking Scott Richgels with a few steps of separation and sends a flick shot deep. Richgels makes the catch in stride with a bidding Truck defender right behind him. It looks like Madison has pulled off the upset and 40 or so people storm the field in celebration.
It becomes clear that there was some kind of call back near Brown and the observers determine (correctly) that the dump handler had called a foul on his defender before the throw went up. Disc goes back to Brown who tries a similar shot to Colin Camp that gets blocked by Truck defenders.
DC starts moving down wind and as Tom Doi tracked down a perfect flick huck from Nicky Spiva, Truck Stop got the win and their first lead of the game.
Don't be fooled: this is not a one-off effort by Madison. This is a team of big athletes, complimented by great throwers and one of the best defenses at the tournament.
"I think we all know we can compete for a title as well," captain and O-line handler Kevin Brown said after the game. "We came into this expecting to compete with Truck Stop and all the other top teams here."
Boston Dig 11-7 Michigan High Five
Dig (overall #15, seeded C4) was the only team to pull off an upset in Pool C as they out-dueled High Five (overall #10, seeded C3) in a heavy upwind/downwind conditions.
Dig used an interesting personnel strategy to stave off elimination and send High Five to the placement bracket. Boston played their D-line going down wind and they their offense going up wind, regardless of circumstance.
"This was the first game we had a full game effort," captain Tim Schoch said after Dig's first Nationals win. "We're just really, really excited to be playing in prequarters. This definitely legitimizes what we've been trying to do."
Boston is trying to build a program. Winning games at Nationals is a good way to help with that.
Conversely, it was a disappointing way for Michigan High Five–a team with high Nationals hopes–to be eliminated.
"We did not play our game," captain Phil Cherosky reflected following the loss. "We weren't willing to adapt. We just kept trying to the same thing and it didn't work."
It's Nationals and all the "any given Sunday" clichés are all very real. In the first round, Michigan had Truck stop on the ropes and now they're playing consolation. Not where anyone wants to finish but all is not lost for High Five. They have a chance to pick themselves up by the cleat laces and can still shatter their original 13th seed.
Pool D:
Denver Johnny Bravo 15-12 Chicago Machine
Denver Johnny Bravo (overall #4, seeded D1) proved their bona fides by polishing off Machine (overall #5, seeded D2) in the last round of the day to win the pool.
With a bye to quarterfinals on the line, both teams were looking to get off to a hot start. Only one would, as Denver started the game with a patient upwind break and then cash in a downwind break after a first-throw drop from Machine lead to another quick break. All day the upwind break was usually followed by a downwinder, so Machine were not fazed by the early 2-0 hole. A second upwind break however, is a different story.
After an overthrow from Machine, Bravo worked the disc up to midfield. With the count rising Henry Konker sent a speculative disc in the general direction of Stanley Peterson. An alert Goose Helton got a whole hand on the disc, but in the swirling winds it popped up a surprised Peterson ended up holding the disc and all of a sudden Bravo has a 3-0 lead.
After a time out, Machine regrouped and worked an upwind hold. Now, the momentum was in their favor, and their D-line took the field for the first time hungry for a downwind break. Jimmy Mickle had other ideas, and almost single handedly worked the disc upwind before throwing an assist to Peterson. He then turned around and notched another assist as Bravo punched in a downwind break.
It was one of his 10 assists in the game, a staggering number from a staggering talent, who was definitely the best player in every game he played today.
Despite the deficit, Machine continued to play their top lines, clearly incentivized by the prospect of the bye to quarters. The teams played out the rest of the half even, with Mickle garnering another assist, this time to Ben Lohre to send Bravo into the break with an 8-4 lead.
Machine flipped the script in the second half, as they were the ones to jump out to a hot start. After a throwaway from Josh Crane gave the disc to Machine's D-line they broke upwind and then quickly paired it with a downwinder to cut Denver's lead to 8-6.
After surrendering the breaks, Bravo's offense reasserted themselves with a quick goal on an Owen Westbrook huck to Stanley Peterson. Peterson put up four goals on the day, demonstrating his continued development as an offensive weapon.
The teams traded holds for much of the second half, as even with the wind dying down both team's offenses were in fine form. AJ Nelson was a big presence all day for Machine, with two goals and two assists while also guarding Mickle when he crossed over to defense.
Machine finally got a break to make the score 13-12 as soft cap rang. They loaded up a defense going downwind and threw out a tricky zone that stymied the Denver offense. But with the game on the line, Mickle delivered for Denver, putting a seeing-eye flick huck up into the wind and into the hands of Ben Lohre just out of the reach of a bidding Chicago defender.
Bravo would close out the win with a downwind break to take the pool. Machine will rue their slow start, as they will find themselves taking on their nemesis Ring of Fire in prequarters tomorrow morning.
Vancouver Furious George 15-10 Houston H.I.P.
Vancouver Furious George (overall #16, seeded D4) proved the benefit of Nationals experience, as they knocked the higher-seeded, first-time qualifier Houston H.I.P. (overall #9, seeded D3) out of contention.
All weekend H.I.P. had demonstrated a flair for greatness, but also a lack of polish that teams who have been to the big dance before were able to demonstrate. Several early unforced turns put Houston at a 5-2 deficit that they could not recover from.
Trailing 8-3 at half, H.I.P. were able to rally and close to gap, at one point bringing the score to 11-9, but they could never claim the lead. Using so much of their energy to get back in the game, they fell about in the last act, as Furious went on a 4-1 run to clinch Vancouver's spot in prequarters and send H.I.P. packing.
Furious recovered from a difficult loss to Johnny Bravo and will take on PoNY in prequarters tomorrow morning. It's another step forward for a young team that is continuing to surprise opponents and fans alike.