Revolver wasn't perfect, but they persevered against a scrappy Ring team.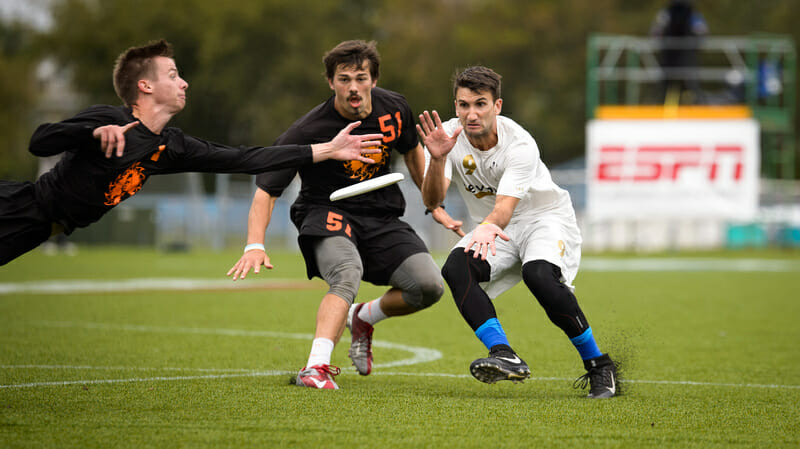 Ultiworld's coverage of the 2016 Club Championships is presented by Spin Ultimate; all opinions are those of the authors. Please support the brands that make Ultiworld possible and shop at Spin Ultimate!
ROCKFORD, Ill. — In the first Men's Division semifinal, Ring of Fire was one point away from one of the biggest upsets in recent memory. After some late game struggles, the Revolver offense staved off the comeback and sent San Francisco back to the finals with a 13-12 double game point win.
Ring of Fire came into their matchup off of two big upsets that already solidified their status as the tournament's cinderella story. Revolver had yet to be challenged in bracket play, and was the clear favorite to advance to the finals. But the way the game started was a role reversal that set the tone for the afternoon. For the third straight game, Ring of Fire opened with a break.
Sloppy offense from Revolver gave Ring their chance, and Tim McAllister called timeout right outside the end zone looking to break. Noah Saul found Josh Mullen and Revolver was down 1-0. From the sideline, Beau Kittredge immediately took off his jacket and jogged on to play the next offensive point.
With Kittredge on the field, Revolver worked the disc in typical fashion with short throws and wide movement. But Hunter Taylor anticipated the flow and cut off an Eli Kerns dish with a massive layout block. Taylor sprinted full field and laid out again for the second break for Ring. The defending champs were down 2-0 to the 13-seed of the tournament.
Revolver recovered and found their way. Joel Schlachet worked the Ring defense downfield and found the hold. Then a missed huck from Ring of Fire immediately gave Revolver a chance to tie the game back up. On their first D-line possession, Revolver flexed their depth. Byron Liu found Lior Givol to get the first break back for San Francisco. The hot start from Raleigh was then completely erased when Sam Kanner blocked a five yard reset pass with an instant reaction. Pat Baylis marshaled the offense downfield for the 3-2 lead. Just like that the game was back on serve.
But Raleigh was not going to let this team run away with the game. "Our team is homegrown. They're not transplants, they're not people who move to an area," Mike DeNardis said after the game. "There is a lot of pride in North Carolina ultimate."
Ring didn't turn away from their gameplan. They opened up deep space for one of their athletes, and either Jon Nethercutt or Noah Saul would huck it deep. This time, it worked for the hold. Nethercutt hucked to the end zone to get their ferocious defensive unit back onto the field.
Both teams experimented with different matchups throughout the game, but some things were set in stone. Raleigh used 22 year-old Tim McAllister to try and contain Cassidy Rasmussen. San Francisco used Nathan White to limit the throwing of Jonathan Nethercutt. Revolve rwas without Russell Wynne, one of their best man defenders, but they had plenty of options to contain the Ring cutters.
All week, Ring of Fire has relied on their youngsters to carry the load. But against the defending champs, the mistakes started to mount. Down one, Sol Yanuck threw an open side flick into the ground. Even after Raleigh earned the disc back, a Nethercutt hammer to the end zone was dropped by Henry Fisher, giving Revolver another chance. Nathan White caught a layout goal from Pat Baylis, stealing the early momentum and igniting the San Francisco sideline. On the ensuing point, Revolver contained the Ring of Fire offense to working behind their own brick mark. Saul, Yanuck, and Nethercutt could only reset so much before making a mistake. Byron Liu pressured Saul for Revolver, and worked the offense to facilitate another break. After starting down 2-0, Revolver now led 6-3.
The Revolver offense found their rhythm for the rest of the first half. Rather than isolate their individual cutters in space, they reverted to the quick horizontal movement that got them to the semifinals. "Ring wants to play that home run ball…and we were playing that game with them," Revolver captain Lucas Dallmann said. "We were testing them athletically and we were failing….so the adjustment we made was to just play ultimate like we do."
Ring of Fire found a way to steal some momentum before the end of the half. Down 7-5, Cassidy overthrew Grant Lindsley and Raleigh had a chance. The D-line offense from Ring consisted of Noah Saul deciding who he wanted to put in the end zone. Enter Hunter Taylor. Rather than trying to use his vertical leap, Saul put a flat flick to the end zone for a sprinting Taylor. He laid out for the goal, notching his third layout contribution of the game. After a Revolver hold, Raleigh entered half down only two.
For Revolver, only when they tested the deep space did they find the Ring defense. When they played to their speed, the flow was difficult to stop. Their defense was converting around half of the chances, but half wasn't enough to deter Raleigh from throwing questionable hucks. Up until this point, that strategy had kept them close. Their booing cheer had caught on with the crowd, and halftime gave them an opportunity to take stock of how close they really were. Despite the scoreline, the momentum was with Ring.
It did not take long for Revolver to get it back.
Ring of Fire received out of half, and Nethercutt immediately looked to huck to the end zone. But Revolver's Nathan White used his wide frame to stuff the throw and give his D-line a short field. White dished to Joey Cretella for the 9-6 lead. With that momentum, Revolver was ready to trade holds for the rest of the game.
Down 10-7, the Ring offense was struggling to regain their foothold in the game. But a desperation shot to Jack Williams resulted in a huge sky that sent a jolt of energy through the Raleigh sideline. On the ensuing possession, Revolver's Michael Spear dropped a wide open undercut. Noah Saul found Justin Allen on the short field and Ring was down one.
Even late in the game, Raleigh's youth wasn't quite living up to the day. Trying to tie the game, Ring of Fire's Jakeem Polk laid out for a block, but backpacked Revolver's Josh Wiseman. Wiseman came off with a knee injury, and will likely miss tomorrow's final.
Ring of Fire still needed a few breaks to win. In an attempt to close out the game, Revolver's George Stubbs made his presence felt with a huge layout block on a Raleigh huck. But the blocked disc dropped right into the hands of Ring's Micah Hood for the goal. On the ensuing point, a huck for Grant Lindsley went long yet again, and Jonathan Nethercutt tied it up with a hammer from just past half field. 11-11, game to 13.
Despite some pressure from Ring, the Revolver offense looked calm and efficient. Just like they had all year, they utilized the full width of the field and only took the smart shot. They scored in one possession. The Ring offense held in their typical fashion as well, with a Jon Nethercutt huck to Jack Williams.
Ring of Fire, after winning two straight games on double game point just to get to the semis, had arrived there yet again.
After a timeout, the lines were called. The Ring defense was led by the usual faces: Justin Allen, Noah Saul, Jon Nethercutt, and, of course, Hunter Taylor. The Revolver O-line they were staring at was imposing, to say the least. Even Revolver coach Mike Payne called it a "holy shit" offense before the tournament. Higgins, Schlachet, Rasmussen, Kerns, Lindsley, Kittredge, and Kosednar. Ring had come so far, but there was still the largest mountain to climb.
That offense worked it down the field with ease. On an around backhand to Beau Kittredge, the wind pushed the disc high with Hunter Taylor in pursuit. The stadium held their collective breath. A nervous energy filled the air, but Beau Kittredge didn't notice. He calmly adjusted and reeled the disc in, then dished it off to Simon Higgins. Revolver ran their offense to the goal line, and Kittredge hit Schlachet for the game winning goal.
Schlachet finished with four goals, and Kittredge finished with two goals and two assists.
Revolver was pushed to double game point for the second time this week, and, like the first time, they didn't falter. "Hats off to them," Dallmann said. "They pushed our offense to another level, they pushed our defense to another level, and we thank them for that."
Revolver will play Ironside tomorrow in search of their fifth National Championship.