While not as dominant as some may have expected, Princess Layout leaves Apopka as victors in the spring's first tournament.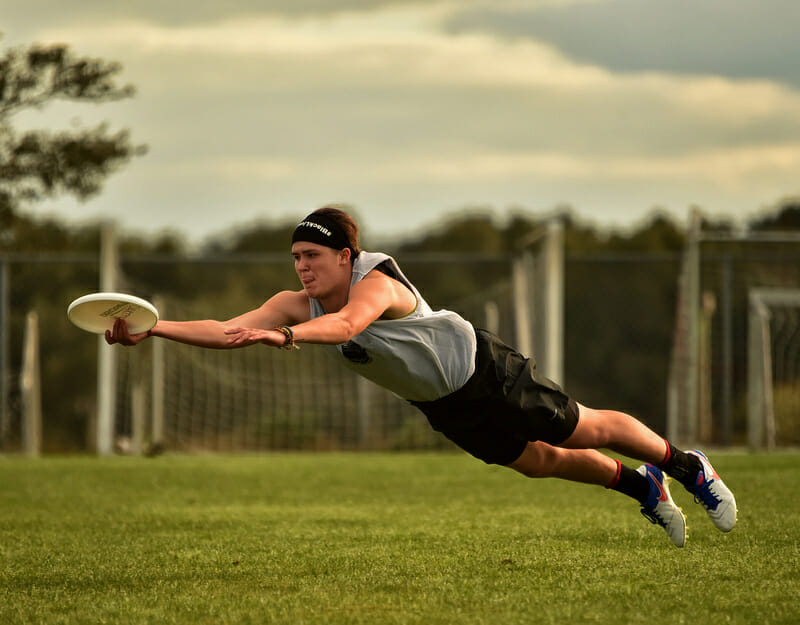 Ultiworld's reporting on the 2017 Florida Winter Classic is presented by VC Ultimate as part of their season-long support of our women's coverage. All opinions are those of the author. Please support the brands that make Ultiworld possible and shop at VC Ultimate!
This recap was written by guest author Mike Fairley.
APOPKA, FL — The first major tournament of the college season — the Florida Winter Classic — is in the books. #3 Dartmouth debuted against a solid field and came away the victor. Along the way, several other teams began to make names for themselves as they look to take a step forward this spring.
Here is a look at the biggest stories from a wild weekend in Florida.
Dartmouth Delivers
After a disappointing and injury-filled regular season for Princess Layout in 2016, Dartmouth leadership needed a full early season tournament to see where they stood and what they needed to work on.
With stars like Jaclyn Verzuh, Angela Zhu, and Julianna Werffeli leading the team, it's not hard understand why Dartmouth came into Apopka as the team to beat. But without Piper Curtis — who didn't travel to Florida due to injury — head coach Eugene Yum faced the decision a majority of college coaches would recognize: whether to ride his stars to victory, or to let Dartmouth take some lumps and explore their identity with an open roster rotation. Yum chose the latter and the team's deep roster stepped up. Notably, Caitlyn Lee — a 2016 US U20 National Team member — was fantastic over the course of the weekend; she did great work behind the disc and was a deadly deep cutter as well. With the help of Lee and eight rookies, Dartmouth won the final over Florida, 13-11.
Saturday was the much easier day for Dartmouth as they rolled to a 3-0 start. They came out hot against Northeastern, going up 10-3, but they let up near the end for a final score of  13-8. In their second pool play game against Florida State, they traded the first four points before Dartmouth's legs and deep bench allowed them to run away with the game and win 15-6. In their Power Pool Crossover, they faced Florida; despite gusty winds, Zhu and Werffeli were deadly in both directions and led Princess Layout to a big 15-4 win over Fuel.
It wasn't until the quarterfinal against Kansas Betty that things got more interesting. Kansas went up early and they gave Princess Layout all they had. In what turned out to be the second best game of the weekend, the Big 3 had to make big plays for Dartmouth to pull out the victory — including a layout poach block and flick blade for the score from Werffeli to put Dartmouth up a break at 7-6. Angela Zhu then stepped up with four assists in the second half and a huge layout possession-saving grab to hold on to win, 15-13.
It was clear this weekend that Zhu was the leader of this star-studded team: "Angela has done so much for this program and [this] team," Verzuh said of her captain. Zhu was pumping the team up all weekend through her attitude and her play.
In the final, Dartmouth faced Florida in a rematch of their crossover game on Saturday. Dartmouth struggled early with Fuel's zone, and they went down two breaks. That's when Zhu and Verzuh turned on their games. They carved through the zone with quick give-and-go passes, before Zhu bombed two backhands to Verzuh for break goals. In the second half, the third Dartmouth star got in on the action: after Zhu got handblocked by Florida's Tori Taylor, Werffeli stepped up and stuffed an around flick to preserve the hold for Princess Layout. A blade from Zhu to Verzuh and then a lefty backhand from Verzuh to Zhu closed out the game for Dartmouth 13-11.
"I'm excited to come off a club season and continue to get better with the team," said Verzuh after the finals.
With FWC behind us, some people may see Dartmouth's close games with Florida and Kansas as warning signs that perhaps Princess Layout isn't quite as good as we originally thought. But Dartmouth played open lines and still looked relaxed and dominant all weekend. Dartmouth is an excellent team with young talent and a very high ceiling. It's clear that Dartmouth is focused on developing their depth early in the season, making them an even scarier team come May.
Florida Surprises
Florida used a deep, athletic defense and great offensive handler movement to reach the final at FWC.
Kelsea Lebeau was great with the disc all weekend, getting open upline at will and bombing backhand hucks. Tori Taylor, Courtney Testa, and Lucy Berman made major contributions to the team's success as well. Taylor was a great defender and had a massive handblock on Angela Zhu in the final. Testa was a leader for this Fuel team with her play and her attitude; consistently open under, Testa stepped up when Fuel needed it most, launching big backhands or getting crucial layout blocks. But Florida's real strength lay in their impressive depth. Over the the course of the weekend, most of the team's supporting cast contributed big blocks or scores.
The great weekend for Fuel peaked Sunday afternoon during their close final game against Dartmouth. The performance in Apopka bodes well for their chances to achieve one of their season goals: "We are looking to build off this weekend when we go to QCTU next in February and hopefully accomplish our goal of winning a tournament this season," Coach Kate Travaglini said of the team. If Fuel continues playing like this, this goal isn't out of the question.
Perhaps the team could even achieve more. Fuel has been roadblocked by the rise of Central Florida as a regional power, and also had to watch in-state rival Florida State take a spot to Nationals in recent years. However, the Southeast's top spot is achingly vacant in 2017 and Florida has shown all the signs of being a worthy contender. They'll have to contend with senior-laden #18 Georgia Tech, as well as the cast regulars, Florida State and Georgia. However, they may have stolen the pole position with such a strong weekend.
Beyond Top Two, Other Semifinalists Close
While Dartmouth and Florida stood out above the crowd all weekend, there was also a clear second tier. #13 Ohio State and #23 Vermont both showed the ability to dominate other teams in the power pools, even if they weren't yet at the same level as the pool winners. Fever and Ruckus are unlikely to threaten a title run, but they both flashed the potential to play well in Cincinnati in May.
Ohio State, led by their crop of experienced playmakers, was the only team to beat Florida besides Dartmouth. At times Fever's play looked smooth, using seemingly easy inside breaks to run the offense, but at other times they faltered, with bad drops or miscommunication. With Stevie Miller out through injury, Sadie Jezierski was the key player for the team this weekend. With a motor that didn't stop, Jezierski was dynamic and versatile presence for Fever, using her backhand hucks, skying blocks, or simply her energy to invigorate teammates. Rookie Emily Barrett made great catches and played impressive defense on Dartmouth's Verzuh in their semifinal matchup. With Miller slated to return for QCTU, Fever should look even stronger in Charlotte.
While Vermont Ruckus doesn't have Nationals experience, they have a committed core whose sights are set on earning their place there this spring. Coach Daron Byerly was impressed with his team's dedication, saying, "The team committed to showing up a few days early [in Florida] to acclimate."
Despite that extra effort, Vermont came out slow against Florida early Saturday morning, but then rebounded with a 13-12 win over Ohio State in pool play. Three more wins in crossovers and the bracket earned Vermont a rematch with Fuel in the quarterfinals. Ruckus's D line struggled with Florida's ability to move the disc, but Brenda Hoang lead the offense effectively. Vermont will have a big chance to prove their mettle at NW Challenge later this season.
Kansas Shows Promise; Northeastern Runs Out of Time
Kansas came into FWC as the eighth seed overall, but they showed they aren't a team to sleep on in the South Central — or perhaps even nationwide. Clare Frantz lead Betty to an impressive 6-1 record, with their only loss coming at the hands of the eventual champs, Dartmouth, 15-13 in quarterfinals.
After cruising through a very easy lower tier pool, it was Frantz and Kelsey Akin who gave Dartmouth all they could handle in bracket play. Every time Dartmouth would go up a break or two, Frantz responded with a massive sky over Verzuh, or Akin would fire off a huge backhand break huck to tighten the game once more.
Even though the calendar has yet to flip to February, Betty only has two tournaments left before the Series — a smaller Ohio tournament and Centex — but they are looking to grow and hopefully earn a bid to Nationals after missing out the past two seasons.
"Our goal was to come out and compete, and we took Dartmouth to 15-13. It showed us we can compete with top talent, and that's huge," said Frantz of the weekend.
Northeastern started their Saturday with a tight loss to FSU, a harbinger of how their weekend would play out. While they suffered 5-point defeats against Dartmouth and Kansas — two of the top teams in the tournament — they lost four other games by a combined five points. A double-game point loss to Ohio State in quarters and another to in-region rival Vermont were tough to take, but Northeastern has a lot of room improve.
The Valkyries were led by Arielle Nelson, one of the most impressive individual players in Apopka this weekend. She was the rock of the Northeastern offense, handling in tough places and burning deep when her defender played her under. Nelson asserted herself as one of New England's premier playmakers.
Cincinnati Shows Grit
Despite coming to the tournament with only ten players, Cincinnati proved that they are a team OSU and Pittsburgh should not sleep on at Ohio Valley Regionals. Kelsey Gibboney led the team to an easy pool play victory and a gritty win over Georgia in prequarters. After coming in seeded 14th, they finished seventh. Of the weekend, Gibboney said, "I'm really proud of the way we played and I hope the Ohio Valley gets multiple bids because we think we can take one."
The Snapbacks1 benefited greatly from the addition of twins Hayley and Maddie Samson. The two were star high school players for Cincinnati-based Holy Family Catholic and have slid right in as the driving force of the Snapback offense. Along with Gibboney, they immediately launch the team into the spoiler conversation for the Ohio Valley.
---
The team changed their name last season after formerly going by Toxic. ↩