Tufts surprises everyone with the tournament title while the anticipated contenders traded body blows.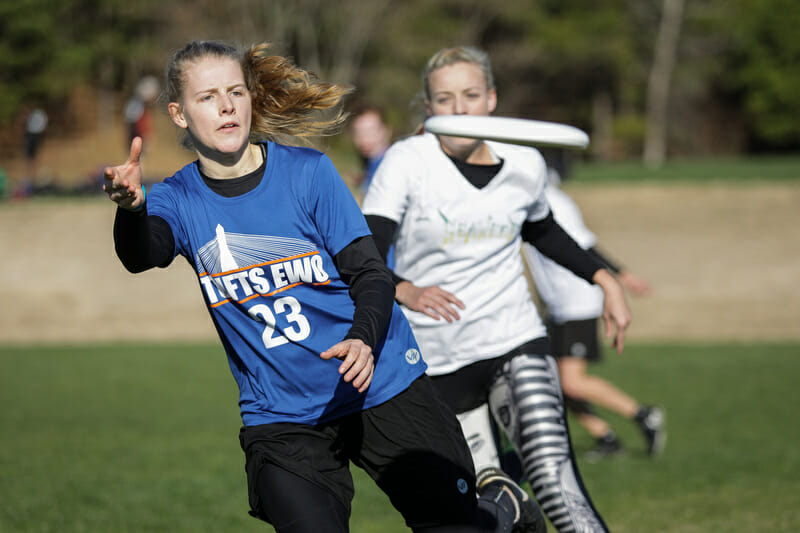 Ultiworld's women's reporting on Queen City Tune Up 2017 is presented by VC Ultimate as part of their season-long support of our women's coverage. All opinions are those of the author. Please support the brands that make Ultiworld possible and shop at VC Ultimate!
Queen City Tune Up doesn't always have the cleanest ultimate, but this year's event produced a good weekend with a deep field and solid fundamental play. There was a lot of talent in Charlotte and the depth is evidenced by the fact that no team went undefeated.
As the season's first major east coast event, there's plenty to unpack, from surprises and upsets to top players and teams showing why they captured our attention in the first place.
Tufts Flashes Versatility, Strength To Win
#19 Tufts Ewo came in as the No. 8 seed, but left Charlotte the Queen City Tune Up champion. It's been quite a few years since Ewo snagged a victory of this magnitude. In fact, the captains posited that nobody on the team had ever won a college tournament before.
"I've never won a college tournament," said Tufts captain Rachel Kramer, "so this is awesome. We've been working super, super hard on our conditioning — both lifting and running — and it paid off."
The Boston team faced off against #12 Ohio State in the final and asserted themselves, dictating play. They struck hard and fast in the deep game, with Kramer operating as both deep target and thrower. A junk set with downfield poaches generated a quick turn and Valerie Willocq fired a perfect forehand huck to get Tufts the game's first break, putting them up 3-1. Ewo switched defenses — throwing a 3-person cup, forcing the flick side — to help them add a pair of breaks a few points later, extending the lead to 6-2. With a sterling first half from Kramer, they went into halftime with an 8-5 lead.
That gap never closed. Tufts continued to vary their defensive looks, switching to a "Box-and-one" style zone where they matched up on Stevie Miller or Sadie Jezierski, the most valuable throwers for Ohio State. It proved very effective — particularly against Miller — and stymied most of Ohio State's comeback attempts. The second half slowed down as fatigue set in and the two teams began to make more execution mistakes. Tufts seemed far happier to play this grinding style than Ohio State, but that could be simply because they had built a comfortable lead. OSU could never get closer than three goals and Tufts completed the win, 15-10.
While Ewo wasn't dominant in any one facet, they did show the ability to play at a very high level in multiple areas, looking impressively clean at points for such an early season version of their squad. Kramer, Jojo Emerson, Margo Urheim, and Meredith Bernstein were excellent in the deep game, giving the team quick-strike options when they needed them. Emerson, Megan Wilson, and Claire Dunn all flashed brilliance in the red zone. Willocq and April Weintraub showed they have sharp defensive instincts and the team utilized some intelligent and disciplined zone and junk looks.
"We have a couple of basic things, but then we also just fiddle around with it," said Tufts coach Sangwha Hong. "We are able to do that because we have a lot of experience."
Kramer and Wilson praised the team's depth and ability to outlast tired opponents. Certainly, that played to their advantage in the semis and final in particular. Sophomores like Emily Decker and Caroline Passalacqua stepped up to give their more experienced teammates welcome breaks. Their ability to execute on offense — particularly isolating Emerson and Kramer for two- or three-throw scores — synergized with their ability to manipulate pressure and pace on defense.
"It feels like we're a new team from what we've been in the past," said Wilson. "It's cool to have this team be the one that wins."
Tufts does have a rich history, winning the New England region for four straight years within the last decade and getting as deep as semifinals at Nationals in 2012. But they have watched Dartmouth claim the NE for two straight years, failing to even get to the games-to-go — and that was when they had one of the college division's stars, 2015 All-American Qxhna Titcomb. But with a statement win to launch their 2017 campaign, Ewo has their sights set on the team's first major addition to the program's annals.
Stronger Sunday For Fever And Their Star
Fellow finalist Ohio State Fever didn't have a spotless weekend, but have made steady strides through the first month or so of the season. Their 5-2 record matches their totals from Florida Winter Classic, despite the step up in competition level. It's obvious from watching them that they are in the middle of their developmental process.
While they did get Stevie Miller back for this weekend, she and Sadie Jezierski were not the team's only contributors. Mary Turner was a dynamic and confident cutter and is playing her best ultimate yet. Corinn Pruitt was Fever's other best downfield weapon. Tiffany Lim, Alaine Wetli, and Emily Steedman played critical handling roles alongside Miller and Jezierski.
They key for them was to improve on a somewhat listless Saturday performance. They narrowly avoided disaster in Pool D: they lost to North Carolina by one, beat Minnesota and Georgia by one, and edged Central Florida by two to barely qualify for the Sunday bracket.1  It was an unemphatic effort marred by inefficient offensive work.
Bracket play on Sunday, however, featured a stronger and more resilient Ohio State team. They played their best game in the semifinal against #9 Pittsburgh after fighting off a scrappy #20 Florida squad. They were louder on the sidelines and coming up with bigger plays on the field.
"Yesterday, if we gave up a break or two, we lost our energy and had trouble fighting back," said Ohio State coach Nick Hamilton on Sunday. "Today, we had a better presence and better energy… That led to more success today. We were able to play a lot looser."
One Fever player never seems to have trouble playing loose: Sadie Jezierski. While the staff at Ultiworld highlighted Ohio State's junior handler as a Player to Watch in 2017, it wasn't clear how far along her developmental path Jezierski would be. For my money, she was the best individual woman in competition in Charlotte. No single player was as influential whenever they stepped onto the field. She consistently carved up zones with her ability to break the mark with a complete arsenal of throws, and racked up athletic blocks at vital moments.
As the team progresses, they'll need to play with more consistency. But there's athleticism, an extremely dynamic playmaker, and discipline here, and those things will keep them in the conversation all season.
Pittsburgh's Newfound Depth
It's hard to talk about Pittsburgh Danger without thinking of Carolyn Normile and Linda Morse. Last year, it was those two and Vaughan Skinker. However, their greatest strength may not be their two star veterans, but the development of their team as a whole.
There's a narrative about teams needing to get there a second time, whether it's to Nationals or to the game-to-go at Regionals or deep into the bracket. The first time, teams get caught off guard — they are surprised by changes in circumstance, by pressure, by emotion. But the next time they reach the same situation, they handle it with more maturity and are more successful.
Whether or not that's the case, it certainly seems as if Danger's experience at Nationals last year will help them be successful this year. Normile and Morse could already play in big moments; freshman Jessie Sun has seen her share of meaningful games. But players like Hannah Blizzard, Caterina Pagano, Abby Bomberger, and Megan MacGillivray look more seasoned and more poised after an appearance at the College Championships. Last season may have just been the launching point for Pitt.
On its face, QCTU wasn't a roaring success for Pitt. The reigning Ohio Valley champs were upset by #21 Carleton in pool play to start their weekend. While they did get to the semifinals, they were outplayed by Ohio State. Entering the weekend as the No. 1 seed and top-ranked team at the tournament, a pair of losses doesn't go down easy.
However, the potential of Danger was very visible in person. They notched wins over Tufts, #11 Virginia, and #10 Michigan, three of the best teams at the tournament; Pitt was the only team to top Ewo. The Carleton loss felt more fluky — a warning sign of what could go wrong — than like an indictment of the team. They used their depth to great effect, showing they could score with lines led by Katie Cleveland, Sarah Russek, and Jesse Sun, rather than relying on their top end to generate all their goals.
A 5-2 weekend is lower than expectation and Pitt can expect to drop in the rankings for it. But their odds of going deep at Nationals are as healthy as ever, if not higher. This is a strong looking team with all of the right pieces.
North Carolina Winning Without Wei
The host team, #14 North Carolina Pleiades, was the talk of Saturday. The No. 5 seed was one of two undefeated teams to finish the day, claiming a victory over Ohio State, as well as Minnesota and the rest of their pool. While their scores weren't dominant, it was clear that UNC was going to make themselves a factor this year. And they were doing it without the brightest star in their constellation: Jenny Wei.
It was proof that UNC is more than just a one woman show and can compete with — and beat — top teams. They attacked discs deep, got run through Ds, and completed tough resets. Young players like Natalie Schuster and Rachael Tevis made athletic plays when the team needed a charge of energy.
The addition of Lindsay Soo certainly helped. The former DIII star paired well with Elizabeth Parker in the backfield, and the two powered most of North Carolina's best offensive moments. Sophomore Rebecca Fagan and Vany Nguyen provided quality downfield options, but when UNC needed a play, they let Soo and Parker work with their throws and their reset cutting to get offensive momentum.
North Carolina wound up with a strong 5-2 showing at QCTU, including a very tight 9-8 loss to Georgia Tech after they were both knocked out in quarterfinals. This is not the last you'll hear of Pleaides this year and they certainly have the talent necessary to earn a second bid in the Atlantic Coast.
The Defensive Pendulum Swinging To 3-2-2
Cup zones are so passe. Most of us, when we learn of zone defenses, immediately learn what a "cup" is. We also learn that, since we were too green to know what a cup was, we were expected to be the ones to run in it. The classic 3-person cup, forcing middle or sideline, with a short deep, two wings, and a deep, was the baseline zone for most teams. Handlers were taught to dump and swing their way around to tire out the cup. It was tried and true.
Now, it's stale and boring. And solved.
Since offenses knew how to dump and swing to death, defenses opted for more flexible defenses that altered the field space and made that simple handler play less effective. Now, the zone defense of the day seems to be a 3-2-2 with a wall. There isn't exactly a standardization yet, but a lot of teams are sagging into the throwing lanes up front and sandwiching cutters downfield with a pair of defenders underneath and another set over the top.
The pendulum has already traveled this path with person offenses, moving from vertical to horizontal, and now swinging back towards vertical for top club and college teams. As those teams influence others, whether through coaching or emulation, these offensive changes trickle down. And the same thing may be happening with zone defense.
Perhaps, at this point, we will seem some divergence. Some QCTU squads were trying 2-3-2, others 1-3-2-1, and others matchup junk zones. But right now, it certainly seems like 3-2-2 wall is the trendy approach to mixing up defensive looks. Let the chess match begin!
Quick Hits
---
Alternatively, they were a goal away from going undefeated and winning the pool, but it didn't look or feel that way ↩