The bracket is set.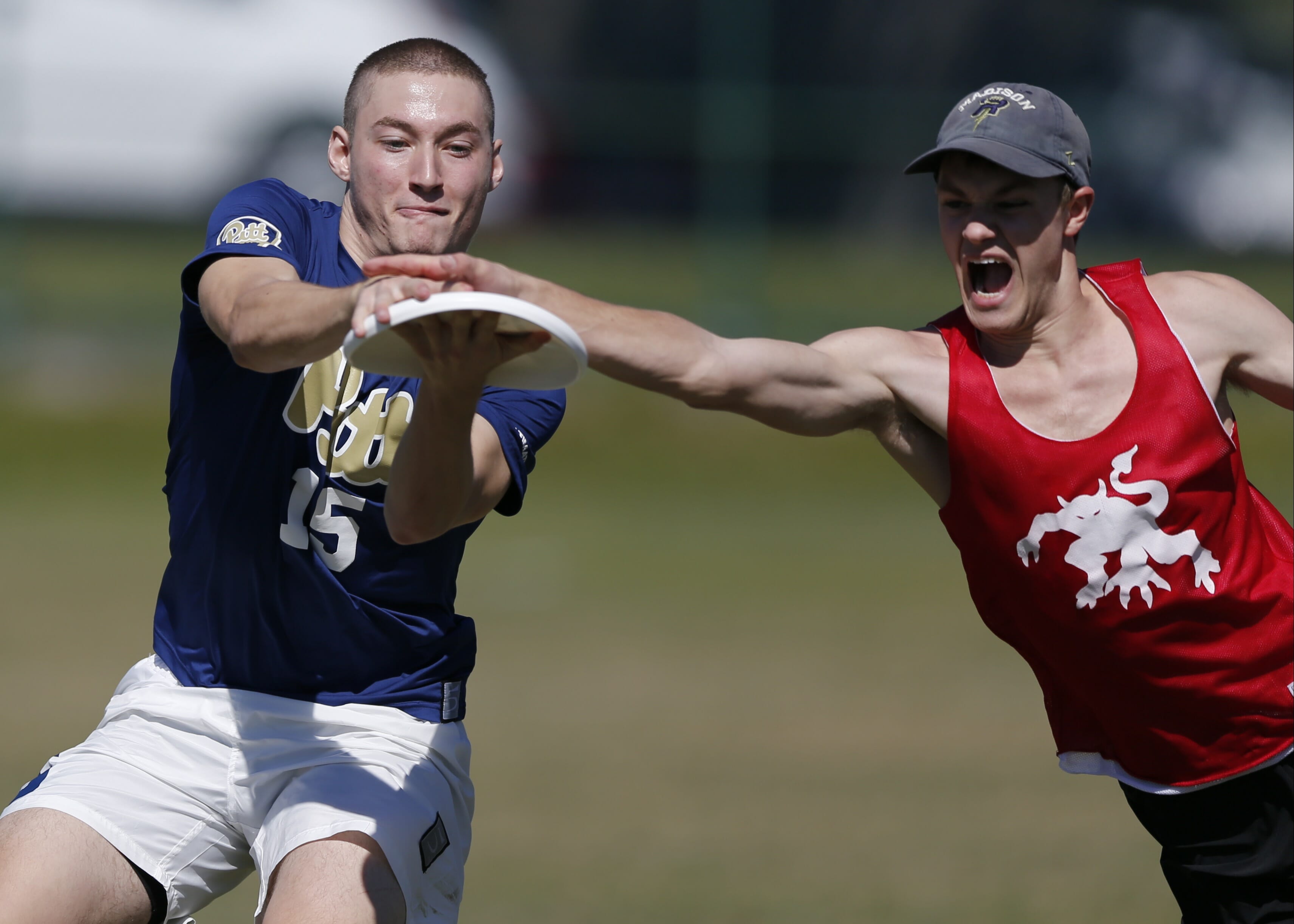 Ultiworld's reporting on Florida Warm Up 2017 is presented by Spin Ultimate; all opinions are those of the author. Please support the brands that make Ultiworld possible and shop at Spin Ultimate!
TAMPA — After pristine weather graced the fields on Friday, a windier, stormier day brought new challenges to teams on the second and final day of pool play at Warm Up. A breezy first two rounds set the stage for a sudden, heavy downpour that delayed games for 30 minutes during the third round, which featured a number of upsets and losses for all three remaining unbeaten teams.
That set the stage for a dramatic final round with multiple spots in the bracket up for grabs. Here's a look at where things stand as we head into bracket play Sunday morning.
Final Pool Play Standings
Minnesota (6-1)
Pittsburgh (6-1)
Florida (6-1)
Northwestern (6-1)
BYU (6-2)1
Texas (5-2)
Texas A&M (4-3)
—–
Central Florida (4-3)
Wisconsin (4-3)
Carleton (4-3)
Florida State (3-4)
—–
Auburn (3-4)
Cornell (3-4)
Villanova (2-5)
Arkansas (2-5)
—–
Brown (1-6)
Arizona State (1-6)
South Florida (1-6)
South Carolina (0-7)
Championship Bracket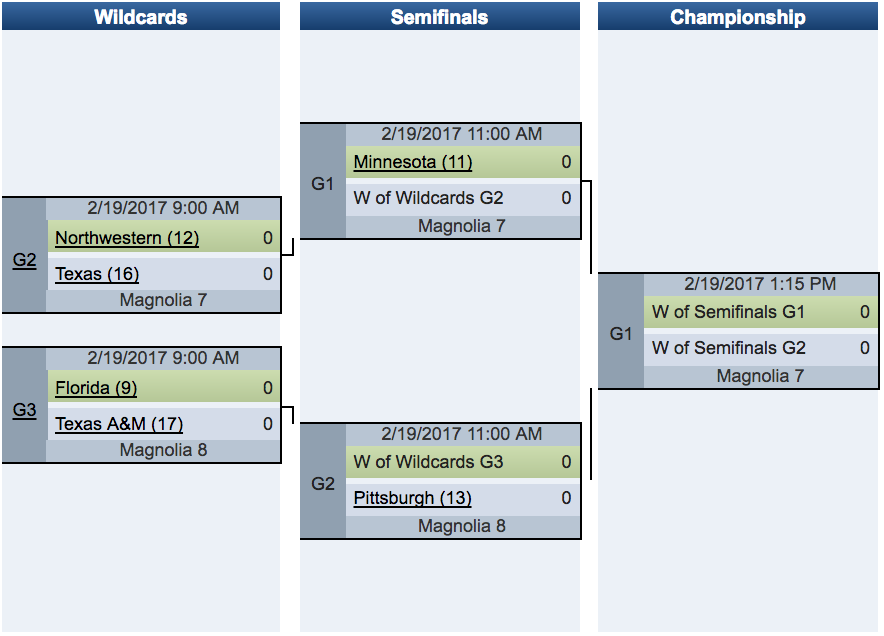 News & Notes
– With incredible team speed and contributions coming from the entire roster – like we saw at 2016 Nationals – Minnesota has separated themselves from the rest of the field here in Tampa. Grey Duck went 3-0 on Saturday, winning each of their games by five or more. In a fiery round three game against Pitt, Grey Duck's offense was never broken and turned the disc over only once, on an unforced drop. Be ready to learn some new names, because Minnesota has freshmen and a pair of transfers making contributions on both sides of the disc.
– So far, Warm Up has revealed two major strengths for Pittsburgh: a returning defensive unit that made a run to the National semifinals and an unflappable veteran handling corps. Pitt's defense answered the bell when they found themselves trailing Florida State 7-4 before coming back to win. In their only loss of the tournament against Minnesota, when options were limited downfield, their experienced backfield took it upon themselves to churn out points. Fifth years Jack Slevin and Thomas Edmonds and fourth year Jonah Wisch have a full quiver of breaks and reset effortlessly. Pitt likely won't be stacking lines in the bracket but at the level at which they're playing now, a rematch with Minnesota in finals seems inevitable.
– BYU followed up a strong Friday with an equally impressive Saturday. After comfortable wins over Villanova and South Carolina, a game with undefeated Texas loomed; BYU more than rose to the challenge. Before, during, and after the midgame monsoon, BYU was the better team. Head coach Bryce Merrill called the win the team's biggest in program history. A tough 13-10 loss to Wisconsin finished their weekend, but BYU's 6-2 record, with the marquee win over Texas, means BYU finishes with one of the most impressive weekends in the field, even if it ends before bracket play.
– Texas TUFF touched down in Tampa with a strong offense and a D-line that's more of a work in progress, a group that needs to be able to function without bringing over star cutters Dillon Larberg and Joel Clutton from the offense. That's a tall order at a quality tournament like this, but the defense has responded. "We had a close game with Wisco. Our D-line definitely won us that game," Clutton said, reflecting at the end of Saturday. A performance like that can be a big confidence boost for a group still trying to find cohesion. And TUFF will need confidence in bracket play, as they will likely be without Larberg, who suffered a shoulder injury in a loss to Auburn.
– Texas A&M, after a tough Friday, turned their tournament around and qualified for the bracket. An easing schedule certainly helped, but their wins didn't come agains either. A 14-11 win over Auburn and, even moreso, a 13-11 win over Florida impressed. A thrashing at the hands of Minnesota to end their day shows that A&M is still seeking a more consistent level of play. They also only made the bracket as a result of BYU's inability to compete on Sundays. Regardless, A&M had a lot to be pleased with — especially that win against Florida in the rain.
– Who had Carleton missing the bracket this weekend? At times they've looked tip-top. They built an 8-5 lead against Central Florida by chasing down towering Eric Taylor pulls and playing smothering handler defense…before giving up an 8-2 run to lose the game 13-10. A round later, CUT lost to Florida. Little, untimely mistakes will be something to remedy before the Stanford Invite. It's not all bad: CUT can build off of a win over regional rival Minnesota.
– Though they struggled to find any semblance of offensive flow, Wisconsin looked a lot more familiar on Saturday. Still reeling from injuries, the Hodags hung tight with with Texas (a 12-11 loss), then beat Cornell and BYU. Lefty handler David Yu and cutter cover Chris Wilen (who missed most of Friday traveling) got the D-line offense in motion and started to put in breaks. Friday was a one-off. It was brief and let's hope their fellow Warm Up competitors enjoyed it: that was the worst Wisconsin will look all year.
– Central Florida had a tall task to make the bracket after a 2-2 Friday. An impressive 13-10 win over Carleton kept their bracket dreams alive, but Pittsburgh was too much for them in their win-and-in game Saturday night. The Dogs of War lost key defender Cole Friedes to an ankle injury in the Carleton game, and by the second half against Pitt, Michael Fairley and company were run so ragged, they just didn't have enough to give to stay in the game. It was a tough bounce for a UCF team that was faced with one of the tournament's most brutal schedules.
– Saturday started inauspiciously for Florida. The team's primary deep target, Tanner Repasky, suffered a concussion in a blowout of Arkansas, and they lost to a Texas A&M team that had underwhelmed on Friday. But Florida bounced back by blowing out Cornell and then playing a nearly perfect offensive game against Carleton. There were single digit combined turnovers between the two teams, and a clinical D-line offense was enough to win the game and a spot in the bracket.
– Yes, Northwestern had an easy schedule, and they weren't much of a match for Minnesota in what was easily their toughest game, but NUT still impressed on Saturday. Ben Spielman is a very nice player — dangerous as a cutter and a thrower, highly efficient, and with a propensity for taking over in the redzone — and they feature a number of other solid players on offense.
Looking Ahead
Northwestern v. Texas
Northwestern is clearly the most surprising team to make the bracket. The schedule has been kind to them, but they have also impressed with tenacious team defense and sound offensive execution.
They now face a Texas team that should prove to be a great test for the Great Lakes contender. Texas would be normally be a fairly substantial favorite, but TUFF will likely be without star Dillon Larberg due to a shoulder injury suffered against Auburn. Texas still has some firepower on offense — Joel Clutton has been great this weekend — but Larberg has been the team's engine. Northwestern's tough defense could give them a shot to pull off the upset.
The winner of the two will take on Minnesota, who has been obliterating teams since their sluggish Friday loss to Carleton. Minnesota has looked to be too much for everyone else in the tournament, and they already blasted Northwestern 13-6 on Saturday. The first round matchup on Sunday is a big game for NUT and TUFF, but after that, a spot in the third place game looks a lot more likely than one in the final.
Florida v. Texas A&M
Florida and Texas A&M will meet in an intriguing rematch of Saturday's rain game. A&M upset Florida there, 13-11, breaking to win on a soaked field thanks to their ability to take advantage of Florida's few untimely turnovers.
A&M plays through Carter Hollo's handles and Connor Kaufmann's cutting on offense, while Richard Bovio and Colin Smith lead a tall and lanky Dozen defense.
Florida will be without Tanner Repasky (concussion), as they were in Saturday's meeting, but Danny Bishop and Ryan Hiser have both greatly impressed this weekend to compliment Billy O'Bryan and Hayden Wachob at the top of the Florida roster.
Despite A&M's win over Florida, the Gators still enter this game as the favorite. They showed off another gear in Saturday night's showcase matchup against Carleton and will be eager to avenge their lone Warm Up loss.
Pittsburgh awaits the winner in the semifinals. Save their one defeat against Minnesota, Pitt's defense has been lights out, and should be a tough riddle for either A&M or Florida's offense to solve.
---
BYU will not compete on Sunday. ↩