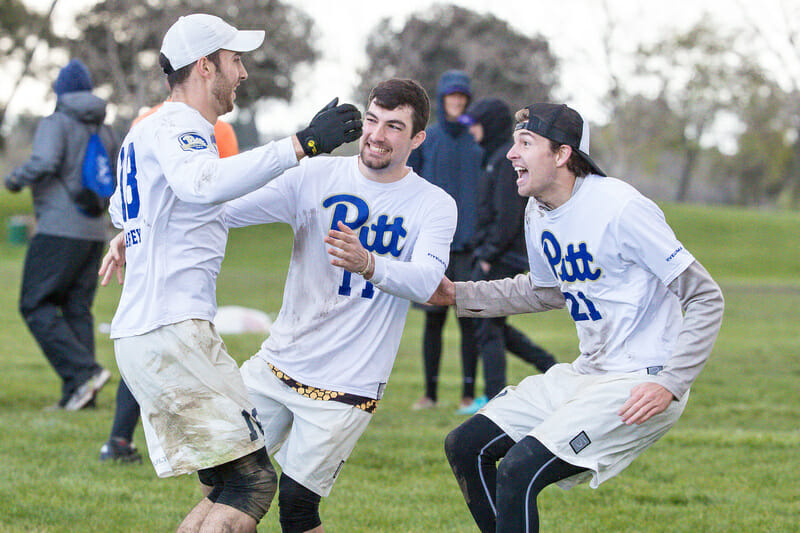 FREMONT, Cal. — In a physical and at times wild point-capped game, Pittsburgh En Sabah Nur edged out Colorado Mamabird 15-14 in the final to win the 2017 Stanford Invite. After the last major California tournament, Presidents' Day Invite, felt inconclusive due to awkward format adjustments and weather challenges, it was refreshing to see the two best teams at the tournament go punch for punch after outlasting the field.
Northern California offered its share of wacky conditions1, but tournament staff were able to shift the the game (and the women's final before it), onto a more serviceable field that offered surer footing and fewer muddy uniforms. Unlike the conditions on the original showcase field, which was torn up enough to hamper cutting and cake game discs with flight-altering mud, the alternate field allowed the game to be played at a truer pace.
Colorado received first, benefitting from an out of bounds Sam van Dusen pull. With a side stack pull play working against a forehand force from Pittsburgh, Colorado worked patiently downfield to just outside the goal line. An around pass to the force sideline sailed out of bounds. Van Dusen stepped the cone, lined up a first throw to space, and it promptly bounced out of Callahan award nominee Carl Morgenstern's grasp. Moments later, lefty Jeremy Harker hit Mark Rauls for the 1-0 lead.
With the rain mostly abated, the first point of the game set the tone for all 28 that followed. In spite of a bevy of both talent and turnovers, there were only three breaks in the game.
The Pittsburgh O-line gave up their own end zone turnover on the ensuing possession, but the Colorado D-line couldn't capitalize. Bursting out of the vertical stack with a horizontal cut to the break sideline, Thomas Edmonds stabbed the first Pittsburgh hold over his bidding defender to tie the game.
Already at 1-1, the high level of defense played by both O-lines was on display. Already, neither team had been able to manage a clean score, and it mostly stayed that way.
"I thought both teams played phenomenal end zone defense. Just very markedly, Colorado's end zone D is a step above anyone else we've played so far," said Pittsburgh assistant coach David Hogan after the game.
Three holds followed, with defensive punches starting to land during a multi-possession point. It took a monster effort from Edmonds on an in-cut block to bring the disc back to his O-line, with fellow handler Jonah Wisch finding Jimmy Towle for the hold to make it 2-2.
"I thought our O-line played phenomenal," said Hogan. "Their defense, especially, is just…haven't had O-line defense like that in a while. And that is very noticeable."
With a 3-2 lead, Colorado crossed Rauls over to the D-line and it paid off. After a Pittsburgh turnover, he flipped a short backhand to Isaac Chestler in the front of the end zone that nearly hit the ground. The observing crew stepped in for resolution and ruled a catch, securing the first break of the game for Mamabird.
Pitt broke back two points later, when Wisch split two Colorado defenders to find Dillon Tranquillo for Pitt's first break, putting the game back on serve at 4-4.
Though other contenders had hung tight with Colorado during the weekend (namely UBC, who went nearly unbroken for their entire quarterfinal matchup with the eventual finalists), Pitt's effort was already giving Mamabird their stiffest test of the 2017 season thus far.
"It was pretty contested the entire time," said Colorado thrower Erik Hotaling. "I think both teams did a great job of keeping the intensity the entire game."
Three points later, Van Dusen caught a centering pass from Saul Graves after a Colorado turnover. The strong and speedy lefty dialed up a downwind backhand that looked to be too far and tailing out of bounds, but Tranquillo shifted into his highest gear and tracked down the score to deliver Pittsburgh's first lead at 6-5.
Through the end of the first half and long into the second, these two top teams continued to hold despite many opportunities for breaks. While known talent was was making the plays, new contributors were bursting onto the scene for both teams. Rookie Quinn Finer skied his way into the picture for Colorado off a fast break huck from Wes Chow in the first half. Pittsburgh O-line newcomer Julius Hubby put on a cutting clinic, breaking ankles as he continued to find space downfield.
For Hogan, the buzz around his team's D-line coming into the tournament colored his expectations for the O-line. He had hoped to see growth, and got exactly that.
"They didn't just stick with what worked at [Warm Up]. It was less [added] wrinkles and attacking more spaces," Hogan said. "It was being able to…you're running an option route with three routes rather than two. You're able to attack deep, break, and force in the same cut based on what there is. And that's what I was excepting from the O-line. That's what I'm super happy about."
The second half started off cleaner, with scoring coming at pace and the teams trading quickly in a brief lull amidst a storm of turnovers. The physicality never lessened, and Rauls broke from his typically smiley demeanor with an emphatic stare down of his Pitt defender after snatching a hold to tie the game at 8-8.
Late into the game, more Colorado O-line players snuck their way onto the D-line and while they managed plenty of opportunities to capitalize, the young Pittsburgh offense hung tough. Mamabird nearly sniffed out another break during what felt like a never ending point at 11-11, but Jack Slevin finally found Dylan Best for the hold and nudged the lead back out to 12-11.
Time wound down imperceptibly for the now-crowded sidelines which were sucked deep into the game's back and forth energy and unaware of the hard cap. Observers needed to confer with both teams and inform the crowd, announcing that the opponents had agreed to play without a time cap, honoring the win-by-two rule and the game's point cap, which was 15.
Fatigue finally started to set in late. On a Colorado pull play, Rauls shot out of the gate into the deep space with Morgenstern giving chase and calling for a switch. Pitt's defenders couldn't lock onto the switch fast enough, and Harker fired a huck. Rauls raced down to tie the game at 13.
Two quick holds later and it was double-game point: 14-14. Set to receive, Pitt opted out of sending out a kill line and sent their normal O-line out to get the job done, while Colorado brought Chow, Harker, Hotaling, and Rauls over to play defense and seek out the winning break going into the wind.
A short pull got Pittsburgh set up nicely and the O-line swung the disc patiently back and forth as Colorado defenders stayed tight down field. Edmonds found the disc in his hands on the break sideline facing a flick force. Chow was stationed last back for Mamabird, sitting underneath Kyle Hartley and betting that he could make up the ground if a huck went up. Edmonds confidently stepped into his forehand and fired a curving inside-out pass that zoomed high over Chow and tailed towards Hartley, who had taken off down the break side. By the time the disc landed in Hartley's hands, he was all alone in the end zone.
Hartley's winning catch was the exclamation point after another impressive tournament run from Pittsburgh, just two weeks removed from their tournament title at Warm Up. While the D-line might have walked away from Tampa with the attention, eyes should shift onto the O-line that so ground so tirelessly to earn back possession from a tough Colorado defense.
While Pittsburgh celebrated, Colorado rushed to their bags to start packing, wearing no post-game frowns that might be expected to accompany a difficult loss. In the end, Mamabird seemed pleased with the result.
"Super proud of this game. That's the kind of fight that we want coming out against a team like Pitt after a long tournament. That's absolutely what we want," said Hotaling.
He was full of perspective. As sweet as the value of a tournament title may be —and Pittsburgh more than deserves the credit they'll receive for pulling off their second straight in 2017—the veterans leading this Mamabird team know that they need to learn how to take a loss on their way to another possible deep postseason run. This particular game, their first loss of the season, was as even a a game as they could have asked for.
"This experience is so valuable for Nationals and understanding how to fight in close games like this. That's really what we're looking for," said Hotaling as he and his teammates smiled, posed for a picture with a brand new Spikeball set, and sorted themselves into cars to head to the airport.
---
See: muddy fields, hail, wind, thunder, rain, sun, wind, in that order. All on Sunday. ↩