The stalwart women's tournament is chock full of stories.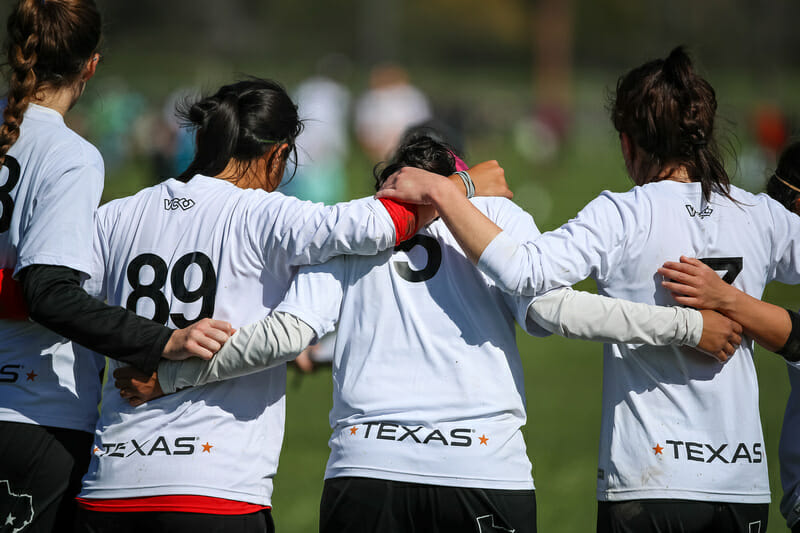 Ultiworld's reporting on Women's Centex 2017 is presented by VC Ultimate as part of their season-long support of our women's coverage; all opinions are those of the author. Please support the brands that make Ultiworld possible and shop at VC Ultimate!
Barbecue, dance competitions, and … nice weather!? Knock on wood, but that's what's in store at Women's Centex in Austin. The amount of top end teams may be a little down from previous years, but Centex still promises to be one of the most fun and most exciting tournaments of the season.
We're getting to the crux of the regular season, but as always, I have some questions ahead of the weekend. Here are eight questions I'm asking as I get pumped for one of the biggest tournaments of the college season.
Tournament Profile
Dates: March 18-19
Location: Austin, TX
Weather: Sunny and highs in the low 80s
Top 25 Teams: 6
Can Texas Win A Tournament?
There is no question that #2 Texas Melee is having a tremendous season, and they look like a shoe-in to make semis at Nationals this year. In both of their tournaments in 2017, Presidents' Day & Stanford Invite, Melee has made the final. But both times they came up short.
Scoring sensation Julia Schmaltz said after the Stanford Invite defeat at the hands of #1 Dartmouth that it's sometimes nice to leave a tournament with a bitter taste in your mouth. But it's big for a team's confidence to know that it can go the distance over a full weekend, too. That has to be Melee's goal for Centex 2017. They won the tournament last year for the first time in program history…can they do it again?
Texas won't face quite the same level of competition they've seen in their first two tournaments. Rather than entering as a contender, they enter as heavy favorites, which poses a different kind of challenge.
The weekend should be a chance for Texas to open up the lines more than they have to this point, and to ramp up for the final couple of games on Sunday. Their litany of playmakers is superior to any team they'll face this weekend on paper, but having the mental focus to survive every team's best shot will be something they'll need to exhibit in the postseason as well.
Even without the same number of powerhouses that Melee is used to facing over the course of a single weekend, this weekend provides an opportunity for us to learn more about the current #2 ranked team in the country. Do they have the fortitude it takes to grind out wins with a target on their back, and do they have the mental toughness to finally win a final this season?
Is Tufts Ewo Among the Elite?
We haven't gotten a glimpse at #9 Tufts Ewo since they won Queen City Tune Up back in February. They were impressive then, but how much of that had to do with the fact that teams were still in early-season mode? This weekend should give us a clue to whether Ewo is really among the top teams in the division or if the early season was something of a mirage.
Ewo, in fact, has a lighter pool than Texas, as they will see Iowa State instead of Ohio State, but Woman Scorned and the Minnesota Ninjas should provide test enough for the Boston ladies. It likely won't be until crossover games, though, that Tufts will get to show their stuff against a fellow top 25 team.
The team used a multitude of successful defenses to win Queen City, and their ability to mix up looks against the various potent offenses they'll see this weekend could make or break their tournament.
Tufts features a veteran-laden roster that hasn't tasted a whole lot of high level success over the years, but Queen City Tune Up gave them a taste. Was it a one time fluke, or does Ewo have the makings of a real contender?
Just How Super is the South Central?
Texas is clearly one of the truly elite teams in the country, and #8 Colorado, who will not be in attendance, has the looks of a solid top 10 team. But right now the South Central is in possession of four Nationals bids, which would be the region's most since it came into existence.
This weekend will be a real opportunity for Kansas Betty (11th in the USAU rankings) and Colorado State (17th) to shore up their places in the bid race. Kansas is coming off of a disappointing finish at Midwest Throwdown, in which they lost to eventual champions Iowa State in semis, though they did hold off Illinois to take third place. Colorado State made it to the final of Midwest Throwdown, where Iowa State took them down.  
This weekend will be a step up in competition for both teams. That doesn't necessarily mean Betty or Hell's Belles will have worse weekends, but they'll have to dial in to make a real run come Sunday.
For Betty, a win against #10 Ohio State in pool play would be a great start. Ohio State is outside of the top 20 in the USAU rankings, so a loss there could hurt the Bettys' cause and set up a tougher go in the bracket on Sunday. For Colorado State, their pool game with #19 Florida will be a key matchup. Whichever way Kansas' and CSU's tournaments go, we should have a pretty clear indication of how strong the South Central really is this year beyond the powers of Melee and Kali.
Can the North Central Log Any Significant Wins?
The North Central has been a one bid region since 2013, when three of the top four seeds all called the Big NC home. Currently, they're set for two, but that second spot looks a little precarious.
Iowa State jumped to #16 in the USAU rankings after taking the Midwest Throwdown title earlier in the month, but they only truly have the breathing room of two spots. And there are a couple of teams – including fellow Centex attendee Ohio State – who will be desperate to earn strength bids in the season's final stretch.
Beyond Woman Scorned, though, how will Minnesota and Wisconsin perform this weekend? Minnesota had a mediocre QCTU and hasn't played since, and Wisconsin has had a rough season after losing program leaders Lorraine Guerin and Anna Hrovadt-Staeter.
It will get even tougher for Wisconsin this weekend as they're without Brittney Kokinos, who was unable to make the trip. For the Bella Donnas, though, they look to be squarely out of the bid picture anyway, and an opportunity to strengthen the depth of the roster ahead of the series may be in their best interest.
For Minnesota, it should be an opportunity to learn what they really are. The highest ranked team they beat at Queen City was Wisconsin (USAU #52), so they haven't shown an ability to beat top teams yet this year, but hung tough with some close results. Can any of the North Central teams in Austin this weekend break through?
Can Florida Rebound After Disappointment?
#19 Florida FUEL has been the Southeast's best team all spring and they are the lone team in the region to remain in the top 25. All seemed to be going swimmingly for them last weekend at Tally Classic, outscoring their pool opponents 48-5. But in semis they ran into a strong #24 Notre Dame team and were upset 15-10.
Florida must now demonstrate an ability to respond to losing a game they would have felt they should have won. They have only one other such loss this season (their first game at Queen City against Wisconsin) and they responded to that fairly well.
Their team is deep with athletes and there's certainly no team they won't feel confident against in their pool. But Florida also has the talent to aim higher than a strong showing in pool play. For FUEL the aim should be to compete and defeat the teams of top two pools and reaffirm themselves as a Nationals caliber team.
With the likes of Kennesaw State and Georgia Tech hot on their heels for supremacy in the Southeast, does Florida have the mental strength to rebound from a disappointing weekend just one week later? With what is shaping up to be a competitive Southeast regional, Florida's ability to quickly turn around from disappointment will be crucial in their quest to return to Nationals.
More important than anything they can do on the ultimate field, though, Florida is a sneaky darkhorse pick to win the dance competition after games on Saturday. Florida is a solid team, but they absolutely have elite dance moves.
Can Victoria Nab A Win Over a Top Team?
#25 Victoria UVixens comes in as the highest seeded team not in the "Tier 1" categorization. But they'll have to learn how to win against top teams in order to pull off an upset or two and break seed. In their one other tournament thus far (Santa Barbara Invite), the UVixens beat everyone they should have, but they also lost to everyone that would be considered a good team – and none of those games were especially close.
Of those wins at Santa Barbara, the most impressive was a one point win over UC San Diego. Beyond that, though, they have no ones against any teams in the top 50.
Right now the team is both low on experienced handlers and obvious on-field leaders. But the team has a plethora of solid, gritty players and with that base they should be continue to grind out wins over teams that are inferior on paper.
The question for Victoria is can a player or two step up to lead this team when it needs them most? In order for UVic to win games against the top teams, it has to have that top tier of players they role players know they can rely on the biggest moments. While they've had those individuals over the past few seasons, nobody has assumed that role yet. Is there anyone on Victoria ready to emerge as those players, or are they a team that's still a year away from having the top players to compete with the top teams?
Which Players Am I Most Excited To See?
I already know the answer to this question. Every tournament I cover is an opportunity to discover another handful of fun players I didn't know very well before, and that's one of the best parts of the job. Yet these are the players that I'm already eagerly anticipating watching this weekend:
Julia Schmaltz (Texas) had a weekend to remember at Stanford Invite, which was memorialized by that insane gif that blew up Twitter. What's her Act II going to be? Schmaltz has been a weapon for Melee since well before Stanford — she led the team in goals at Nationals last year — but there's no doubt that her star has never been brighter. There's no Jaclyn Verzuh for her to match up against this weekend, but there's still plenty of top level players for her to go toe to toe with (a potential matchup between herself and Claire Frantz in pool play is especially tantalizing). It will be a blast to see how Schmaltz follows up her fireworks from the last we saw her.
It's still not too late to hop on the Sadie Jezierski (Ohio State) hype train, but you're gonna have to hurry. Jezierski is one of the most exciting players in college ultimate right now, period. She plays with a special intensity and verve, matching that energy with her elite athleticism and skill. She also plays with the confidence to try things that most other players won't, and for that she is very much on the must-watch list.
Tori Taylor (Florida) 

might not be a household name nationally yet, but she's been a known commodity in the Southeast for a couple of years now. She was not with the team in the fall, and has been a huge reason for Florida's surprisingly strong spring up to this point. A great athlete and a stellar playmaker, Taylor has shown tremendous improvement over her career and now in her 5th year is trying to lead her team to Nationals. A big weekend in Texas could go a long way to getting her some more recognition outside of her own region, and could reaffirm Florida's path to the big dance as well.

There are few players currently in college ultimate as decorated as Clare Frantz (Kansas) — a member of the 2016 All Star tour, a U-23 gold medalist. The accolades are impressive. Simply put, she's one of the best and most accomplished players in the division right now. Although Kansas is not a one person team, Frantz is absolutely the one who drives them.
Anneke Vermaak (Wisconsin)

 is one of the best all around throwers in the division. Without Kokinos this weekend, the playmaking responsibilities will rest even more heavily on her shoulders. As the unquestioned quarterback this weekend, Vermaak will have to pull out every throw in her arsenal to lead her teams to some much needed wins. She will have to be Aaron Rodgers on last year's Packers. On a team that's probably a little low on confidence, and still waiting on some younger players to be ready for prime time roles, Vermaak should have the green light all weekend, and will probably need to complete some hail marys in order for her team to make some noise.

Who doesn't love an exciting lefty like Rachel Kramer (Tufts)? There's just something awesome about seeing huge left hand backhands against a forehand force. Tufts' southpaw captain brings that excitement but also matches it with deep play-making ability as a cutter as well. A pure, do-it-all playmaker, Kramer is a spectator's dream. She's capable of delivering thrills in every aspect of the game, and if Tufts is to come up with a successful follow up performance to their Queen City title, they'll likely need Kramer firing on all cylinders.