Breaking down ten seconds of perfectly executed cutting and clearing.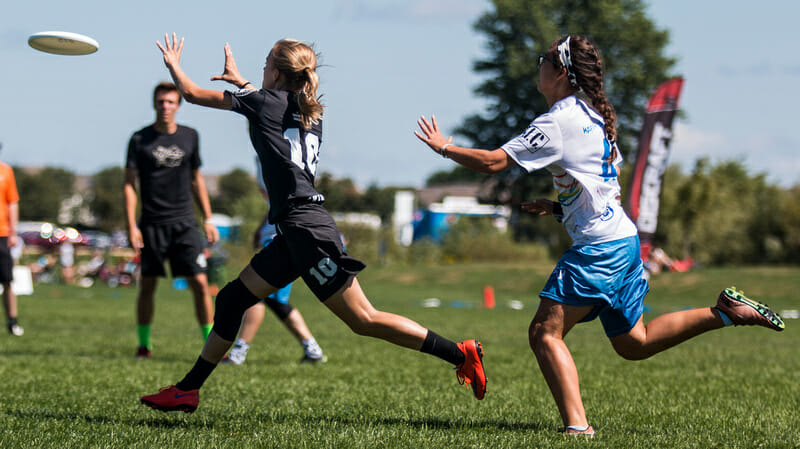 This article is presented by Spin Ultimate; all opinions are those of the author. Please support the brands that make Ultiworld possible and shop at Spin Ultimate!
This article was written by guest author Dave Ohls, coach of a number of Washington DC area youth teams, including Swing Vote.
It's 12-12, game to 13, in the final of the 2016 U19 YCC Mixed division. In twenty seconds, Swing Vote will have claimed its second straight national championship. But for now, all is tension. The 'universe point' moniker feels real.
The smallest player on our team, Ella Juengst — all of 5'1" in cleats — has just gotten a fantastic lunging block on a reset to give us the disc twenty yards from the endzone. The largest, Joe Freund — towering at 6'5" with athleticism, skills, and a Junior Worlds gold medal to match — trots toward the endzone.
I've watched and re-watched what happens next dozens of times. I've enjoyed it, marveled at it, and broken it down moment-by-moment for my teams to learn from. I'd like to walk through what makes it so special, and such a great teaching tool.
The action described starts here.1
Swing Vote Happy Cow game point
What happens next:
57:47: Ted Sither picks up the disc and surveys the field. Jake Radack and Rachel Hess line up in primary and secondary reset positions.
57:49: Juengst cuts from the back of the stack and gets separation, but the throw isn't there. She immediately curls back to the middle.
57:51: Sither engages the reset sequence. Sither, Radack, and Hess are all elite handlers and have great chemistry; this is second nature to them.
57:53: Radack goes upline while Freund makes a sharp cut timed for a continuation pass.
57:54: Freund is 3-4 yards in front of his defender, pulling away, with a clear path to the front cone. If the throw goes up to Radack, he will have an easy leading continuation pass to space for the goal. But the defense is good and prevents the initial throw.
57:54 (still): Sither pump fakes the around to shift the mark, Radack clears the space, Hess initiates, and Sither throws a soft inside break to Hess.
57:55: Hess catches the disc slightly off balance. Freund still has separation, but he's close to the disc, forced to slow down, and the gap is now just two yards and shrinking. He plants hard and starts his clear even before Hess stabilizes.
57:55 (still): Juengst cuts hard toward the break sideline, timed for a continuation from Hess.
57:56: Hess gets her feet set, and turns to look upfield, seeing wide-open space (Freund and his defender are sprinting toward the middle) and a wide-open receiver (Juengst's speed and decisive move put her well out in front).
57:57: Easy throw and catch.
The beauty of this sequence is the teamwork, trust, and anticipation. Juengst and Freund see exactly the same thing at exactly the same time: that by the time Hess is ready to throw, Freund will be too close and too well-defended to be an option. And so both react even before that moment arrives—Freund by clearing out, Juengst by charging in.
As a coach, I use this clip to teach several skills which are vital, but can be difficult to get across in the abstract. A few key lessons:
Time your cuts off disc movement. Freund is cutting for Radack; Juengst is cutting for Hess. Both are timed to be most open at the exact moment when the (potential) thrower will receive the disc and look upfield. Too early or too late and the play won't be there.
Clearing and cutting are equally important, and are inseparable components of a single thing, like poles of magnet. Clear so that someone may cut, and cut to the space that has been cleared. There is a sort of paradox here: the goal of any offense is to create one-on-one matchups in space, and the only way to accomplish this is by playing as a team.
Trust your teammates. No one is too good to create space for someone else. Freund was arguably the best player at the tournament, and in a huge moment he didn't hesitate at all to get out of the way. Everyone on the field is an elite player, used to being The One in big situations. The two I haven't mentioned yet are among the very best—Duncan Fitzgerald was on the 2016 USA U20 team and Caroline Tornquist was an alternate in 2016 and will be a strong contender in 2018. But they see their teammates in better positions to make the play, and calmly position themselves to keep defenders occupied and be prepared to engage next.
Trust yourself. There was a lot of pressure, and these are youth players. They rose to the occasion because of their mental abilities, not their physical ones. The throws, cuts, and catches involved are relatively simple, but the ability in that environment to see the field, react to the continually changing positions of the disc and other players, and execute without an instant's hesitation are not simple at all. No one was tentative or afraid of the moment.
When we've been able to execute them, these tenets have always served my teams well — no matter the field position, offensive particulars, or game situation. I hope this breakdown will help you instill these habits in your players and teams as well, as we all work to keep teaching beautiful ultimate!
It was a privilege to be a part of this Swing Vote team and to coach these and other great players. And many thanks as always to our friends from Happy Cows, who gave us two great years of elite competition and incredible spirit.
---
At 57:47 in the YouTube video. ↩