A whopping seventeen bids will be decided this weekend in Men's D-III.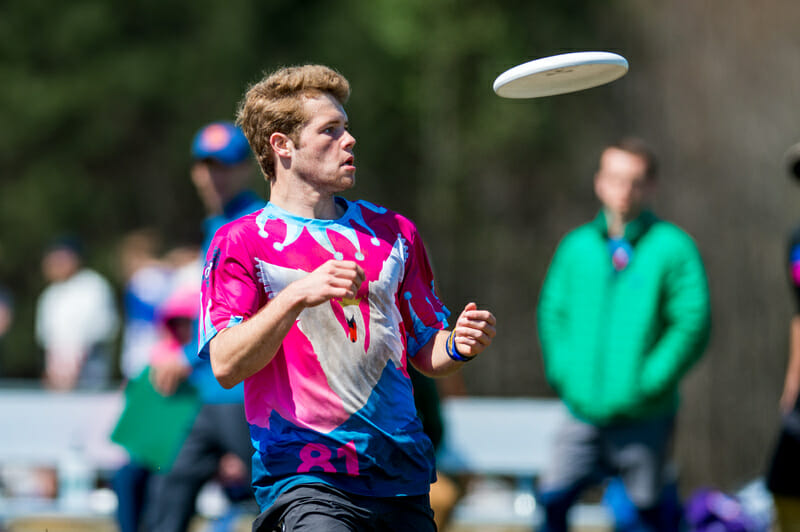 Unlike D-I, where the regional tournaments are split almost perfectly in half, seven D-III Men's regional tournaments will be taking place this weekend all over the country. With Portland and Occidental punching the first two tickets to Lexington a couple of weeks ago by winning the Northwest and Southwest Conference tournaments respectively, seventeen more bids to the big show will be claimed this Sunday, with the Southeast's bid being determined next weekend.
Here's our team's previews of each regional tournament:
Atlantic Coast (3 bids)
The Atlantic Coast has been one of the most competitive regional tournaments in the country over the past four seasons. In 2017, Regionals looks to largely be the same story as last year — with one major twist: a third bid. #10 Richmond, #14 UNC Asheville, and #8 Davidson were all within the bid cutoff at the end of the regular season with #13 High Point University landing just outside. Any combination of these teams could end up heading to Lexington and no one is safe, as the regular season clearly demonstrated.
Neither of the two Nationals qualifiers from 2016 have decisively put themselves ahead of the pack in the Atlantic Coast. Richmond dropped two games to Davidson in the regular season and UNC Asheville is still hunting for a marquee performance to assert itself. At Conferences, UNC Asheville notched a convincing 13-9 victory over High Point, but lost to Davidson 13-6. High Point, on the other hand, has had its share of solid wins including one over Asheville at Music City Tuneup in February. Davidson had an anemic start to its season at Queen City Tuneup, but showed up big at Oak Creek Invite and EastURns to clinch a bid. Any number of outcomes is possible this weekend, and it is impossible to discount #20 Mary Washington, who notched wins against Williams and Davidson at EastURns.
One of the things that makes Atlantic Coast Regionals so interesting is the individual talent leading each team. There has been plenty already said about the throwing and athletic prowess of Richmond's Henry Babcock. The North Carolina programs all feature many notable seniors and fifth years. High Point's trio of Michael Ball, Cam Bellando, and Luis Royo have defined High Point's young sanctioned program for the past three seasons. When they're healthy, they are a menace to other teams. UNC Asheville's core cast of seniors and fifth years have pushed the Bulldogs to competitive program status; Chad Gerber, Charlie Bridger and Cory Oskardmay are familiar names to anyone who has played the Bulldogs over the past four seasons. Davidson's Chris Johnson helped lead DUFF to Nationals in 2014 and will be looking to get his team back to that stage this weekend. Mary Washington's Zach Norrbom is arguably one of the best D-III players in the Atlantic Coast who has never attended Nationals, and he's accompanied by fellow D.C. Breeze teammate Joe Richards. One of the deciding factors for who ends up with a bid to Lexington will be how these teams figure out how to contain their opponents' stars.
Elite players aside, Regionals will also be a battle of coaching minds for many of the top teams in attendance. Richmond's Matthew Graves has created a legacy of excellence with the Spidermonkeys. Former Charlotte Express teammates Ken Porter and Kyle Silva have been bringing a critical level of focus and system based performance to Davidson and UNC Asheville respectively. In the second place game-to-go between the two programs in 2016, it was Porter's defensive schemes and Silva's rock solid confidence that defined an incredibly grueling matchup between the two programs. Elon's Matthew Rushing, who masterminded their near title-winning zone in 2014, is known to be a crafty and cunning defensive mind.
A sunny weekend with manageable wind is in the forecast, setting the stage for the coaches and players to be in full control of their outcome. There's no telling what will happen. Three bids, big personal legacies, and the opportunity for new teams to attend Nationals are all on the line.
-Hugo Sowder
Great Lakes (1 Bid)
The Great Lakes region has come a long way since last year's three-bid bonanza. After collectively failing to pick up key wins throughout the regular season, the region was left with just one bid to D-III Nationals this year. With a single Nationals berth on offer and a predicted two or more inches of rain for the weekend, the sloppy weather is sure to make for a dogfight.
At the top of the region sits powerhouse Wheaton College. With star power, a team loaded with veteran depth and savvy, and an undefeated record against regional opponents so far this season, Wheaton seems to be the team to beat for the bid to Nationals.
Hot on their heels are Knox, last year's Nationals Cinderella story, and relative regional newcomer, Kalamazoo. With talent and experience gained from last year's deep Nationals run, Knox is a poised team, capable of making big plays. Behind Sean Treacy, a tall handler with a high variety of throws, Knox looks to be the team to make an upset in the region.
Kalamazoo, though a relative newcomer on the big stage, has proven themselves a tough out this year. At D-III Midwestern Invite, despite picking up just two wins, Kalamazoo showed they could play close with anybody. The team played within two points of Air Force, and, outside of a 15-9 loss to Colorado College, lost four games by a total of just six points. Will they be able to finish off games this weekend and pull off the upsets needed to claim a bid to Lexington?
On the outside looking in are Valparaiso and Indiana Wesleyan, two teams loaded with star power at the top of their roster, but who have struggled to put it together throughout the season. Valparaiso bolsters two of the region's top players in Jesus Osorio and Jack Verhayden. Each are strong, do-it-all players, with the throwing ability to pick defenses apart. Indiana Wesleyan hosts a bevy of top-level players, including senior handler Zakk Mabrey, who has been using break throws to open up the offense all year, and junior cutter Jon Clark, one of the region's most athletic players. If either of these teams has their star players catch fire, they have the ability to upset anyone in the region.
-Zakk Mabrey
Metro East (1 Bid)
In what is starting to become a yearly tradition (regardless of division), the Metro East has one bid to Nationals. It's difficult for anyone to argue that region deserves any more than that; their auto bid was earned by Connecticut College, who finished the regular season ranked 36th. However, with six more teams finishing in the top 60, everyone at this tournament is going to feel like they have a chance — and that kind of belief can make for plenty of excitement on Sunday.
With a two pool format, endurance could prove to be what decides who gets the bid to Lexington. There's no bye for teams who win their pool, as all teams will play five pool play games on Saturday followed by three bracket games on Sunday.
Pool A is headlined by Army, who comes in as the top seed after sweeping their Conference tournament. There are plenty of challenges to balancing ultimate and the duties of a military school, but one of the benefits is an exceptional level of fitness. The format of the tournament should benefit Army, as they'll look to grind down their opponents late in both days. No. 3 seed Connecticut College will be trying to defend their 2016 regional championship and return to Nationals. Led by senior handler Gabe Ryan and sophomore Skylar Levey, Dasein will rely on the experience they gained from their run last season to win the region again this year. Behind the leadership of handler Jon Gill and lengthy cutter Austin Darling, the Terrifying Turtles from SUNY Fredonia are the final team with a real chance of winning Pool A. They lost a close game to Army early in the regular season, and the Turtles will be seeking revenge this weekend.
Pool B is topped by relative unknown Hamilton Hot Saucers. Hamilton only played in one regular season tournament this year, scoring unconvincing results in difficult weather at Rip Tide. However, the Hot Saucers went undefeated at their conference tournament; can they run the table again with higher stakes on the line? Standing in their way is No. 4 seed Stevens Tech and No. 5 seed SUNY Geneseo. Having played a weak regular season schedule and only having a one game Conference tournament that was just played for seeding, Stevens Tech will need to be ready to step up their intensity to match the occasion at Regionals. The Snails from Geneseo also played a weak regular season, but they went 12-3 in that schedule. Winning is a habit, and they've won a lot this year. They did lose to Hamilton at Conferences, but it was closely contested game that the Snails will be looking to avenge.
With relatively calm conditions in the forecast for Oneonta this weekend, weather shouldn't be much of a factor in deciding the outcome. Stay tuned to see which team survives the Metro East melee this season and emerges with a bid to Lexington.
-Michael Ball
New England (3 Bids)
In a year where only three regions have multiple bids to Nationals, it seems crazy that a region could feel underserved with three bids. However, that's how teams in the New England feel, and rightfully so. With six teams finishing in the top 20 of the final USAU rankings — plus a powerhouse who didn't get to ten sanctioned games — there will be four very good teams leaving Williamstown this weekend without a bid to Lexington who can legitimately say they should be going.
In a 12-team format where the top two teams from each pool go to the first-place bracket and the two finalists qualify for Nationals, there will be extra motivation for teams to try and win their pool. With four of the top twenty teams in the country, Pool A is quite possibly the most competitive pool from any regional event in the country. Top seeded #9 Middlebury Pranksters rolled through the regular season with a 13-1 record and continued their dominance into Conferences, going 7-0 and picking up two big wins over Dartmouth. Led by handler Dylan Salzman and captains Nate Henning and Gab Doble, the Pranksters are a deep and talented team. They should hold up well over the course of the weekend and take one of the three bids. #11 Amherst Army of Darkness was the third bid earner for the region; a strong undefeated showing at their last regular season tournament, Layout Pigout, vaulted them into bid-earning territory. However, their momentum from that tournament was stopped by two blowout losses to Bryant at Conferences; can they regain momentum to defend the bid they earned? #21 Williams WUFO boasts quite possibly the best player in the region in Emmett Blau, but they've yet to show that they can put together a complete weekend this season. They'll need to avenge a loss to Amherst at Conferences if they want to put themselves in a good position for a trip to Lexington. Rounding out the top end of the pool is #19 Bentley Icehouse. Bentley are one of those incredibly consistent teams that beat everyone they're supposed to beat but can't seem to pull off the upset. Icehouse don't have a signature win yet this season; can they find another gear to earn a bid to Nationals?
Pool B is headlined by perennial powerhouse and source of controversy #4 Bryant Craze. For the third year in a row, despite being a preseason national championship contender, Craze failed to play ten sanctioned regular season games and therefore couldn't earn the region a bid.1 Bryant has been dominant this year using their tried-and-true formula of athletic offense and a rangy zone defense. Led by Donovan nominee Jacob Garfinkel, expect Bryant to earn one of the bids to Nationals. The other two contenders in pool B are #5 Dartmouth Pain Train and #15 Brandeis Tron. Don't let Dartmouth's record fool you: in their first year of D-III competition, Pain Train has continued to play the schedule of a D-I team. They took their lumps early on at elite D-I tournaments Santa Barbara Invite and Easterns Qualifier, and those early season battles have paid off. Dartmouth are 10-4 since then, with two of their losses coming to top-seeded Middlebury. Expect Pain Train's experience to shine through this weekend and put them in contention for the third bid to Lexington. After huge roster turnover from their national runner-up squad in 2016, Brandeis Tron showed the strength of their program by bouncing back with another strong season in 2017. Their 11-2 regular season record is impressive; however, they've yet to really test themselves against the top teams in the country. In their one game against a top ten team this year, Tron were dismantled 15-9 by Air Force. They'll need to beat at least one (if not multiple) top ten team this weekend in order to earn a bid to Nationals.
While not among the favorites to earn a bid, keep an eye on Bowdoin Clowns and Bates Orange Whip this weekend. The two teams finished 28th and 29th in the USAU rankings, respectively, and although they lack the firepower to string together enough wins to earn a bid to Nationals, both teams are very capable of pulling off an upset to ruin someone else's season.
It's going to be a crazy weekend in Williamstown, and we can't wait to see who emerges with a trip to Lexington.
-Michael Ball
North Central (1 Bid)
Bolstering two of the top programs in the country over the past few years in #16 St. John's and #17 Carleton GOP, the North Central has proven to be one of the nation's toughest regions. Despite having two top teams, the region was once again left with just one bid. Last year, Carleton GoP took that bid. This year, St. John's is looking for a change of fortune.
After falling just short of qualifying for Nationals last year, St. John's seems to be a team poised to take control of the region this year. In many ways, St. John's looks to be the team to beat. Despite missing two of their top seven players at D-III Midwestern Invite, the team was still able to pick up a win over top-tier team Wheaton and finish the tournament fourth. At the Northwoods Conference Championships, St. John's seemed to put it all together, with their closest game of the weekend being a 15-10 win over Carleton GoP.2
For Carleton GoP, the season has been one of continued strong showings. At Stanford Open, the team picked up wins over perennial powerhouses Claremont and Lewis & Clark, along with Nationals qualifier Occidental. At College Southerns, GoP took down last year's national champion, Georgia College, 15-10. As a perennial contender, with a strong system, and top-level players, Carleton GoP can never be counted out.
Throughout the rest of the region are a handful of solid teams. Macalester boasts top-notch player Remy Eisendrath, a fantastic athlete and defender who serves as the focal point for the team. Drake and St. Olaf are both teams that have shown spurts of good play throughout the year, but have struggled to pick up meaningful wins. If these teams are able to put the pieces together for just one game, they could pick up an upset during the weekend.
-Zakk Mabrey
Ohio Valley (1 Bid)
Yet another region who can't break through and earn that elusive second bid, the Ohio Valley find themselves in a familiar position. Despite multiple teams finishing in the top 25, only one was able to finish in bid-earning territory, making for another year of intense elimination play at Regionals. A D-I convert joins the battle this year; how will they shake things up?
The most likely outcome for the Ohio Valley is another regional championship for #1 Franciscan Fatal. Coming off a perfect 20-0 regular season, Fatal continued their dominance with an undefeated showing at their Conference tournament, where they never allowed more than six points. There's nothing revolutionary or clever about what Franciscan does. They are a deep team who play person defense and look to get the disc in the hands of their playmakers on offense. The team's Donovan nominee Dom Schuster is a wizard with the disc, able to break the mark in a variety of ways and throw hucks from any point on the field. In the championship game of CWRUL, Schuster recorded an assist on 12 of Franciscan's 15 goals. Complemented by elite athletes Stephen Babcock and Jay Ratajczak, look for Schuster to lead Fatal to another Ohio Valley championship and a return to Nationals.
The two teams most likely to knock Franciscan off their throne are the #12 Shippensburg Scapegoats and Messiah Falcons. In their first year of D-III competition, Shippensburg has been on an upward trajectory and look to be peaking at the right time. Rough early season results turned around for a tournament victory at Steakfest and a strong third place finish at CWRUL; most recently the Scapegoats went undefeated to win their Conference tournament. However, they barely edged out Messiah in the championship game at Conferences, and they were easily handled by Franciscan 13-6 at CWRUL. Should they make it past Messiah in the semifinals, they'll need to play a near flawless game against Franciscan to pull off the upset in the championship game. Beyond their runner-up finish at Conferences mentioned above, Messiah have yet to show an ability to knock off elite competition this year. While beating most of the teams they've played who were seeded below them, the Falcons have struggled against top opposition such as Middlebury, Davidson, and Williams. While the leadership of coach Charlie Hoppes, Donovan nominee Peter Burt, and STF All-Star JM Rallo make Messiah hard to count out, it would be surprising to see them knock off both Shippensburg and Franciscan this weekend.
While lacking the ability to knock off the top tier of teams, the rest of the Ohio Valley are extremely competitive with each other and should play some exciting games through the rest of the bracket. Teams like Haverford, Cedarville, and Swarthmore have shown an ability to get hot for a couple of games and could make runs to the semifinals. While lacking major wins on the year, Wooster and Xavier have shown a capability to keep games close and could give one of the top teams a scare. Don't be surprised to see a team from the bottom half of each pool in contention for a spot in the semifinals.
-Michael Ball
South Central (3 Bids)
The South Central region has been on fire this season. Two programs, #6 Air Force and #2 John Brown University, were #1 at some point in Ultiworld's D-III power rankings in 2017, and #3 Colorado College has been in the top five for almost the entire season. Any of these programs could make the bracket on Sunday at Nationals, and by any estimation, one of these programs could be crowned regional champion.
By far one of the most interesting performances to watch will be that of Air Force Afterburn. While both Colorado College and current regional champion John Brown were firing on all cylinders late during the regular season, Afterburn had previously dropped games to Colorado College. At Conferences, however, Air Force asserted themselves as the team to beat this weekend with a 10-9 win over John Brown and an even more convincing 12-8 win over Colorado College. Against John Brown, Afterburn used its kill lines to good effect in the second half to secure their win. Air Force has momentum on its side heading into the weekend. Now it will come down to the execution of their young roster and the performance of their stars — especially sophomore handler Alan Villanueva and defender Trevor Browning — for Air Force to lock itself in as the best team in the region.
Looking to knock Air Force off the throne are John Brown Ironfist and Colorado College Wasabi, two powerhouse programs featuring star athletes. Ethan Penner will be an important player to watch this weekend for JBU. The fifth year is hunting for a Sunday appearance at Nationals and has already put himself on the map as a leader for Ironfist. Garritt Headley on Ironfist's D-line had a notable performance against Air Force at Conferences and is a testament to the depth Ironfist has developed. Colorado College has already put up two very convincing wins against Air Force this year, and with higher stakes at Regionals, there's no reason to believe they won't step up to the plate again when the moment comes on Sunday. Senior captain Phil Korolog is a proven athlete who will be a key player to watch out for throughout the tournament, and he'll be supported by Wasabi's Donovan nominee Perry Fitz.
All three of these programs have proven capable of unseating each other. That being said, as long as these programs take care of business, the ultimate goal of getting to Nationals is well within reach. Nobody else in attendance this weekend has shown the ability to knock off one of the big three, and it will be a major upset should one of them manage to do so. Rice Cloud 9 showed with two close losses to John Brown early in the season that they can hang close, but with no competitive games since February (unless you want to count their one game blowout Conference event), you have to wonder how rusty Cloud 9 will look this weekend. #23 Missouri S&T Miner Threat showed that they can play the big three close, with two point losses to Air Force and John Brown at Conferences. As the saying goes, "'almost' only counts in horseshoes and hand grenades." With their season on the line, almost beating the big three won't do Cloud 9 or Miner Threat any good. Will they have enough to get over the hump and take a bid to Nationals?
-Hugo Sowder
---
Their last regular season tournament, New England Open, would have gotten them to the ten game threshold, but it was cancelled due to inclimate weather. ↩

Carleton GoP also lost to St. John's in the Conference Championship last year, but came back and avenged their loss at Regionals. ↩