Over half of the Nationals bids are on the line this weekend.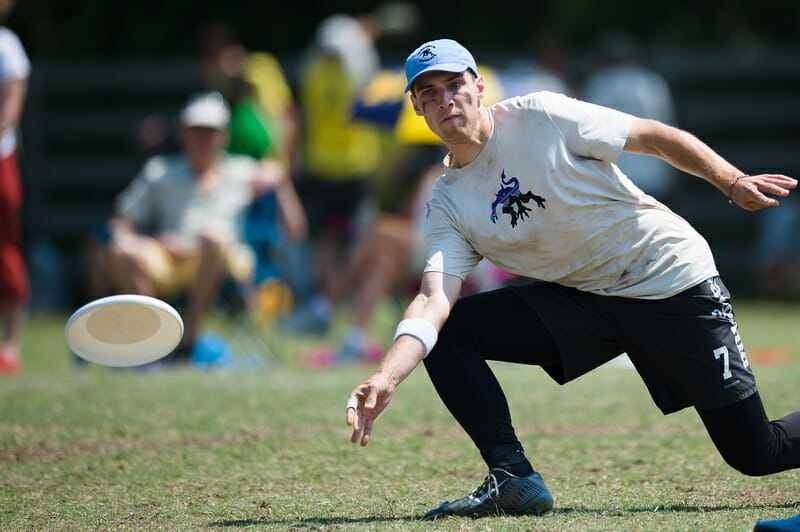 The first of two big Regionals weekends is finally here. 11 of the 20 bids to the USA Ultimate College Championships are up for grabs this weekend across five different regions spanning from coast to coast.
We break down each of this weekend's Regional tournaments below.
Metro East (1 bid)
Empires rise, empires fall. The old makes way for the new, the new becomes old, and time ceaselessly marches on.
Ultimate is no different, and the Metro East has seen a radical change to the status quo over the past year. After reigning for over half a decade as the undisputed favorite in the region, Cornell is suddenly faced with the prospect of subservience to an ascendant regime called UConn Grind. The Buds haven't missed Nationals in consecutive years since 2008, but the "evil empire" has been replaced by a new favorite.
After Grind took down Cornell at Regionals last season, they went on to have one of the Metro East's best showings at Nationals in years. UConn produced multiple wins, including the upset of the tournament over third-seeded UNC Wilmington, and came within a couple points of making pre-quarters. Even after losing 2nd Team All-American John Wodatch, Grind still appears to be in pole position in the Metro East, particularly after knocking off #7 Colorado Mamabird at Easterns.
Target man Mike Rice has picked up some of the slack from Wodatch, and center handler Pat Kunkel has stepped up over the course of the season, using his length and clever vision to fire the disc all over the field for UConn's offense. If Grind play to the level they did at Easterns, they should have no problem locking up another trip to Nationals.
Behind Connecticut, it's questionable if Cornell is even the second favorite. A gloomy year for the Buds continued at Conferences, in which they dropped games to two Canadian schools, including eventual champ Toronto University.
Toronto won the Western NY Conference behind stellar play from their core of Toronto Rush players. That trio of Paul Tatulea, Brett Tan, and Jay Boychuk represents potentially the best three-man unit in the region. If Toronto can keep their top guys fresh, they may be able to throw a scare at Connecticut in the bracket.
Is this the start of a new UConn dynasty? Can Toronto ride a hot streak all the way to Nationals? In this one bid region, history happens in a flash.
-Patrick Stegemoeller
North Central (3 bids)
For the second year in a row, the North Central's three bids put a damper on any legitimate regional drama. The region's formidable Big Three of Carleton, Wisconsin, and Minnesota will, in all likelihood, easily earn their places at Nationals. That doesn't mean, however, that there's no reason to watch. The storied rivalries between the three, the notoriously fickle weather, and the slight (but not impossible) chance of an upset make for an always-entertaining annual event.
Top-seeded Carleton CUT appears to be peaking at the right time. While their regular season was, per usual, riddled with consistently inconsistent results, CUT's (mostly) strong play at Easterns and their victory over Grey Duck in their Conference final shows a team with legitimate national title aspirations. Henry Fisher, Alex Olson, Sol Yanuck, and an army of talented freshman make Carleton the odds-on favorite to take the region.
At the top of Pool B, 2016 National Champs Minnesota don't boast the same strength of schedule as their regionals peers, but they've taken care of business this season. Grey Duck's astounding depth will once again be a major strength this postseason. While Ben Jagt, Wyatt Mekler, and Sam Bumsted will rack up the points, it's guys like Alex Jirele and freshman Cole Jurek that could be the difference in a potential repeat. Keep an eye on ace defender Charlie McCutcheon — the Philadelphia Patrol lockdown cover will likely draw (and win) some exciting matchups.
The three seed Wisconsin is also playing their best ultimate of the season. Early season struggles due to injury and limited practice facilities gave way to an stupendous Easterns, where they lost only to UMass (and on double game point, no less). The return of Ross Barker from injury adds another layer to an already stacked offense, while their defense remains one of the best in the country.
Of note: the forecast for this weekend is looking cold and rainy on Sunday. The best hope Minnesota-Duluth, Iowa, and Iowa State have to play spoiler is to — much like Iowa and Minnesota-Duluth did back in 2012 — take advantage of the elements. That being said, it's difficult to imagine a scenario where that happens: the big three are just too good.
-Charlie Enders 
Northwest (4 bids)
Ten teams, four bids. Wow.
No other region has as many bids in the Men's Division this year1. BYU CHI's decision to play at Big Sky Conference Championships enriched the region, gifting an extra chance to another one of the Northwest contenders, who won't have to go through BYU's athletic and disciplined core to earn a spot in Cincinnati.
Oregon Ego will wake up in Walla Walla, WA, as the strong favorite to win the region. Their strength of schedule alone far outpaces the field. On top of in-region victories over UBC and Washington at Cascadia Conferences, Ego also put statement wins on the books this season against Carleton, UNC Wilmington, and Colorado. Their young D-line improved tournament by tournament and should now be well prepared to pick up plenty of blocks and breaks against the field this weekend.
Both UBC and Washington have also put together bid-worthy performances – they've handled teams ranked below them with relative ease all season. That consistency is no small feat for either team.
UBC struggled to close out winnable games last year and were susceptible to lapses in focus that put them too many breaks behind to win. Their improvement in steadiness this season is a welcome change. Washington's been plagued by injuries again in 2017 and has still managed to get the job done. With plenty of bids on the table and health returning, the Sundodgers have the experience, talent, and system to head back to Nationals. These two teams are on pace to hold seed, but with the fourth bid available, each could sustain an upset loss on Saturday and still be fine.
A glut of fun bubble teams will clash to fill out the Northwest's roster in Cincinnati. Western Washington has killer offensive discipline that makes them a tough out for anyone in the field. Oregon State quietly put together a strong season —they notably won the Stanford Open to earn the last bid to the Invite — and have a well-coached squad. The Beavers cut methodically and have enough in their defensive toolbox to cause other teams aiming for the fourth bid problems.
Of course, the Northwest produced a Nationals newcomer in 2016, Utah Zion Curtain. This year at conferences, ZCU took a tough 14-8 loss to Montana State in semis, who subsequently beat Utah State in the conference final. The Rum Runners (!) take the top spot for Big Sky teams at #5 this weekend. While the top dogs from Cascadia scrap for pole position and the first two or three bids, count on these Big Sky contenders to keep competition interesting. Now that ZCU's done it, the others will want a taste of the action too.
-Simon Pollock
Ohio Valley (1 bid)
In 2016, the Ohio Valley was Pittsburgh's to lose. And they did.
Lehigh shocked the world, upsetting Pitt in pool play and sending them to the backdoor bracket needing to win five straight games to take the second bid to Nationals behind regional champion Case Western Reserve.
It was a dramatic, eyebrow-raising turn of events, but a month later, Pitt came within one point of making the National final and everything made sense again. Good thing for eventual Callahan winner Trent Dillon and company there was that second bid, right?
With only one bid to the big dance this year, the margin of error for Pittsburgh will be even thinner.
The rest of the region — Penn State, Cincinnati, Villanova — will not challenge for the lone bid. Pitt's closest competition is Case Western Reserve, who has a solid core with Nationals experience. They don't really have any signature wins, but they did go to Easterns and hung tough in losses to UNC Wilmington and Wisconsin. In a two bid Ohio Valley, Case would be a safe bet to qualify, but in 2017, you'll have to settle for watching their standout athletes like Tarik Akyuz and Jake Rovner try to make enough plays to keep the Fighting Gobies close with Pitt in the final.
Pitt is too deep for the rest of the field at this tournament and — with Jack Slevin, Jonah Wisch, and Thomas Edmonds — has perhaps the best offensive backfield in the nation. Expect Pittsburgh to capture their sixth regional title in Allentown.
That said, Pitt (#1) does play Lehigh (#8) at 1 PM on Saturday in pool play, just like last year. Wouldn't hurt to fire up Twitter and see what's happening.
A quick historical note: In 2011, USA Ultimate redrew and expanded the college division from eight regions to 10, including the brand new Ohio Valley. The move to this new region had to be welcome news for Pittsburgh who, for as good as they'd been for a half decade, were snakebitten and totally incapable of winning the Metro East.
In that time Pitt has served as the region's only real beacon of legitimacy, making quarterfinals of Nationals or better each year and winning two titles. No other Ohio Valley team — Case, Cincinnati, and twice Ohio University — has ever finished higher than tied for 17th.
-Tad Wissel
Southwest (2 bids)
The Southwest region has finally gotten its long-awaited second Nationals bid. Though the second bid might seem to take the drama out of the weekend, the some wild results from the Conference tournaments (looking at you, SoCal) suggest otherwise.
Cal Poly SLOCORE and Stanford Bloodthirsty enter the weekend as the bid-earning teams and in all likelihood should take the top two spots, but neither is invincible. The Southwest is always full of parity. Since the re-draw, the region has only had one team make more than one trip to Nationals (UC Davis in 2012 and 2013)2. This year the promising underdogs look to be UC Santa Barbara and USC.
Cal Poly, technically the top ranking team in the region as USAU #13, is looking vulnerable after taking two DGP losses at SoCal Conferences: 13-12 to UCSB Black Tide in pool play (which they later avenged with a 13-5 victory in the 2nd place game), and 11-10 to USC Lockdown (the upset conference champion). One loss at Conferences is a hiccup, but two losses might be more of a cause for concern. Star cutter Nate Pettyjohn is on the mend from a broken arm, and if he returns this weekend, it could help Cal Poly regain their form and return to Nationals for a second consecutive year.
Stanford enters the weekend after an undefeated NorCal Conference title, but they played a tight game with UC Davis in pool play (11-9). Bloodthirsty has lost in the game-to-go three times in the last four years, but in 2017, they should escape their recent postseason curse. Elliott Chartock, Nolan Walsh, and Gabriel Hernandez lead a team with ample talent to win the region.
As mentioned, look for USC and UCSB to try to play spoiler this weekend and steal one of the bids. Black Tide has always been a team that wins with depth, but to make it to Cincinnati, they'll need to complement that with big weekends out of their two stars, Will Turner and Jack Hamner.
USC Lockdown flew under the radar much of the season3 but actually finished a respectable #38 in the USAU rankings. They saw success with a zone look early in the season, an approach that could be potent against a favorite like Stanford. Look for James Toh to make big plays for Lockdown, as well as the pair of WUJC and Seattle Fryz alums, Sam Cook (2016) and Mikey Sylvester (2012).
-Cody Mills 
---
We were one rules adjustment away from having this happen last year, too. ↩

2011: UCSC, Stanford; 2012: California, UC Davis; 2013: UC Davis, Arizona; 2014: UCSD; 2015: UCSB; 2016: Cal Poly ↩

though they were one point away from playing at the Stanford Invite if not for a DGP loss to Oregon State in the Stanford Open final ↩