The 14 best players from the 2016 college season.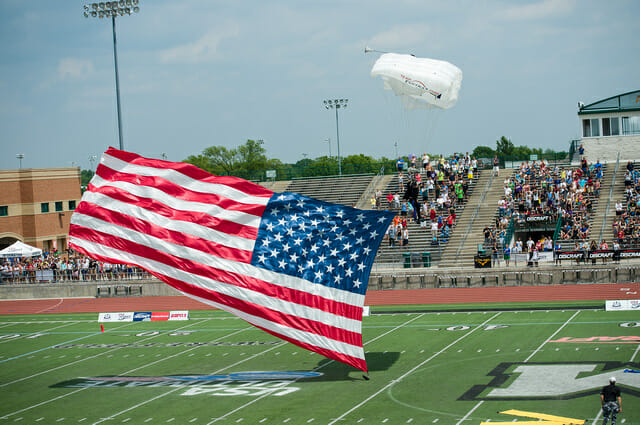 We are pleased to announce the 2016 All-America teams. These 14 players were selected for their performance in the 2016 college season, looking at both the regular season and the full college series, including Nationals. Please join us in honoring the best college players of this season.
Hear more about the selections in our live podcast from earlier today.
First Team
John Stubbs (Harvard)
It should come as no surprise that the 2016 College Men's Player of the Year tops the first team All-America list. Stubbs was a killer all season long, whether he was leading the offense or marking up on the opponent's biggest weapon. With a full toolkit of throws, hops, and field savvy, Stubbs won nearly every matchup he was put in this season. After a strong regular season, he led Harvard to the National final with a brilliant individual performance and was the best player at Nationals.
Jeff Babbitt (Massachusetts)
The most dominant athlete in college, Jeff Babbitt swarmed discs all on his own, gobbling up hanging hammers and layout blocking passes you never thought possible. Babbitt was the regular season's most potent force despite playing hardly any O-line points. Perhaps no player was better at using their body positioning to make plays, whether on offense or defense, or bending the other team's strategy to fit their paradigm.
Ben Jagt (Minnesota)
Surely hundreds of people signed up for gold memberships to the Jagt Club this weekend as Ben Jagt put up a scintillating performance at Nationals. That came after an excellent regular season where he led the way for the country's best offense. Jagt's maturation from a year ago was clear: no more was he a simple deep cutter. He gobbled up yards underneath and delivered continuation throws on the money while maintaining his reputation as an extremely dangerous deep.
Trent Dillon (Pittsburgh)
Pitt's do-it-all cutter Trent Dillon did whatever was needed of him as he took Pittsburgh back to the semifinals. Dillon's unstoppable motor is common knowledge at this point and the one of just two collegiate members of the USA Men's National Team (the other: John Stubbs) grinded out excellence all year long. From dime hucks to jaw-dropping defensive plays, Dillon is right there with Stubbs as the country's most versatile player.
Mark Vandenberg (Harvard)
While Stubbs may get the buzz, Mark Vandenberg does the dirty work. The Boston Ironside handler was phenomenal this year as the most effective facilitator in college. It is wrongly said of many players, but it may well be true for Vandenberg: he is unstoppable. He will find a way to get open and he will rarely make mistakes. His 65 touch, zero turnover game in the College Championships final was a cherry on the top of a tremendous season.
Ryan Osgar (Minnesota)
Where Jagt left off, Osgar picked up on the Minnesota O-line. Osgar was as effective a distributor as Jagt was a scorer and finished in second at Nationals in assists, despite not playing in the semifinal due to an injured knee. Then he turned around on Monday, pounded ibuprofen, slapped on a knee brace, and delivered an outstanding performance including two assists, a block, and two goals including the game-winner.
Sam Little (Georgia)
The defensive stopper for Georgia, Sam Little was the most consistent player on the field for one of the best teams this season. Little led the way for the D-line offense, pulled double duty at Nationals due to widespread injuries, and still managed to put up stifling defense on the opposition's biggest threats. While he was not the flashiest player on Georgia, he was the guy that made everything tick.
Second Team
Aaron Speiss (Wisconsin)
The lightning-fast Aaron Speiss was a breakout star for Wisconsin this season and gave defenders fits as he breathed life into an O-line that clunked their way through the season last year. Speiss seemed to always be open in the end zone and was, in true Wisconsin fashion, a workhorse up and down the field.
Dalton Smith (Texas A&M)
With the departure of Matt Bennett, Dalton Smith took the reins of Texas A&M and delivered some of the most impressive offense there was to see in the College Division. With scoobers, blades, and pinpoint hucks, Smith carved up defenses and took an athletic, but low skill team back to Nationals. His abilities stood out so much on offense that he earned OPOTY runner-up honors and an article about his awesomeness.
Khalif El-Salaam (Washington)
Khalif El-Salaam has already become a household name in the Club Mixed Division thanks to some incredible performances with Seattle Mixtape. He really fulfilled his potential as a college player this year at Nationals with an excellent tournament, using his athleticism to come up with big plays one right after the other. He finished the tournament first in a crude measure of overall effectiveness — (goals+assists+blocks-turnovers) / (games played) — with 6.4. Stubbs was second with 5.1.
Chris Strub (Oregon)
Chris Strub was this season's best one-on-one defender, offering blanketing coverage of the opposition's top handler game after game. He was also a speedy attacker after the turnover and clearly the best player on the Oregon D-line. Although Oregon had a muted Nationals, Strub was excellent and played the best defense against Vandenberg of anyone in Raleigh.
John Wodatch (Connecticut)
UConn star John Wodatch is still a little known commodity outside of the Northeast, but he made a name for himself this season as he delivered a Nationals appearance for a UConn team that hasn't been able to get over the hump. Add to that a monster nine-assist game to knock off UNC Wilmington and you've got a breakout star on your hands. Wodatch also may have single-handedly brought back the visor in ultimate fashion.
Jack Williams (UNC Wilmington)
With Charlie Lian hurt and Xavier Maxstadt mostly on D-line, Jack Williams had to step up on the Wilmington offense. Although the team had a rough Nationals, Williams was clearly the best player on the field for the team and came up with some insane plays in Raleigh. He has one of the highest athletic potentials of anyone in college ultimate.
Connor Holcombe (Florida State)
Holcombe was considered by many as an All-America snub a season ago when Florida State reached the semifinals behind the play of 2015 POTY Chris LaRocque. This year, he lands on the list after leading a rebuilding FSU team back to Nationals (and a 2nd place finish in the Southeast). Holcombe was the do-everything offensive star for FSU and could only hope to be limited by opposing defenses. With giant hucks and strong aerial skills, Holcombe was a standout on a team that had big shoes to fill.