The Southwest FINALLY has a team earn back-to-back trips to the College Championships.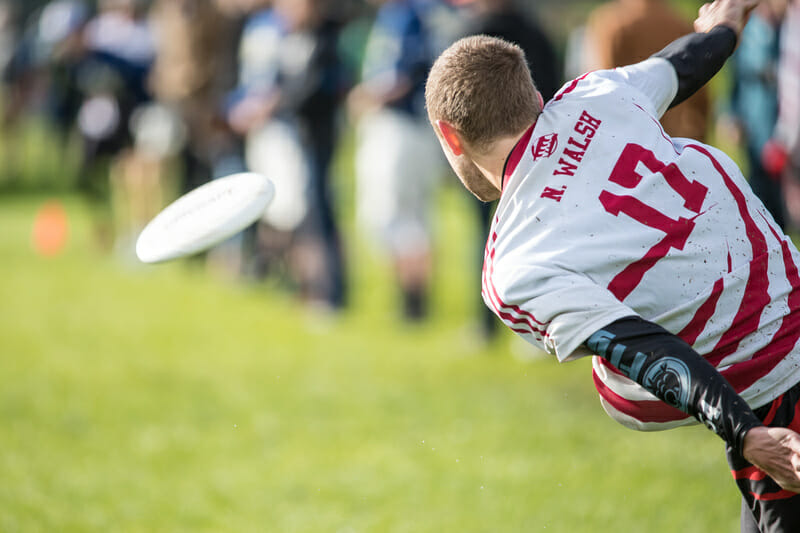 This post was written by guest author Andrew Bleich. 
Roseville, CA – After years of underperforming in the Series, #14 Stanford Bloodthirsty is headed to Nationals with a perfect 12-0 postseason record. Stanford sprinted to a 15-6 victory over #13 Cal Poly SLO CORE to win the region for the first time since the regional redraw.
SLO bounced back to earn the second bid with a win 15-10 in the backdoor final over USC Lockdown. For only the second time since the region was restructured after the 2010 season, the Southwest men's qualifiers went to seed.
Stanford Ends The Nationals Drought
Stanford Bloodthirsty played its most dominant ultimate of the year, with the O-line regularly throwing two turns or fewer per game. This led to a low drama tournament, happily for the boys from Palo Alto after years of crushing Regionals disappointment. Only two teams — UC Davis and UC Santa Barabra — came within three goals of Bloodthirsty.
In the final, Stanford jumped out to a quick 3-0 lead on tight in-cut defense from Gabe Hernandez, Alvin Kim, and Max Perham. The team was executing well against coach Ryan Thompson's defensive game plan to "stop the hucks [with the mark]…and to deny easy unders and resets." Stanford then made it 4-0 on the first throw out of a timeout: a stall nine Elliott Chartock hammer from one front endzone cone to the other. While the receiver was open and made the catch easily, Chartock conceded that wasn't exactly the play call.
"That was a fun one; that was awesome," he stated sheepishly. "That was one that when I looked up I saw two of my coaches with their heads down, saying 'just get it off the sideline,' but once you hit the finals, whatever works. The team gets hyped even if the coaches are unhappy with it…not the look we're going for down the road, but it's nice to know it's there if you need it."
This Stanford break was in stark contrast to last year's regional final between these two teams, when Cal Poly cleaned up every throw — high percentage or not — in the wind. Chartock recognized the difference.
"It happened for us this time. I think it was fun. It was really fun for our team to get one or two bailouts early, [to go] up a few breaks, and that sparked a little belief in the team that every ball is ours."
Stanford rode that good fortune and intensity to an 8-3 halftime lead, only giving up one break on a near-Callahan score from Ian Sweeney, who tossed a quick flip in for one of SLO's three first half goals.
Cal Poly opened its lines for the entire second half to focus on earning the second bid. "[Stanford] came out hot with a lot of fire. We weren't ready for that; we didn't see that all tournament…so at half time we talked to the captains and decided we were playing for the bid to Nationals, not necessarily the one seed," said SLO coach Peter Raines. In response, Stanford eventually loosened its lines as well, but not until it was much closer to finishing the job.
Both Stanford lines ran efficient offense through handler motion and the abundance of defensive points allowed for a swath of handler combinations. Chartock played small ball with anyone who let him, running sets with Sam Kunz and Nolan Walsh on the O-line, as well as Gabe Hernandez and Nick Hirning on several crossover points. Chartock had no trouble sharing the love with his cutters too, throwing for eight assists to an astounding seven different receivers.
Perhaps the greatest boon to Stanford's game was the increase in production from the D-line offense. Stanford's D-line handlers, Hernandez and Hirning, "possessed the disc endlessly", said Thompson. The two were unstoppable at times, once hitting back-to-back-to-back uplines for a score and going back-to-back the very next point. The surprise, however, was the integration of a handler deep game. Hernandez and Hirning took turns finding each other with beautiful bailout throws after being denied power position. Hernandez to Hirning going deep made it 2-0; vice versa led to this gem with Stanford up 5-1:1
Compared to last year's matchup, another big difference maker for Stanford was overall team health. Except for sitting a few players during a 13-3 pool play rout, Stanford had all 24 men cleat up, 14 of whom played six or more points during the final. This also came in juxtaposition to Cal Poly. Nathan Pettyjohn, having recently returned from a broken arm, only played Saturday due to a twisted ankle. Nonetheless, Raines says there's no doubt Pettyjohn will be back for Nationals.
The oddity of the day came on a soaring OI backhand pull from Walsh. The pull, despite clearly starting its descent to the playing field proper, squarely made contact with a light post a few yards off the sideline and about 20 yards off the ground. Much to the chagrin of the Stanford defense, this meant it was Cal Poly's disc where the pull first went out of bounds at roughly the attacking brick mark. Regardless, the score was already 11-5, Stanford pressured SLO into a drop, and Hernandez converted the break.
Stanford heads to Nationals for the first time since the 2011 tournament in Boulder, CO where the team fell to the eventual champion Carleton in the quarterfinals.
Cal Poly SLO Returns To Nationals
Is a perennial powerhouse developing along the Central California Coast?
On Sunday afternoon, with the tournament site already deserted, Cal Poly SLO did what no Southwest men's team has done since 2012-2013: qualify for back-to-back National tournaments. In a rematch of the SoCal Conferences final, where Southern California upset SLO on double game point, Cal Poly flew to the victory 15-10.
SLO played another all-around solid tournament, outscoring its pool 39-14 and taking both of its bracket wins 15-10. That isn't to say the weekend wasn't without a few scares. SLO's first game came against a San Diego State team playing far above its 5-10 regular season record. Led by senior Michael Tran, SDSU took half 7-5 over SLO and held on to a 9-8 lead before SLO began a major second half run. Cal Poly ultimately took the game 13-10 in what would prove to be its closest win of the tournament.
Similarly, a surprise, chippy UC San Diego victory over USC in Pool B set SLO up for an uncomfortable semifinal. Despite starting the game up 5-1, SLO lost half 8-7 to UCSD. In the second half, however, SLO fought through several multi-turnover points, taking the half 8-2 and the game 15-10.
When it came to the backdoor finals, Cal Poly benefited from last year's experience, its athletic advantage, and the favorable tournament schedule. Captain and fifth-year Aaron Shi talked about the differences in SLO's regional role over the past two seasons, stating that the team had to explore "mentally playing a different game."
"Last year, clearly we were the underdogs…everyone is expecting you to lose. This year we needed to learn to play, not with an arrogance or to play down to teams, but with a certain in-between confidence level and to have everyone on the team believe there was a reason we did what we did last year: the hard work we're putting in gets results on the field," said Shi.
Shi was right about getting results. While SLO never quite put the backdoor final out of reach, it did not trail once on its way to an 8-6 halftime lead. After the teams traded holds out of half, Cal Poly established some permanent breathing room, going up 12-7. The teams traded out from there, with USC unable to convert any second half breaks. The game ended when Sweeney shot a laser through the USC zone and SLO put up a big huck to the deep, none other than Shi himself.
Cameron Wariner pumped out at least seven blocks in two games on Sunday. Stanford coach Ryan Thompson referred to him as "a nightmare." These were not cheap blocks either. Wariner hit the ground on at least three successful bid attempts in the victory over USC. Included in these three was a shoulder-high layout deflection on a stall nine scoober that was headed toward the breakside corner in the back of the end zone. While SLO's many high turnover points did afford Wariner more opportunities to play defense, he undoubtedly led the tournament in blocks.
Although both teams played four games on Saturday, SLO's semis win meant a 1:00 PM start in the final, before the 3:00 PM backdoor game. Raines acknowledged that this affected the Cal Poly game plan: "Having the two bids, with the different format, there's always a bigger emphasis on Saturday. You can go all out on Saturday to set your path for Sunday". Ultimately, Raines didn't see this as a gamble. SLO was "able to play fairly open and still be fairly competitive with all those teams. The only team that we had to go 100% tight lines was Stanford, and we didn't have to see them until the final, so we were able to open it up and get people going," he said.
Cal Poly SLO will look to improve on its 17th place showing at Nationals in 2016.
Grueling Sunday Costs Southern California
Meanwhile, finishing second in Pool B meant Southern California was up at 9:00 AM playing in a backdoor pre-quarters game on Sunday. After that game, USC only played teams fresher than themselves, taking down UC Santa Barbara 13-11 and avenging the previous day's loss to UCSD 15-13, both opponents having played one fewer game on the day up to that point.
The backdoor quarters victory over UCSB was a finalist for the most exciting game of the weekend, much to USC's displeasure. The USC zone led to many early UCSB throwaways, and USC found itself up 11-3. UCSB started to play looser, and soon it was 11-6 before the horn for soft cap went off. Suddenly it was a one goal game, 11-10, with USC unable to even reach midfield before crumbling under the pressure of Black Tide. After an incomplete huck and a short-field UCSB turnover, USC finally held for 12-10. UCSB then responded with a quick hold for 12-11, merely seconds before hard cap went off. UCSB was unable to complete its incredible comeback, despite forcing a turn. With the disc on its own goal line, UCSB was cleanly hand-blocked before USC found Wyatt Paul streaking to the cone for win.
The arduous path clearly took a toll on USC, with sophomore Sam Cook conceding that even "by that [semifinals] game, we were almost on empty." Still, he expressed optimism regarding the steps the team took, citing an anecdote from the seniors who recalled that "it was a joke to even consider Nationals" their freshman year. It remains to be seen if USC will be a consistent contender in the future, but with a relatively young team, Lockdown is excited to keep growing.
---
Video provided by Jesus Avila. Check out his YouTube channel here: https://www.youtube.com/channel/UCZTa89Us37dVnG7uVB5HtLw ↩