The final ten bids to Nationals are on the line this weekend.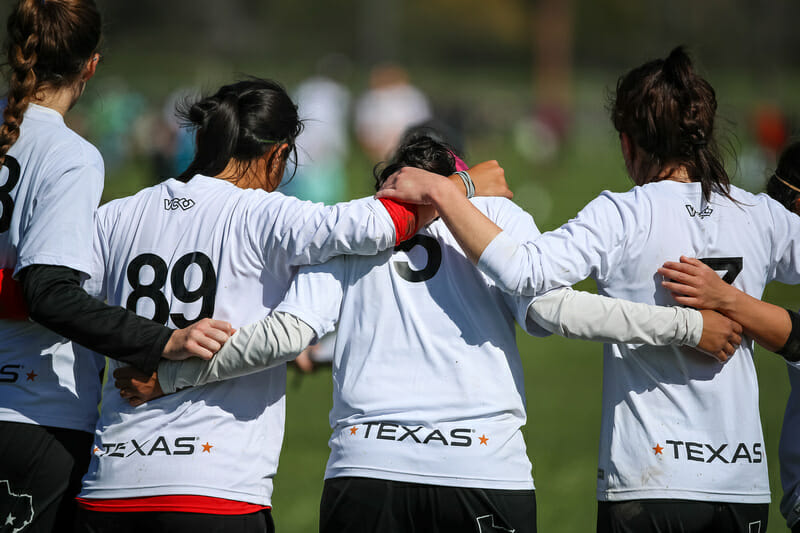 Ten teams have already qualified to go to Cincinnati, and it's time for the final ten to battle for their bids this weekend. Division favorites like Dartmouth, Texas, and Virginia will confirm their trips through to the big game, while contenders like Delaware, Georgia, and Vermont will make some noise.
The picture is almost complete. After this weekend, we'll finally have our Nationals contenders.
Atlantic Coast
Tournament Profile
Writing the Atlantic Coast Regionals Preview for the women's division has been repetitive these past four years. A solid region, one bid, and Virginia is the heavy favorite. Maybe North Carolina will beat them? That's been the storyline for four years.
And now, finally, there's a new one.
For the first time since 2012, the Atlantic Coast has more than one bid. With three bids, including a shocking late inclusion after a correction of included games, the region matches any previous total. Sure, the lineup and the odds look similar to previous years, but there is a much richer bounty for those who fill it out.
The Favorite: Virginia Hydra
Ah, yes, here is that familiarity you've come to know and love. #4 Virginia Hydra has steadily been the boss battle that concludes every plucky upstart's scroll through AC Regionals. The resume: five straight Atlantic Coast titles, six straight trips to Nationals, a semifinal berth at Nationals last year, a 14-1 record against their Regionals foes, and have surrendered an average of less than five points per game at Regionals over their streak of championships. Whew. That's a mouthful to say that they are well versed in kicking ass and taking names.
This year's UVA has all the hallmarks of that vaunted history. They have a sterling record, sporting a 30-2 mark, with both losses coming on double game point to top 15 teams. Experience, depth, and trust in their ability to execute are their most dangerous weapons. Keila Strick, Tess Warner, Rebecca Driver, and Brogan Jones have been joined by incoming grad transfer Brandi Skanes, a tenacious defender who can take on other team's best threats.
Bet against them at your own risk.
Top Challenger: North Carolina Pleiades
Let's get it out of the way: #15 North Carolina Pleiades has played in eight Atlantic Coast finals in the past nine seasons and lost every one of them. Their Nationals drought stands at four years.
UNC, however, has beaten Virginia1, and that's something only one other team in the entire division can claim. And it's very likely repeating that feat will be necessary to win their first ever Atlantic Coast title. The format is a bit odd, with horizontal crossover games after pool play that will seed the bracket, but they only need to go 2-1 on Sunday to make it back to Nationals. They rolled No. 3 seed Delaware 11-5 earlier this season, making them the favorite. The knock is an 8-5 loss to Clemson at Carolina Conferences.
There's simply too much top end talent for there to be much chance of a upset. Jenny Wei could be the best player in the region if she can get on the field, but Lindsay Soo and Elisabeth Parker have done more than enough with Wei holding the clipboard on the sideline. Vany Nguyen, Joy Chen, Natalie Schuster, Bridget Johnson, and Rebecca Fagan give them capable depth that can win matchups down the line against everyone outside of Virginia.
In Contention: Delaware, NC State, UNC Wilmington, Georgetown, Liberty, Clemson
There's a squadron of fierce competitors gunning for the final spot and a rare chance to go Nationals. None of these teams have made it to a game to go in the past four years, and that lack of experience will combine with the depth of field to create some chaotic and thrilling games.
And really, trying to figure out a favorite from the group is maddeningly difficult. No. 3 seed is the most logical choice, as they have wins over Wilmington and Georgetown, and their only in-region losses to the top two teams, although they were all blowouts. No. 4 seed Georgetown is 1-1 vs. Liberty, with losses to Delaware and UNCW. Even more mixed up, Wilmington has lost to three of the other teams in this cohort, but has wins over NC State and Clemson. After starting the season 0-6 at Queen City Tune Up, NC State is 15-2. Is this picture getting any clearer?
With this many warriors in the ring, the team that can execute to close the door when they are up and be resilient enough to bounce back when they are down is the one who will emerge. There's plenty of talent: Anne Pettee (Georgetown),  Klara Calderon-Guthe (UNCW), Jillian Hook (Liberty), Ashley Powell (NC State), and the Bova twins (Delaware) all have their work cut out for them. But it will come down to being able to grit out tough wins that will make the difference, because their are certainly tough games ahead.
Great Lakes
Tournament Profile
After many years of the Great Lakes being a perennial one bid region, a new era may be upon us. Notre Dame is ranked No. 8 by USAU, with Michigan not far behind in the No. 14 spot. While the drop off behind these two is significant, the reality of a strength bid is still new to the Great Lakes. None of the players that will be vying for the region's pair of bids were playing college ultimate in 2011, the last time the Great Lakes garnered multiple bids. This is uncharted territory.
The Favorites: Notre Dame Womb, Michigan Flywheel
#6 Notre Dame Womb is the favorite to take the Regional title, despite losing on double game point to Michigan at Conferences. They have a slew of elite upsets under their belt from Northwest Challenge, and they'll bring a considerable sideline presence on their home turf.
Notre Dame plays street ball ultimate – they take high octane risks with the disc in their hands, and this year they have more polish and skill to back up the aggressive choices. Julia Butterfield is the genesis for most of their best plays – her presence on points changes the shape of the field for opponents and teammates alike, whether she's hucking the disc or skying a crowd to score.
Their biggest challenge this weekend will be #13 Michigan Flywheel. They've won the region eight times in eleven years. Last year, Notre Dame lost a game on the flip during windy pool play, and they had to play Michigan in the semifinal where they lost by 1 point. This year, weather permitting, they'll face off in the final instead.
Michigan Flywheel is a lock for one of the two Great Lakes bids – they've evolved this season from having a handler-driven style into a more dynamic team that knows how to push the pace downfield, too. Hannah Henkin, Tracey Lo, and Leah Bar-On Simmons are still the bedrock of their backfield. Yet junior cutters Brittany Wright and Amy Stoddard have also stepped up this year, building new speed into their offense. Vivian Chu joined the Flywheel D-line as a grad student after playing for Illinois, contributing her own ferocity and deep shots to the Flywheel game.
Flywheel's skilled individual defenders and their smart zone defense are a good match for Notre Dame, and they've proven several times over that they know Notre Dame's playbook. With two bids in the region, stakes may seem lower than last year. But these two teams are playing for more than tickets to Cincinnati. They're playing for pride, and they're playing for pink slips.
In Contention: Northwestern
Northwestern Gungho has had their best season in several years. They traveled west for the first time to compete at Presidents' Day Invite before solid performances at Midwest Throwdown and Centex, and they won their Conference 11-3 over Illinois. Their downfield is more experienced and confident this year, which helps their slew of veteran handlers, helmed by Jessica Hoffman.
Gungho has a lot of work to do to return to the Regional final again this year, but there is a chance that they surprise Notre Dame or Michigan in the back door game-to-go. Northwestern is the only team aside from Notre Dame to have taken the regional title from Michigan over the past decade.
New England
Tournament Profile
Dartmouth's rise to the top of the region has coincided with the development of the team's talented stars. They've now won New England Regionals for two straight years and have a third title dead in their sights. It would be the second time the program has won three straight, repeating their streak from 2005-2007.
But this tournament has hosted a lot of drama over the years, and with some stout competition, and only two bids, that looks likely to continue. Tufts and Vermont are both capable of elite wins and Dartmouth has not been bullet proof this season. But their challengers have not played in a game to go in the past two years. And the pressure is already mounting.
The Favorite: Dartmouth Princess Layout
#3 Dartmouth Princess Layout enters not only as the heavy favorite to win the region, but also as one of the two or three biggest favorites to win a National Championship at the end of the month.
It still seems unfair the Jaclyn Verzuh and Angela Zhu are playing college ultimate, let alone on the same team. When you add to them players like Piper Curtis, Caitlyn Lee, and Julianna Werffeli, it gets flat out ridiculous. Dartmouth has also gotten solid contributions from some nice role players like Lily Eisner and Sarah Colon, so the team isn't solely reliant on the top end of their roster.
This season Dartmouth has two tournament titles, both undefeated runs through Florida Winter Classic and the Stanford Invite. At Northwest Challenge they suffered a few losses, but they used that tournament to improve the depth of the roster than to try to rack up wins.
They have 10 wins over the Ultiworld Top 25, including a 2-0 season record against #1 Texas and #2 Stanford. When they've hit their peaks this season, they've looked like the best team in the division.
Last year Dartmouth entered Regionals as the four seed after a rough regular season. This year, they've been one of the powers of the division and won't have to break ranks to win the regional crown. To see them do anything less year would be a real shock.
Top Challenger: Tufts Ewo
Fortunately for the rest of the New England, it's a two bid region this year. And that second bid comes courtesy of a very impressive season from #12 Tufts Ewo. Tufts actually finished the year with the fifth best season in the nation, per the USAU algorithm, and they hovered around the Ultiworld top 10 all season.
Their tournament win at Queen City Tune Up is the feather in their season's cap, but they followed that up with a third place finish at Centex, and they have gone 12-0 since the Austin tournament. Tufts may not quite have Darmouth's pedigree, but they certainly have had one of the more impressive season performances in the division.
Dartmouth isn't the only team with starpower in the region, either. Tufts is home to some of the most exciting players in the region, with players like Rachel Kramer, JoJo Emerson, and Meredith Bernstein all capable of providing fireworks. Megan Wilson, and Valerie Willocq, too, are ones to keep eyes on, as are freshmen Margo Urheim and Claire Dunn. They have good throwers, cutters, and can play throttling defense, and their versatility makes them somewhat matchup-proof.
Yes Dartmouth is the big favorite to win the region, but that's no discredit to this Ewo bunch. They have a roster capable of making a run at Nationals, too, and one of the better coaching staffs in the country to boot. Tufts has demonstrated an impressive strategic versatility this year, capable of throwing a number of effective defensive looks to suffocate their opponents.
It would be a surprise to see Tufts win the region, sure, but it would perhaps be a bigger one to see them finish below second.
In Contention: Vermont Ruckus
If Tufts were to be knocked from a Nationals berth, however, it would to be by #18 Vermont Ruckus. UVM has logged wins over Ohio State, California San Diego, and Whitman, so they're certainly no slouches. In fact, if Nationals bids were determined by Ultiworld's rankings, then Ruckus would have a bid of their own.
Vermont will be happy to grind out points and their tenacity could prove frustrating for teams, especially late in the weekend. Kyle Weatherhogg provides some real starpower in the backfield and if Vermont is to pull off an upset, they'll need her at her best.
Vermont has not yet played Tufts, the team they're likeliest to steal a bid from, but the two are likely to meet in semifinals. While that game will not determine which between them goes to the big dance, the winner will have a much easier path to qualifying from there. They faced off in pool play last year, and Vermont's dramatic double game point win sent Tufts to Dartmouth's side of the bracket.
A lot could come down to that one game, and if Vermont gets the win there, then they would have a very good chance at stealing the bid.
Southeast
Tournament Profile
The Favorite: Florida FUEL
As a spectator at the Florida Conference Championships said, "it's Florida's turn." The last handful of years have seen a revolving door of teams at the top of the Southeast and this year very much appears to be #20 Florida FUEL's go as the region's top representative. FUEL is veteran laden and athletic, and they've definitively been the best team in the region all spring. In a relatively down region this year, Florida enters as the heavy favorite to take the lone bid to Nationals.
Florida has an excess of athletes and they will prove difficult to match up with downfield for any of their challengers. Courtney Testa is one of the most consistently impactful players in the region. Danielle Cordes is a towering, physical presence that terrorizes in the deep space. Tori Taylor is capable of dominating at any moment. Lucy Berman is an energetic dynamo underneath. And Gabby Krajniak is a scrappy cutter who always seems to pop open in the endzone.
Where the team lacks a little bit is in the offensive backfield. Kelsea LeBeau is one of the best handlers in the region, but she is forced to carry a large brunt of the throwing duties when the likes of Testa and Taylor clear to attack downfield. Still, that only appears to be a weakness that will hurt Florida once they reach Nationals. They would realistically have to play a step down from where they've been all spring to give up the region's lone bid to Nationals.
Florida's most impressive results this season are their second place finish (and tight, 13-11 loss to Dartmouth in the finals) at Florida Winter Classic, and their absolute pasting of everyone they played at the Florida Conference Championships, where they outscored their opponents 77-13 over seven games.
Excluding their series games, Florida has played three games against fellow Southeast Regionals attendees, wins over LSU, Florida State, and Tennessee at Tally Classic. FUEL did play Georgia way back in the fall, losing twice, but they used the tournament primarily to experiment with lines and strategy, and Taylor wasn't on the roster then.
Florida's toughest competition will come from a trio of teams from the state of Georgia, none of whom they've played in the Spring. But even still, the region is very much Florida's to lose.
In Contention: Georgia Dawgma, Georgia Tech Wreck, Kennesaw State Strix
Among the teams likeliest to give Florida a challenge this weekend, it is tough to say who has the best opportunity of knocking them from their perch. Georgia Dawgma is coming off of a Southern Appalachian Conference title, but they had something of an underwhelming regular season, in which they went 0-2 against Southeast Regionals opponents.
Their top end talent rivals Florida's, as Erin Chun and Mary Virginia Hahn are two of the best players in the region, but they don't appear to have the depth to take down the regional one seed. Georgia will need to start well this weekend to have a real chance at pulling off the upset, but that won't be an easy task either. Fellow hopeful Kennesaw State is the two seed in their pool, and Florida State, if able to regain some health, could prove a challenge as well.
Georgia Tech Wreck has had a rough year. Ridiculously bad injury luck has derailed what looked to be a Nationals-destined season for the Georgia Tech women. It seems that just about everyone on the roster has been afflicted by the injury bug, but the most devastating injuries have been to program pillars Ashley Brown and Julia Ting and budding stars Allison Wong and Ollie Peterson.
Ting and Peterson could potentially play this weekend, but Brown and Wong both suffered ACL tears in the team's first tournament of the spring. It's a shame that Tech's season has been so marred by injury, and it will be a tough go this weekend for them, especially if Ting and Peterson are unable to play. But senior Taylor Hartman is one of the most exciting players in the division, let alone the Region, and even if she is unable to drag Wreck to Nationals berth, her fireworks alone will make them worth watching in Foley.
Kennesaw State, on the other hand, has been a pleasant surprise in the Southeast this year. They announced themselves with a nice showing back at Classic City Classic, and they kept it rolling right through the spring. They probably actually had the best regular season of any of Florida's competition in the region, with second place finishes at AFDC Luminous and Tally Classic.
Kennesaw State does have some elite players, like Sam Daugherty, Rachel Mez, and Lexy Emanuel. Daugherty might be the toughest matchup in the region, a rangy athlete whose throws have improved dramatically after a club seaso with Ozone. But, like Georgia, where they lack is in experienced depth.
It will be tough for any of these teams to topple Florida and steal the region's lone bid, and they feel like they're maybe more likely to be upset themselves by other solid teams like Auburn and Florida State. But what makes these teams Florida's toughest competition is that they have the elite talent at the top that can match Florida's best players. If FUEL plays sloppy and allows teams to hang around, Georgia, Georgia Tech, and Kennesaw State are the team that can make them pay.
South Central
Tournament Profile
The Favorites: University of Texas, University of Colorado
Ranked no. 2 in the division, University of Texas Melee is the obvious choice to be the South Central Regional champions this weekend. They proved again and again this season that their fusion of tough-as-nails person defense and deep offense is a combination that could lead them beyond this weekend and deep into the bracket. They only allowed four points to be scored on them at Conferences, and they only have three losses so far this season.2
Texas relies on excellence from their handling unit to win games – give and go passes between Domenica Sutherland, Shiru Liu, Dre Esparza, and Laura Gerencser create the momentum and deep opportunities they love to exploit. And waiting in the deep space is Julia Schmaltz, a tall receiver who few defenders in the country can control.
Texas has yet to play regional rival Colorado yet this season, but their record and their grit are all the foreshadowing needed: this year, the South Central title is theirs.
Colorado Kali has had a rockier season than their South Central counterpart this season. They went 3-3 at Presidents' Day as well as Stanford Invite, and at Northwest Challenge they were 1-4. Granted, they were testing themselves against the division's toughest teams, but their pre-season goal of making semifinals of a regular season tournament may have to wait until 2018.
Nevertheless, Colorado Kali is tough. They've buckled down in close games this season better than they did last year, and most of their losses to top teams are within a 3-point margin. Lead by star handler Kirstin Johnson alongside Kelsey Bennett and Megan Ives, this year's Kali is deep, fast, and fired up on defense. They may not outlast Texas if they meet in the final, but they have the endurance and the skill necessary to claim their bid.
In Contention: Kansas
University of Kansas Betty has a lot of green on their record this season from local tournaments as they've worked to redevelop their chemistry. They still have women on their roster with elite-level experience who can make things happen with the disc, however, and if teams aren't efficient this weekend, they could sneak in several breaks. Clare Frantz has grown into the centerpiece for Betty this year, and players like Grace Roth and Jordan Alonzo are capable wing women for her in Kansas' offense.
---
the teams are 1-1 against each other this season ↩

Two losses to UCLA at Presidents' Day Invite, one loss to Dartmouth at Stanford Invite ↩