Will Dartmouth run away with the pool or can Notre Dame or Oregon knock off Princess Layout and make things interesting?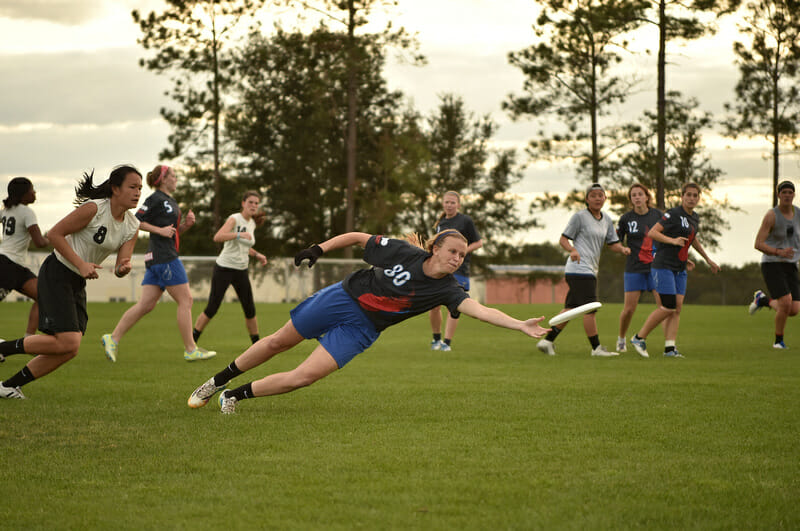 Ultiworld's reporting on the Women's 2017 D-I College Championships is presented by VC Ultimate as part of their season-long support of our women's coverage. All opinions are those of the author. Please support the brands that make Ultiworld possible and shop at VC Ultimate!
Last year, Pool B provided excitement and chaos. This year's one seed in the pool, Dartmouth, was the No. 5 seed then, and along with No. 2 seed UCLA, turned the whole pool upside down. This year, that seems far less likely. Dartmouth might be the best team in the whole country and they're alone in terms of truly elite teams in the pool. Beyond them, though, there should still be plenty of excitement.
Notre Dame is one of the best stories of the year and will battle the blue blood of all blue bloods, Oregon, for the second and third spots. Florida and Delaware are two teams filled with players making their first appearances at Nationals, and they're both fun and exciting teams in their own rights. While those two may not have the firepower of Dartmouth a year ago, they're still athletic and dangerous squads who could shake things up if Notre Dame and Oregon don't play their best games.
So Pool B has the making of a thrilling one. Here's an in-depth look at all the teams therein.
Dartmouth Princess Layout
Seeding: B1, Overall #2
Power Ranking: #3
Overall Record: 26-3
Against The Nationals Field: 10-3
Against The Pool: 2-0 vs. Florida
Key Matchup: Notre Dame, 12:30 PM Friday
By this point, just about all of the superlatives that could be written about Dartmouth already have been. They have the two best players in the division in Jaclyn Verzuh and Angela Zhu, and a number of other elite players to support them like Julianna Werffeli, Piper Curtis, and Caitlyn Lee. And their undefeated performance to win the Stanford Invite back in early March was the most impressive and complete performance any team has put together over a full weekend this year.
Their three losses on the season all came at Northwest Challenge, where their focus was to play the team's depth in preparation for the Series. Dartmouth's record is even more impressive than it seems. They haven't played Virginia this year, but they're 3-0 against the other top five seeds, outscoring them 39-21 in the process. Simply put, when Dartmouth has striven to be the best team on the field, no one has been better.
Dartmouth isn't likely to be truly tested during pool play, and they may not face a real challenge until semifinals. They'll face some intriguing individual personnel matchups on Friday and Saturday, but the biggest question they'll have to answer will probably be how much they should play their top players in the first days of the tournament. While Dartmouth has developed their depth over the course of the season, they're still a team reliant on their top tier of superstars to win games, and they'll need to keep them fresh for some of the deeper teams they'll play late in the tournament.
For what it's worth, head coach Eugene Yum says the team won't alter it's strategy at all for pool play. "We don't think that we will be doing anything different," he says. "Yes the tournament is long and grueling, but I think the Nationals format actually helps mitigate things by only having two games a day, with a possiblity of three on the second day along with plenty of time in between playing rounds." If that is the case, then getting ahead early in games to give some of their stars a rest, physically and mentally, will be important for Dartmouth in the early stages of the tournament.
A season ago, Dartmouth was the five seed in Pool B after a regular season that was ravaged by injuries. Then, they played the role of star-powered spoiler to the higher seeds. Having played as the low seed themselves, they'll know not to overlook any of their opponents in pool play in spite of their stature and talent. But, they also have players with exceptional amounts of success at the club level, including four total Club championship medals between Zhu and Werffeli.
Dartmouth has all the tools necessary to win a national championship. While that road officially begins in pool play, so long as they avoid disaster in the form of injury or an unpredictable loss, they shouldn't have to survive any real bumps until later in the weekend.
Notre Dame Womb
Seeding: B2, Overall #7
Power Ranking: #6
Overall Record: 25-5
Against The Nationals Field: 5-4
Against The Pool: 1-0 vs. Oregon, 1-0 vs. Florida
Key Matchup: Oregon, 2:30 PM Saturday
What a season Notre Dame has had. They came out of nowhere to dominate at Northwest Challenge, beating everyone they played, save Stanford. That surprising run included a 15-8 blowout of poolmate Oregon, and made Notre Dame one of the stories of the season.
They then backed that performance up with a Great Lakes Regional title over Michigan and now enter Nationals on the back of the best season in program history. Their reward for that may seem harsh, being placed in a pool with powerhouse Dartmouth, program of the decade Oregon, and two athletic and feisty lower seeds in Florida and Delaware. But Notre Dame is excited for those challenges nonetheless.
Captain Dina Vu says she and star player Julia Butterfield are especially looking forward to the Oregon game. "We both played in the game against Fugue in our first game at Nationals two years ago, and saw them again at NWC," Vu explains. "They've been one of the top programs in the division the last few years and it'll be a great test to see where we stack up against them again." The showdown will likely have major ramifications and determine who grabs the second seed in the pool, and thus an easier game — in theory — in prequarters.
In that game, and for the duration of their stay in the tournament, Notre Dame will be supported by its famous sidelines. Womb has arguably the best sideline presence in the division as it is, and this weekend they'll also be supported by around 40 men's and B team players, plus alumni. Notre Dame's sidelines will be a tremendous advantage in tight games and as the grueling tournament gets into its latter stages.
Notre Dame is obviously more than a fun and load sideline, though. Butterfield is on the shortlist for Player of the Year, and MK Anderson and Sarah Lipscomb have been two stars of the season as well. Butterfield and Anderson will be most fun to watch against Dartmouth, with Butterfield battling Verzuh dominance in the air, and Anderson matching up on Zhu in the backfield.
Notre Dame has a chance to make a run deep into the weekend for the first time in their now four Nationals appearances. In all three of previous trips, Womb finished in last place. While it would be nice to have past Nationals success to build on, their Northwest Challenge — essentially a Nationals Lite this year — should be more than enough of a base for this Notre Dame squad.
Before that tournament, Notre Dame wasn't entirely sure what they were capable of. "We went into Northwest Challenge with almost no expectations," explains Butterfield. "We didn't know how we'd stack up with the competition out there. Since Womb had never played at an elite tournament like that before, our only goals were to be competitive in every game, regardless of the opponent. We kinda blew that out of the water, but we knew we were capable of that kind of performance."
Notre Dame certainly knows how they stack up to a Nationals-caliber field now. And if they play to that same level in Cincinnati, they could make a deep run once again.
Oregon Fugue
Seeding: B3, Overall #11
Power Ranking: #9
Overall Record: 26-13
Against the Nationals Field: 5-13
Against the Pool: 0-1 vs. Notre Dame
Key Matchup: Notre Dame, 2:30 PM Saturday
A year ago, Oregon entered Nationals as the number one seed, looking to win their third national championship in four years. Instead, they lost to Stanford in semifinals and missed out on the final for the first time since 2009. This year Oregon has taken another step back, failing to win the Northwest for for the first time in the region's history.1
Oregon may no longer be the dominant force they have been for the entirety of the decade, but they are certainly still a talented team that will expect to go deep into the tournament. Hayley Wahlroos is a do-everything superstar, Ella Hansen is one of the best handlers in the country, and the likes of Sarafina Angstadt-Leto and Lillian Weaver have had strong seasons as well.
Still, it is jarring to see an Oregon team post a 5-13 record against the Nationals field. With that kind of record, Oregon does not feel like a contender for a national championship, and that is entirely new territory for everyone that's a part of the Fugue program. Where Oregon could become dangerous, though, is if they are able to embrace that role of the underdog and use it to their advantage. For years, Oregon has been the top program in the division, and that means they get the absolute best from every team they play. Now, they may be able to fly under the radar and sneak up on some teams.
"It's definitely different not coming in as a favorite but we are embracing the new role head-on," said the team's captains. "It's hard being sitting ducks2 at Nationals, because every other team there has it out for you. When the target is on another team's back, it gives you something to shoot for, a place to set your sights."
Another strength for Oregon this weekend will be their overwhelming amount of experience. Everyone on this team who is not a rookie has at least made it to semis. The veterans of this group have played in just about as many Nationals games as they possibly could have. That experience of not only playing at Nationals, but winning at Nationals could be hugely important this weekend, and is Oregon's biggest asset, especially in pool play.
Their most important game of the pool will come against the Notre Dame team that blasted them at Northwest Challenge. But the pressure is different at Nationals, and Oregon is far more experienced than Notre Dame on this stage. While that game will likely only be for prequarters placement, it should still be an important one. The top two teams in Pool C are Virginia and UCLA, either of which would be a tougher matchup than any of the teams likely to be vying for third in that pool. If Oregon is to defy the odds and make a return to semis, or even quarters, winning against Notre Dame will make it a much easier road for themselves.
Florida FUEL
Seeding: B4, Overall #14
Power Ranking: #20
Overall Record: 33-10
Against the Nationals Field: 2-8
Against the Pool: 0-2 vs. Dartmouth, 0-1 vs. Notre Dame, 1-0 vs. Delaware
Key Matchup: Oregon, 12:30 PM Friday
Florida returns to the Nationals stage for the first time since 2012, courtesy of their strong regular season and absolute demolition of every team to cross their path at Regionals. FUEL is a veteran team that plays a defensively focused style and looks to grind out wins with their depth of athleticism.
Unfortunately for the lone Southeast representatives, they will be without their best player this weekend in Tori Taylor. Taylor leads the team's D-line as an elite defender and multidimensional weapon when her line has the disc. It will be tough for Florida to cope with her absence and they'll likely find it more difficult to register breaks without the turns she forces and her offense the other way. Danielle Cordes will lead a still pesky D-line, but Taylor will be missed.
That means Florida will have to be more efficient on offense then they usually are. Truthfully, that was always going to be the case for Florida, now that the quality of opposing offenses is much higher than it has been. The team's other leaders like Kelsea LeBeau, Courtney Testa, and Lucy Berman will have to be at their best and get strong contributions from role players too if they want to make some noise this weekend.
Fortunately for FUEL, some of those role players are playing their best ultimate right now. Kylie Auble, Lauren Bahng, and Tara Rambo all had strong Regionals performances. They'll all have to replicate that this weekend, and maybe up the performance level even a little bit more for Florida to get the wins they need to make the bracket.
Their fate should be determined by two games: their battle with five seed Delaware, and the loser of the game between Notre Dame and Oregon. Florida won a slugfest with Delaware at Centex in March, that could easily have gone the other way. Florida has played Notre Dame once, a 15-10 loss in semifinals of Tally Classic, and they have not faced Oregon this year.
Florida's ceiling in the pool is probably third place and it will be tough for them to get there. Where Florida can feel confident is in their depth, athleticism, and physicality. No matter who they play, they'll be a tenacious foe and won't be deterred when points become dragged out battles of attrition. If Florida is to fend off Delaware and get that one upset that they need, it will be due to that trademark grittiness.
Delaware Sideshow
Seeding: B5, Overall #18
Power Ranking: Unranked
Overall Record: 17-9
Against The Nationals Field: 1-7
Against The Pool: 0-1 vs. Florida
Key Matchup: Florida, 12:30 PM Saturday
Like Florida, Delaware is making its first Nationals appearance since 2012. In fact, this weekend will be new experience for the entire team and staff, as none of the players or coaches have Nationals experience with the program. Delaware is not completely lacking in National Championship level experience, however. Kat Riztmann and Mackenzie Perkett (Philadelphia Green Means Go) and Natalie Bova (Philadelphia AMP) all have Club Nationals experience, and that experience will be valuable to a team otherwise completely lacking in experience on the biggest stage.
The trio's experience has been vital for the whole team this season, according to coach Matt Zumbrum. "The club experience of Kat, [Mackenzie,] and [Natalie] has been huge for the team's development. They each returned from the club season with increased skill, drive, confidence, and commitment that has filtered to the rest of the team," he explains. "The experience from being a part of a team that qualified for Club Nationals enabled them to know and to model what it would take for our team to compete to qualify for College Nationals."
The three lead a team that forms its identity on its tenacity and physicality, much like Florida, which should make that rematch a fun one. Ritzmann, in particular, is a sight to behold. She brings a fun side to her physical style, and partners her brick wall boxouts and massive layout blocks with an endless motor and elite throws on offense. Perkett and Nova are obviously both talented and important players as well, but Ritzmann has the potential to put on a show against the top teams in the pool and if Delaware is to make a surprise appearance in the bracket, it will probably be because she has an incredible game or two.
Delaware will be buoyed by the fact that they're playing their best ultimate of the season right now, having just upset North Carolina to take second place at Atlantic Coast Regionals for their lone win against a fellow Nationals attendee this year. Now Delaware will simply try to keep that going.
"Our preparation for this opportunity started early in the season by scheduling one of our most competitive regular seasons in years," explains Zumbrum. "The team prepared well for our opportunities in the regular season, at Conferences, and at Regionals, so we aren't trying to do much differently to prepare for Nationals. We want to continue to enjoy the opportunity, to be in the moment, and to try to play our best ultimate."
Whether or not Delaware causes enough upsets to continue their season into prequarters, they will be a fierce, tough team for anyone who plays against them this weekend. Like Florida, Delaware will need to win that matchup, in addition to whichever team loses between Notre Dame and Oregon. If they are to do that, it will be because of that leadership at the top from Ritzmann, Perkett, and Bova, and the team's tenacity from top to bottom.
---
They also won the West title the season prior in 2010, making their streak of consecutive Regionals titles span seven seasons. ↩

pun intended ↩