An East Coast battle.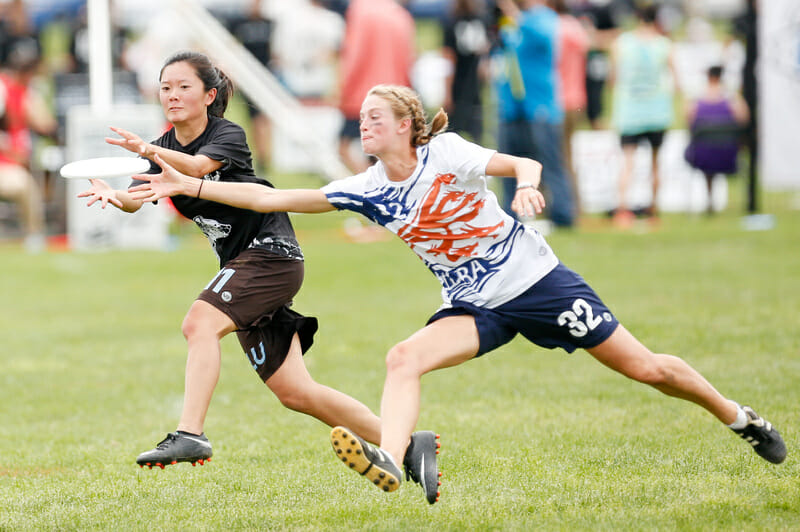 Ultiworld's reporting on the Women's 2017 D-I College Championships is presented by VC Ultimate as part of their season-long support of our women's coverage. All opinions are those of the author. Please support the brands that make Ultiworld possible and shop at VC Ultimate!
Two of the east coast's top programs are set to tangle in a Pool C battle that pits two smart, energetic, and system-based teams against one another. No. 3 seed Virgina Hydra and no. 11 seed Tufts Ewo have plenty in common and that should make for an intriguing matchup. It will be the first meeting between the teams since early 2016, when the teams split a pair of games at Queen City Tune Up.
The two teams have some of the best records in the Nationals field. Virginia entered Nationals a sterling 36-2, the division's most impressive mark, riding a 19-game win streak. Tufts had a 28-4 record, winning 19 of their last 20. Their lone loss was a 15-3 drubbing at the hands of no. 2 seed Dartmouth at New England Regionals.
Friday's events really increased the pot in the center of the table for the winner of this game to claim. Virginia suffered one of the opening day's surprising upsets at the hands of UCLA. Meanwhile, Tufts was thwarted by Michigan, shifting the balance of the Pool C. Both teams are 1-1, and Tufts plays both UVA and UCLA on Saturday, while Virginia has Michigan and UC San Diego on their schedule. The winner will hold a crucial advantage, while the other will be in a precarious position to make the bracket.
Game: #3 Virginia v. #10 Tufts
Time: Saturday 5/27, 10:30 AM Eastern
Line: Virginia -3.5
Video: Ultiworld Live
It's unquestionable that Virginia comes into the game the favorite, with a much higher seed in accordance with such a strong resume. This is a team that has wins over UCLA, Colorado, Oregon, and North Carolina. They won three tournaments this year (WintaBintaVintaFest, Virginia Conferences, Atlantic Coast Regionals), played in a fourth final (Commonwealth Cup), and had only one "poor" showing, losing in the semifinals of Queen City Tune Up. They went undefeated at their toughest tournament, Northwest Challenge, but wound up placing 5th due to weird, weather-impacted formatting.
In many ways, Tufts' season has been fairly similar. They also won three tournaments (Queen City Tune Up, Jersey Devil, and Metro Boston Conferences), played in a fourth final (New England Regionals), and lost in the semifinals of an elite event, Women's Centex. What they lack are the marquee wins, but that's in part because they didn't get a lot of opportunities. They only played two teams seeded ahead of them this year and lost both of those games. Taking losses to Texas and Dartmouth isn't exactly a death knell.
Virginia's depth probably exceeds Tufts', and could prove to be the difference maker. They have some very strong players, of course, such as Brandi Skanes and Keila Strick, but their players down the roster, such as Sarai Arbus or Ellie Wood, don't give up much ground, either. Skanes and Strick bring another level of athleticism and playmaking, but a disciplined wall of handlers sets the pace. Emma Price, Brogan Jones, and Tess Warner are vets who know how to run the offense. Mix in dashes of Jianna Torre, Laura Landis, and Rebecca Driver, and you can see why UVA is tough to slow down. There's a relentlessness and inevitability to the Hydra offense.
Meanwhile, Tufts prides themselves along the same line. But against a team like Virginia, they may need some adjustments. Rachel Kramer and JoJo Emerson are the offensive centerpieces and have found a strong connection from their years of service to Ewo. But players like Meredith Bernstein, Claire Dunn, Margo Urheim, Caroline Passalacqua, and Hannah Wells figure to provide offensive impacts of their own. Valerie Willocq has garnered a reputation as a top end defender, and will be deployed to limit the opposing team's top offensive threats. But she has power as a thrower after the turn to add. Megan Wilson and Maeve O'Sullivan add veteran experience and skills.
Because both teams are so experienced, and have coaching staffs that have been with them for years, there's a lot of value in their understanding of the game. Both teams have defined systems – Tufts is very comfortable with their vertical stack offense while Virginia's handler motion and clearing are gold standards – but they also have some tricky defensive looks to put on the table. Conversely, the general experience level means adjustments to those mixed looks will come swiftly. Superior implementation is another key edge for whichever team snags it by making more efficient adjustments.
For both teams, 2017 looks like the best team they've produced in recent years. Both teams have a wealth of seniors who knows they have one chance to live up to their potential. Expect both teams to be firing, knowing how much is on the line.
Watch the livestream of this game on the Ultiworld Live page Saturday at 10:30 AM Eastern/7:30 AM Pacific.