Who were the best players, matchups, surprises, and storylines of Friday in Mason?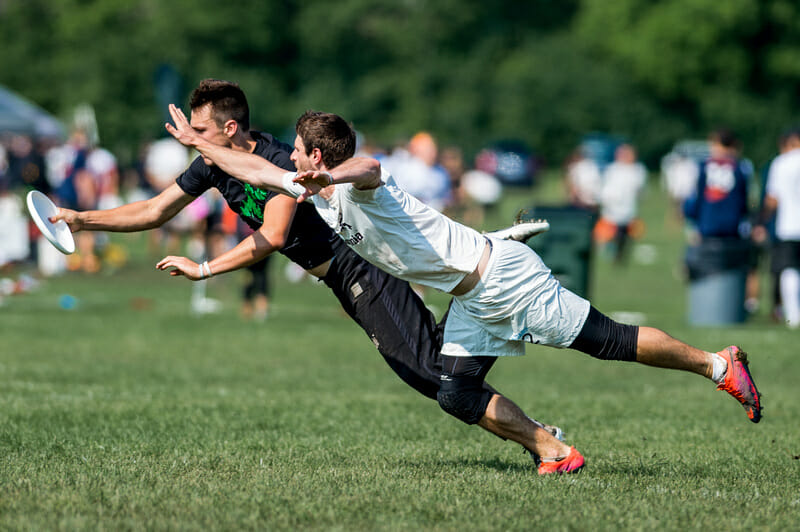 Ultiworld's reporting on the Men's division of the 2017 D-I College Championships is presented by Spin Ultimate; all opinions are those of the author. Please support the brands that make Ultiworld possible and shop at Spin Ultimate!
If you're looking for a recap of individual games from Friday, check out our coverage from throughout the day on our Day 1 liveblog. With those out of the way, we asked our reporters to answer four key questions about each Pool to summarize the storylines of the day and look ahead to Saturday.
Pool A
Best Player: Elliott Chartock
Quick caveat here — since I was doing livestream commentary for Stanford vs. Colorado State, I missed the Washington vs. UMass game. That said, it's hard to think anybody had a better day than Chartock. He was straight dealing for Bloodthirsty against CSU (8 assists) and Cal Poly (6 assists). He currently leads the tournament in assists with 14— the next highest total is nine from Callahan finalists Ben Sadok and Jack Williams. Despite the O-line struggles vs SLO, Chartock had ZERO turns.
Honorable mention for Khalif El-Salaam and his eight goal, six assist performance on Day 1.
Best Game: Stanford vs. Cal Poly SLO
These two matched up three weeks ago and Stanford waxed SLOCORE. This time, Cal Poly came out and pounded Stanford to the tune of 8-4. But Bloodthirsty roared back in the second half to tie it at 10s in a game to 12. Then Cal Poly dropped the pull and the last wheel came off the wagon. Stanford pulled won 12-10, outscoring Cal Poly 8-2 in the second half, including six breaks.
Shout out to UMass and Washington, who were in an eerily similar situation. The Sundodgers took half 8-5 on the one-seed UMass, only to see ZooDisc storm back to take a 13-12 lead in a game to 14. Zoo pulled to UW and Washington…dropped the pull. UMass escaped, 14-12.
Biggest Surprise: Colorado State
I really expected CSU to come in and surprise teams. Instead, they got handled by Stanford and Washington. Cody Spicer, who has been great, was underwhelming against Stanford, though he recovered vs. Washington. They didn't have a second-punch defense for when teams solved their FM. Sure, they had a (force-middle) zone look, but it proved to be fairly toothless. Same story on O, where they didn't have second set on offense for when teams got their rhythm.
Most Looking Forward To For Saturday:
Seeing Stanford and UMass battle for the pool victory. UMass wasn't dominant today — Washington almost pulled it out against them and Zoo never really put Cal Poly away. The winner of that game will most likely take the pool and avoid a daunting prequarter with Wisconsin or Oregon.
– Cody Mills
Pool B
Best Player: Sam VanDusen
Pittsburgh's D-line was on the field all day and that made Sam VanDusen stand out more than usual. Aside from his defense and hucking ability on the turn, VanDusen's pulls (hang time and distance) gave Pitt a huge leg up. No side handler wants to be camped out under one of these.
Best Game: Michigan and Pittsburgh
Uhh… can you pick a game that was 8-1 at half and finished ended 15-8? MagnUM ran a solid zone in the second half that generated turns, but by then they were already out of it. Unfortunately, no other games were better than this one. This is the sorry, upset-less state of things in Pool B.
Biggest Surprise: Not a single upset.
Connecticut was the only lower seeded team to crack double digits, when they lost to UNC Wilmington 15-12. The lesser seeds have yet to challenge.
Most looking forward to for Saturday:
An old school Pitt/Wilmington slugfest is the only thing that can save us now. And, yeah, people from both teams have said the rivalry has been over-hyped. College ultimate fans care about all that. We need action. We need blood. Wilmington (2-0 against the bottom seeds) and Pitt (2-0) are the last hope to scrape together some excitement in an otherwise offensively boring, chalk-ass pool.
"Look at our game at Easterns," Pitt coach David Hogan said at the conclusion on Friday. "You don't have to look at years past to know that whenever we play [Wilmington], it's a tight game."
Though no one would complain about a celebratory moonwalk, Pool B just needs a competitive contest. The Easterns meeting Hogan referenced was a narrow 15-13 escape for Pitt. That's a good place to start. Here's hoping these two can rekindle the magic one more time.
– Tad Wissel
Pool C
Best Player: Mark Rauls
It's no secret that Mark Rauls has been one of the best all-around players in the division, but so far in 2017 he's been in a system that doesn't require him to shine. Even when Mamabird had the game's best in Jimmy Mickle, there was still a natural order to the offense that kept him in check, for better or for worse.
That changed today when Colorado was up against the wall.
With Mamabird tied against Oregon State, Rauls dumped the disc from the center handler position and took off for the end zone. His defender — in addition to a defender who peeled off the back of the stack to poach off and attempt to cover him — had no chance. His speed was something special. Against Auburn, the Colorado offense struggled at moments to find a good rhythm. In those moments, they lofted the disc to Rauls, who on two occasions leapt over players that significantly outsized him.
For opposing defenses, he was at best limited to initiating and throwing to an under cut. At worst, there was no answer.
Best Game: Auburn vs. Mark Rauls (Colorado)
Mamabird, of course, relies on their depth more than many teams in the men's field, but without Rauls in their game against Auburn, it was significantly less competitive. He drew the toughest matchups and shined when it counted.
With time ticking and the game tied, Rauls bobbled a disc on an under cut. As he turned to try and catch it he took a brutal knee to the face. It was mere seconds before he was upright and ready to tap it in again.
Aside from Rauls, Auburn made serious adjustments in game two. The offense was cleaner, and five lead changes speaks to the resilience of the defense. Receiving on double game point, Auburn had ice in their veins. Eric Sjostrom found Rocco Magnella on a nice around backhand for the game winner.
Biggest Surprise: Mark Rauls
*see best player section*
In all seriousness, for Colorado to be successful, they needed to play beyond the system. With him shining in the way he did today, there's an upset potential against Carleton in the morning.
What I'm Looking Forward to Tomorrow:
Surprise, it's Mark Rauls. Carleton showed serious vulnerabilities against both Auburn and UNC. If they can't work through the offensive woes, there will be an opportunity for Colorado to shine. Mamabird capitalizes on break chances mainly through Erik Hotaling, but Rauls may move over if there's a run of breaks on the horizon. If one player in Pool C has the capability of taking over a game against CUT, it's him.
– Preston Thompson
Pool D
Best Player: Joe Freund
There was a lot of talent on display in Pool D, from Ben Jagt embracing his new D-Line role with aplomb, Avery Johnson doing all the little things for Wisconsin, and Will Lohre hauling in eight goals for Oregon. But on those top teams, the wealth was spread around to a certain extent. But in terms of a standout individual performance, the big name that emerged today was Virginia Tech's Joe Freund. His stat line alone is impressive — 6G/6A — but in context, it is eye-popping. Freund either threw or scored every single one of Virginia Tech's first half goals, while taking matchups with Ben Jagt, Nick Ladas, and Charlie McCutchen. Virginia Tech's day may have flamed out, but Freund showed that his college career is just taking off.
Best Game: Minnesota v. Oregon
It might not be shocking to hear that the game between the two top seeds was the best game of the day. But what was particularly compelling about the matchup was the way Oregon propelled Minnesota to reach a level we haven't seen from them yet this season. Grey Duck rolled Virginia Tech earlier in the day, but it took a real challenge from Oregon to get them looking like champions.
Both offenses were incredibly quick, keeping the disc flying around the field. Oregon used their motion to open up the deep space, while Minnesota's priority was gobbling up 20-yard chunks at a time.
Oregon's offense was good, but Minnesota's O-line was borderline untouchable. Breaking the mark at will and moving the disc to the high sideline allowed them to gain 10-15 yards on resets to the force side, or take more aggressive shots down the field. The Ego defenders at the front of the stack were isolated on an island, totally helpless to take anything away.
With a 15-11 final, the ending wasn't incredibly tense. But this game wasn't about tension, it was about the level of performance, and it was the best performance of the day.
Biggest Surprise: Jagt-less Offense
Last season, Ben Jagt was the Offensive Player of the Year. Today, he played exclusively on Minnesota's D-Line and the Grey Duck offense hasn't missed a beat. Without their big target man, Minnesota's attack has become more varied and the disc moves faster. "It gives us more flexibility" said Grey Duck coach Tallis Boyd. Without having other players defer to Jagt so much, it puts the emphasis on everyone else to step up and Minnesota's offense have proved to be up to the task. Up and down the line, everyone contributed and Grey Duck is showing that it's much harder to stop seven players working as a unit that one great player by himself.
What I'm Looking Forward to Tomorrow:
Getting to see Wisconsin matchup against the top two teams in the pool will be great. The Oregon v. Wisconsin game should be a track meet, but the Minnesota v. Wisconsin game offers some interesting tactical intrigue. Minnesota's offense looked incredible today against Oregon, but Ego didn't throw many different looks at them. Wisconsin should be able to present more of defensive challenge to the Minnesota offense and should give us an indication of just how good this Minnesota team is.