Who were the best players, matchups, surprises, and storylines of Friday in Mason?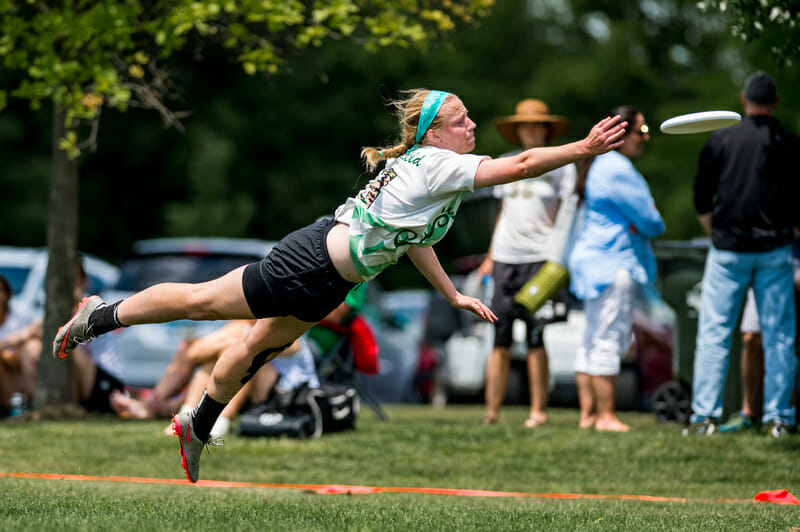 Ultiworld's reporting on the Women's 2017 D-I College Championships is presented by VC Ultimate as part of their season-long support of our women's coverage. All opinions are those of the author. Please support the brands that make Ultiworld possible and shop at VC Ultimate!
If you're looking for a recap of individual games from Friday, check out our coverage from throughout the day on our Day 1 liveblog. With those out of the way, we asked our reporters to answer four key questions about each Pool to summarize the storylines of the day and look ahead to Saturday.
Pool A
Best Player: Katie Ciaglo (Carleton)
There were a lot of great players cleating up today, but nobody executed as reliably and as productively as Carleton's star handler, Katie Ciaglo. She lead the division with 16 assists today, throwing more than half of Carleton's goals. Her handblock in the first few points against Pittsburgh's Carolyn Normile set the tone for her day; she shut down opponents' handlers, and on the turn she targeted Claire Thallon and Laura Soter with pinpoint backhand bombs.
Best Game: Stanford vs. Colorado
Trouble hung in the air when Colorado was ahead 4-2 early in the game off two breaks against the no. 1 seed Stanford. Spectators started to cling to the sidelines, just to check – what was about to happen? Would Stanford collapse or rally back? Could Colorado join the exclusive group of teams to defeat Superfly this season?
Instead Stanford battled back to tie the game. They set their standard zone and put Kali through the gulag that is zone offense against it. Twenty, fifty, seventy throws later, Stanford finally got the block and punched in a break.
Stanford held the lead for the rest of the game and eventually won, but Colorado didn't let them run away with the game. They fought tooth and nail for every reset and under, and they denied Superfly's offense little breathing room. They were one pass away from tying the game at 12-12, which could have changed the entire pool's narrative, but couldn't complete it to close the marathon point. Stanford's next possession took them the full 70.
The game showed chinks in Stanford's armor, and it laid out Colorado's game plan for the weekend: play chilly offense and work their legs on defense.
Biggest Surprise: Pittsburgh Falters Despite Upset Expectations
The hype was real for this no. 4 seed going into the weekend, but they couldn't make their mark on day one. Pittsburgh had all the same pieces they've used all season, but the recipe wasn't generating points today. Carolyn Normile and Linda Morse were the unsurprising bedrock of Pitt's offense: together they scored 9 of Pitt's 18 points on the day, and they threw 10 of the assists.
Beyond individual moments of defensive glory, Pitt didn't impose themselves on either Carleton or Colorado. Both of their opponents rattled off 3+ break runs on Danger in the second half to seal the game, which rings more alarm bells about the rest of their weekend.
Most Looking Forward To For Saturday:
Colorado and Carleton College were the two most consistent teams on Friday. They laid out very different defensive approaches for day one, but each earned them breaks aplenty. Can Colorado's person defense contain Claire Thallon in the deep space? Can anyone stop Ciaglo from doing whatever she damn well pleases? We'll find out tomorrow at 12:30 EST!
Colorado looked better against teams' zones today than they have all season, and they'll face Carleton's crafty cup tomorrow. The game will be won or lost on efficiency, something each team contended with this season.
Pool B
Best Player: Jaclyn Verzuh (Dartmouth)
This will go down as the least surprising development from day one, but Jaclyn Verzuh was the best player in Pool B. She led the pool (and the division) in goals with 12. The second highest tally was Notre Dame's Julia Butterfield with 8. She also added 4 assists, and a number of insane, highlight layouts and skies. Verzuh was already the favorite to win Player of the Year before Nationals began, and her performance on the first day of pool play only cemented that status.
Best Game: Oregon vs. Delaware
Pool B was nearly entirely devoid of exciting games. The only game that could even truly be considered a good one was the round five matchup between Oregon and Delaware. Kat Ritzmann (2 goals, 5 assists), Rachel Bova (5 goals, 1 assist), and Rachel Egan (5 assists) all had big games for Delaware and nearly upset the powerhouse program. They jumped out to a 4-1 lead, then responded to a 13-6 Oregon run with another rally late. Down 14-10, Delaware came back to to 14-13 to put a real scare in Fugue late. Oregon had a clean hold to close the game out and avoid double game point, but Delaware's resilience was impressive. The underdogs were nearly able to push Oregon to the brink, but ultimately Ella Hansen, Hayley Wahlroos, and Oregon's superior depth were just a bit too much.
Biggest Surprise: Still waiting for it
Truthfully, Pool B was lacking in any genuine surprises. The biggest surprise, apart from Delaware playing Oregon so close, was probably the general disparity between teams. Dartmouth battering Notre Dame to the extent they did was slightly surprising, as was the margin of victory in the Oregon vs. Florida matchup.
Most Looking Forward To For Saturday:
After an opening day of very little in the way of surprises, or even real excitement, I'm looking forward to the Dartmouth vs. Oregon game on day two. Oregon looked like the real second best team in the pool on day two and if anyone can give Dartmouth a game in pool play, they're the only ones left with a hope of doing it. I'm also looking forward to hopefully some more close games. Delaware and Notre Dame seems like it could be fun, and so could Florida versus Delaware, even though they may not have much impact of the bracket.
Pool C
Best Player: Han Chen (UCLA)
Chen wasn't even at her best on day one of pool play. She was inefficient in stretches of the Michigan and Virginia games, but she still put up an insane stat line and made the plays UCLA needed her to to win. She racked up 13 assists, which led the pool and was good for second in the division. It's a scary thought that Chen was nowhere near her best and was still the best player in the pool.
Best Game: Virginia vs. UCLA
Virginia and UCLA's battle as the top two seeds in the pool was easily the best game of day one. UCLA jumped out to a stunning 4-0 lead against the pool favorite and looked primed to blow them away. Virginia started out incredibly sloppy, turning simple throws and dropping easy unders. UCLA wasn't even especially efficient in the early stages either, but were still able to storm out to the early lead.
Virginia's start of tournament jitters began to slowly disappear, and after down 7-3, went on a run to tie things up at 7-7 and put the game back on serve. Virginia took their first lead at 10-9 and looked like they would survive the bad start and upset bid. But then Han Chen took over, and UCLA scored the final three points of the game to pull off the upset. Not only was it a game that should have massive implications in the final pool standings, it was a back and forth match between two teams with title aspirations, making it the clear class of the pool so far.
Biggest Surprise: Virginia's Inauspicious Start
Beyond even the loss to UCLA, the biggest surprise of Pool B was Virginia's struggles. Yes, it was there first game of the tournament, against an exceptional team, and in a pretty tough time slot for a first game, but to see a Virginia team struggle so mightily with the basics was jarring. They recovered well in the UCLA game even though they lost, but many of the same issues plagued them against California San Diego, too. Virginia will get back Brandi Skanes for the rest of the tournament after the missed day one due to being Europe, but they'll need to play better across the board to avoid further upsets against Michigan and Tufts on day two. A secondary surprise goes to UCSD, who played well in spite of going 0-2. They'll probably go winless in a very tough pool, but they are a tough 19 seed and will be a tough opponent for everyone they play.
Most Looking Forward To For Saturday:
With three teams (Michigan, Virginia, Tufts) all at 1-1, the second and third spots are wide open as Pool C pieces together their representetives for the bracket. Tufts has the toughest path to the bracket of the three, as they're the only team yet to play UCLA, but it seems plausible that any combination of them could make prequarters. Virginia looked very beatable even in their win over UCSD, and UCSD also looked capable of throwing a wrench in the proceedings by knocking off Michigan. How these three shake out will be one of the biggest things to keep an eye on in the whole division for day two.
Pool D
Best Player: Ellen Au-Yeung (British Columbia)
Au-Yeung stood out today not only for her individual performance, but for how her play pushed everyone else on UBC into their upset over Texas. As British Columbia's initiating cut, Au-Yeung's speed levels up every time she turns and rips a flick deep to another cutter. She slipped onto the D-line as part of UBC's zone throughout the day, and on a turn she helped the Thunderbirds crack off breaks with mechanic efficiency. Au-Yeung is the player nobody wants to mark, yet she's the player everyone wants on their team. Her Friday performance wasn't out of the ordinary for this Canadian star, and that's exactly the point.
Best Game: North Carolina vs. California
Were there games with higher stakes and higher seeds today? Perhaps. Were there cleaner games? Sure. But no other game got me more hyped than California and UNC putting their bodies on the line to gain an edge in Round 3. Both teams went on small break runs, but the point differential never increased by more than two points.
At 11-11, California coach Manisha Daryani walked off the field from calling lines with unadulterated glee in her eyes. "I love games like this!" She bounced down the sideline to watch her D-line wade into battle. Bid after bid, shot after shot, UNC and California brought out the best in each other. California's Alison Griffith, Jackelyne "Kobe" Nguyen, and Jessalyn Siu tapped into a new vein of adrenaline. UNC's young players Julia Zwierzynski, Bridget Mizener, and Anne Worth bid at every opportunity for their team. Cal came away with the win, 14-12, to keep a clear path to the bracket.
On a Friday with few upsets, this game raised the bar. This is what Nationals should feel like.
Biggest Surprise: British Columbia Upsets Texas
…okay, not a "big surprise." UBC was the no. 5 seed lurking just behind the no. 4 seed Texas, and these teams played a close game at Stanford Invite. But was anybody really expecting UBC to take down a projected title contender? The win on double game point – after break runs from both Texas and UBC – put UBC in a promising position to take the pool, and it carves a tougher path for this Texas team that has big dreams.
Most Looking Forward To For Saturday: 
Maybe I'm a homer for both Texas and California, but they play ultimate for the glory moments. They each laid groundwork today: Texas's Esparza dropping casual hammers at 13-13 for the score, and California's Griffith hurling herself into layout blocks. California will come prepared with a gameplan for the Texans, and watching how Melee's talented roster navigates new puzzles will be a joy.