Another classic match in a rivalry that has provided plenty of excitement over the years.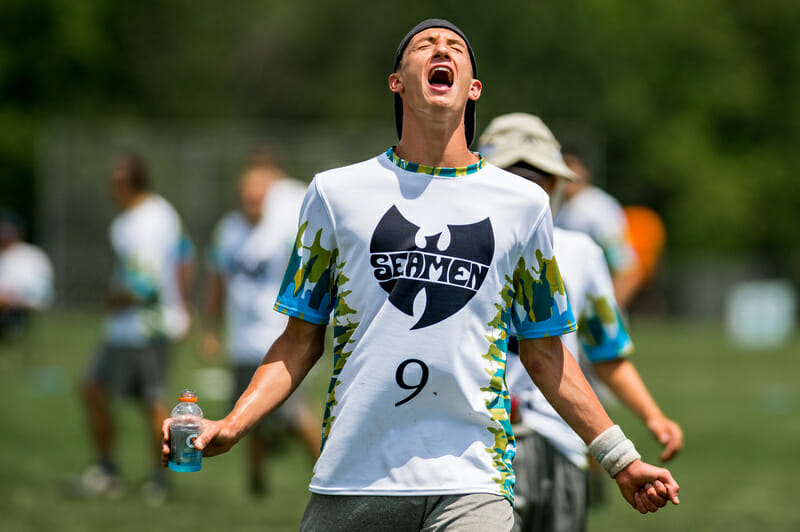 Ultiworld's reporting on the Men's division of the 2017 D-I College Championships is presented by Spin Ultimate; all opinions are those of the author. Please support the brands that make Ultiworld possible and shop at Spin Ultimate!
Shades of 2014's dramatic no-breaks-until-double-game-point quarterfinal thriller were in the air here in Mason, as UNC Wilmington topples Pittsburgh 15-13.
Both teams entered the game with a 2-0 record, though their wins came in very different fashions.
Pitt played like the pool's top seed and blew out their competition Friday, notching convincing wins over Connecticut and Michigan, good for an impressive +17 point differential. It was a Friday Pitt's coaches and players could feel good about; a dominant performance in which no one challenged them.
While Wilmington was also unbeaten, they were not passing the eye test. The Seamen looked sloppy on both sides of the disc in an easy win over Texas A&M, and that trend bled over into an ugly 15-12 game against Connecticut. They were winning games, but not in any kind of sustainable way.
"Hopefully it's just going to be a mentality shift," UNCW head coach Brian Casey said at the conclusion of day one. "We know that we can't screw around with teams like Pitt and Michigan. So hopefully that's something that they mentally check in to early and we can address it tonight."
It may have been the evening chat that righted ship for the Seamen, but the more likely reason they found their game is the hard and unwavering law of the jungle that UNCW's style of play gives Pittsburgh fits.
From the first point this morning, this was a totally different Wilmington squad than the sleepwalking North Carolinians we saw the day before. UNCW pulled and got two turns right off the bat — a Davon Jaramillo point block and a nasty layout D on an in-cut from Kevin Mateer. Keep in mind, this was the first time Pitt had seen real pressure at this tournament. A reliably smooth and methodical offense suddenly seemed jerky and skittish. Wilmington defenders were hot on the heels of Pitt's cutters and that led to a number of miscues.
Wilmington broke twice early to take a 5-2 lead. After trading a few hard fought holds, Jack Williams ripped a downwind backhand to a skying Mike Richards for half, 8-6. While the score remained close, it felt as though the game was being played decidedly on Wilmington's terms rather than Pitts.
By this point, the sidelines were as packed as they can get for a pool play game at Nationals and the energy from Wilmington's camp was palpable. Pitt's offense was misfiring and their defense — a team strength to this point — had yet to break. The same Pitt D-line that rattled off seven first-half breaks on Friday against a tough Michigan squad simply could not convert the chances Wilmington gave them.
Meanwhile, UNCW was buzzing from all the defensive pressure they were creating. As their sideline went berserk to cheer on the defensive effort, the Seamen somehow — almost inexplicably — were able to immediately downshift after a turn to play a calm, relaxed brand of offense. Jack Williams, JD Hastings, and Willie Stewart reset the disc ad nauseam when there were no open options downfield.
The bitter rivals traded blows throughout the second half — layout blocks matched by skying goals, smooth hucks matched by suffocating handler D. The game was visibly more intense than a pool play game has any right to be, a tension and excitement felt by the players and fans that crowded the sidelines alike.
Desperately seeking a break, Pitt's Sam VanDusen elevated to tip a sure goal away from Williams. This was deflating only momentarily for Wilmington, as Danny Mercer poached off the stack for an incredible layout block. Wilmington held for 11-8.
Getting a play like that from Mercer, an important role player but not a household name, was indicative of the contributions the middle of Wilmington's bench was able to add. Freshmen cutter Matt Ellis — remember that name in 2018 — was on fire and clocked in with three goals and four assists, including an inside-out flick huck at 10-7, which was one of the best throws of the tournament. Junior Rick Hennighausen got a huge block on his own goal line.
Pittsburgh finally found a break when Carl Morgenstern tip-toed the sideline on a same-third Kevin Tang huck to narrow the game to 13-12, but down the stretch Wilmington leaned on Jack Williams to carry them through. Williams spent the last two offensive possessions with Pitt's ace defender, Mike Ing, covering him like a blanket. Ing is a great young player, but he's no Jack Williams — at least not yet. The Seamen senior leader repeatedly reeled in contested grabs around the Pitt sophomore before hitting Austin McGrayne with a flick dagger past a bidding defender for the game.
It's fitting that McGrayne — who had a wide-open drop in the endzone at 13-11 — would catch the final goal of the game. A redemptive play for a senior who has been in his fair share of memorable games in this rivalry.
"[Pitt] kind of remind[s] me of Duke and how Duke gets everybody's best shot. When we play them that's just what we give them. We give them our best shot," McGrayne said after the game. "The styles just clash real well and they end up being good games."
Wilmington came into this tournament as a pool three seed. An underdog. After four games, they've taken the pool and have earned a berth straight into quarterfinals. We've seen UNCW's top game and how well they are capable of playing when they are energized and dialed in. The challenge now for McGrayne and company will be to find that same level of energy against an opponent that's… not Pitt.
"Obviously it makes me feel great moving forward… I hate to say you should treat every team like Pitt, but honestly from here on out that's what you've got to do."