Dartmouth's biggest stars could not be stopped.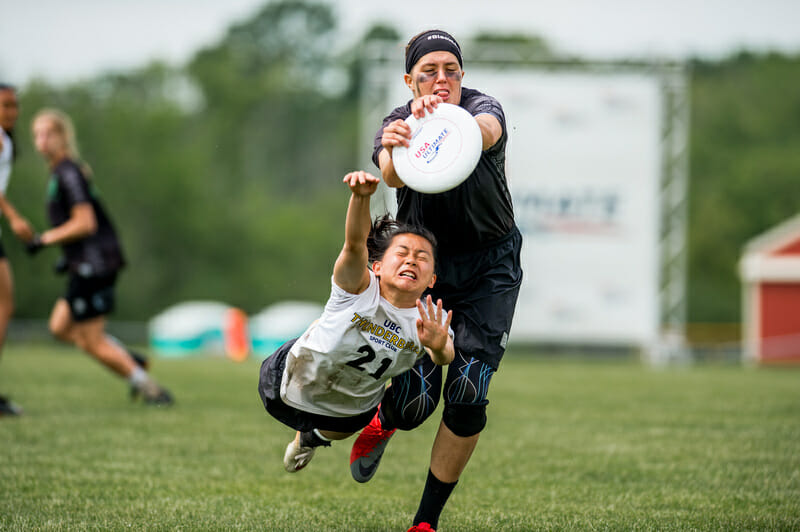 Ultiworld's reporting on the Women's 2017 D-I College Championships is presented by VC Ultimate as part of their season-long support of our women's coverage. All opinions are those of the author. Please support the brands that make Ultiworld possible and shop at VC Ultimate!
Dartmouth's top players were too just too much for British Columbia in the first women's semifinal, as they raced to a 14-8 victory to earn their first final berth in program history. Their offense wasn't deep — and in the wind it wasn't efficient, either — but it didn't matter. The field could have been on fire, and Dartmouth's top five players would have still found a way to will the disc into the endzone.
Jaclyn Verzuh set the game's tone early with a monster bid on an Angela Zhu huck to set up Dartmouth just outside the endzone. The reaching grab outlined exactly why Verzuh is the division's most talked about player. Her agility, length, and power put her in a different class than everyone else on the field.
The fantastic bid was just the beginning. Dartmouth rattled off four breaks in a row on British Columbia for a 5-1 lead. Those breaks didn't come from especially efficient offense, however. After their second break, they were only two for nine on early break chances, and their conversion rate only worsened as the half continued. But Dartmouth didn't need to be efficient, and they knew that their easiest path to victory was by giving Zhu the greenlight and looking to Verzuh to gain huge chunks of yardage.
Verzuh made highlight reel play after highlight reel play, as Dartmouth jumped out to a 7-2 lead. But UBC wasn't prepared to end their season quietly. Neither team changed anything tactically, but UBC cleaned up their offense a bit, and Dartmouth's offense grew stagnant. Those two shifts led to a four goal run from the Thunderbirds to get back in the game.
"We just told them there was nothing to lose," said coach Candace Chan on what spurred her team's run. "'Whether we're losing this game, winning this game, we're gonna finish this game. And we can choose how we want to finish this.' That got them fired up, and hey, they were still fighting until the end."
Unfortunately for British Columbia, they were unable to keep that going in the second half. Dartmouth switched to a zone defense in the second half, which Dartmouth coach Eugene Yum referred to as a "gamble that paid off." The switch offered Dartmouth's star players more of a rest on defense, but also limited UBC's advantage in speed and made it tougher to move the disc as it became windier.
Dartmouth outscored UBC 6-2 in the second half to close out the game, as UBC's offense continued to struggle. British Columbia's biggest issue was truly stretching the field. The wind played a factor in their crowded zone offense, but the Thunderbirds' absence of an elite power thrower was evident as well. Dartmouth was content to let UBC commit turns, and take their shots off the turn until they converted.
Despite the team's dominance, Dartmouth didn't get a ton of contributions from the depths of their roster, continuing a season-long pattern they've tried to avoid. Five of their players — Jaclyn Verzuh, Angela Zhu, Julianna Werffeli, Caitlyn Lee, and Piper Curtis — were responsible for 90% of the goals and assists in the semifinal. Beyond Verzuh and Zhu, Caitlyn Lee had a huge game, with five goals, an assist, and innumerable layouts.
UBC had strong individual performances, namely from Naomi Morcilla and rookie Kaitlyn Harper. Morcilla had four blocks and a goal, but also made plenty of plays underneath. Harper took on the tasking matching up with Verzuh for much of the game, and she stepped up into the challenge, getting at least one block on the Dartmouth star.
Yet Dartmouth's top five were still unanswerable, even when they played less-than-stellar offense. Their performances were strong enough to win by a six point margin in spite of many of them not playing their best games. Right now it seems like Dartmouth is in a league of their own, even when they're not at 100%. With fresh legs tomorrow, they could be truly unstoppable.