Julia Schmaltz and her Texas teammates fought off Colorado in a rivalry game on the big stage.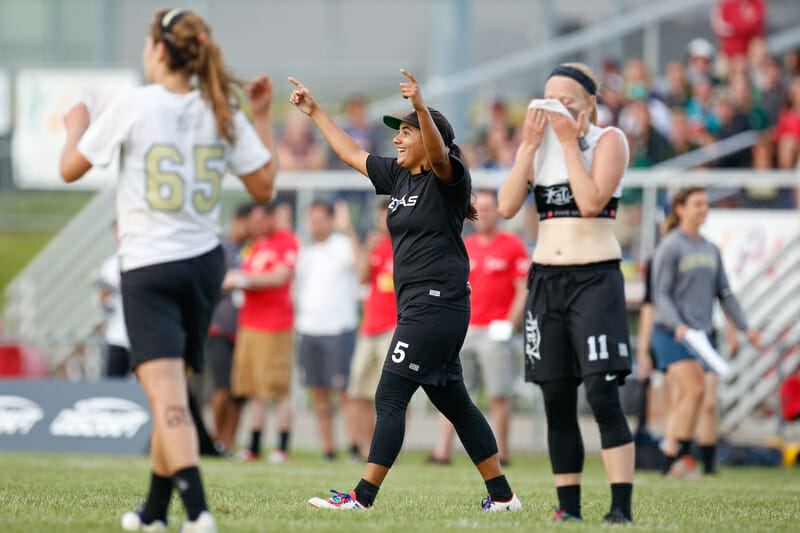 Ultiworld's reporting on the Women's 2017 D-I College Championships is presented by VC Ultimate as part of their season-long support of our women's coverage. All opinions are those of the author. Please support the brands that make Ultiworld possible and shop at VC Ultimate!
On the back of a legendary performance from Julia Schmaltz, Texas Melee clinched a spot in the national title game with a 14-12 victory over Colorado Kali. The win not only avenged their loss to Kali in the South Central regional final, but also cemented Texas' first ever spot in a national title game.
The game was also one of the most exciting and best played games of this year's championships. Both teams had scintillating moments and highly spirited, competitive play. There were moments lacking execution and some mental mistakes, but for the most part the game was a battle between two exceptional teams that left everything they had out on the field.
Texas was the first team to land a major strike and they did it immediately. Sending out a loaded D-line on the first two points of the game – a strategy they frequently use – they broke each time.
Texas' second strength in the game was in its backfield. Dre Esparza, Laura Gerencser, and Shiru Liu all had great games, particularly in the first half. Esparza's and Gerencser's potency in attacking the strike spice combined with Liu's ability to hit arounds and break throws were the catalysts for their whole offense, regardless of which side they were lined up on. All three had completion percentages over 90 (on 76% of the teams total touches), while still nearly always looking to be aggressive downfield.
Colorado got strong performances from their backfield as well. After those first two points, Colorado was able to settle into their zone offense and played extremely well for the rest of the first half. Kelsey Bennett played in the center handler role and threw 114 completions, while giving it away just three times. Jean Russell completed 85 of her 87 passes, and Megan Ives completed 62 of her 63. For comparison's sake, those three attempted 267 passes, while the whole Texas team attempted 183.
That disparity was a result of Texas' zone defenses. They switched between two primary zone looks: the one power line that featured their O-line starters, and a younger sideline that looked to trap on the sidelines and force Colorado into making massive amounts of throws before scoring. That second line wasn't incredibly effective at stopping Colorado from scoring, but it did drag out some Colorado O-points in key situations when Texas' top line needed rest.
The switches between the two were also able to keep Colorado from settling in in the early going. "We know that Colorado is a team that moves really, really well and so we wanted to put pressure on them to move the disc laterally instead of downfield," said Texas coach Edith Teng. "Giving them different looks to look at, keeping it variable, so that they're not getting used to one thing, that was our main focus."
But Colorado did adjust, led by Bennett, Russell, and Ives, along with Nhi Nguyen downfield, and Kirstin Johnson on the D-line, and brought Kali back to tie the game up at 4-4. The game was neck and neck over the next handful of points to 7-6, Texas. But then Texas elected to send out its power D-line to break for half. Again, the strategy worked and Texas took a two break advantage into halftime.
The second half was the Julia Schmaltz Show (Featuring Nhi Nguyen). Previously on the Julia Schmaltz Show, Schmaltz assisted on the goal for Texas' 6-5 lead in the first half, then scored the next two as they took half. In the second half, she scored all six Texas goals, which made her tally for the game a staggering 10. She was unstoppable, making incredible highlight catches the few times she wasn't able to get wide open. It didn't matter if there were defenders on her, or if the throw wasn't a great one, Schmaltz seemed to come down with it.
The one or two times in which she was actually blocked, it came from Nguyen. The Colorado senior had seven goals of her own, four blocks, and just one turnover. Her own firework filled second half performance led Colorado's surge to tie the game up at 12-12.
But Texas was tremendous in the late moments, responding perfectly to the somewhat self-imposed adversity of letting Colorado back in the game. For 13-12, Texas scored on four passes, Esparza to Gerencser to Esparza to Liu to Schmaltz.
Colorado, with a chance to force double game point, was the polar opposite. They turned the disc twice on just three passes, both unforced errors, and Texas capitalized on the second. Schmaltz wriggled free in the endzone to find a pocket of space for Marissa Land, as Texas ended it.
Schmaltz's run of eight straight goals to end the game for Texas was a transcendent performance. But the way she was pushed by Nguyen made it a special spectacle, and the crowd was audibly calling for more opportunities for the pair to clash. Schmaltz appreciated that individual duel as much as anyone.
"What I love is matching up against great players," She said. "It's almost like a game in itself. There's the big one, and that's what matters. But when it comes down to individual matchups, it's fun to be like 'alright, you got me on the last one I'm gonna get you on this one.' It's just a little extra push. 'I'm not gonna let you score on me this time.'"
She exhibited her typical modesty after the game, attributing her huge game to her handlers, but she did say that the performance was the best of her life, in any sport.
There's no doubt that Schmaltz's performance was one for the ages, and Esparza, Gerencser, and Liu's performances in the Texas backfield was also a lot of fun to watch. They, along with Nguyen, made the semifinal one of the most exciting games of the tournament. And Colorado head coach Lauren Boyle was rightfully and extraordinarily proud of her players.
With their win, Texas is the team that keeps its season alive, but both teams put on a grand enough show to thrill beyond that context. Due to terrific individual performances, and at times exceptional team play, this bout between two rivals will forever be a cherished part of the story of the 2017 College Championships.