A breakdown of the strategic punch, counterpunch from another classic semifinal at the College Championships.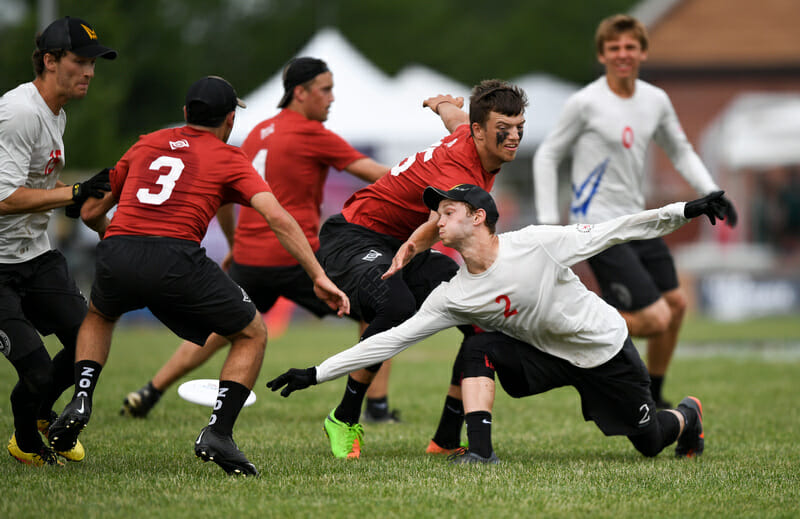 Ultiworld's reporting on the Men's division of the 2017 D-I College Championships is presented by Spin Ultimate; all opinions are those of the author. Please support the brands that make Ultiworld possible and shop at Spin Ultimate!
The semifinal match between Carleton CUT and Massachusetts ZooDisc matched up two coaching staffs with renowned pedigrees. Carleton is led by Phil Bowen, a coach with a national title and three semis appearances since 2011 on his resume, assisted by Nick Stuart, an elite club standout and World Games National Team member. UMass isn't exactly in the tall grass, as they are fortunate to have co-coaches Tiina Booth — a legendary ultimate coaching figure — and former Boston Ironside captain Russell Wallack at the helm.
So it should come as no surprise that their semifinal matchup yielded a fair amount to talk about in terms of strategy.
The Feeling-Out Phase
Though the game started off with the two teams feeling each other out with straight one-on-one defense, the efficient scores by both O-lines on their first two possessions led both coaching staffs to try new looks on defense. For UMass, that was a force middle set. Force middle is a generally an underused defense in college and it was a reasonable choice for a change of pace against CUT; only two points into the game, CUT had already demonstrated that they were incisive when dump swinging, as well as willing to throw deep. FM can help with both of those things — it makes the breakside dump swing a less potent weapon, because it limits the amount of space on the 'break' side of the mark. It also can help to make deep shots more difficult by forcing wide hucks, potentially over a stack (depending on the offense). Though CUT's offense seemed to come down in side stack at first, their later transition into vert would have left them susceptible to the benefits of FM. However, while it did cause a little stack chaos downfield, CUT simply beat the defense when Alex Olson executed a strong wide huck to Henry Fisher.
CUT's adjustment for UMass was a little more drastic. Carleton threw out a variation of a diamond zone, with a straight up mark plus two poachers in the lanes, backed by a three-man wall behind it with the middle playing tight to the disc (and a deep). The difference between their look and the diamond zone currently in vogue on the west coast was how aggressively the lane poachers reacted to handler crashes. This difference was ultimately what UMass exploited to break through, throwing through the hole vacated by the lane poacher in defending the crash and hitting the newly-open wing. Coach Phil Bowen explained that it was simply to change the pace of the game, rather than to exploit a particular observed weakness. But, like the effort of the UMass FM to slow CUT, Bowen noted that "it frankly wasn't good. We found we were better when we were engaged in one-on-one defense."
In the face of seemingly effective offense against person, both teams played their first card to try to test their opponent, but both O-lines adjusted to the twist.
Solving The UMass Zone
After giving FM a chance, as well as getting their one-on-one defense scored on by CUT's offense again, UMass dropped their real counter punch: their 1-3-3 zone. Particularly this tournament, Carleton had shown a lack of patience in the face of stalled offense, and UMass clearly hoped to test that patience with their zone. Coach Russell Wallack confirmed as much, explaining that he "expected a few more turns…I think last time we played against them their tendency to shoot kind of kept us in the game. But they had pretty darn good game…They just weren't as impatient as they were the last time we played them, credit to them."
Carleton displayed a patience that they had not yet shown this weekend, calmly navigating the tricky UMass mark/wall with handler crashes and short, popping throws. Though it wasn't all smooth sailing — they also had to show off an impressive amount of tight-window, high-difficulty throws that they completed with surprising frequency. UMass was able to get turns on CUT at first, but failed to convert the chances they got. Eventually, CUT adjusted to the look by adding a fourth handler to the line (specifically, Chris Padilla) which allowed them to more effectively pop the wall. But even then, UMass was still forcing a few tight-window throws and precarious swings each possession. However, Wallack explained that UMass felt like they had to reduce their zone use "because we weren't going a full 14 deep. You can't just run the wall with the same guys over and over again because it just runs them into the ground."
It's also worth noting that the 1-3-3 seen from UMass today (and this weekend) was a slight variation on the look seen in the past. Previously, the 'open' position in the cup would play off the thrower, stopping a throw to a wing popper even when a reset handler was near the thrower. If the handler crashed, the open would aggressively pinch in to stop it. In the iteration seen today, the open side of the cup started playing pinched inside the cup before the handler made their crash cut (but also in the path of a pass to a wing popper). The tradeoff was more difficult positioning for the 'open' and, perhaps, increased risk of a double team, but the benefit was making it more difficult to open up a throwing lane with a handler crash cut.
Offensive Efficiency
Despite the defensive adjustments, this game was really a story of efficient offenses. Each O-line yielded just three breaks.1 For UMass, this was primarily a product of having experienced players making (mostly) quality decisions. Nico Mueller, Ben Sadok, and Tannor Johnson were, for the most part, smart with their choices. They likely had a few throws they wish they could have back — Wallack assessed that he "wasn't that satisfied with [their] patience on a number of possessions and thought we were a little frantic at times" — the talented top half of the UMass roster generally executed to the level their experience would suggest.
Though Wallack might have been left wanting a bit more patience from his throwers, Bowen expressed a contrasting sentiment; his comments portrayed an uncommon mindset for a coach to have in the national semis. Even on their double-game O-point, Bowen told his team in the huddle that he "didn't care what we did offensively, I just told them that, 'Hey, we are going to get that disc back.' ….The number one thing that we say all year is that the mistake doesn't matter, it's how you respond and we live by that. I hope that our team is 100% unafraid to make mistakes." This concept was encapsulated well by the play of CUT freshman Joe White (all game but particularly the final point). The freshman fearlessly put up a huck on DGP that turned into a hospital pass. Pause on that– a freshman trusted to be on the DGP line in the semis of college Nationals had the confidence to put up that risky shot, that ultimately did not succeed. But, despite the turnover, he rebounded to catch the game-winning goal (twice, though one came back on a foul). The sequence meshed perfectly with the mindset described by Bowen.
Unfortunately for UMass, that mindset Bowen preached often paid off for Carleton. Wallack's observation was consistent with the view of many familiar with the typical conditions of college division: "They were just hitting on a lot of their deep shots…I thought they played a close to perfect game."
Ultimately, the semifinal was a game that was played well by both sides, and executed well by the players on the field. Though it may seem overly simplistic, the difference maker in the game was Carleton rising above their trend of unnecessary turnovers in favor of patience, as well as coming down with a high percentage of their riskier decisions.
---
CUT won the 'on-serve' double game point despite starting on defense because they took half ↩