Revolver's defense ruled the weekend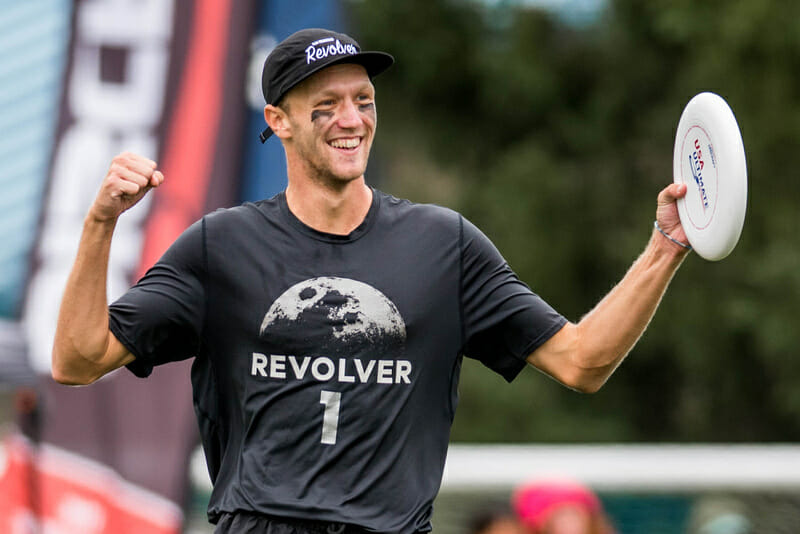 Men's Division coverage of the Pro-Elite Challenge is presented by BE Ultimate. Please support the brands that make Ultiworld possible and shop at BE Ultimate!
AURORA, Col. — The Pro-Elite Challenge has historically been a mid-season tournament, or at least a follow-up to the US Open. This year, with the restructured Club season, it kicked off the Triple Crown Tour at the Colorado Cup.
Under beautiful sunny skies (save for a very brief lightning delay on Saturday afternoon), a fantastic field — one that looked a lot like the one at the 2016 National Championships — battled for early season supremacy. While every team spoke of process, building, and internal focus, there was plenty to learn from the competition in Aurora.
Revolver Rolls Through 2017 Opener Undefeated
With a reloaded roster and tremendous depth, San Francisco Revolver was the consensus #1 team heading into the 2017 season. They left little doubt about their status atop the Division after the Pro-Elite Challenge, where they went 6-0 with wins over #3 Seattle Sockeye (13-11), #6 Austin Doublewide (13-9), and #7 Washington D.C. Truck Stop (13-7) on Sunday.
Their performance in the final against Truck was particularly impressive, as they cycled through two full D-lines to collect four first half breaks and suffocate a DC offense that had been electric throughout most of the tournament.
Revolver newcomer Eli Friedman notched the first break of the final with a pretty throw to Christian Johnson, who has moved to the defensive line this year. As Truck Stop struggled to get their deep game in sync, Revolver took advantage. Greg Cohen hucked to Cassidy Rasmussen (also a new addition to the D-line — at least for now) to extend the lead to 3-1.
In the blink of an eye, it was 6-2 after Johnson caught his second goal on an assist from Sawyer Thompson, another Revolver "rookie."
The theme becomes apparent quickly. Revolver stalwarts meshed comfortably with players new to the roster, particularly on the defensive side of the disc, where the team really shone.
"We have a lot of people that are taking their matchups really personally," said Revolver captain Lucas Dallmann. "We didn't take this tournament off in terms of our preparation."
The scary thing for opposing teams is that Revolver ran nothing but vanilla matchup defense. There were no junks or zones. They just played their signature brand of high effort, high pressure one-on-one coverage. Turnovers mounted.
But the turnovers were frequent for the Revolver O-line as well. This was not the dominant offense that we've grown to know over the last decade; despite featuring a fearsome rotation (Ashlin Joye, Grant Lindsley, Joel Schlachet, Beau Kittredge, Nick Stuart, Jordan Marcy, Simon Higgins, Tom Doi, Marcelo Sanchez, and occasionally George Stubbs), mistakes were surprisingly common. In the final against Truck, the offense turned it over on four out of eight points, with many of those four featuring multiple turns. Revolver was similarly profligate in their other matchups.
Is it a reason to worry?
"[I have] absolutely zero concern," said Dallmann. "Especially because their defense on the turn was phenomenal."
And that's true. The O-line gave up only one break against Truck. They consistently played outstanding defense all weekend. Other teams definitely noticed. "Their O guys are the dudes who were playing D for them last year," said Truck Stop captain Jon Neeley. "This team puts more pressure on you than any other team."
That pressure won them the Pro-Elite Challenge and a $750 check from USA Ultimate. But, like every team, they have work to do. The offense will need to be much better. One clear bright spot was Jordan Marcy, who moved to the O-line after years of playing on defense. He was rock solid all weekend, providing consistent resets, precise throws, and few mistakes.
The team will certainly benefit from a tighter rotation, which they didn't adopt at all this weekend. "We have a lot of people on different assignments, defending the borders, so to speak, with Beach Worlds and World Games and stuff like that," Dallmann said, explaining why they mixed up their O-line as much as they did.
The offense was at its best when Lindsley or Joye took the centering pass and the other operated as the first iso cutter. Yea, good luck defense. Expect more chemistry to develop later this season.
In total, Revolver looked like the most talented top-to-bottom team at the tournament — that shouldn't come as a surprise. They have been working hard in the offseason to prepare for this year ("The work started really early. Really, really early," said Dallmann).
But with a full-strength Ironside still waiting in the wings and a Sockeye team that was a missed inside break away from forcing double game point in the semifinal, there are no guarantees.
Truck Stop Is Still A Tier 1 Team
With the departures of Peter Prial, Sean Keegan, and Tom Doi from the Truck Stop offense this season, early expectations were for Truck to take a step backward. Maybe not a big one, but enough that they would no longer be threatening the country's best.
It's already clear that that notion was flat out wrong.
"Awesome run through the tournament," said Truck captain Jonathan Neeley. "Wins that felt really gritty and demanded that we get some breaks when we were behind. And some wins where we took control from the start. So we showed ourselves that we've got a lot in the toolbox that works for us."
Truck Stop was indeed very impressive in Aurora; the team's offense may have been the most dynamic at the tournament. (At least until the final).
As you might expect, Nicky Spiva and Alan Kolick were wizards with the disc this weekend. But it was the addition of Matthew "Rowan" McDonnell to the offense that may have been the most impactful. Rowan emerged onto the elite scene a few years ago with Ironside and moved down to DC to play with Truck last year. Always athletic, he's been a defensive weapon since his first season, but his offensive skills have clearly taken a large leap forward; he was all over the field for the Truck O-line.
"I think Rowan was born to be an O guy," said Neeley. "He is one of the most explosive players in this division and just has this stamina that he can cut anywhere — he can make five deep cuts and still be at 100%."
His presence — and the continued emergence of Tyler Monroe as a go-to cutter ("Tyler has gone from being an awesome player to the man," said Neeley) — helped the Truck offense pick right up where it left off last season.
Against Sockeye in pool play, Truck's O-line never gave up a break. "Truck's offense was just playing perfectly," said Sockeye captain Simon Montague. "Nicky and Alan were throwing perfect 80 yard hucks."
The flipside to that is that Truck's defense struggled to generate points. They only beat Sockeye by getting a single break of their own, and then struggled to score against Revolver in the final despite having plenty of chances. Decision making was suspect at times, especially when the team was tired. They hucked into coverage or simply too far a number of times immediately off of the turnover.
Credit where's it's due, though: Truck's D-line managed some crucial breaks in the second half of their semifinal against Ironside to take the lead and pass the responsibility over to the offense to hold out, which it did. Even more than the Sockeye game, that was a big win for Truck, even if it's early in the season and Ironside was short-staffed.
"I've been playing for a while and it hasn't been until recently that beating Boston was a thing that we went into games feeling like we were going to do," said Neeley. But he was quick with a caveat: "I know enough to know that Kurt [Gibson] is out there somewhere."
If Truck's D-line can start to deliver breaks at a higher clip, there is no reason that they cannot again be a contender for a semifinals spot at Nationals.
Sockeye Gives Glimpses Of Very High Ceiling
What is there not to love about this year's Sockeye team? They took a team already brimming with talent but coming off of a disappointing season and added a dash of Freechild, a pinch of Kosednar, and a sprinkle of Janin. They're better, for sure, and they've got the horses to challenge Revolver.
Although they lost to their long-time rivals this weekend, 13-11, they contested the game, getting a late break with a Callahan and nearly tying it up at 12 before throwing a goal-line turnover. A few better decisions and the game's outcome might have been different.
"We feel like we can beat them," said Sockeye captain Simon Montague. "They look sweet. And they've been a really good team for the last few years. But we're confident in ourselves and we're excited for our chance to play them again and prove that we've got that."
Most impressive this weekend from Sockeye was the sheer speed on display from their defensive line. Dylan Freechild and Billy Katz joining a line with Zane Rankin, Reid Koss, and Husayn Carnegie makes for a whole lot of push-the-pace guys on the field. They are thinking fast break even when there's no advantage downfield whatsoever.
That paid off in multiple games this weekend as the D-line went marauding down the field as quickly as possible and piled up quick breaks.
At other times, against stiffer O-line defense, they struggled to find that same flow. They went 0/8 on break opportunites against Truck Stop in pool play and lost despite giving up just one break in the game. They also had trouble converting against Revolver in the semifinals.
"We got punched a little bit and we're still figuring out how to punch back," said Montague.
Given that the team played open rotations on defense, that's not too much to worry about. Expect to see Dylan Freechild out there for every D point in a tough game later this season.
Montague mentioned that the offense also had some issues going up against poaches and junky looks, since they have been explicitly avoiding those kinds of defenses at practice thus far.
The offense was generally sharp: Jacob Janin and Chris Kosednar fit right in alongside O-line staples like Matt Rehder and Danny Karlinsky. Janin, particularly, had a great weekend.
Sockeye may have been a bit unpolished at the Pro-Elite Challenge, but you get the sense that they will be a fearsome opponent come October.
Missing Starters, Ironside Looked Incomplete
Let's get this out of the way: Kurt Gibson, Peter Prial, and John Stubbs were not in attendance at the Pro-Elite Challenge for Ironside. (And, yea, Peter Prial will be on the team this year). That's a lot of firepower missing for the defending National champions.
So when you see that Ironside lost by one to Truck in the semis and then by five to Sockeye in the third place game, it's easy to understand how things might have been different.
But the Ironside leadership, as always, focuses on what they can control and on the personnel that they have at the tournament. And they're not satisfied.
"We're not quite there yet," said captain Will Neff. "We see where we want to be. And we see a long road with a lot of work ahead of us, and that's exciting."
Neff said that the team had a bit of a "mental collapse" against Truck in the second half that caused them to blow the lead and ultimately lose the game.
Josh "Cricket" Markette looked as sharp as ever as the primary handler this weekend and the Boat did get a crushing win over Doublewide to start off Sunday. Still, they will come away from the tournament feeling like they should have beaten Truck, despite playing shorthanded. It was clear at times that some players were simply not in shape enough to keep up on long points; Neff mentioned better conditioning multiple times in our post-semis interview.
Other notes on Ironside:
They are very likely to roster Brodie Smith, who has reportedly been working out harder than ever and is starting to look game ready. He warmed up with the team this weekend both days but did not play. According to the team, he is looking dangerous again.
Any sense of a Championship hangover? No, says Neff. ""We're really hungry to be the best we can be, so I don't think last year is coming into play very much with us."
Bravo Comes Up Short In First Big Test
After an excellent start to the weekend in pool play, going 3-0 with good wins over High Five and Guerrilla, Johnny Bravo came out Sunday morning against Sockeye in quarters and, in the words of head coach Jim Schoettler, "blinked." They lost 13-8.
"We need to understand that we are an elite team," said a frustrated Schoettler. "The great elite teams are going to be able to come out, adjust the nerves within the first point, and just execute. We are a good elite team. We came out, we didn't adjust our nerves, we had two opportunities to break right away and didn't put either of those in. And we blinked and we just never got our mojo back."
It's not like it was a terrible weekend for Bravo. They went 4-2, beat Doublewide in consolation, and looked really good at times. But they were definitely inconsistent, and expectations are higher now that in 2016, a rebuilding year, they reached the semis.
"It's easier playing from an underdog perspective," said Schoettler. "But underdogs don't typically win National Championships. We need to go through the year with high expectations and we need to learn how to execute on those expectations. And if the fact is that we can't execute on those expectations because it just makes us too nervous, then we don't deserve to be considered in that group."
Nick Lance was on the sideline but not playing, so keep in mind that they will get a big boost from him when he's back on the field. And they still have Jimmy Mickle and Ben Lohre.
And Johnny Bravo's Twitter game was on absolute fire this weekend, which is really what it's all about anyway, right?
High Five Ready To Make The Leap?
High Five's results from Aurora don't exactly jump off the page. They beat Guerrilla, Prairie Fire, and Rhino, and they lost to Johnny Bravo and Truck Stop. Sure, they beat Bravo in a second meeting, but it was in consolation. Mostly, it looks like what you would expect from a middle-tier team.
But the wide-angle Score Reporter view of their weekend does them a disservice. Not only did they play tight with both Bravo and Truck in their losses, they controlled the first halves of both games and went into halftime with a lead. Disappointing Nationals results aside, High Five — now in their third year — has put together a team that might just be ready to level up.
"We're there," said High Five captain Phil Cherosky. "I think we're on the cusp of that. We felt like we had control of both of the two games we lost and it was more on our execution stuff. A lot of that is that we've had three practices going into this weekend and we're so spread out between Ohio and Michigan."
A big change this weekend was a much improved D-line offense. Breaks were starting to fall in their score column.  "We've stepped up our offensive efficiency from the past," said Cherosky. "We've always been a team that gets a lot of Ds but has a poor conversion rate. So this weekend has been really great to see because we've got a lot of higher percentage conversions."
Johnny Bansfield remains one of the Division's scariest two-way players, and Jordan Rhyne had a great weekend.
Cherosky thinks that after two years of learning about what it would take to be competitive and starting to work on building a program, they are ready for primetime.
"This tournament compared to Elite-Select last year, which was the first tournament we played in, we're ten-fold better," he said.
Quick Hits
Austin Doublewide, featuring 16 new players this season, is much improved. Still, they lost to the top teams (Revolver, Ironside, Bravo) and have a lot of work to do to gel. Considering how little practice time they've had, head coach Jose Cespedes (formerly of Texas A&M) is happy with how it's going so far. "It's going better than I anticipated," he said. "A lot of these guys play together on [the AUDL's Dallas] Roughnecks so we're sort of trying to keep that together, keep that flow together."
Oakland Guerrilla got a big win over Patrol in prequarters to advance to the Championship bracket on Sunday. They got smashed in that game by Ironside, but it's clear that Guerrilla is a cut above where they were last year. They had a brutal schedule: they had five losses, all to top 10 ranked teams. They're focused more on internal improvement than results, even though they know they'll almost certainly need to earn a bid to get to Nationals. "If we reach the end of the season, and we think we've played as well as we can, and we don't earn that second bid, that's fine," said captain Jason Yun. "We want this to be a program that builds year over year and the Men's Division is [really] competitive these days."
Despite having a good portion of their roster show up to Denver at 5 AM on Saturday morning after being delayed by pregnant turtles on the runway at JFK airport (really), New York PoNY had a strong start to 2017, taking Ironside to double game point and staying competitive with Sockeye. And they still have to add Ben Jagt, Jack Marsh, John Best, and Nasser Mbae-Vogel (plus their coaching staff of Bryan Jones and Ben van Heuvelen) into the mix. "I was really happy to see how focused and energetic and intense we were most of the day," said captain Isaac Saul after games on Saturday. Harper Garvey and Sean Keegan are clearly welcome additions. PoNY won out on Sunday to finish 9th.
Portland Rhino's offense still looks really strong, but their defense simply has to improve. Against Revolver, they had chances to tie it up but their D-line just made some brutal mistakes. Rhino isn't as good as they've been in previous years (yea, losing Dylan Freechild and Jacob Janin definitely hurts), but they did beat Furious George 13-11 and, if they earn a bid, can definitely get back to Nationals. Raphy Hayes and Ben McGinn were excellent this weekend.
Philadelphia Patrol was average this weekend. A prequarters loss to Guerrilla hurts. They remain a grindy team, but got outgrinded (outground?) by Guerrilla and PoNY. The offense needs to sharpen up if they are to make a postseason run.
Atlanta Chain Lightning was very streaky. They are still quite young and unpolished. They got smashed by Sockeye 13-4 to open their tournament but then played tight with Truck Stop (13-11). Then they lost by four to Furious (yikes) before coming out on Sunday and getting consecutive wins over Madison Club and Machine. And then they lost to Prairie Fire. What the heck? If they can find some consistency, they could have a shot at Nationals (they'll need to earn a bid though).
Other than High Five, the Midwest teams struggled mightily, finishing at the bottom of the tournament (Chicago Machine – 14th, Madison Club – 15th, Prairie Fire – 16th). To be fair, this was a very competitive tournament, and PF will still be in the top 25 this week. But it was rough times for those clubs as they bled talent to better teams this offseason.