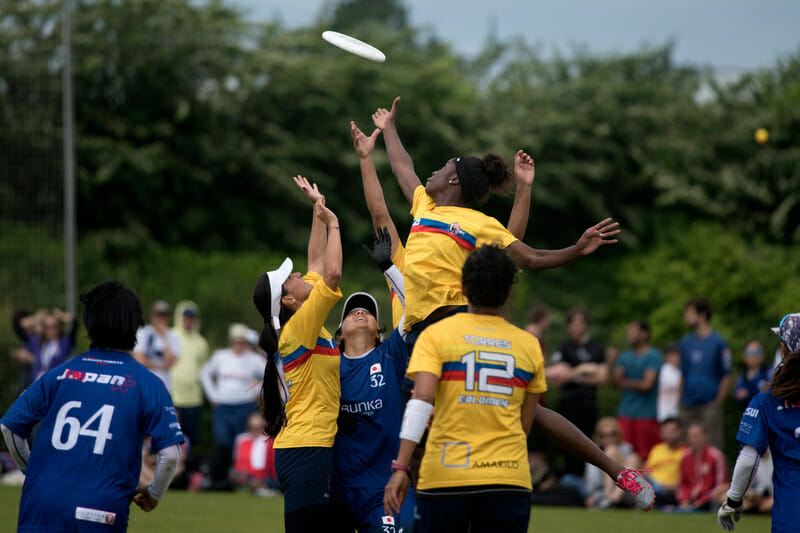 The 2017 World Games are officially underway and the ultimate competition begins Saturday morning at 9:00 AM in Wroclaw, Poland. Six tremendous ultimate teams of 14 players each (seven men and seven women) will compete for gold at the most prestigious international tournament in the sport.
We break down all six teams and get you ready for all of the action, which kicks off at 3:00 AM Eastern with a matchup between Canada and Poland. Video coverage begins at 7:15 AM with Australia v. Japan on tape delay.
Tournament Profile
Location: Wroclaw, Poland
Dates: July 21-23, 2017
Weather: Highs in the mid 80s, light wind
Teams: 6
Format
The six teams — #1 USA, #2 Australia, #3 Canada, #4 Japan, #5 Colombia, and #6 Poland (host) — will play in a round robin. The top two teams after round robin play will advance to the gold medal game and the next two will compete for bronze. There is no additional bracket play.
The tournament will be played under the recently developed "prescribed ratio" rule. At the beginning of each game, after the first disc flip, an additional disc flip takes place with the winner selecting the gender ratio (4:3 or 3:4) for the first point. For the second and third points, the ratio must be the reverse of the first point. For the fourth and fifth points, the ratio must be same as the first point. This pattern of alternating the ratio every two points repeats until the end of the game (half time has no impact on the pattern).
#1 United States
There is nothing I want more from the World Games than to see the double game point line of this team — which is already one of the finest and most concentrated sets of talent ever — grace an ultimate field. The six players the USA cut from their 20-person roster would make it onto most (every?) other countries' starting lines. For those who did make the team, it is a chance to prove their own greatness to the entire world. Sarah "Surge" Griffith and Jimmy Mickle both have legitimate cases at being the best player on Earth; playing against the best the world has to offer could cement them as truly the best individual players in the world. Sandy Jorgensen and Anna Nazarov will be undeniable defenders for the United States as they guard top deep threats and primary handlers, respectively. On offense, Lien Hoffmann's throwing talent will pair well with the unguardable Grant Lindsley.
This team is comprised of the faces of a generation of ultimate players. USA Ultimate has made an unprecedented publicity push to get the athletes' names and personalities out to the world. Every player has an interview video (either published or forthcoming) and USAU's social media has been overflowing with photos of the roster. These are the stars of now and the future — the players they want kids to idolize.
The only concern for this iteration of the US National Team is the relative lack of practice and chemistry. After only a couple of training weekends, this is a team that is still not particularly accustomed to playing together — and one that is not very used to playing mixed ultimate. Only Carolyn Finney and Jorgensen played on the US mixed team at the World Championships last summer; not one player on the roster regularly plays on Mixed Club teams. Contrast that with, for example, Japan: eight of fourteen players played mixed Worlds in 2016.
On the field, Team USA lost to Team Colombia in the finals of TEP, a warm-up tournament in Colombia, and looked unpolished at times at Potlatch where they defeated Team Canada twice.
But set these minor concerns aside: this will be the best team at the tournament with every player on the team sporting big game experience on a world stage. They are overwhelming favorites to come home with the gold medal. And with six returners from the last World Games (four on the final roster and two alternates), they have the experience to overcome any chemistry hiccups they may face.
Anything less than gold will be a disappointment both because of the quality of the individual talent and the sheer international dominance of the United States in the sport.
Team Roster
Georgia Bosscher (F)
Claire Desmond (F)
Carolyn Finney (F)
Dylan Freechild (M)
Sarah Griffith (F)
Lien Hoffmann (F)
Sandy Jorgensen (F)
Beau Kittredge (M)
Chris Kocher (M)
Grant Lindsley (M)
Jimmy Mickle (M)
Anna Nazarov (F)
Nick Stuart (M)
George Stubbs (M)
#2 Australia
Australia has consistently proven themselves on the international stage, particularly in a Mixed context. If a reminder is needed, in both the Under-23  Championships in 2015 and the World Championships in 2016, Australia placed second in the Mixed Division. On top of that, they've come off of a very impressive pair of victories over their Japanese counterparts in preparation for Poland.
Australia plays a fast game and will frequently use their height and athleticism downfield to collect massive hucks, which almost every player on their line is happy to throw. This can be both a blessing and a curse for the Crocs as a smart and physical opponent can bait the deep shot and create multiple turnovers if the Australians don't synchronize their offense in time. The biggest test of Australia will be to see how well they can play if their deep game is taken away from them.
Defensively, Australia's strength lies in their women and their ability to match up physically with their own marks as well as switch onto men if the need arises. The reason that their women are particularly intimidating has a lot to do with the majority being 5'7″ or taller and incredibly fast.
Clearly, when looking at the Crocs roster, the focus was on athleticism. Every player on the Australian line is more than capable on both sides of the disc, but with a tighter roster, the coaches have prioritized those players that will make big defensive contributions to complement offensive prowess. Some players to watch for would be Lochlan Wise (instrumental in Australia's path to the finals at WUGC and the template for Australian ultimate players); Cat Phillips (who has a track record of breaking track records and that's not even examining her throwing abilities which will be on full display in Poland); and finally Sarah Wentworth (who has about as many accolades in Australian Ultimate as possible and is one of the most knowledgeable and experienced players who will be attending the World Games.)
If you're looking for a more in depth analysis of their players, head over to the team website.
Team Roster
Robert Andrews (M)
Brendan Ashcroft (M)
Sebastian Barr (M)
Peter Blakeley (M)
Rebecca Brereton (F)
Rosie Dawson (F)
Mikhaila Dignam (F)
Mark Evans (M)
Cat Phillips (F)
Alexandra Prentice (F)
Vivien Stettner (F)
Tom Tulett (M)
Sarah Wentworth (F)
Lochlan Wise (M)
#3 Canada
Although we won't know how these teams shape up on the world stage with everything on the line, this Canadian team, on paper, may be the closest competitor to the United States. Bringing together players from Vancouver Traffic, Toronto GOAT, Montreal Iris, and Vancouver Furious George, this Canadian team is filled to the brim with talent. Whether it's the all-around skill of Mark Lloyd or the field sense and cutting dominance of Catherine Hui, Team Canada has their sights set on gold. But this team, as stacked as they are, has yet to beat Team USA in a World Games setting since the first World Games in 2001.
This iteration of Team Canada is coming into the tournament after a warm up tournament at Potlatch that saw them lose twice to the Americans: once 15-10 in a showcase game and then again in the tournament final, 15-12. The final never felt that close as the US dictated for most of the game, but that was without the services of Lloyd (among others) who could prove to be a game-changer for the Canadians. In his recent interview on Sideline Talk, Lloyd said this would be his last high-level ultimate in the foreseeable future. That surely is added motivation to go out on top.
Andrew Carroll and Terri Whitehead bring some serious speed and defensive abilities to the roster. Physically, they should be able to hang with any team at the tournament.
The World Games format may work in Canada's favor as they get an early look at Team USA in the round robin. Then if they make the gold medal game, and of course that's a big if, they can throw everything they have at the USA.
Team Roster
Rachel Moens (F)
Andrew Carroll (M)
Jessie Grignon Tomas (F)
Morgan Hibbert (M)
Catherine Hui (F)
Mark Lloyd (M)
Laura Mason (F)
Geoffrey Powell (M)
Jessica Rockliff (F)
Audrey St‐Arnaud (F)
Tim Tsang (M)
Kevin Underhill (M)
Terri Whitehead (F)
Brendan Wong (M)
#4 Japan
Overshadowing the Japanese team is the fact that there are no Buzz Bullets players on this roster, a first in a very long time for Team Japan. After the shocking news that the Buzz Bullets had been suspended from any ultimate activity by their company for months, the team has clearly been weakened significantly. Of the original eight men selected for Team Japan, only three remain on the roster that is headed to Poland.
The good news for Japan is that more than half of their roster is unaffected by the Buzz Bullets incident and their women are among the strongest in the world. Four of them represented Japan on the Women's team that finished fourth at last summer's WUGC, while the other three were on the Japanese mixed team that finished sixth. We can expect the Japanese to use their quickness and unique style to attack the competition. They'll also be able to put on a throwing clinic with their distinctive style of flick blade hucks and pinpoint break throws.
But it remains to be seen how the Japanese fair without the likes of Masahiro Matsuno and Kurono Masashi, who have been two of the biggest names in Japanese ultimate for the past decade. Their absence means that captain Ayumi Fujioka, who is one of the top handlers in the world, will need to continue to put up a sensational number of assists for Japan to be successful.
The Japanese team lost twice to the Aussies during a pair of international friendlies leading up to the tournament.
Team Roster
Ayumi Fujioka (F)
Gaku Genshima (M)
Taku Honna (M)
Tomoko Inamura (F)
Saori Inoue (F)
Kenjiro Kawase (M)
Kana Kobayashi (F)
Takaharu Komori (M)
Tatsunari Kunieda (M)
Yuko Sato (F)
Risa Shimada (F)
Yuta Shimura (M)
Tomoe Tamura (F)
Takayuki Yamaguchi (M)
#5 Colombia
After automatically qualifying for the World Games in the last cycle in 2013 as the host country, Colombia earned their way into the 2017 Games after a strong appearance at 2016's World Championships, finishing ahead of strong countries like the UK thanks to a silver medal finish from their Women's team.
The core of that team will anchor this year's World Games roster, which features Yina Cartagena (3rd at WUGC in combined goals and assists in the Women's Division), 18 year old Manuela Cardenas (who had the 2016 Block of the Year), her twin sister Valeria, Elizabeth Mosquera, and Laura Ospina. Each is a world class player and will present real matchup challenges for every team at the tournament.
The team's men — while not the same quality as its women — are athletic and fast, though generally undersized. Ivan David Alba led the Men's team in combined goals and assists at the World Championships; he and Mauricio Martinez are dangerous dual threats.
Colombia famously upset the United States 14-13 in the final of TEP in Medellin back in May. It was a tremendous win for the team and suggests how high their ceiling could be this year.
Expect a fast-paced offensive attack that will heavily feature their women, particularly Cartagena, who is lethal both with throws and cuts. Defensively, they typically apply pressure in one-on-one matchups, working to disrupt plays with their athleticism rather than complex schemes.
Team Roster
Ivan David Alba (M)
Ma. Manuela Cardenas Velasquez (F)
Maria Valeria Cardenas Velasquez (F)
Yina Paola Cartagena (F)
Esteban Gomez (M)
Julio Pedroza (M)
Alexander Garcia (M)
Maria Angelica Becerra (F)
Mauricio Martinez Lung (M)
Santiago Tobon (M)
Elizabeth Mosquera Aguilar (F)
Laura Cristina Ospina Gomez (F)
Andres Pelaez (M)
Alejandra Maria Torres Echeverri (F)
#6 Poland
When you think of the best ultimate countries in the world, Poland is probably not even one of the first ten countries that come to mind. However, as the host country at the World Games this weekend, they do get a spot at the tournament. Though Poland does not have the same ultimate pedigree as these ultimate powerhouses, you shouldn't completely count them out just yet.
They heard about this tournament about two years ago, realized they had an amazing opportunity, and seized it. One of the top mixed teams in Poland, Grand Master Flash, won the EUCF in October of 2015 in Frankfurt. There, they convinced Heiko Walldorf, a mainstay of German ultimate, to coach them all the way to these World Games. They took things very seriously in their first season and started with a run at WUGC in London. They ended tied for 9th. Of course, the other five countries represented at the World Games had top eight finishes at WUGC. That seems to bode poorly for Poland.
However, Poland were actually using WUGC as a tryout tournament. They had a much larger squad in London and have since pared down to a group of 14. The roster limit could be a blessing for them since the level of player in a relatively small ultimate country can drop off pretty fast while still having some elite talent at the top.
Poland came out storming and blew out almost every team at Windmill. They lost a double game point thriller against the Dutch youth all stars, GRUT, but they definitely passed the eye test as a strong team.
Poland is a confident team and one that relies on taking aggressive shots that have worked really well in Europe. Look for elite handling from Stanisław Bogusławski, who was one of the key players in the Grand Master Flash EUCF title in 2015. For raw athleticism, look out for the Dobranowski brothers. On the women's side, Sylwia Wróblewska is a key cutter to look to and Katarzyna Podpora will be quick to get off her feet for a layout D. Ewa Bańbuła-Dyda will bring some long term experience.
Let's not mince words: Poland is not a medal contender at the World Games. However, this team will be very focused and ready to capitalize on any team that underestimates them.
Team Roster
Ewa Banbula‐Dyda (F)
Stanisław Boguslawski (M)
Grażyna Chlebicka (F)
Filip Dobranowski (M)
Łukasz Dobranowski (M)
Paulina Dul (F)
Aleksandra Dysko (F)
Maciej Grabowski (M)
Kamil Osiecki (M)
Katarzyna Podpora (F)
Wojciech Starzewski (M)
Filip Stepniak (M)
Joanna Wojciechowska (F)
Sylwia Wroblewska (F)