The Condors swooped in and claimed their biggest win in years.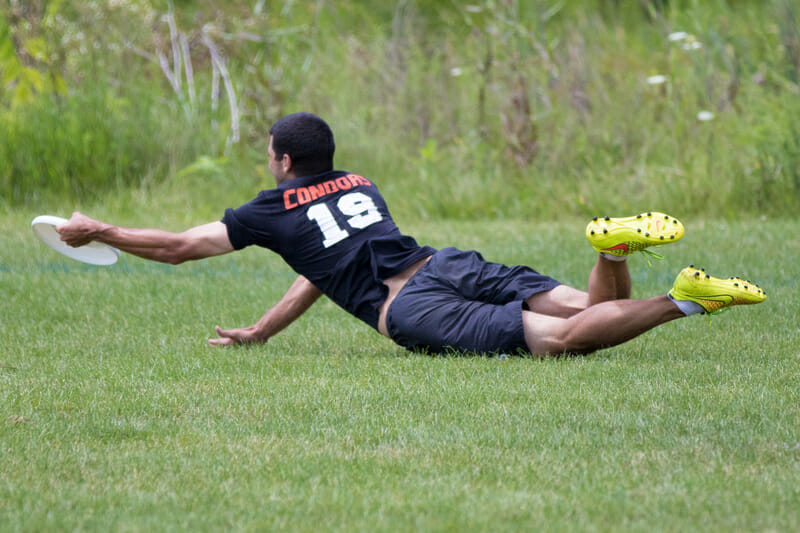 Every year, the Select Flight Invite brings together a collection of bubble teams: the teams that will be in contention for a spot in the game-to-go or the last strength bid. With lots of teams on the rise (or recently on the decline) in attendance, it was a great look at which teams can find themselves at the Daiquiri Deck in October. Here's a look at the top performers from the weekend.
Ham, Bacon Lead Condors To Defining Win1
A year after combining the top players in Los Angeles and San Diego with an eye on qualifying for Worlds this year, the SoCal Condors got their biggest tournament win as a program, taking down Toronto GOAT 13-12 on double game point in the tournament final.
The win over GOAT — a team not far removed from a semifinals appearance at Nationals2 — easily stands as the best win for the Condors in years.
"It was a hell of a game," said Condors captain Tyler Bacon.
It really was.
The first half was an offensive clinic, as a light wind delivered some pristine hucks to streaking cutters. Bacon was blitzing across the field, blowing by his defenders en route to four first half goals, nearly all on hucks. Sean Ham delivered a couple of them, including a forehand beauty in transition.
GOAT's O-line, too, looked sharp. Veterans like Cam Harris and Andrew Carroll worked patiently against a generally unconvincing Condors defense and poured in goals.
Both teams had chances in the first half to put in breaks, but their respective D-lines struggled to move the disc. The Condors took half 7-6 on serve with no breaks.
The game swung right out of halftime, when the GOAT O-line made some unforced mistakes, including a poor decision by Jeff Lindquist in the red zone, a common refrain for the Toronto offense. "Especially near the endzone, [the Condors] were really good at tightening down," said GOAT captain Andrew Carroll.
After a SoCal timeout, Nick "Alamo" Smith got behind the defense and reeled in an upwind break.
Lindquist may have carried over some frustration from the previous point when he threw away a hammer, didn't get back on defense, and immediately got beat on a huck that set up a second break to make it 9-6, Condors.
GOAT answered with a 3-0 run to tie it at 10 after the Condors offense went through its own rough patch courtesy of great reset defense.
After a pair of holds, Andrew Hagen, the former Revolver defender, made perhaps the play of the weekend with a sprawling, toe-the-line grab on a disc trailing out of bounds and over his head for a GOAT break and their first lead of the game at 12-11.3.
GOAT's JJ Edwards got a nice deep block to set up a potential game winning drive, but Will Griffin almost immediately laid out for a momentum-swinging Callahold.
Going upwind on double game point, GOAT's offense stalled out, giving Condors multiple chances. A Ham drop in the endzone didn't get punished, as GOAT punted on stall nine, setting up a big Jeff Silveman layout for the 13-12 win.
"Best win in a couple years," said Bacon. "That's what we came here to do."
It was obvious that the Condors offensive line was among the best at the tournament. They defeated Temper in semis after not yielding a break in the second half — and getting their only break on double game point to win. It's fair to say their defense needs work.
"We've got to string together multiple completions in a row [with our D-line]," said Bacon. "We're pretty stagnant and not creating space."
The Condors debuted at #8 in the USA Ultimate rankings today, putting the Southwest in an excellent position to earn a badly-needed second bid.4 They will travel next to the Pro Championships (formerly the Pro Flight Finale) to test themselves against top teams like Revolver, Sockeye, and Johnny Bravo.
Thinly Rostered GOAT Leaves With Questions
Are GOAT's best years behind them? That has to be a question after this weekend, when the team lost to both Temper and Condors and looked a bit toothless on defense.
The team itself is looking inward after a shocking loss to Boston Dig in the game-to-go at Regionals last fall.
"GOAT had a couple really good seasons, and then the weight of everything we were doing last year caught up with us," said captain Andrew Carroll. "Maybe we have dropped a little bit; it seems like we've dropped at least in the competitive look and maybe working on our systems. So that was the focus of this weekend: Let's get back to building towards something that will be long-term. Let's get back to looking at our systems and not just the final result."
It's hard to argue with the offense, which found a rhythm towards the end of Sunday. Long-time players like Cam Harris, Jeff Lindquist, and Thomson McKnight remain effective, and Carroll has risen to be the best all-around player on the team. But can they dominate as in years past? It seems like a longer climb now, with Mark Lloyd and Derek Alexander not suiting up this season.
The defense was clunky this weekend, but that's understandable. A ton of players were out, as it was U24 training camp for the Canadians. Connor Armstrong, Mike Mackenzie, Bretton Tan, and Ben Burelle were all missing. Veterans Andy Ouchterlony and Anatoly Vasilyev also didn't make the trip. A number of guys got hurt as well.
It can be difficult, then, to read where GOAT stands, especially as they play with their "summer" roster, which included a guest appearance from Andrew Hagen, who's not expected to be on the postseason roster. ("For now," said Carroll with a smile).
New GOAT addition Jeremy Norden has been given the keys to the D-line, and there were moments of strong play, but clearly chemistry is still developing.
Once the Series rolls around, though, it's hard not to expect to see GOAT back in form. They've got something to prove after last season.
Quick Hits
Pittsburgh Temper was an extreme version of many teams this weekend: incredible on offense and ugly on defense. Tyler Degirolamo, Max Thorne, Pat Earles, and crew were excellent throughout the weekend. They beat GOAT. They also lost to Mad Men. Huh? The difference was the defense, which was definitely rough around the edges, though they played this weekend without some key guys like Max Sheppard and Mark Fedorenko. Coach David Hogan is bullish about where his team stands. "We have the potential," he said.
Another Mid-Atlantic team, Baltimore Medicine Men, looked like a fringe Nationals contender, winning four straight before losing to both GOAT and Temper 13-11 to finish third. Max Cassell is a plug-and-play difference maker and Ryan Vance continues to hold down the O-line. The team withered a bit under good defensive pressure, but the D-line did a nice job of delivering breaks, even in their losses.
Richmond Floodwall has to be sick after losing again to Medicine Men in a bracket game, one that they likely feel they should have won. But they responded with two strong 13-9 wins over Prairie Fire and Freaks in consolation play. They are athletic and will be a legitimate threat at Regionals.
Huntsville Freaks came into Select Flight Invite undefeated, won all their games on Saturday, and then found their current upper-bound against Temper in quarters. The team has improved year over year but still looks a bit raw to hang with the top Southeast teams. Don't count them out, though: Tom Radcliffe can take over a game.
---