Wild Card's hot streak continues.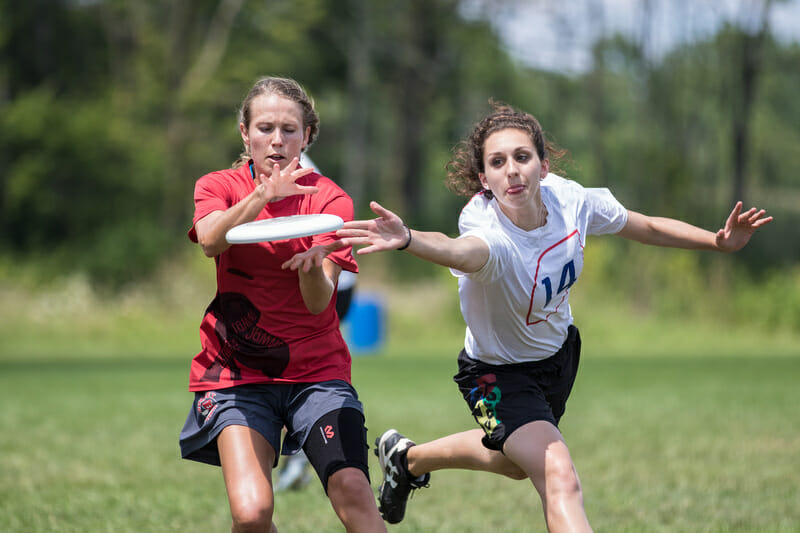 Every year, the Select Flight Invite brings together a collection of bubble teams: the teams that will be in contention for a spot in the game-to-go or the last strength bid, but typically ones that have not yet broken through to Nationals. With no 2016 Nationals qualifiers in the field (but multiple teams that lost in the game-to-go), this was a big early test for teams looking to punch through to the next level. Here's a look at the top performers from the weekend.
Wild Card Continues Undefeated Season At SFI
Don't look now, but we've got a new title contender in the Mixed Division this year. Boston Wild Card followed up their strong performances at early season tournaments with an undefeated run through the Select Flight Invite, including good wins over Durham Toro and Atlanta Bucket.
They move to 20-0 on the season, they've got a pair of wins against the defending National champion Slow White under their belt, and memories of last year's rebuilding season are fading fast.
Wild Card absolutely crushed Bucket 13-6 in the final, finishing with six breaks and not yielding a single one to Atlanta.
"Our D-line, especially, once we got the disc was really good at executing and punching it in," said Wild Card captain Matt Heath. "We did not give it back a lot."
They certainly didn't. They played an immaculate first half with zero turnovers from the O-line and a perfect 3/3 D-line conversion rate on the three turns that Bucket gave them.
A sloppy start to the second half didn't hurt them: the offense persevered to hold to make it 8-4, then, after a Bucket throwaway, Luke Lanoue made a great toe-the-line catch for a break and their biggest lead of the game.
Wild Card typically played four women on offense, really pushing their advantage against every team at the tournament. Not coincidentally, their toughest game came in the semifinals against Toro, a team that Heath said had "the best women we saw all weekend." Wild Card worked to take away their deep game and did enough to come away with a 13-11 win.
Katharine Sullivan was a standout, coming up with a key poach block late in the first half to effectively put the game away.
Wild Card will travel next to the Elite-Select Challenge, where they will have a chance to face off against some higher ranked opponents, including #1 Seattle BFG. Will they continue their undefeated march towards the postseason?
Bucket Gets Off To Strong Start
Competing in their first tournament of the season, long-time Southeast powerhouse Atlanta Bucket, up until the final, looked great, winning five straight games and doing so with authority in the bracket on Sunday (13-5 over Columbus Cocktails and 13-5 over Regional rival Swing State).
Fitness did seem to be a bit of an issue for the team, as their final game on both Saturday and Sunday was their weakest game — perhaps understandably so since they are just kicking off their 2017 season.
The team had already headed to the airport by the time I had a chance to interview them, but I was lucky enough to catch O-line center handler Ryan Landry in the Atlanta airport in transit1.
He said the team played quite well for the weekend as a whole but struggled to contain Wild Card's offense. Cue a couple of slight miscues and Wild Card's extremely solid D-line punished them early and often. The game was out of reach by halftime.
The Southeast is jampacked with Mixed teams again this year: Toro knocked them out in quarters of Regionals last year…and Toro has only gotten better. Bucket's got work to do to simply make it out of the region.
Despite the big loss to Wild Card, Bucket has probably put themselves in the backend of the bid picture. Everyone in the Southeast would be more comfortable with more than one bid this year.
Quick Hits
Durham Toro played in a lot of close games and was inconsistent, but their ceiling looks higher than any team at the tournament besides Wild Card. A talented core from last year adds in Tristan Green and Mike Pannone, two field-bending players who tore it up this weekend. Their offense needs some fine-tuning and they can clearly work on not playing to the level of their competition (they had to claw back from down 11-7 against Cosa Nostra to win 13-12 in quarters…and then gave Wild Card their best game of the tournament in semis).
Don't look now, but the four Southeast teams finished 2nd (Bucket), 3rd (Toro), 4th (Swing State), and 5th (Charlotte Storm) this weekend. They were seeded 2nd, 5th, 6th, and 8th, respectively. Regionals should be fun!
Chicago UPA got a nice win over Toro, but otherwise didn't shine, splitting games with Minnesota Star Power and losing 13-9 to Charlotte Storm in prequarters.
---
For those wondering, I had weird routing from Columbus to Atlanta to New York on Southwest. ↩