ESPN2 clearly offers visibility.
Ultimate had its live debut on ESPN2 last weekend for the Mixed Division final between Minneapolis Drag'N Thrust and Seattle Mixtape. Courtesy of Awful Announcing's Douglas Pucci, here are the ESPN2 ratings for the week of July 31st: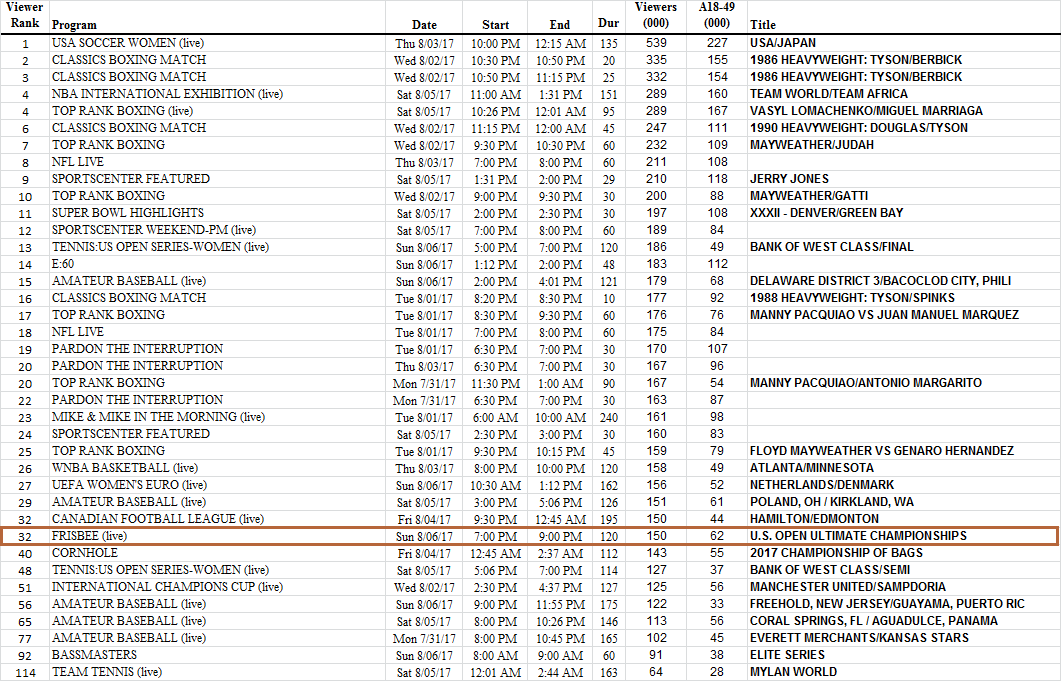 Ultimate landed tied at #32 for the week's top programs with 150,000 viewers, more than double the number of people (70,000) that tuned in for the live broadcast of the Men's Division final at the 2017 College Championships over Memorial Day weekend. That makes it easily the most-watched live broadcast of an ultimate game ever.
While the ratings are not especially impressive, they are not bad, either: they were just below average for the 8-11 PM prime time window on the week (167K).
Primarily, the ratings indicate just how much additional push a broadcast can get by simply appearing on a major sports television network. While livestreaming games online is a great way to engage the small number of existing fans, many thousands more viewers will tune in just because a sport is on ESPN2.
RELATED: See How Twitter Reacted To Ultimate's ESPN2 Debut
But ultimate has a long way to go: the Sunday evening broadcast in a similar time slot from the week prior — the USA v. Brazil women's soccer match — drew 643,000 viewers.